Routine Postoperative Care After Liver Transplantation
Introduction
Routine care immediately after liver transplantation includes in most cases and institutions admission to the intensive care unit (ICU) for monitoring of organ systems, initiation of immunosuppression, evaluation of graft function and management of perioperative physiological changes, including coagulopathy and hemodynamic effects (Fig.
31.1
). Although some institutions may bypass the ICU for select patients, most centers admit all liver transplant recipients to the intensive care unit, for even as short a duration as 24 h [
1
,
2
]. Preexisting conditions, intraoperative factors and intra- and post-operative complications affect ICU length of stay (Fig.
31.2
). Systems processes, such as care bundles, clinical pathways, and enhanced communication tools impact patient outcomes and length of stay [
3
,
4
,
5
].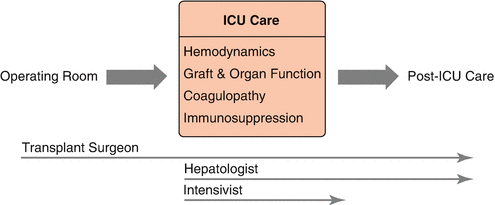 Keywords
Electrolytes 
Hyperglycemia 
Coagulation 
Hemodynamic monitoring 
Ventilation 
Sedation 
Copyright information
© Springer International Publishing AG, part of Springer Nature 2018