Abstract
Suprascapular neuropathy is an increasingly recognized pathology associated with retracted large or massive rotator cuff tears; however, there is currently a paucity of data in the literature to guide optimal management. The cases presented emphasize the diagnostic workup, particularly electrodiagnostic studies, followed by a discussion of surgical technique for arthroscopic suprascapular nerve release for compression in the context of rotator cuff tears and after rotator cuff repair. Clinical studies have shown that most cases of suprascapular neuropathy associated with rotator cuff tears resolve following rotator cuff repair alone. In certain cases of irreparable tears or massive tears requiring extensive mobilization, release of the suprascapular nerve may be indicated. In addition, suprascapular neuropathy should be considered as a possible etiology in the differential in patients who experience weakness and pain following rotator cuff repair.
Keywords
Suprascapular neuropathy

Nerve compression

Rotator cuff tear

Electromyography

Arthroscopy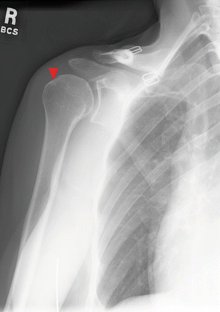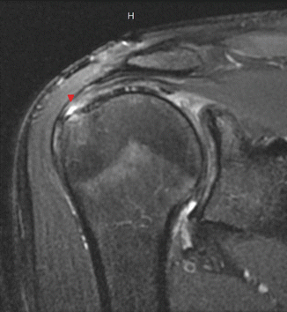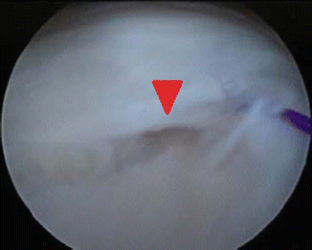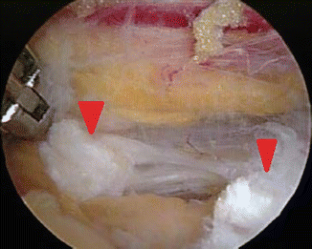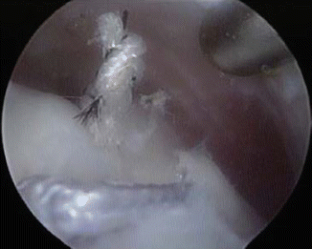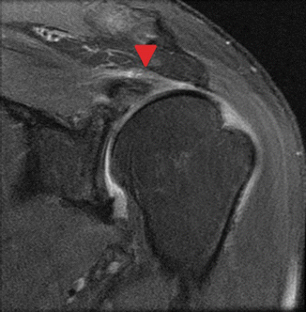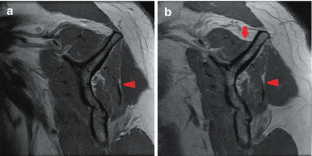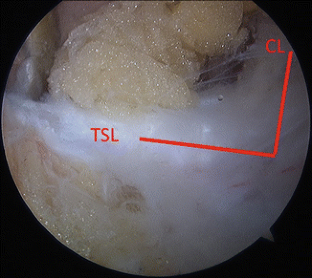 Abbreviations
EMG:

Electromyography

NCV:

Nerve conduction velocity

RC:

Rotator cuff

SSN:

Suprascapular neuropathy
References
Aasheim T, Finsen V. The DASH and QuickDASH instruments. Normative values in the general population in Norway. J Hand Surg Eur Vol. 2014;39(2):140–144.

Mols F, Pelle AJ, Kupper N. Normative data of the SF-12 health survey with validation using postmyocardial infarction patients in the Dutch population. Qual Life Res. 2009;18(4):403–14.

Sallay PI, Reed L. The measurement of normative American Shoulder and Elbow Surgeon scores. J Shoulder Elb Surg. 2003;12(6):622–7.

Martin SD, Warren RF, Martin TL, Kennedy K, O'Brien SJ, Wickiewicz TL. Suprascapular neuropathy. Results of non-operative treatment. J Bone Joint Surg Am. 1997;79(8):1159–65.

Boykin RE, Friedman DJ, Zimmer ZR, Oaklander AL, Higgins LD, Warner JJ. Suprascapular neuropathy in a shoulder referral practice. J Shoulder Elb Surg. 2011;20(6):983–8.

Collin P, Treseder T, Lädermann A, Benkalfate T, Mourtada R, Courage O, Favard L. Neuropathy of the suprscapular nerve and massive rotator cuff tears: a prospective electromyographic study. J Shoulder Elb Surg. 2014;23(1):28–34.

Costouros JG, Porramatikul M, Lie DT, Warner JJ. Reversal of suprascapular neuropathy following arthroscopic repair of massive supraspinatus and infraspinatus rotator cuff tears. Arthroscopy. 2007;23(11):1152–61.

Mallon WJ, Wilson RJ, Basamania CJ. The association of suprascapular neuropathy with massive rotator cuff tears: a preliminary report. J Shoulder Elb Surg. 2006;15(4):395–8.

Millett PJ, Barton RS, Pacheco IH, Gobezie R. Suprascapular nerve entrapment: technique for arthroscopic release. Tech Should Elb Surg. 2006;7(2):89–94.
Copyright information
© 2018 Springer International Publishing AG
About this chapter
Cite this chapter
Fritz, E.M., Katthagen, J.C., Boykin, R.E., Millett, P.J. (2018). Suprascapular Nerve Release with Rotator Cuff Tears. In: McMahon, P. (eds) Rotator Cuff Injuries. Springer, Cham. https://doi.org/10.1007/978-3-319-63668-9_20
DOI: https://doi.org/10.1007/978-3-319-63668-9_20

Published:

Publisher Name: Springer, Cham

Print ISBN: 978-3-319-63666-5

Online ISBN: 978-3-319-63668-9

eBook Packages: MedicineMedicine (R0)