Abstract

This chapter investigates the process of opening the Nussir copper mine in Kvalsund, Finnmark County, Northern Norway, and the efforts that have been made to legitimize it locally. Particular attention is paid to the way both scientific and lay knowledge influence political decisions in relation to the recently approved mine, with a tailings depository in a nearby fjord. The aim is to explain why conflicts persist over the project's knowledge base, despite formal requirements for a comprehensive and participatory assessment process having been followed. Through interviews, document analysis and a review of media coverage, the chapter concludes that local acceptance of the mine is represented by the municipal council approval of the developers' assessment program (AP), although this acceptance is not shared by all, as controversy around the environmental impacts of the project persists. After the municipality approved the company's zoning plan (that followed the AP), the decision-making process shifted to the national level, rendering the local dialogue less relevant. Further, the environmental impact assessment (EIA) process did not contribute to local legitimacy, as there was little local involvement in its production, while the content of the EIA is virtually inaccessible to local residents due to its sheer size and technical jargon. An EIA process with more local participation and incorporating local knowledge would not have avoided the conflict over the monetary and non-monetary valuation of the Repparfjord area, but it could have resulted in a knowledge base that was less controversial, more legitimate and therefore provided a more solid basis for future operations. However, this would have required local politicians to admit that the decision to open the mine was primarily a matter of politics, and not a technical matter which can be resolved to the satisfaction of all solely through the production of scientific knowledge.
Keywords
Arctic mining

Environmental impact assessment

Environmental governance

Boundary work

Social license to operate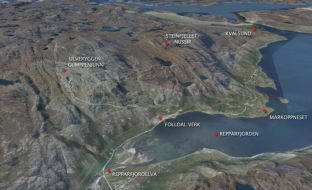 Notes
1.

Rusfheldt, interview, December 2nd, 2014.

2.

In several interviews, local stakeholders have expressed sympathy with Nussir's approach to outreach and information flow during the process.

3.

4.

Mr. Knut Altmann, quoted from the film «NUSSIR – dream about Finnmark», see footnote 3.

5.

Statement taken from notes taken during conversation with interviewee # 6, June 2014.

6.

Nussir and Ulveryggen are the mountain ridges included in the application for extraction.

7.

Personal communication, Dannevig, 14.05.2014

8.

For a more detailed description of early findings, initial mining crackdowns and small scale outtakes, see Lund 2015, pp. 39–41.

9.

Called "planprogram" in Norwegian.

10.

See Chap. 11 for a discussion on how these processes are part of a governmental aim to secure resources and (the needs of a larger, national) population; processes where center-periphery security concerns may differ.

11.

Referred to in the local newspaper Sagat on October 12th, 2015.

12.

13.

14.

15.

Interviewee #12, 15.04.14

16.

Interviewee #11, 15.04.14

17.

18.

19.

Informants confirmed that in 2011, over 10 tonnes of salmon were caught in the river.

20.

21.

The Ministry of Municipalities took over responsibilities for the handling of land use planning issues from the Ministry of Environment in October 2013.

22.

This is in stark contrast to the municipality of Kautokeino, which rejected the AP and the entrepreneurial initiatives of the company Arctic Gold outright, as they argued that they did not need knowledge of the impact of the proposed mine (in the form of an EIA), because they already knew that they did not want the mine (see Chap. 8).

23.

Interview #7, 13.5.14 and interview #8, 14.5.14

24.

NRK Sapmi 11.07.2013; Sagat 11.09.13

25.

26.

Interview, Øystein Rushfeldt,

27.

Interview #12, April 15, 2014

28.

Interview #6, April 13, 2014

29.

Interview #4, June 26, 2014.

30.

Interview #4, June 26, 2014.
References
Adger, W. N., Arnell, N. W., & Tompkins, E. L. (2005). Successful adaptation to climate change across scales. Global Environmental Change-Human and Policy Dimensions, 15, 77–86.

AkvaplanNIVA, & NIVA. (2011). Konsekvenser for det marine miljøet i Repparfjorden ved etablering av sjø- eller landdeponi for gruveavgang fra Nussir og Ulveryggen i Kvalsund kommune, Finnmark. Akvaplan-niva AS Rapport: 5249 – 01. Tromsø: AkvaplanNIVA.

Cash, D. W., Clark, W. C., Alcock, F., et al. (2003). Knowledge systems for sustainable development. Proceedings of the National Academy of Sciences of the United States of America, 100, 8086–8091. doi:10.1073/pnas.1231332100.

Dale, B. (2016). Governing resources, governing mentalities. Petroleum and the Norwegian integrated ecosystem-based management plan for the Barents and Lofoten seas in 2011. The Extractive Industries and Society, 3, 9–16. doi:10.1016/j.exis.2015.10.002.

Dannevig, H., & Aall, C. (2015). The regional level as boundary organization? An analysis of climate change adaptation governance in Norway. Environmental Science & Policy, 54, 168–175.

Douglas, M. (1992). Risk and blame: Essays in cultural theory. New York: Routledge.

Fauchald, O. K. (2014). Regulating environmental impacts of mining in Norway. Nordic Environmental Law Journal, 53–66.

FOR. (2014). Forskrift om konsekvensutredninger for planer etter pbl. FOR-2014-12-19-1726. Accessed at: https://lovdata.no/dokument/LTI/forskrift/2014-12-19-1726 (In Norwegian).

Funtowicz, S., & Ravetz, J. (1994). Uncertainty, complexity and post-normal science. Environmental Toxicology and Chemistry, 13, 1881–1885.

Guston, D. H. (2001). Boundary organizations in environmental policy and science: An introduction. Science, Technology & Human Values, 26, 399–408. doi:10.1177/016224390102600401.

Hauge, K. H., et al. (2014). Inadequate risk assessments – A study on worst-case scenarios related to petroleum exploitation in the Lofoten area. Marine Policy, 44(0), 82–89.

Hertin, J., Jordan, A., Turnpenny, J., et al. (2009). Rationalising the policy mess? Ex ante policy assessment and the utilisation of knowledge in the policy process. SSRN Electronic Journal. doi:10.2139/ssrn.1361519.

Hoppe, R., & Wesselink, A. (2014). Comparing the role of boundary organizations in the governance of climate change in three EU member states. Environmental Science & Policy, 44, 73–85. doi:10.1016/j.envsci.2014.07.002.

Jasanoff, S. (2004). Ordering knowledge, ordering society. In S. Jasanoff (Ed.), States of knowledge: The co-production of science and the social order (pp. 12–45). New York: Routhledge.

Koivurova, T., Buanes, A., Riabova, L., et al. (2015). "Social license to operate": A relevant term in Northern European mining? Polar Geography, 513, 1–34. doi:10.1080/1088937X.2015.1056859.

Latour, B. (1987). Science in action: How to follow scientists and engineers through society. Milton Keynes: Open University Press.

Latour, B. (1993). We have never been modern (p. 168). Cambridge, MA: Harvard University Press.

Latour, B. (1999). Pandora's hop: Essays on the reality of science studies. Cambridge, MA: Harvard University Press.

Lund, S. (2015). Gull, gråstein og grums 1 -omstridde gruver (208p). Davvi girji, Karasjok (in Norwegian).

McMahon, G., & Remy, F. (2001). Large mines and the community: socioeconomic and environmental effects in Latin America, Canada and Spain.

Nelleman, C., & Vistnes, I. (eds). (2011). Foreslått utbygging av Nussir gruver i reinbeitedistrikt 22 Fiettar. NORUT rapport 2011:2 NORUT, Alta.

Nenasheva, M., Bickford, S. H., Lesser, P., et al. (2015). Legal tools of public participation in the environmental impact assessment process and their application in the countries of the Barents Euro-Arctic Region. Barents Studies, 1, 13–35.

Ney, S. (2009). Resolving messy policy problems: Handling conflict in environmental, transport, health and ageing policy, science in. London: Earthscan.

NIVA. (2011). Konsekvenser av sjødeponi i Repparfjorden for anadrom laksefisk fra Repparfjordelva og Kvalsundelva – delutredning i KU program for planlagt gruvedrift i Nussir og Ulveryggen i Kvalsund kommune (In Norwegian). RAPPORT L.NR. 6176-2011, Norsk Institutt for Vannforskning (NIVA), Oslo.

Nygaard, V. (2016). Do indigenous interests have a say in planning of new mining Projects? Experiences from Finnmark, Norway. Journal of Extractive Industries and Society, 3, 1.

Paavola, J. (2004). Protected areas governance and justice: Theory and the European Union?s habitats directive. Environmental Sciences, 1, 59–77. doi:10.1076/evms.1.1.59.23763.

Petersen, A. C., Cath, A., Hage, M., et al. (2011). Post-normal science in practice at the Netherlands Environmental Assessment Agency. Science, Technology & Human Values, 36, 362–388. doi:10.1177/0162243910385797.

Prno, J., & Scott Slocombe, D. (2012). Exploring the origins of "social license to operate" in the mining sector: Perspectives from governance and sustainability theories. Resources Policy, 37, 346–357. doi:10.1016/j.resourpol.2012.04.002.

Saarela, S.-R., & Söderman, T. (2015). The challenge of knowledge exchange in national policy impact assessment – a case of Finnish climate policy. Environmental Science & Policy, 54, 340–348. doi:10.1016/j.envsci.2015.07.029.

Steen, M., & Underthun, A. (2011). Upgrading the 'Petropolis' of the North? Resource peripheries, global production networks, and local access to the Snøhvit natural gas complex. Norsk Geografisk Tidsskrift – Norwegian Journal of Geography, 65(4), 212–225.

SWECO. (2011). ruvedrift: Ulveryggen og Nussir Kvalsund kommune Finnmark Konsekvenser for Landskap Friluftsliv Biologisk mangfold på land og i ferskvann. Rapport 578921 – 1. Trondheim: SWECO.

White, D. D., Wutich, A., Larson, K. L., et al. (2010). Credibility, salience, and legitimacy of boundary objects: Water managers' assessment of a simulation model in an immersive decision theater. Science and Public Policy, 37, 219–232. doi:10.3152/030234210X497726.
Copyright information

© 2018 Springer International Publishing AG
About this chapter
Cite this chapter
Dannevig, H., Dale, B. (2018). The Nussir Case and the Battle for Legitimacy: Scientific Assessments, Defining Power and Political Contestation. In: Dale, B., Bay-Larsen, I., Skorstad, B. (eds) The Will to Drill - Mining in Arctic Communites. Springer Polar Sciences. Springer, Cham. https://doi.org/10.1007/978-3-319-62610-9_8
DOI: https://doi.org/10.1007/978-3-319-62610-9_8

Published:

Publisher Name: Springer, Cham

Print ISBN: 978-3-319-62608-6

Online ISBN: 978-3-319-62610-9