Abstract
Tuberculosis (TB) rarely involves the craniovertebral junction (CVJ). Atlantoaxial dislocation (AAD) is one of the most commonly encountered lesions in craniocervical TB. The incidence of TB and its craniovertebral manifestation is increasing even in developed countries because of intercontinental migration and increased prevalence rates of immunosuppression conditions. While the treatment of craniovertebral TB is well standardized and relies on conservative measures, the treatment of TB with AAD is disputable. In this paper we present a review of the literature and elucidate our approach to craniovertebral TB with AAD through a case illustration.
Keywords
Tuberculosis

Craniovertebral junction

Atlantoaxial dislocation

Craniocervical fixation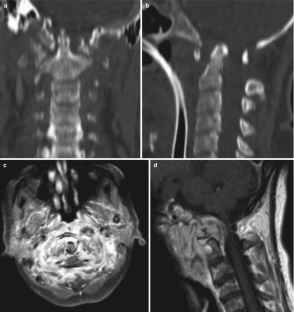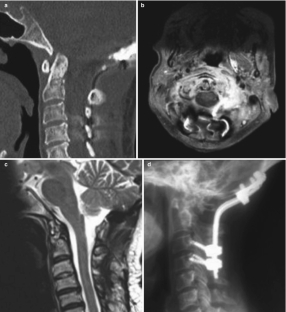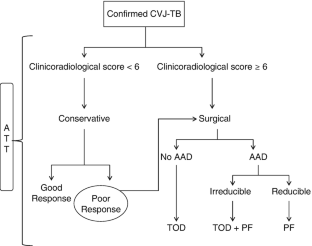 References
Tuli SM. Tuberculosis of the craniovertebral region. Clin Orthop Relat Res. 1974;104:209–12.

Lifeso R. Atlanto-axial tuberculosis in adults. J Bone Joint Surg Br. 1987;69(2):183–7.

World Health Organization. Global tuberculosis report 2016. Geneva: World Health Organization, 2016.

Shukla D, et al. Management of craniovertebral junction tuberculosis. Surg Neurol. 2005;63(2):101–6.

Gokengin D, et al. The growing HIV epidemic in Central Europe: a neglected issue? J Virus Erad. 2016;2(3):156–61.

Gupta SK, et al. Tuberculosis of the craniovertebral junction: is surgery necessary? Neurosurgery. 2006;58(6):1144–50.

Goel A. Tuberculosis of craniovertebral junction: role of facets in pathogenesis and treatment. J Craniovertebr Junction Spine. 2016;7(3):129–30.

Arora S, et al. The results of nonoperative treatment of craniovertebral junction tuberculosis: a review of twenty-six cases. J Bone Joint Surg Am. 2011;93(6):540–7.

Behari S, et al. Craniocervical tuberculosis: protocol of surgical management. Neurosurgery. 2003;52(1):72–81.

Teegala R, et al. Craniovertebral junction tuberculosis: a new comprehensive therapeutic strategy. Neurosurgery. 2008;63(5):946–55.

Di Lorenzo N. Craniocervical junction malformation treated by transoral approach. A survey of 25 cases with emphasis on postoperative instability and outcome. Acta Neurochir (Wien). 1992;118(3–4):112–6.

Arunkumar MJ, Rajshekhar V. Outcome in neurologically impaired patients with craniovertebral junction tuberculosis: results of combined anteroposterior surgery. J Neurosurg. 2002;97(2 Suppl):166–71.

Dhammi IK, Singh S, Jain AK. Hemiplegic/monoplegic presentation of cervical spine (C1–C2) tuberculosis. Eur Spine J. 2001;10(6):540–4.

Sinha S, et al. Surgical management and outcome of tuberculous atlantoaxial dislocation: a 15-year experience. Neurosurgery. 2003;52(2):331–89.

Krishnan A, et al. Craniovertebral junction tuberculosis: a review of 29 cases. J Comput Assist Tomogr. 2001;25(2):171–6.

Sharif HS, et al. Granulomatous spinal infections: MR imaging. Radiology. 1990;177(1):101–7.

Chandra SP, et al. Analysis of changing paradigms of management in 179 patients with spinal tuberculosis over a 12-year period and proposal of a new management algorithm. World Neurosurg. 2013;80(1–2):190–203.
Competing Interests
The authors declare that they have no competing interests.
Ethics declarations
No financial support was received for this work.
Copyright information
© 2019 Springer International Publishing AG, part of Springer Nature
About this chapter
Cite this chapter
Molliqaj, G., Dammann, P., Schaller, K., Sure, U., Tessitore, E. (2019). Management of Craniovertebral Junction Tuberculosis Presenting with Atlantoaxial Dislocation. In: Visocchi, M. (eds) New Trends in Craniovertebral Junction Surgery. Acta Neurochirurgica Supplement, vol 125. Springer, Cham. https://doi.org/10.1007/978-3-319-62515-7_49
DOI: https://doi.org/10.1007/978-3-319-62515-7_49

Published:

Publisher Name: Springer, Cham

Print ISBN: 978-3-319-62514-0

Online ISBN: 978-3-319-62515-7

eBook Packages: MedicineMedicine (R0)