Abstract
The automated data collection of civil infrastructure projects, whether under construction, newly put into service, or in operation has been receiving increased attention by researchers and practitioners. Such real-time progress tracking is essential for the active monitoring of production during the construction phase of a project and for the built assets during their service lives. Automatic progress tracking can result in timely detection of potential time delays and construction discrepancies and directly supports project control decision-making. This paper outlines recent research efforts in this field and technological developments that aim to facilitate project management toward achieving project objectives. 3D imaging, geo-spatial, enhanced IT, and augmented reality technologies have recently achieved significant advances in this field. These technologies are discussed and compared herein in terms of their strengths and limitations to identify various trends concerning their applicability in data acquisition for construction projects and to formulate recommendations for their suitability in different projects. Prospects for improvement and challenges that can be expected in future research and development are considered. It is hoped that this discussion will assist construction stakeholders in choosing appropriate data collection tools, and motivate further research and development to assist in delivering projects on time and within budget.
Keywords
Construction industry 
Automated data collection 
Handheld IT tools 
Geo-spatial 
3D 
Sensing 
Imaging 
1

Introduction

Assuring proper delivery of civil infrastructure projects requires efficient and reliable performance control processes. The control process includes a forward information flow resulting from design, planning and management activities, and a feedback information flow for monitoring purposes to meet the overall expected project objectives (Turkan et al. 2012). Progress tracking is one of the most important feedback information types where the decision making, and consequently project success, undeniably depends on accurate and efficient progress tracking in the construction projects. However, it is sometimes difficult to adequately track and record changes during construction and hence could yield a final product that deviates from the as-designed state (Son et al. 2015). Therefore, and in order to avoid inefficient control processes, research efforts, driven by new technologies, have been directed toward the automation of data collection. Such development aims at rationalizing, streamlining and relating the data pertaining to a given project in order to extract valuable information in real-time (Bosche 2009).

For instance, 3D models could be generated to assess as-built conditions for construction monitoring purposes where 3D point clouds using either laser scanners or handheld digital cameras have been widely used for this purpose (Kim et al. 2013). Information technology (IT) tools have also been supported by a number of research studies to improve communication on construction sites and enable daily automated progress tracking of construction activities. The common applications include, but are not limited to, mobile computing, bar-code system, global positioning system (GPS), and radio frequency identification (RFID). In addition, the recent applications of augmented reality (AR) technology have helped in comparing as-built and as-planned statuses of construction projects during the construction phase and in monitoring project progress. Adopting such a variety of automated progress tracking technologies can enhance project control by providing different kinds of information such as construction standards, material transmission, vehicle locations, earth moving, and track of site activities (Tsai 2009), and thereby provide decision makers with timely progress details to follow the project progress more effectively, facilitating schedule updates and accurate schedule forensics, delay analysis, and planning of appropriate corrective actions. This paper provides a state-of-the-art review of mainstream studies on the automated data collection technologies and how they have been applied to address project tracking challenges.
2

Research Objectives and Methodology

The main goal of this study is to conduct a comprehensive literature review on the automated data collection technologies. To achieve this goal, the following objectives are pursued: (1) gain an understanding of the current state of the automated data collection research field; (2) investigate the potential applications of these technologies; (3) identify areas of concern associated with each technology; and (4) identify the knowledge gap for further research. Figure 

1

illustrates the methodology adopted in the present research for the achievement of the above objectives as follows: (1) selecting the journals and articles; (2) reviewing the selected articles; (3) defining relevant categories; (4) classifying the articles in the defined categories; (5) evaluating the research progress in each category; (6) addressing challenges in the technology gaps that need further research and development; and (7) providing the bridge community with guidance for the selection of appropriate technologies.

3

Classification of Technologies
3.1

Selection of Journals and Articles

Eight diverse academic journals were adopted within the domain of project construction and management in an attempt to record the evolution of automated data collection technology in the architecture, engineering, construction, and facility management (AEC/FM) industry. Selection of these journals was based on their prominence in the research field of data acquisition to capture recent and relevant developments. Leading research conferences were also considered in a similar manner. The articles were searched using some key phrases such as "data acquisition" and "progress tracking". Articles such as calendars, editors' notes, subject indices, and content of volume were excluded in this phase.
3.2

Review the Selected Articles and Define Categories

The selection process initially identified more than 150 papers. The selected articles were examined in the second phase to extract their main findings and emphases. Articles that primarily focused on automation of data acquisition were discarded. The relevant literature was investigated from three perspectives, namely: (i) collecting as-built data; (ii) organizing as-built data: and (iii) analyzing as-built data. On the project process continuum of collecting, organizing and analyzing as-built data, and based on the various applications of the different technologies, four categories were defined and found to predominantly fit in the roles illustrated in Fig. 

2

. It is worth mentioning that reviewing the articles and defining the relevant categories were iterated until the final results were achieved. However, it should be also noted that there is a substantial overlap in the applications of the technologies regardless of their defined categories.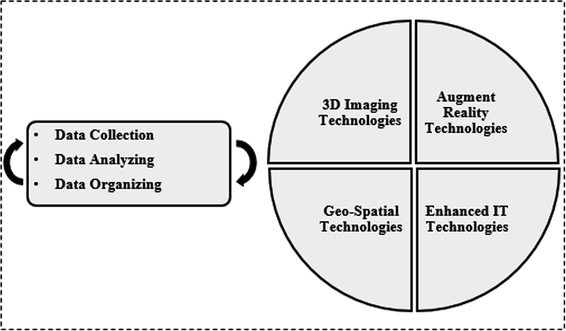 3.3

Classification of the Selected Articles in the Defined Categories

The articles were reviewed in this classification phase based on their principal focus and compared to the four defined categories. Qualitative and quantitative analyses were conducted based on the information gathered from each article. The quantitative analysis indicated that: (1) the Automation in Construction journal has the highest overall number of published data collection articles among the other journals; (2) the most frequent focus of the articles is on the construction phase; (3) infrastructure projects have the highest number of articles, whereas, residential projects have the least number of articles; (4) several articles had a principal focus on visualization, simulation or communication; and (5) the majority of articles focus on the 3D modeling and the recent development and application of the AR technologies in the data collection field. The critical points of current knowledge in the field of data collection were considered. The research progress on each category was evaluated and presented in the next section and then investigated to frame its knowledge gaps.
4

Evaluation of Automated Data Collection Technologies
5

Challenges with Progress Tracking and Technology Gaps

Construction progress tracking is not a simple task and is associated with many challenges because construction projects involve large amounts of information related to a variety of functions, such as scheduling, construction methods, cost management, resources, quality control, and change order management. In addition, information is provided by a number of different sources and is presented in a wide variety of forms (Omar and Nehdi 2015). Furthermore, it may be difficult to track and record changes based on conscious decisions that are made during construction. It can even be more difficult to adequately track and record deviations that are more subtle and not emanating from conscious decisions (e.g., deviations due to poor workmanship) (Nahangi and Haas 2014). Most of the research efforts in the field of project control still focus on the development of cost control models where the earned value concept has proven to be the most reliable tool for tracking and control of construction projects (Xiong et al. 2013). More research is required to resolve knowledge gaps and better benefit the industry from adopting these technologies.

Recommendations for future research based on the analysis conducted in this study include: (1) resolving how to obtain complete sets of data as construction projects become larger and more complex. The problem of incomplete data will continue to significantly affect the automated measurement of construction progress; (2) solving how to automatically quantify the discrepancies between as-designed and as-built status; (3) providing the construction industry with cost analysis to help in the decision making process regarding the application of automated data acquisition technologies; (4) developing quantitative performance measures for tracking the progress of construction projects; (5) enhancing the integrated systems for automatically acquiring data for different construction areas; (6) integrating photogrammetry and laser-scan surveys with data acquired by other identification and localization technologies; (7) using 3D location sensing technology to develop mechanisms for tracking the movement of construction objects within construction sites; (8) enhancing methods which are based on scan-versus-BIM frameworks as they have not yet achieved a high level of effectiveness; (9) determining how BIM coupled with AR-based visualization can effectively interact with the information database provided on site to facilitate the physical context of each construction activity or task; and (10) improving the methods used for processing the huge amounts of 3D as-built data acquired from civil infrastructure projects that often have vast, noisy, and unstructured data.
6

Selection of Automated Data Collection Technologies

The present investigation of data collection technologies revealed that each technology has some advantages and can be employed in different applications during construction phases. For instance, IT techniques are powerful low-cost tools having great potential to control delays and cost overruns through improvements of project communication. However, numerous factors must be considered when IT approaches are applied in construction, such as the expenses of purchasing equipment and software, maintenance costs and upgrading of the hardware, the upgrading and licensing required for the software, the fees of required wireless services, need for in-house technical support personnel, and the training of users. Geospatial tools provide real-time data with a wide reading range and are considered high-durability tools in the construction environment. They also have the ability of tracking a material's progress through its supply chain, from manufacturing to the construction site gate. The data from geospatial technologies are becoming more effective and useful through their integration with other technologies such as 3D imaging, BIM and IT tools.

3D laser scanning can be used to track the progress of a construction site by recognizing existing built components and comparing them with the corresponding 3D CAD model. However, related commercial software packages are still too complicated for processing scanned data and the high equipment cost makes it unfeasible for small projects. In comparison, image technologies (photo/videogrammetry) are inexpensive, easy to use, and time efficient in acquiring data on site. The reduced level of accuracy compared to time-of-flight laser scanning constrains the applicability of image-based technology. Augmented Reality, in which 3D virtual objects are integrated in real time into a 3D real environment, is a promising technology that culminates numerous groups of technologies. The new AR software applications provide automated real-time notification systems and can record data that appear directly on the project schedule, and thus can provide timely schedule updates to help decision makers take better corrective actions. To identify key application areas that could be used to guide the construction industry and help the contractors to track and control their projects in a timely manner, the investigated technologies were compared from different viewpoints in Table 

5

.

Table 5.

Comparison of available data collection technologies for progress tracking
| Evaluation | 3D imaging | Geospatial | Enhanced IT | Augmented reality |
| --- | --- | --- | --- | --- |
| Applicability | All projects | All projects | All projects | All projects |
| Project size | Moderate/Large | Small/Moderate | Small/Moderate | Moderate/Large |
| Setup and cost | Very high | Medium | Medium | High |
| Automation level | Automated | Semi-automated | Manual | Automated |
| Training required | High | Low | Low | Medium |
| Pre-processing level | Medium | Low | Low | Low |
| Integrated readiness | High | Medium | Medium | High |
7

Conclusions

Conventional construction progress tracking methods depend on extensive manual interaction, which is inaccurate, time-consuming, and labour-intensive even for small projects. Automated approaches have emerged as advantageous tools for quality management and as-built tracking purposes. This study presents an in-depth literature review of data collection technologies in the construction industry. For instance, 3D sensing technologies are the most accurate and speedy data collection tools that can be used for high precision purposes, so they are recommended for use in large, non-congested and accessible projects such as landmark development projects. Compared with some other locating technologies, RFID has its advantages in aspects of durability, rich data capacity, repetitive read/write, noncontact features, and low cost. It is also recommended for procurement management, preconstruction management, and resource management. Enhanced IT tools are relatively limited to tracking and documenting a project's status manually and hence are applicable mainly in small projects. AR applications are the most promising technologies, being suitable for all project types and sizes. They are growing rapidly as web-based and wireless network technologies are becoming more accessible.

The classification of the literature has enabled gaps in the automated data collection to be identified and future research directions to be proposed. Integrating these technologies alleviates limitations associated with each of them when employed individually. Many promising software applications have recently been used in the construction industry for data collection such as Bridgit as an IT enhanced tool, iBeacon as a geospatial tool, Creaform Handyscan as a handheld scanner, and BIManywhere as an augmented reality-based mobile app. However, it is worth mentioning that data collection technologies are evolving at an extraordinary speed and it is recommended to the construction participants to monitor this developing area closely in order to get the latest updates.
Copyright information
© Springer International Publishing AG 2018