Abstract

The use of information and communication technologies in the healthcare industry has been referred to as "telemedicine" or "e-health." Our healthcare systems are facing big increases in demand due to growing elderly populations, rising chronic diseases, and the rapid development of new treatments; thus, the use of telemedicine is believed to be a part of the solution in restructuring and redesigning our healthcare systems. Despite often positive results, many telemedicine services remain stuck in a pilot or experimental phase and never make it to a larger implementation. The most important obstacle is the lack of structural financial reimbursement and available budget. In The Netherlands, we have developed and successfully applied our Health Management Practice (HMP) Model on a large number of telemedicine services using the "start small, think big" approach, leading to fully integrated telemedicine services. Results show a 70–96% reduction in hospital visits in dermatology and ophthalmology, which translates into an immediate cost reduction of 18%. Response times of 4–5 working hours and the learning effect have a high impact on the quality of care delivered. Telemonitoring programs in mental health have shown that involving the patient as an active actor can result in more motivation and ownership of their own health. Telemedicine also allows hospitals to remain focused on delivering high-quality specialized care. In many peripheral centers in residential areas, more routine care services will be delivered close to the patient by paramedics, caregivers, and patients themselves under the direction and supervision of a general practitioner and medical specialist at a distance.
Keywords
Telemedicine

e-Health

Healthcare redesign

Telemonitoring

Teledermatology

Telecardiology

e-Mental health

Tele-ophthalmology

m-Health

Blended care

Digital health

Implementation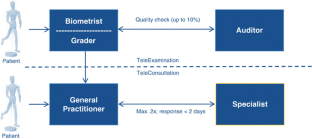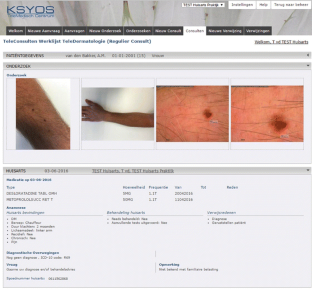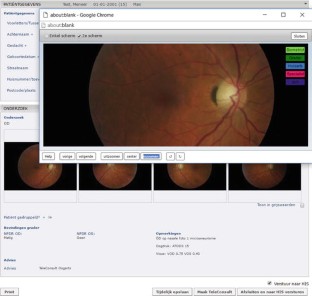 References
Broens THF. Determinants of successful telemedicine implementations: a literature study. J Telemed Telecare. 2007;13(6):303.

Chen S, Cheng A, Mehta K. A review of telemedicine business models. Telemed J E Health. 2013;19(4):287–97.

Ekeland AG, Bowes A, Flottorp S. Effectiveness of telemedicine: a systematic review of reviews. Int J Med Inform. 2010;79(11):736–71.

Grigsby J, Kaehny MM, Sandberg EJ, Schlenker RE, Shaughnessy PW. Effects and effectiveness of telemedicine. Health Care Financ Rev. 1995;17(1):115–31.

Haris F. IT Infrastructure Maturity Model (ITI-MM): a roadmap to agile IT infrastructure. Enschede, Netherlands: University of Twente; 2010.

Khoja S, Scott RE, Casebeer AL, Mohsin M, Ishaq A, Gilani S. E-health readiness assessment tools for healthcare institutions in developing countries. Telemed e-Health. 2007;13(4):425–32.

KSYOS Research. Anonymized database of all telemedicine processes. 2016.

Mills A, et al. Health care systems in low- and middle-income countries. N Engl J Med. 2014;370:552–7.

Mistry H. Systematic review of studies of the cost-effectiveness of telemedicine and telecare. Changes in the economic evidence over twenty years. J Telemed Telecare. 2012;18(1):1–6. Epub 2011 Nov 18

Ossenbaard H., Duivenbode J. Position paper: evaluatie ehealth-technologie in de context van beleid. In press.

Preston J, Brown FW, Hartley B. Using telemedicine to improve health care in distant areas. Hosp Community Psychiatry. 1992;43(1):25–32.

Van de Wetering R, Batenburg R. A PACS maturity model: a systematic meta-analytic review on maturation and evolvability of PACS in the hospital enterprise. Int J Med Inf. 2009;78(2):127–40.

Van der Heijden JP, de Keizer NF, Bos JD, et al. Teledermatology applied following patient selection by general practitioners in daily practice improves efficiency and quality of care at lower cost. Br J Dermatol. 2011 Nov;165(5):1058–65.

Witkamp L, Zonder budget geen ICT-revolutie in de zorg. Medisch contact. 2016.

Witkamp L, van der Heijden JP. Health management practice as a method to introduce teledermatology: experiences from The Netherlands, Telemedicine in dermatology. Berlin, Heidelberg: Springer; 2012.

World Health Organization. World health statistics 2015. 2015; ISBN 978 92 4 156488 5.

Wynchank S. and Van Dyk L., editors. A decision support tool for telemedicine project management. Prove your Hypothesis: telemedicine and eHealth in South Africa, 13–15 Sept 2011. 2011.
Copyright information

© 2018 Springer International Publishing AG
About this chapter
Cite this chapter
van der Heijden, J.P., Witkamp, L. (2018). Redesigning Healthcare Systems to Provide Better and Faster Care at a Lower Cost. In: Rivas, H., Wac, K. (eds) Digital Health. Health Informatics. Springer, Cham. https://doi.org/10.1007/978-3-319-61446-5_3
DOI: https://doi.org/10.1007/978-3-319-61446-5_3

Published:

Publisher Name: Springer, Cham

Print ISBN: 978-3-319-61445-8

Online ISBN: 978-3-319-61446-5

eBook Packages: MedicineMedicine (R0)