Abstract

Venous disorders of the leg, either in the chronic or acute forms, may frequently affect elderly people. In this kind of population, the complications, such as chronic ulcers, may be more severe and often may impair quality of life also. All treatments (medical, surgical, and compressive) are possible in elderly age, but every choice must be properly tailored around the specific hemodynamic profile as well as the patient's global health.
Keywords
Chronic venous disease

Elderly

Deep vein thrombosis

Venous ulcer, surgery

Endovascular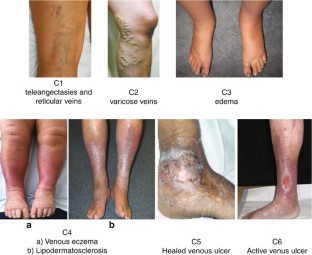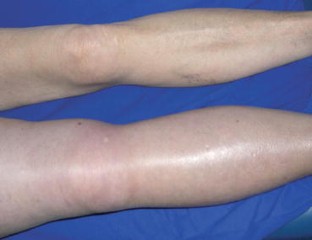 Abbreviations
ASVAL:

Ablation sélective des varices sous anésthesie locale

CDT:

Catheter-directed thrombolysis

CEAP:

Clinical-etiology-anatomy-pathophysiology

CHIVA:

Cure Hémodynamique de l'insuffisance veineuse en ambulatoire

CT:

Compression therapy

CVD:

Chronic venous disease

CVI:

Chronic venous insufficiency

CVLU:

Chronic venous leg ulceration

DVT:

Deep vein thrombosis

ECM:

Extracellular matrix

EVLA:

Endovascular laser therapy

GAG:

Glycosaminoglycan

LMWH:

Low molecular weight heparin

PAPS:

Percutaneous ablation of perforators

PAT:

Percutaneous aspiration thrombectomy

PCDT:

Pharmacomechanical catheter-directed thrombolysis

PTS:

Post-thrombotic syndrome

RFA:

Radiofrequency ablation

SEPS:

Subfascial endoscopic perforator vein surgery

VAD:

Venoactive drug
References
Serra R, Grande R, Butrico L, Fugetto F, de Franciscis S. Epidemiology, diagnosis and treatment of chronic venous disease: a systematic review. Chirurgia. 2016;29(2):34–45.

Serra R, Buffone G, de Franciscis A, Mastrangelo D, Molinari V, Montemurro R, et al. A genetic study of chronic venous insufficiency. Ann Vasc Surg. 2012;26:636–42.

Robertson L, Evans C, Fowkes FG. Epidemiology of chronic venous disease. Phlebology. 2008;23:103–11.

Beebe-Dimmer JL, Pfeifer JR, Engle JS, Schottenfeld D. The epidemiology of chronic venous insufficiency and varicose veins. Ann Epidemiol. 2005;15:175–84.

Eklöf B, Rutherford RB, Bergan JJ, Carpentier PH, Gloviczki P, Kistner RL, et al. Revision of the CEAP classification for chronic venous disorders: consensus statement. J Vasc Surg. 2004;40:1248–52.

Serra R, Andreucci M, De Caridi G, Massara M, Mastroroberto P, de Franciscis S. Functional chronic venous disease: a systematic review. Phlebology. 2017;1:268355516686451. https://doi.org/10.1177/0268355516686451. [Epub ahead of print].

O'Hare JL, Earnshaw JJ. Practical advice for the treatment of venous disease in the elderly. Phlebology. 2008;23(3):101–2.

Etufugh CN, Phillips TJ. Venous ulcers. Clin Dermatol. 2007;25(1):121–30.

Canonico S, Campitiello F, Pacifico F, Sepe D, Lauletta V. Day care surgery of varicose veins in elderly patients. Vasc Surg. 1996;30(5):387–92.

de Franciscis S, Gasbarro V, Amato B, Buffone G, Grande R, Serra R. Hemodynamic surgery versus conventional surgery in chronic venous disease: a multicenter retrospective study. Acta Phlebologica. 2013;14:109–14.

Serra R, Gasbarro V, Barbetta A, De Caridi G, Massara M, Perri P, Ciranni S, Torcia G, Abatucci G, Andreucci M, Buffone G, de Franciscis S. Endovenous radiofrequency ablation of tributary veins reflux. Acta Phlebologica. 2016;17:61–3.

Müller R. Traitement des varices par la phlebéctomie ambulatoire. Bull Soc Fr Phléb. 1966;19:277–9.

Francheschi C. Thèorie et pratique de la cure conservatrice de l'insufisance veineuse en ambulatoire. Précy-sous- Thil: Editions de l'Armancon; 1988.

Solis JV, Ribè L, Portero JL, Rio J. Stripping saphenectomy, CHIVA and laser ablation for the treatment of the saphenous vein insufficiency. Ambul Surg. 2009;15:11–4.

Onida S, Davies AH. CHIVA, ASVAL and related techniques—concepts and evidence. Phlebology. 2015;30(2 Suppl):42–5.

Jaworucka-Kaczorowska A, Oszkinis G, Huber J, Wiertel-Krawczuk A, Gabor E, Kaczorowski P. Saphenous vein stripping surgical technique and frequency of saphenous nerve injury. Phlebology. 2015;30(3):210–6.

Lam H, Chao L. Endovascular ablation therapies for varicose veins in elderly patients. Int J Gerontol. 2014;8:219–22.

Serra R, Rizzuto A, Rossi A, Perri P, Barbetta A, Abdalla K, Caroleo S, Longo C, Amantea B, Sammarco G, de Franciscis S. Skin grafting for the treatment of chronic leg ulcers – a systematic review in evidence-based medicine. Int Wound J. 2017;14:149–57.

Carpentier PH, Becker F, Thiney G, Poensin D, Satger B. Acceptability and practicability of elastic compression stockings in the elderly: a randomized controlled evaluation. Phlebology. 2011;26(3):107–13.

Silverstein RL, Bauer KA, Cushman M, Esmon CT, Ershler WB, Tracy RP. Venous thrombosis in the elderly: more questions than answers. Blood. 2007;110(9):3097–101.

Prandoni P. Treatment of patients with acute deep vein thrombosis and/or pulmonary embolism: efficacy and safety of non-VKA oral anticoagulants in selected populations. Thromb Res. 2014;134(2):227–33.

Rabinovich A, Kahn SR. The postthrombotic syndrome: current evidence and future challenges. J Thromb Haemost. 2017;15(2):230–41. https://doi.org/10.1111/jth.13569. [Epub ahead of print].

Goktay AY, Senturk C. Endovascular treatment of thrombosis and embolism. Adv Exp Med Biol. 2017;906:195–213.

Kuo TT, Huang CY, Hsu CP, Lee CY. Catheter-directed thrombolysis and pharmacomechanical thrombectomy improve midterm outcome in acute iliofemoral deep vein thrombosis. J Chin Med Assoc. 2017;80(2):72–9.

Patterson BO, Hinchliffe R, Loftus IM, Thompson MM, Holt PJ. Indications for catheter-directed thrombolysis in the management of acute proximal deep venous thrombosis. Arterioscler Thromb Vasc Biol. 2010;30(4):669–74.
Acknowledgments

The authors have no conflict of interests to declare.

This chapter received no funding.
Authors' Contribution
SdF and RS contributed equally to this work.
They both conceived the chapter, participated in its design, drafted, and revised it critically.
Copyright information

© 2018 Springer International Publishing AG, part of Springer Nature
About this chapter
Cite this chapter
de Franciscis, S., Serra, R. (2018). Venous Disorders of the Leg. In: Crucitti, A. (eds) Surgical Management of Elderly Patients. Springer, Cham. https://doi.org/10.1007/978-3-319-60861-7_19
DOI: https://doi.org/10.1007/978-3-319-60861-7_19

Published:

Publisher Name: Springer, Cham

Print ISBN: 978-3-319-60860-0

Online ISBN: 978-3-319-60861-7

eBook Packages: MedicineMedicine (R0)