Abstract

The drought of 2012–2015 in California imposed severe stress on the state's water resources. USAGE-TERM is a multi-regional CGE model that represents 12 key irrigation counties in California as separate economies. Water trading between irrigators would help California cope with drought. In particular, sales of water from producers of annual crops to producers of perennials may lower the costs of maintaining plantations, given the high fixed costs arising from the alternative of drilling new wells.
Keywords
Drought impacts

Impediments to water trading

Aquifer depletion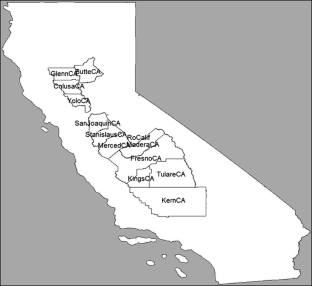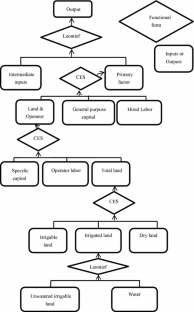 Notes
1.

2.

During a prolonged drought, the early years tend to include a reduction in the rainfall contribution and a lesser reduction in the irrigation water availability. Water managers, based on the Australian experience (see Wittwer and Griffith 2011, Table 7.5), tend to impose more severe cuts in the later years of drought and maintain reduced allocations in the first recovery year.

3.

In the regional context, the terms-of-trade refer to the price index for international plus inter-regional exports divided by the corresponding international plus inter-regional imports price index, inclusive of water trading.

4.
References
Chappelle C, Hanak E, Mount J (2015) Reforming California's groundwater management. PPIC Water Policy Center. http://www.ppic.org/main/publication_show.asp?i=1106. Accessed 9 Sept 2016

Cook H (2014) $613 m for desalination plant, no water ordered. The age, March 27. http://www.theage.com.au/victoria/613m-for-desalination-plant-no-water-ordered-20140327–35k7c.html. Accessed 24 Aug 2015

Dixon P, Parmenter B, Sutton J, Vincent D (1982) ORANI: a multisectoral model of the Australian economy. Contributions to economic analysis, vol 142. North-Holland, Amsterdam

Dixon PB, Rimmer MT, Wittwer G (2012) The theory of TERM-H2O, chapter 5. In: Wittwer G (ed) Economic modeling of water, the Australian CGE experience. Springer, Dordrecht

Dixon PB, Rimmer MT, Wittwer G (2011) Saving the southern Murray-Darling basin: the economic effects of a buyback of irrigation water. Econ Rec 87:153–168

Howitt R, M'Marete M (1991) Well set aside proposal: a scenario for ground water banking. Calif Agric 45(3):6–8

Howitt R, MacEwan D, Medellín-Azuara J, Lund J, Sumner, D (2015) Economic analysis of the 2015 drought. UC Davis Center for Watershed Sciences ERA Economics. https://watershed.ucdavis.edu/files/biblio/Final_Drought%20Report_08182015_Full_Report_WithAppendices.pdf. Accessed 20 Nov 2015

James I (2015) Calfornia board approves emergency water rules. http://www.usatoday.com/story/news/nation/2015/05/05/california-water-restrictions-missed-targets/26928275/. Accessed 21 July 2015

Walker T (2015) California drought: almond growers fight back over reports they are causing chronic water shortages. http://www.independent.co.uk/news/world/americas/california-drought-almond-growers-fight-back-over-reports-they-are-causing-chronic-water-shortages-10224339.html. Accessed 21 July 2015

Wittwer G, Griffith M (2011) Modelling drought and recovery in the southern Murray-Darling basin. Aust J Agric Resour Econ 49:342–359
Copyright information

© 2017 Springer International Publishing AG
About this chapter
Cite this chapter
Wittwer, G. (2017). Modeling California's Drought. In: Wittwer, G. (eds) Multi-regional Dynamic General Equilibrium Modeling of the U.S. Economy. Advances in Applied General Equilibrium Modeling. Springer, Cham. https://doi.org/10.1007/978-3-319-58866-7_11