Abstract

The TERM implementation of a multi-regional model enables users to run with more sectors and regions than earlier multi-regional CGE models. But a trait of multi-regional modeling is that there is always interest in regions smaller than those captured by the model. In addition, in policy debates, political regions are of interest. A top-down representation, which takes simulation results and distributes outcomes to small regions based on industry activity shares, provides a way of representing county level or congressional district outcomes in USAGE-TERM. From top-down data, it is possible to devise a bottom-up master database for more regions than the standard USAGE-TERM database.
Keywords
Top-down versus Bottom-up modeling

County representation

Congressional districts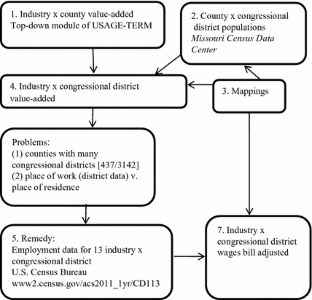 Notes
1.

2.

The broad sector totals may be superior in district data than county data, but the latter's advantage concerns the composition at the disaggregated sector level.

3.

4.

5.

Indeed, carma.org data provide latitude and longitude coordinates for power generating plants that can be matched to either counties or congressional districts.

6.
References
Dixon P, Parmenter B, Sutton J (1978) Spatial disaggregation of ORANI results: a preliminary analysis of the impacts of protection at the state level. Econ Anal Policy 8:35–86

Dixon P, Parmenter B, Sutton J, Vincent D (1982) ORANI: a multisectoral model of the Australian economy. Contributions to economic analysis, vol 142, North-Holland, Amsterdam

Dixon P, Rimmer M, Tsigas M (2007) Regionalising results from a detailed CGE model: macro, industry and state effects in the U.S. of removing major tariffs and quotas. Papers Reg Sci 86:31–55

Dixon PB, Rimmer MT, Wittwer G (2012) The theory of TERM-H2O. In: Wittwer G (ed) Economic modeling of water, the Australian CGE experience. Springer, Dordrecht

Horridge M (2012) The TERM model and its database. In: Wittwer G (ed) Economic modeling of water, the Australian CGE experience. Springer, Dordrecht, pp 13–36

Wittwer G, Vere D, Jones R, Griffith G (2005) Dynamic general equilibrium analysis of improved weed management in Australia's winter cropping systems. Aust J Agric Resour Econ 49:363–377
Copyright information

© 2017 Springer International Publishing AG
About this chapter
Cite this chapter
Horridge, M., Wittwer, G. (2017). Top-Down Extensions to Represent Counties and Congressional Districts and Moving to Bottom-Up. In: Wittwer, G. (eds) Multi-regional Dynamic General Equilibrium Modeling of the U.S. Economy. Advances in Applied General Equilibrium Modeling. Springer, Cham. https://doi.org/10.1007/978-3-319-58866-7_10