Abstract

The first wave of entry into the Danish microbrew industry took place from the beginning of the millennium. The first movers had a high focus on finding a market niche and profit perspectives, whereas later entrants had relatively more focus on motives like making the perfect beer. A survey including 45 Danish microbreweries shows that the share of breweries established until 2004 with positive earnings does not seem to be higher than the share of breweries in later cohorts. Using information on all breweries that existed from 2009, a survival analysis using a censored regression model shows that survival is inversely related to the year of entry, suggesting that learning-by-doing effects may have been present especially for the first cohorts of entrants.
Keywords
Danish Microbrew

Greenfield Entry

Survival analysis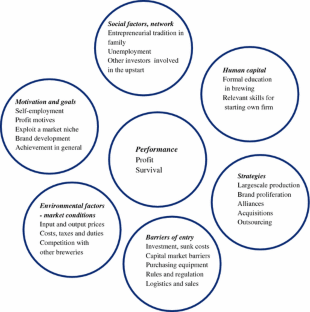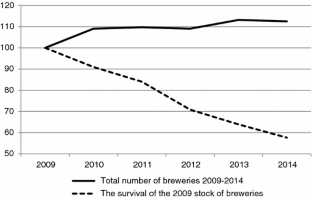 Notes
1.

The per liter price of microbrew was three times the price of a standard premium beer, signaling a luxury product.

2.

See Colen and Swinnen (2011) for an overview of trends in global beer consumption.

3.

A significant part of the sale of microbrews takes place at restaurants, cafés, etc. Of the total turnover of beer, 75% comes from shops and direct sale to consumers and 25% is consumption in cafés and restaurants.

4.

5.

6.

7.

See Quatraro and Vivarelli (2014) for a general discussion of entrepreneurial and industrial factors influencing entry and post-entry performance.

8.

However, the perception of the importance of various entry barriers may of course be non-independent for the respondent, and this was also confirmed by the abovementioned factor analysis; that is, the motives and the respondents' answers to the topics in Table 6.1 are inter-related.

9.

see also Quatraro and Vivarello (2014).
References
Audretsch, D. B. & Vivarelli, M. (2007). The link between the entry decision and post-entry performance. In M. Vivarelli (Ed.), Entry and post-entry performance of newborn firms. London: Routledge.

Beerticker.dk.

Benzing, C., & Chu, H. M. (2009). A comparison of the motivations of small business owners in Africa. Journal of Small Business and Enterprise Development, 16, 60–77.

Colen, L. & Swinnen, J. (2011). Beer-drinking nations: The determinants of global beer consumption. In J. Swinnen (Ed.), The economics of beer. Oxford: Oxford University Press.

Geroski, P. A. (1995). What do we know about entry? International Journal of Industrial Organization, 13, 421–440.

Harada, N. (2003). Who succeeds as an entrepreneur? An analysis of the post-entry performance of new firms in Japan. Japan and the World Economy, 15, 211–222.

Hindy, S. (2014). The craft beer revolution. How the band of microbrewers is transforming the world's favorite drink. New York: Palgrave Macmillan.

Kirzner, I. (1973). Competition and entrepreneurship. Chicago: University of Chicago Press.

Knowles, T., & Egan, D. (2001). The changing structure of UK brewing and pub retailing. International Journal of Wine Marketing, 13, 59–72.

Niederhut-Bollmann, C., & Theuvsen, L. (2008). Strategic management in turbulent markets: The case of the German and Croatian brewing industries. Journal for East European Management Studies, 13, 63–88.

Premand, P., Brodmann, S., Almeida, R., Grun, R. & Barouni, M. (2012). Entrepreneurship training and self-employment among university graduates. Evidence from a randomized trial in Tunisia (Research Working Paper 6285). Washington, DC: The World Bank.

Quatraro, F. and Vivarelli, M. (2014). Drivers of entrepreneurship and post-entry performance of newborn firms in developing countries policy (Research Working Paper 7074). Washington, DC: The World Bank Group.

Scherer, R. F., Adams, J. S., & Wiebe, F. A. (1989). Developing entrepreneurial behaviour: A social learning theory perspective. Journal of Organizational Change Management, 2, 16–27.

Siegfried, J. J., & Evans, L. B. (1994). Empirical studies of entry and exit: A survey of the evidence. Review of Industrial Organization, 19, 335–350.

Sönmetz, A. (2013). Firm entry, survival, and exit. Academic Journal of Interdisciplinary Studies, 2 (9), 160–167 (MCSER Publishing-Rome, Italy).

Tremblay, V. J., Iwasaki, N., & Tremblay, C. H. (2005). The dynamics of industry concentration for U.S. micro and macro brewers. Review of Industrial Organization, 26, 307–324.

Vivarelli, M. (2004). Are all the potential entrepreneurs so good? Small Business Economics, 23, 41–49.

Wesson, T., & de Figueiredo, J. E. (2001). The importance of focus to market entrants: A study of microbrewery performance. Journal of Business Venturing, 16, 377–403.
About this chapter
Cite this chapter
Bentzen, J., Smith, V. (2018). Entry, Survival, and Profits: The Emergence of Microbreweries in Denmark. In: Garavaglia, C., Swinnen, J. (eds) Economic Perspectives on Craft Beer. Palgrave Macmillan, Cham. https://doi.org/10.1007/978-3-319-58235-1_6