Abstract

This chapter explores the emergence of independent craft breweries in Australia over three and half decades. Three distinct periods of the segment's evolution are identified. While much of the substantial growth has occurred this decade, with the total number of breweries doubling between 2010 and 2015, the foundations for this escalation were laid by several pioneering companies and individuals through the 1990s and early 2000s. This chapter explores the constraints and drivers of growth, and the rise of diverse business models. Of note also is the distinctive role played by Australia's macro brewers, who acquired several of the early successful craft entrants, thus confusing the definition of the segment and shaping its prospects.
Keywords
Craft Breweries

Australia

Business Model

Brewing History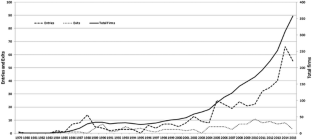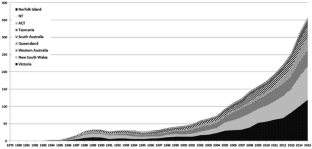 Notes
1.

I use the term craft brewers to refer to smaller scale, independent beer-producing firms. These contrast with large-scale macro beer companies. The term craft beer is a recent affectation (Hieronymus 2015). Through much of the period of this study, such Australian firms have been known as mini-breweries, micro breweries or boutique brewers. The key defining characteristic is the independent ownership and control of the firm.

2.

Estimates of the market share of craft beer in Australia in 2015 vary widely—from 4 to 8%. This discrepancy reflects (1) uncertainty about how to delineate the product from the producer (i.e. no requirement of independent ownership is consistently applied); and (2) a lack of any cooperative collection of aggregate data from across the beer market (unlike in the USA, e.g., where the Brewers Association collects and reports a league table of brewers). There is consensus that the segment is growing at the same time that overall beer sales are in persistent decline.

3.

By 2014, Australia's market ranking by volume had dropped to 22 (Euromonitor 2015). Australians are typically ranked number one outside Europe in terms of per capita beer consumption (Colen and Swinnen 2011), but this consumption has been in decline since the 1970s. Between 2009 and 2014, the per capita beer consumption dropped from 108 to 92.4 litres, the lowest level in over 50 years (Australian Bureau of Statistics (ABS) 2015).

4.

Australia is made up of six states and two territories plus several small administrative regions. The eight brewers and their respective home states/dominant markets in 1979 were Carlton & United (Victoria), Cascade (Tasmania), Castlemaine Perkins (Queensland), Coopers and South Australian Brewing (both South Australia), Swan (Western Australia) and Tooheys and Tooths (both New South Wales). Carlton & United did have also footholds in southern Queensland and the Northern Territory (Merrett 1998).

5.

Excise on beer is especially high in Australia. It represented the second-largest source of indirect tax revenue in Australia after petrol taxes in 2008. For lower-priced, packaged macro beers, taxes can constitute almost half the retail price (IBISWorld 2008).

6.

Carlton & United (Victoria) had acquired Tooths by 1983 and Cascade in 1993. Tooths had acquired Courage in 1978. Castlemaine Perkins, Swan and Tooheys were merged by 1985 and acquired by Lion Nathan in 1990. Their Australian portfolio expanded to include South Australian Brewing in 1993. A secondary Tasmanian brewer Boags was spun out of Cascade in 1994 and run independently until acquired by Filipino brewer San Miguel in 2000. In 2007, Boags was sold to Lion Nathan.

7.

Low alcohol beers were partially a response to drink-driving legislation and shifting attitudes to drunkenness. But equally important was the shift in excise structures in 1984 such that beers below 3% alcohol (ABV) were taxed much more lightly. Australia has an unusually aggressive system of ever higher tax payments based on alcohol level. At current rates, a 2.5% ABV beer sold in 50 litre kegs would incur A$0.11 per litre in excise, an 4.5% ABV A$1.11 and an 8.5% ABV A$2.46. The rates are much higher for packaged beer (or beer sold in kegs < 48 litres), but the discount for low ABV is much less. The same beers above would pay A$0.55, A$1.59 and A$3.49 per litre respectively.

8.

Fosters' was the first foreign brewer to enter India, for example, in 1998 (Arora et al. 2011).

9.

As a tightly held private company (the majority of shareholders are from the multiple generations of the Cooper family), Coopers was able to fend off a A$420 m acquisition attempt by Lion Nathan in 2005 (Byrom and Lehman 2009).

10.

The database underpinning the following figures and tables has been built up from a variety of sources. All physical breweries in operation up until 2011 are listed in Deutsher (2012), while those opening from 2012 are reported in the Small Breweries Updates at the Brew News website. Further firms were identified from Beer and Brewer magazine, beer competition entry lists, social media, beer rating websites and Simpson (2006, 2007, 2011).

11.

Exits here refer to (i) a company ceasing to operate or (ii) ceding independence to a macro player (there have been no examples of mergers within the craft beer segment). Instances where ownership changes but the business continues to operate are not treated as exits unless there is a radical shift in the nature of the business.

12.

It is possible there were more brewing companies in the 1980s and 1990s. As brewing historians almost exclusively chronicle physical breweries rather than end product, it is very difficult to track such entities.

13.

Unfortunately, it is not possible to readily distinguish between these two forms of Brewing Company as firms are not consistently forthcoming in describing their level of involvement in the brew process.

14.

I have only included those Brew-on Premises who also retailed their own branded beer, thus excluding around 75–80% of such businesses. While a number of breweries offered some contract brewing services, only those without their own branded beer are included under the Contract Brewer Only categorization.

15.

This transfer of ownership is treated as an exit in this study's database, as the firm was no longer independent of the macro sector.

16.

Sexton also had an impact in one of the homes of global craft beer. He designed the signature India Pale Ale (IPA) at Bridgeport Brewing in Portland, Oregon in 1996. This influential brew is believed to be Oregon's first bottled IPA.

17.

18.

The host locations for this gypsy brewing were the first Steam Packet Brewing (founded 1996) which used the dormant in-pub brewhouse at the Scottish Chiefs Tavern Brewery in Geelong (which operated only in 1990) and then Grand Ridge Brewing (previously called Strezlecki Brewing, founded 1988) in Mirboo North (Deutsher 2011).

19.

Kirin's calculations are not clear. LWB had revenue of A$85.8 m in 2012. If the brand had 13% market share, then total Australian craft beer market annual turnover would be approximately A$660 m. Yet the same statement indicates craft beer is only 3.2% of the total Australian beer market. That would result in a total Australian beer market size of A$19.8b, whereas the typically cited market size is approximately A$4.3b. While LWB presumably had some small revenues from cider sales and hospitality, this cannot account for the huge discrepancy.

20.

In 2003, another new venture attracted macro attention. Bluetongue Brewery was the brainchild of a winemaker, a hotelier and a former Toohey's senior brewer based in Newcastle, New South Wales. Within 2 years, a prominent advertising identity bought a 50% stake, as the firm's flagship lager, light beer, pilsner and alcoholic ginger beer became available nationally. The firm was quickly sold on to the new CCA/SABMiller joint venture Pacific Beverages, and in 2008 they broke ground on a new 50 m litre brewery just outside Newcastle (Simpson 2011). The brand was sustained for several more years, while the brewery also brewed several foreign beers under licence. The 2012 SAB Miller acquisition of Foster's and the dissolution of Pacific Beverages saw the brewery move into CUB's portfolio. By late 2013, the Bluetongue brand had been shelved and the brewery shut down as part of a rationalization of the firm's operations. Again, this case shows the appetite of the macro players for acquisition, especially of those rivals brewing on a significant scale with sufficiently mainstream beers.

21.

Among the issues around excise have been: (i) the administrative and cash flow burden of paying excise weekly (and at point of manufacture rather than sale); (ii) the very low threshold level at which a small brewer could receive an excise rebate; (iii) the requirement that kegs be > 48 litres to incur lower excise rates; and (iv) the climbing ABV-excise link which severely disadvantages high ABV styles such as imperial stouts in terms of price point. The associations repeatedly argued that craft beer was getting minimal support at the same time that wine producers were getting up to A$500,000 each in excise relief annually. The lobbying had some impact, as rebate levels for brewers were raised in 2012 to a maximum refund of A$30,000 a year (versus the previous cap of $10,000 that was not available to any brewer producing >30,000 l annually).

22.

For example, Mount Tambourine Brewery (founded in Queensland in 2008) sourced its equipment from Bluetongue when that brewery had its huge upgrade. Riverside Brewery (New South Wales 2012) obtained their kit from Mountain Goat.

23.

Australian brewers are not legislatively constrained from acting as distributors, but nevertheless building a national sales force can be a large expense. Distributors have clear economy of scope advantages. The increased dispersion of liquor sales across smaller bars and restaurants also limited the market power of the macros in that space.

24.

Among Bridge Road's international collaborators have been Mikkeller and To Øl (Denmark), Birra del Borgo (Italy), Nøgne Ø (Norway), 8 Wired (New Zealand) and De Struisse (Belgium).

25.

This expansion was funded, in part, by an investment from four of the founders of Little Creatures. This consortium now owns a 33% stake in Boatrocker. This may reflect an emergent venture capital-type model in the Australian craft segment.

26.

While gypsy brewers typically utilize existing excess brew capacity, they can also reduce the uncertainty for breweries looking to upgrade to larger facilities.

27.

The flexibility of the model can extend to location flexibility, as demonstrated by globetrotting gypsy brewers such Mikkeller, To Øl and Yeastie Boys (Maitland and Sammartino 2012).

28.

This ended a 6 year period of gypsy brewing by Nail, who had closed their brewery in 2004 after their founder had a serious injury.
References
Aldrich, H. E., & Martinez, M. A. (2001). Many are called, but few are chosen: An evolutionary perspective for the study of entrepreneurship. Entrepreneurship Theory and Practice, 25(4), 41–56.

Arora, A., Bhaskar, A., Minten, B., & Vandeplas, A. (2011). Opening the beer gates: how liberalization caused growth in India's beer market. In J. F. M. Swinnen (Ed.), The economics of beer (pp. 308–332). Oxford: Oxford University Press.

Australian Bureau of Statistics (2011, Jan 18). Extended Time Series 4307.0.DO.001 Apparent Consumption of Alcohol.

Australian Bureau of Statistics (2015, May 6). Series 4307.0.55.001 Apparent Consumption of Alcohol, Australia, 2013–2014.

Barney, J. (1991). Firm resources and sustained competitive advantage. Journal of Management, 17(1), 99–120.

Barney, J. (1995). Looking inside for competitive advantage. Academy of Management Executive, 9(4), 49–61.

Baum, J. A. C., & Singh, J. V. (1996). Dynamics of organizational responses to competition. Social Forces, 74(4), 1261–1297.

Bhide, A. (1994). How entrepreneurs craft strategies that work. Harvard Business Review, 72(2), 150–161.

Bilger, B. (2008, Nov 24). A better brew: The rise of extreme beer. The New Yorker, 86–99.

Brush, C. G., Greene, P. G., & Hart, M. M. (2001). From initial idea to unique advantage: The entrepreneurial challenge of constructing a resource base. Academy of Management Executive, 15(1), 64–78.

Byrom, J., & Lehman, K. (2009). Coopers Brewery: Heritage and innovation within a family firm. Marketing Intelligence & Planning, 27(4), 516–523.

Carroll, G. R. (1985). Concentration and specialization: Dynamics of niche width in populations of organizations. American Journal of Sociology, 90(6), 1262–1283.

Carroll, G. R., Dobrev, S. D., & Swaminathan, A. (2002). Organizational processes of resource partitioning. Research in Organizational Behavior, 24, 1–40.

Colen, L., & Swinnen, J. F. M. (2011). Beer-drinking nations: The determinants of global beer consumption. In J. F. M. Swinnen (Ed.), The economics of beer (pp. 123–140). Oxford: Oxford University Press.

Deutsher, K. M. (2012). The breweries of Australia: A history (2nd ed.). Glebe: Beer & Brewer Media.

Euromonitor International. (2015). Alcoholic drinks: Beer. London: Market Sizes.

Frost, W., Laing, J., Wheeler, F., & Reeves, K. (2010). Coffee culture, heritage and destination image: Melbourne and the Italian model. In L. Jolliffe (Ed.), Coffee culture, destinations and tourism (pp. 99–110). Channel View: Bristol.

Ghemawat, P., & Del Sol, P. (1998). Commitment versus flexibility? California Management Review, 40(4), 26–42.

Greenblat, E. (2013, Dec 11). Lion has big plans for Little Creatures. Sydney Morning Herald. Available from http://www.smh.com.au/. Accessed 20 Jan 2016.

Hieronymus, S. (2015) How craft became craft: Exploring the word that transformed beer, All About Beer, 36(1). Available from http://allaboutbeer.com/.

Holden, S. S. (2011). Three cheers for new beers: Marketing insights from the birth of boutique brewing in Australia. Australian & New Zealand Marketing Academy Conference.

IBISWorld (2008). Industry Report C2182: Beer and malt manufacturing in Australia. Available from http://www.ibisworld.com. Accessed 3 Jan 2016.

Lavie, D., Stettner, U., & Tushman, M. L. (2010). Exploration and exploitation within and across organizations. Academy of Management Annals, 4, 109–155.

Levinthal, D. A., & March, J. G. (1993). The myopia of learning. Strategic Management Journal, 14(S2), 95–112.

Li, Y., James, B. T., Madhavan, R., & Mahoney, J. T. (2007). Real options: Taking stock and looking ahead. Advances in Strategic Management, 24(1), 31–66.

Little World Beverages. (2005). Prospectus.

Little World Beverages. (2011). Annual Report 2010–2011.

Maitland, E., & Sammartino, A. (2012). Flexible footprints: Reconfiguring MNCs for new value opportunities. California Management Review, 54(2), 92–117.

March, J. G. (1991). Exploration and exploitation in organizational learning. Organization Science, 2(1), 71–87.

Merrett, D. T. (1998). Stability and change in the Australian brewing industry 1920–1994. In R. G. Wilson & T. R. Gourvish (Eds.), The Dynamics of the international brewing industry since 1800 (pp. 229–246). New York: Routledge.

Patterson, P. G., Scott, J., & Uncles, M. D. (2010). How the local competition defeated a global brand: The case of Starbucks. Australasian Marketing Journal, 18(1), 41–47.

Peteraf, M. A. (1993). The cornerstones of competitive advantage: a resource-based view. Strategic Management Journal, 14(3), 179–191.

Porter, M. E. (1996). What is strategy? Harvard Business Review, 74(6), 61–78.

Sammartino, A. (2007). Retailing. In H. Dick & D. T. Merrett (Eds.), The internationalisation strategies of small-country firms: The Australian experience of globalisation (pp. 175–194). Cheltenham: Edward Elgar.

Simpson, W. (2006). The beer bible. Sydney: John Fairfax Publications.

Simpson, W. (2007). The beer bible—updated edition. Sydney: John Fairfax Publications.

Simpson, W. (2011). The Australian beer companion. Richmond: Explore Australia Publishing.

Smith, J. (2014). 150 great Australian beers. Richmond: Hardie Grant Books.

Stubbs, B. J. (1999). Tied houses, taxes, and technology: Concentration in the brewing industry of New South Wales, 1882 to 1932. Australian Economic History Review, 39(2), 87–113.

Stubbs, B. J. (2015). A short history of craft beer in Australia. Online Available from http://whatiscraftbeer.com.au/learn-beer/short-history-craft-beer-australia/. Accessed 9 Dec 2015.

Stuckey, J., & White, D. (1993). When and when not to vertically integrate. Sloan Management Review, 34(3), 71–83.

Victorian Beer Label Collectors Society (VBLCS). (1986, May). Newsletter. Available from http://www.vblcs.com/. Accessed 25 Nov 2015.

Watne, T. A., & Hakala, H. (2013). Inventor, founder or developer? An enquiry into the passion that drives craft breweries in Victoria, Australia. Journal of Marketing Development and Competitiveness, 7(3), 54–67.

Zalan, T., & Lewis, G. (2007). Foster's Group. In H. Dick & D. T. Merrett (Eds.), The internationalisation strategies of small-country firms: The Australian experience of globalisation (pp. 269–278). Cheltenham: Edward Elgar.
About this chapter
Cite this chapter
Sammartino, A. (2018). Craft Brewing in Australia: 1979–2015. In: Garavaglia, C., Swinnen, J. (eds) Economic Perspectives on Craft Beer. Palgrave Macmillan, Cham. https://doi.org/10.1007/978-3-319-58235-1_15