Abstract

In this chapter, we describe and attempt to explain the rise of craft brewing in the Netherlands through a qualitative study of the industry's evolution. Similar to other countries, the Dutch beer brewing industry experienced unprecedented concentration followed by a remarkable revival of craft brewing. Our study describes the historical evolution of the industry and subsequently traces the chain of events that led to the proliferation of craft brewing. We then compare our observations to relevant theories on resource partitioning and social movements to identify factors on both the demand and supply side that may explain the successful renewal. On the demand side, we point to the role of consumer resistance and broader changes in consumer preferences for food. On the supply side, we point to hobby brewing associations, the emergence of online communities, new forms of financing, and recyclable remnants of old breweries.
Keywords
Craft brewing

The Netherlands

Industry Evolution

Resource Partitioning

Social Movements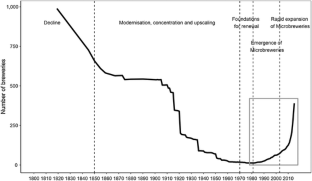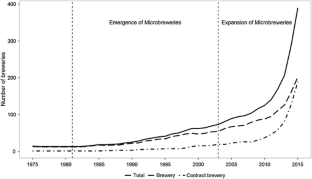 Notes
1.

A large share of the interview data is taken from Kroezen (2014), who conducted 76 interviews between 2004 and 2011. Four additional interviews were conducted in 2015 to collect information that captures the recent dynamics in the sector.

2.

Note that for the purposes of our paper, we collapse the distinction that Carroll and Swaminathan (2000) make between microbreweries, brew pubs, and contract brewers into one category. We decided to do this as we found the boundaries between the three subcategories were considerably fuzzy. We observed that contract brewers often acquired their own brewing capacity over time and that most breweries had tasting rooms and thus had at least some resemblance to a pub. In addition, it should be noted that setting a clear size limit for our definition of craft brewery is somewhat arbitrary. However, our data shows that by the end of our observation window (2015) the yearly production of the largest craft brewery (Jopen at 20,000 hectoliter) was still only a very small fraction (0.15%) of the yearly production of the largest industrial brewery (Heineken at 12,800,000 hectoliter).

3.

De Beyerd in Breda was not a new pub, but ownership shifted to the next generation of the De Jong family in the 1960s which went hand in hand with a change in focus on specialty beer. The other three pubs mentioned here were established as new.

4.

Bok or bock beer is a fuzzy category of beers that are produced seasonally (in autumn and spring) and is commonly acknowledged to be of German origin. Bock beer can be either bottom-fermenting, resembling the production process of lager, or top-fermenting, resembling the production process of ale. During the early 1980s, the few alternatives to Pilsner that were produced on Dutch soil fell typically in the bock category.

5.

Nonetheless, prominent organizations in the Dutch craft brewery movement have drawn sharp distinctions between these organizations. PINT, for instance, distinguishes between a bierbrouwerij (beer brewery), which owns its own production equipment, a brouwerijhuurder (brewery renter), which uses another brewery's equipment to produce its own beers, and a bierhandelaar (beer merchant), which commercializes someone else's beer.

6.

7.

8.
References
Alberts, W. J. (1969). De Nederlandse Hanzesteden. Bussum: Fibula-Van Dishoeck.

Benford, R. D., & Snow, D. A. (2000). Framing processes and social movements: An overview and assessment. Annual Review Sociology, 26, 611–639.

Boone, C., Brdcheler, V., & Carroll, G. R. (2000). Custom service: Application and tests of resource-partitioning theory among Dutch auditing firms from 1896 to 1992. Organization Studies, 21, 355–381. doi:10.1177/0170840600212003.

Carroll, G. R. (1985). Concentration and specialization: Dynamics of niche width in populations of organizations. American Journal of Sociology, 90, 1262–1283.

Carroll, G. R., Dobrev, S. D., & Swaminathan, A. (2002). Organizational processes of resource partitioning. Research in Organizational Behavior, 24, 1–40. doi:10.1016/S0191-3085(02)24002-2.

Carroll, G. R. & Hannan, M. T. (2000). The demography of corporations and industries. Princeton: Princeton University Press.

Carroll, G. R., & Swaminathan, A. (2000). Why the microbrewery movement? Organizational dynamics of resource partitioning in the U.S. Brewing Industry American Journal of Sociology, 106, 715–762. doi:10.1086/318962.

Dekken, M. van (2010). Brouwen, branden en bedienen: productie en verkoop van drank door vrouwen in de Noordelijke Nederlanden, circa 1500–1800. Amsterdam: Aksant.

Edwards, B. & McCarthy, J. D. (2004). Resources and social movement mobilization. Blackwell companion to social movements (pp. 116–152).

Flack, W. (1997). American microbreweries and neolocalism: "Ale-ing" for a sense of place. Journal of Cultural Geography, 16, 37–53. doi:10.1080/08873639709478336.

Greve, H. R., Pozner, J., & Rao, H. (2006). Vox populi: Resource partitioning, organizational proliferation, and the cultural impact of the insurgent microradio movement. American Journal of Sociology, 112, 802–837. doi:10.1086/507853.

Hornsey, I. S. (2003). A history of beer and brewing. Cambridge UK: Royal Society of Chemistry.

Karst, T. (1980). Bierbrouwen in Groningen. Groningen: Ebel Noorman.

Klepper, S. (1997). Industry life cycles. Industrial Corporate Change, 6, 145–182. doi:10.1093/icc/6.1.145.

Kroezen, J. J. (2014). The renewal of mature industries: An examination of the revival of the Dutch beer brewing industry. ERIM PhD Series in Research in Management. Erasmus Research Institute of Management – ERIM, Rotterdam.

Lappo, A., Bjørndal, T., Fernandez-Polanco, J., & Lem, A. (2013). Consumer trends and preferences in the demand for food (Working paper No. 51/13). Institute for Research in Economics and Business Administration, Bergen.

Lintsen, H. W., Bakker, M. S. C. and Lente, D. van (1992). Dl. 1: Techniek en modernisering, landbouw en voeding, Geschiedenis van de techniek in Nederland: de wording van een moderne samenleving 1800–1890. Stichting Historie der Techniek, 's-Gravenhage.

Marquis, C., & Lounsbury, M. (2007). Vive la résistance: competing logics and the consolidation of U.S. Community Banking Acadamy of Management, 50, 799–820. doi:10.5465/AMJ.2007.26279172.

Martinez, S., Hand, M. S., Da Pra, M., Pollack, S., Ralston, K., Smith, T, et al. (2010). Local food systems; Concepts, impacts, and issues (No. ERR 97). U.S. Department of Agriculture, Economic Research Service, U.S. Department of Agriculture, Economic Research Service.

McAdam, D., McCarthy, J. D. & Zald, M. N. (1996). Comparative perspectives on social movements: Political opportunities, mobilizing structures, and cultural framings. Cambridge: Cambridge University Press.

McCarthy, J. D., & Zald, M. N. (1977). Resource mobilization and social movements: A partial theory. American Journal of Sociology, 82, 1212–1241.

McCluskey, J. J. (2015). Changing food demand and consumer preferences. Paper prepared for Agricultural Symposium Federal Reserve Bank of Kansas City July 14–15.

Meyer, D. S. (2004). Protest and political opportunities. Annual Review Sociology, 30, 125–145.

Philips, R. (1999). Limburgse brouwerijen en bierdrinkers: Vier opstellen over bierbrouwerijen en bierconsumptie, voornamelijk in Nederlands Limburg. Maastricht: Sociaal Historisch Centrum voor Limburg.

Poelmans, E., & Swinnen, J. (2011). From monasteries to multinationals (and back): A historical review of the beer economy. The economics of beer. Oxford: Oxford University Press.

Rao, H., Monin, P., & Durand, R. (2003). Institutional change in toque ville: Nouvelle cuisine as an identity movement in French gastronomy. American Journal of Sociology, 108, 795–843. doi:10.1086/367917.

Schnell, S. M. & Reese, J. F. (2014). Microbreweries, place, and identity in the United States. In M. Patterson & N. Hoalst-Pullen (Eds.), The geography of beer (pp. 167–187). Springer: Netherlands. doi:10.1007/978-94-007-7787-3_15.

Simons, J. F. L. M. (1992). De Limburgse brouwwereld en de opkomst van de ondergisting. In Jaarboek Voor de Geschiedenis van Bedrijf En Techniek (pp. 124–158). Utrecht: Stichting Jaarboek GBT.

Unger, R. W. (2004). Beer in the middle ages and the renaissance. Philadelphia: University of Pennsylvania Press.

Unger, R. W. (2001). A history of brewing in Holland 900–1900: Economy technology and the state. Leiden; Boston: Brill Academic Publishers.

Van Uytven, R. (2007). Geschiedenis van de dorst: Twintig eeuwen drinken in de Lage Landen. Leuven: Davidsfonds.

Weber, K., Heinze, K. L., & DeSoucey, M. (2008). Forage for thought: Mobilizing codes in the movement for grass-fed meat and dairy products. Administrative Science Quarterly, 53, 529–567. doi:10.2189/asqu.53.3.529.
About this chapter
Cite this chapter
van Dijk, M., Kroezen, J., Slob, B. (2018). From Pilsner Desert to Craft Beer Oasis: The Rise of Craft Brewing in the Netherlands. In: Garavaglia, C., Swinnen, J. (eds) Economic Perspectives on Craft Beer. Palgrave Macmillan, Cham. https://doi.org/10.1007/978-3-319-58235-1_10