Abstract

The Danish Eulerian Hemispheric Model (DEHM) has been used to study the development in air quality in Europe from 1979 to 2015. The large changes in anthropogenic emissions both within and outside Europe—especially since the beginning of the 1990s—led to a decrease in many air pollutants. The model analysis captured this observed trend. Using the EVA system (Economic Valuation of Air pollution) we were able to derive health impacts, showing (for the European modelling domain) that premature deaths in 2010 were less than half of the 1980 value. While the decrease was also determined for nitrogen compounds in general, the share of reduced nitrogen (NH3 and NH4 +) increased—a result of both emission trends and atmospheric behavior. An experimental emission scenario applied to the model suite demonstrated further health improvements are possible for technically feasible measures to reduce ammonia emissions.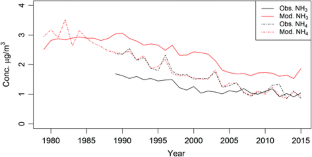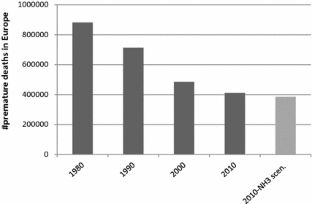 References
Amann M, Bertok I, Borken-Kleefeld J, Cofala J, Heyes C, Hoeglund-Isaksson L, Klimont Z, Nguyen B, Posch M, Rafaj P, Sandler R, Schoepp W, Wagner F, Winiwarter W (2011) Cost-effective control of air quality and greenhouse gases in Europe: modeling and policy applications. Environ Model Softw 26:1489–1501

Brandt et al (2012) An integrated model study for Europe and North America using the Danish Eulerian Hemispheric Model with focus on intercontinental transport. Atmos Environ 53:156–176

Brandt J et al (2013) Contribution from the ten major emission sectors in Europe and Denmark to the health-cost externalities of air pollution using the EVA model system—an integrated modelling approach. Atmos Chem Phys 13:7725–7746

Fagerli H, Aas W (2008) Trends of nitrogen in air and precipitation: model results and observations at EMEP sites in Europe, 1980–2003. Environ Pollut 154:448–461

Geels C, Andersen HV, Ambelas Skjøth C, Christensen JH, Ellermann T, Løfstrøm P, Gyldenkærne S, Brandt J, Hansen KM, Frohn LM, Hertel O (2012) Improved modelling of atmospheric ammonia over Denmark using the coupled modelling system DAMOS. Biogeosciences 9:2625–2647. doi:10.5194/bg-9-2625-2012

Skjøth, Geels (2013) The effect of climate and climate change on ammonia emissions in Europe. Atmos Chem Phys 13:117–128

Sutton et al (2011) The European Nitrogen Assessment. Cambridge University Press

Stevens et al (2010) Nitrogen deposition threatens species richness of grasslands across Europe. Environ Pollut 158(9):2940–2945
Acknowledgements

This study was mainly funded through the Nordforsk NordicWelfAir project (75007). Developments made as part of the EU project ECLAIRE (project no: 282910) has also been included.
Questions and Answers
Questions and Answers
Questioner: Tony Dore
Question: You showed the importance of NH3 as a pollutant important for both human health and natural ecosystems. Why have most European countries been unable to significantly reduce NH3 emissions, where they have successfully tackled NOx and SO2?
Answer: The "polluter pays" principle has been the basis for a large part of the national and international regulation of air pollution. But for some reason this principle does not (fully) apply, when it comes to regulation of the agricultural sector. I am guessing that it is caused by a combination of issues like: food security, strong and influential farmers unions as well as traditions.
Questioner: Peter Viaene
Question: This is an AQ conf. and people focus on the AQ aspect. Injection of nitrogen (N) into the soil is not really a solution to the problem.
Answer: I agree, AQ is certainly not the only problem related to N. A more holistic approach is needed in order to study the full effect of e.g. introducing new abatement techniques limiting the emissions to the atmosphere, but leading to more N within the soil-plant system. Please see our Poster/chapter on this (Geels et al., this book).
Questioner: Ted Russell
Question: Did you look at how well the model captures the spatial and temporal variation of the [NH4 +]/(2[SO4 2−] + [NO3 −]) (based on equivalents)? As Dick Derwent said, it has remained very constant. This would be an interesting assessment of the system.
Answer: No, we have not looked at this so far. But thanks for the suggestion—it will be an interesting way to test if the model describes the processes related to these species correct. Especially because we now have a simulation covering so many years with large decreases in the emissions and hence with changes in the chemical regimes in the atmosphere.
Questioner: Wouter Lefebvre
Question: You showed that for 60% of the areas in Europe the critical loads for N were exceeded. The pervious speaker (Johannes Bieser) showed only 25%.
Answer: The numbers shown here were based on assessments made by the Coordination Centre for Effects (note—this plot was showed in the oral presentation, but is not included in this chapter). Johannes Bieser had estimated the exceedances based on own model results. Comment by Johannes Bieser: It is probably strongly influenced by the model domain.
Copyright information

© 2018 Springer International Publishing AG
About this paper
Cite this paper
Geels, C. et al. (2018). Changing Agricultural NH3 Emissions Since 1979: The Impact on N Deposition and Health Effects Across Europe and the Potential for Further Reductions in the Future. In: Mensink, C., Kallos, G. (eds) Air Pollution Modeling and its Application XXV. ITM 2016. Springer Proceedings in Complexity. Springer, Cham. https://doi.org/10.1007/978-3-319-57645-9_75
DOI: https://doi.org/10.1007/978-3-319-57645-9_75

Published:

Publisher Name: Springer, Cham

Print ISBN: 978-3-319-57644-2

Online ISBN: 978-3-319-57645-9