Railways as Barriers for Wildlife: Current Knowledge
Abstract
In this chapter we provide practical suggestions, together with examples, to identify, monitor and mitigate railway barrier effects on wildlife, as this is considered one of the railways' greatest impacts. Railways can be both physical and behavioral barriers to wildlife movement, as well as disturbance to populations living close to them. Also, mortality is recognized as an important contribution to the barrier effect. However, the consequences of habitat loss, and fragmentation due to railways alone remain largely unexplored. Barrier effects have mainly been mitigated with wildlife passes, with the effectiveness of this tool being one of the most-studied topics in Railway Ecology. Methods formerly employed to monitor pass usage, such as track beds or video-surveillance, are now being replaced by molecular ones. Among the latter methods, genetic fingerprinting allows individual-based approaches, opening the door to population-scale studies. In fact, genetic sampling allows for the assessment of functional connectivity, which is closely linked to successful reproduction and population viability, variables not necessarily coupled with crossing rates. There is strong evidence that railway verges offer new habitats for generalist species and for opportunistic individuals, a point that deserves to be experimentally explored in order to find wildlife-friendly policies. Preventing animals from crossing (e.g., by fencing), should be reserved for collision hotspots, as it increases barrier effects. Instead, it has been shown that warning signals or pole barriers effectively reduce collisions without increasing barrier effects. In this respect, we argue that computer simulations are a promising field to investigate potential impact scenarios. Finally, we present a protocol to guide planners and managers when assessing barrier effects, with emphasis on monitoring and mitigation strategies.
Keywords
Barrier effect 
Connectivity 
Habitat fragmentation 
Permeability 
Wildlife pass 
Introduction
We know today that linear infrastructures are one of the largest threats to biodiversity worldwide, including habitat loss and fragmentation (Forman et al. 2003; Benítez-López et al. 2010; van der Ree et al. 2015). As mentioned in the introductory chapter, most of what we know regarding this comes from studies on roads however, as some of these impacts are shared by roads and railways, many of the management tools developed for the former can be applied to the latter. Nevertheless, new approaches are needed in some cases, because some impacts are railway-specific (Dorsey et al. 2015).
This chapter provides some conceptual insight into, and summarizes in a single document, what is known about barrier effects caused by railways on wildlife populations, which is considered by some to be one of the greatest ecological impacts of these infrastructures (Iuell et al. 2003; Rodríguez et al. 2008). This review is organized as follows: We begin by identifying the factors contributing to railway barrier effects and we then describe the approaches used to study these effects, and the effectiveness of the measures implemented to mitigate them. Finally, we suggest management guidelines for railway companies, and present a protocol to minimize these barrier effects.
We searched the ISI Web of Science and Zoological Record databases for railway ecology studies. For all searches, our search terms were combinations of the following words: barrier effect, collision, fragmentation, habitat loss, impact, permeability, radio-tracking, railroad, railway, train, underpass, wildlife pass. We looked for publications in English, Spanish, Portuguese, and French. We also searched Google Scholar™ for additional studies not published in peer-reviewed journals (gray literature) but citing peer-reviewed papers, such as Ph.D. dissertations, reports, or conference papers.
Barrier Effects
The various sources of railway barrier effects are closely related, and sometimes it is not easy to clearly separate them. For instance, noisy traffic can cause both habitat loss (if wildlife refuses to use the area adjacent to the railway right-of-way), and it can create a behavioral barrier if this noise implies a perceived risk. We identified four broad types of impacts causing barrier effects.
Methods to Estimate Barrier Effects
Some of the methods we describe below were first used in road ecology studies (Smith and van der Ree 2015), but all of them are useful for railway ecology studies as well.
Direct Methods
Radio-tracking-based projects share some of the advantages (fine-scale, individual-based) and disadvantages (intrusive, time- and budget-consuming) of the previous methods, although the increasing effectiveness (e.g., satellite-based telemetry) and decreasing price currently make radio-tracking suitable for a wide variety of organisms (Simmons et al. 2010). Furthermore, the devices are becoming miniaturized to the point of being a feasible alternative for some invertebrates (e.g., Hedin and Ranius 2002). Radio-tracking can also provide detailed information, not only on individual crossings, but also on the full territory use by animals relative to the railway location, therefore allowing the impact of the linear infrastructure on the movements of individuals to be estimated (Clevenger and Sawaya 2010).
Non-invasive genetic sampling (hereinafter "NGS") methods have been used mainly to measure the genetic sub-structure of a population bisected by a railway (see below). However, NGS also enables individual identification based on microsatellite analysis (Balkenhol and Waits 2009; Clevenger and Sawaya 2010; Simmons et al. 2010), the so-called "fingerprinting" or "DNA profiling," which is a kind of capture-mark-recapture method. For instance, Clevenger and Sawaya (2010) showed that the passive hair-collection methods based on barbed wire and/or adhesive strings, followed by microsatellite analyses, was an effective technique for monitoring wildlife pass use at an individual level for cougars (Puma concolor), and black and brown bears in Canada. Furthermore, as costs for genetic analyses are become lower, the sample sizes have increased in recent studies (Simmons et al. 2010). The main limitation of this method is that it is only suitable for large animals whose remains (hairs, feathers, scats) can be found in the field in sufficient quantity to extract DNA from them. In addition, fingerprinting requires a relatively high number of microsatellites. If species-specific microsatellites have not been developed in the target species, they have to be specifically developed, increasing both time and costs. However, microsatellites already developed for related species can be tested, as sometimes they amplify the DNA from the target species as well.
Indirect Methods
(1)

Census at both sides of a railway. This is the most simplistic approach, either to assess population densities (e.g., Waterman et al. 2002; Li et al. 2010; Wiącek et al. 2015), or to calculate diversity indices of community structures (e.g., Qian et al. 2009). However, it is also the most limited approach to identifying causal factors or population dynamic-related processes. Failure to control for potentially confounding variables makes that detected patterns cannot be clearly associated with railway impact.

 

(2)

Genetic-based assessment of functional connectivity. Even more important than confirming crossing is to assessing the functional connectivity (or the barrier effect)—that is, to detect whether individuals reproduce on both sides of the railway. It is worth noting that moderate to low crossing rates may not necessarily imply functional connectivity (Riley et al. 2006). This type of information is logistically difficult to obtain using other than genetic methods (Clevenger and Sawaya 2010; Simmons et al. 2010).

Because the impact of railways is relatively recent, highly variable markers such as microsatellites are the most suitable method for estimating demographic and population genetic effects. Balkenhol and Waits (2009) found that 76% of the 33 reviewed studies employed these markers in road ecology studies (see below for railway studies). Indeed, authors who used mitochondrial analyses failed to find genetic structuring related to railway-related barrier effects, as happened with the Mongolian gazelle (Okada et al. 2012).

The easiest design consists of sampling individuals at both sides of a railway to infer whether this acts as a barrier driving population differentiation. This approach was used by Gerlach and Musolf (2000) to study the genetic substructuring between bank vole (Clethrionomys glareolus) populations bisected by a railway in Germany and Switzerland. The authors found that a 40-year-old railway did not contribute to genetic substructuring in bank voles. In their study in the USA with the marbled salamander (Ambystoma opacum) in the USA, Bartoszek and Greenwald (2009) found that the populations from two ponds just separated by a railway, although potentially connected by a culvert, were genetically differentiated, although some gene flow was still occurring. On the contrary, the Qinghai-Tibetan railway seems not to be a barrier structuring the toad-headed lizard (Phrynocephalus vlangalii) populations, as samples from both sides of the railway were genetically similar, whereas those sampled at 20 km away were different, as expected due to the distance (Hu et al. 2012).

Genetics should be complemented with landscape analyses to control, among other things, for the relationship between genetic and geographic distances. Reh and Seitz (1990), using a sample design that included several sites and enzyme analyses, found that railways contributed to the isolation, and thus the inbreeding, of common frogs (Rana temporaria) in Germany. Yang et al. (2011) used landscape analysis and genetics based on microsatellites to identify the factors influencing the differentiation among Przewalski's gazelle (P. przewalskii) populations in China. Prunier et al. (2014) used a microsatellite individual-based sampling scheme combined with computer simulations to determine whether HSR in west-central France was old enough to cause genetic discontinuities in the alpine newt (Ichthyosaura alpestris). The latter authors did not detect any barrier effects, which could be due both to the relatively recent existence of the railway (29 years), or to the highly nomadic behavior of this amphibian. Also, the small size of newts could allow them to move under the rails, minimizing their risk of being railway-killed. The few smooth newts (Lissotriton vulgaris), a species of similar size, that were found railway-killed in Poland, were found at pedestrian crossings, where newts are forced to move over instead of under the rails (Kaczmarski and Kaczmarek 2016). On the other hand, the simultaneous use of genetic approaches and landscape analyses has also shown that linear infrastructures can, in some cases, increase connectivity. For instance, the use of microsatellites enabled Fenderson et al. (2014) to identify railways, powerlines, or even road sides as dispersal facilitators of New England cottontails (Sylvilagus transitionalis), but their approach was limited as they did not evaluate the relative importance of each of these infrastructures to the observed increase in connectivity. Such an increase in the landscape connectivity can be detrimental in some cases, such as that of invasive species, a theme that is discussed at length in Chap.  5.

 

(3)

Computer Simulations. These tools have the potential to play a major role in understanding the impact of railways in wild animal populations and, accordingly, in planning new railway networks or developing mitigation measures. However, to the best of our knowledge, there are only a few simulation studies that specifically target the impact of the fragmentation caused by railways.

Simulations can be used before and after railway construction. Before the construction phase, an impact assessment is desirable to compare alternatives. In particular, it is important to avoid cutting through areas of great natural value, but if this is unavoidable, then it is necessary to identify the sectors most affected in order to implement mitigation measures. In such situations, a region-wide focus that includes future projections is the most suitable approach. For these purposes, graph theory is being increasingly used in conservation biology, as graph models provide simplified representations of ecological networks with flexible data requirements (Urban et al. 2009). For instance, Clauzel et al. (2013) (see also Chap.  13) combined graph-based analysis and species distribution models to assess the impact of a railway line on the future distribution of the European tree frogs (Hyla arborea) in France. This study was able to identify—among potential routes—the railway line with the lowest impact on the species distribution.

Mateo-Sánchez et al. (2014) conducted computer simulations to assess the degree of connectivity of two populations of the endangered brown bear in north-western Spain. They used a multi-scale habitat model to predict the presence of bears as a function of habitat suitability, combined with a factorial least-cost path density analysis. With this model, the authors identified possible corridors that could connect the two populations and the locations that should be prioritized in order to ameliorate the permeability of the local railways (and roads). In a study to identify the most suitable corridor in a future railway line in Sweden, Karlson et al. (2016) integrated models with ecological and geological information by using spatial multi-criteria analysis techniques to generate a set of potential railway corridors, followed by the application of the lowest cost path analysis in order to find the corridor with the best environmental performance within the set.

Much of what has been learned from simulations applied to the impact of roads (e.g., Roger et al. 2011; Borda-de-Água et al. 2011) can also be used in railway ecology. Among the techniques used, we highlight the individuals-based models, (hereafter "IBM") (e.g., Lacy 2000; Jaeger and Fahrig 2004; Kramer-Schadt et al. 2004; Grimm et al. 2006). While more traditional simulation approaches use variables to study the collective behavior of certain entities (for instance, an entire population could be characterized by a single variable describing the total number of individuals), IBMs explicitly simulate all individuals as separate entities, each with its own set of characteristics, and interacting among them and with the environment. The main advantage of IBMs is that we are no longer constrained by the difficulties of obtaining analytical or numerical solutions using differential calculus, or are dependent on the mathematical tractability of complicated systems of differential (or integral) equations (Railsback and Grimm 2011). With IBMs, one can model a wide variety of behaviors, thus increasing the realism of the models—although often at the expense of time consuming simulations.

The most effective tools for reducing barrier effects, such as overpasses or viaducts, increase construction costs considerably (Smith et al. 2015). Therefore, either before or after railway construction, simulations at the landscape level can be used to identify the location and type of the mitigation measures to be implemented. For instance, Gundersen and Andreassen (1998) included both train- and environment-related variables to model the occurrence of WTCs during seasonal moose migration to valley bottoms, when WTC risk is highest (Gundersen et al. 1998). and they tested the model predictability with a subset of data not used for model development, a method that can be used to infer future WTCs (Gundersen and Andreassen 1998).

 
Effectiveness of Mitigation Measures
Avoiding Crossing
Several studies have tested measures, like fencing, to avoid animal crossings of railways. These can reduce WTCs but, on the other hand, they can increase barrier effects (e.g., Ito et al. 2005, 2008, 2013; see also Chap.  14). Thus, they should only be implemented in areas of high concentration of WTCs, and combined with wildlife passes to maintain railway permeability (van der Grift 1999). Building exclusion fences seems the most effective (van der Grift 1999; Ito et al. 2013), and is even the most cost-effective measure, in the long run (Dorsey et al. 2015). The application of odor repellents reduced animal mortality in a study in the Czech Republic, but with contrasting results among taxa (Kušta et al. 2015). This technique was less effective at low temperatures, when repellents froze (Kušta et al. 2015; see also Castiov 1999). Indeed, Andreassen et al. (2005) found odour repellents to have highly variable efficiency in reducing moose WTCs in Norway. Instead, these authors found a more consistent decrease in WTCs after the placement of feeding stations to keep animals away from railways, and forest clearing in the vicinity of the railway (Andreassen et al. 2005).
Interesting alternatives are those devices that aim to reduce WTCs without having barrier effects (see Chap.  17). For example, trains equipped with ultrasonic warning devices killed fewer moose in Canada than those without (Muzzi and Bisset 1990). More recently, Babińska-Werka et al. (2015) reported the development of a device in Poland that uses alarm calls from several wild animals in advance (30 s to 3 min) of an oncoming train that allows animals near the railway to react and escape in a natural way. The proportion of wildlife escaping from the tracks was higher, and individuals reacted faster, when the device was switched on and, importantly, animals did not show evidence of habituation to the warning signals (Babińska-Werka et al. 2015).
Planting trees (Tremblay and St. Clair 2009) or erecting pole barriers (Zuberogoitia et al. 2015) in the railway corridor can reduce the WTCs of flying animals. However, trees could attract animals as well, for perching or feeding, so pole barriers are preferred since they have fewer side effects. An experiment with medium- to large-sized birds in Spain showed that most birds shifted or raised the flight when approaching the pole barrier (Zuberogoitia et al. 2015).
Habitat Management
Vegetation mowing at railway verges was successfully applied to reduce moose WTCs in Norway, and it could have had three complementary benefits: first, reducing the attractiveness of the verges for animals, therefore reducing foraging close to railways (Jaren et al. 1991; Andreassen et al. 2005); second, reducing the time spent by animals close to the railway, as they could perceive the clearing as dangerous (Jaren et al. 1991); and, third, allow them 'see and be seen' rule, as provided for both the train driver and the animal, with a greater amount of time to react to each other and avoid a collision (Jaren et al. 1991). This technique reduced the number of moose WTCs by half (Jaren et al. 1991; Andreassen et al. 2005). On the contrary, Eriksson (2014) originally hypothesized that tree-clearing could be the factor behind the increase in moose and roe deer train collisions in Sweden, as early successional stages created after mowing provided attractive foraging opportunities for ungulates, but she found that it had no effect on the increase of WTCs in her "Before-After-Control-Impact", the so-called BACI design (Eriksson 2014). Finally, it is worth mentioning that vegetation removal may increase barrier effects for small vertebrates, as these do not cross open spaces due to their associated high predation risks (Hunt et al. 1987; Yanes et al. 1995).
Crossing Structures
Animals use both non-wildlife passes (i.e., those placed and designed for purposes other than to allow wildlife crossing, like drainage culverts), or wildlife passes specifically designed on the basis of the target species traits (small tunnels for amphibians or small mammals; underpasses, overpasses, ecoducts or green bridges for large mammals) (Smith et al. 2015). Large passes mimicking natural habitat are more expensive, but they are also the most effective technique for reducing barrier effects, commonly suitable for most species, including the most demanding ones, like large carnivores and ungulates (Iuell et al. 2003; Clevenger and Waltho 2005; Smith et al. 2015). In some cases, structures that were not originally designed as wildlife passes have been adapted to better allow animal crossings. For instance, culverts were modified by the addition of a bench to facilitate wildlife crossing when the culvert is wet (Iuell et al. 2003). In some cases, the adaptation is as easy as removing the gravel below pairs of sleepers to create a gap to allow small vertebrates, like spotted turtles (Clemmys guttata) in the USA, to cross under the sleepers, to where they were funnelled by a fence (Pelletier et al. 2006). Culverts have been found to be used by animals to bypass railways in Australia (Hunt et al. 1987) and in Spain (Yanes et al. 1995; Rodríguez et al. 1996, 1997). However, culvert dimensions or the surrounding habitats influence their use by vertebrates (Hunt et al. 1987; Yanes et al. 1995; Rodríguez et al. 1996, 1997). For instance, small culverts were used by small mammals, but they were unsuitable for ungulates (Rodríguez et al. 1996) and the addition of natural vegetation and refuges such as stones increased crossing rates for small animals (Hunt et al. 1987; Yanes et al. 1995). Not unexpectedly, longer passes have lower crossing rates for several taxa (Hunt et al. 1987; Yanes et al. 1995).
Notice, however, that all the examples of pass monitoring reported, at the most, the intensity of crossing, not the functional connectivity—two variables that are not necessarily coupled (Riley et al. 2006). Thus the implementation of these mitigation measures should be complemented with genetic analyses at the population level to assess whether they contribute to the effective reduction of barrier effects (Riley et al. 2006).
Management Guidelines
In Fig. 
4.1
we present in a schematic way the steps to be followed in an "Ideal Protocol to Mitigate Railway Barrier Effects". These include: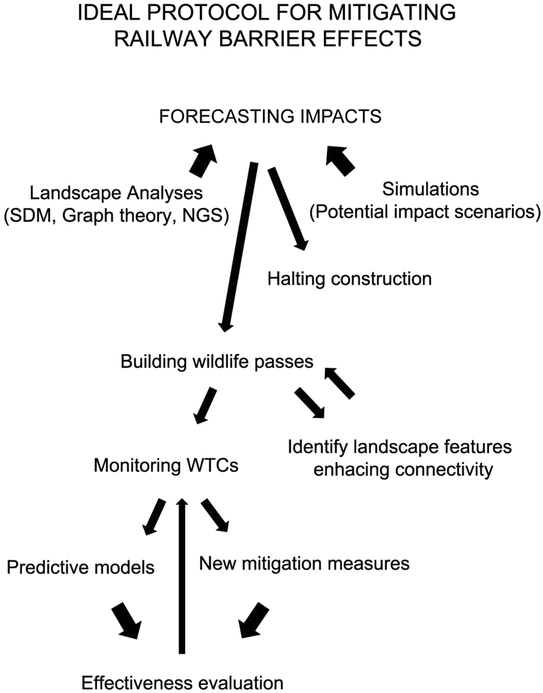 Conclusions
Railways can cause barrier effects in several ways. Some, like mortality, have been widely studied for some charismatic species, but their effects for others are poorly known. Studies on barrier effects due to behavioral responses to disturbances or the effects of habitat loss and fragmentation due to railway implementation are scarce. The monitoring of the effectiveness of mitigation measures should incorporate more recent approaches, such as genetic tools. It would allow, for instance, to broaden the current scope based on the qualitative use of wildlife passes to a more interesting functional connectivity-based framework. The use of computer simulations has advantages not fully applied at present, but useful both before railway construction and during its operation.
Notes
Acknowledgements
We thank Graça Garcia and Clara Grilo for carefully reading an early version of this chapter. This research was supported by FEDER funds through the Operational Programme for Competitiveness Factors—COMPETE, by National Funds through FCT—the Foundation for
Science and Technology under UID/BIA/50027/2013, POCI-01-0145-FEDER-006821, and by the Infraestruturas de Portugal Biodiversity Chair. Rafael Barrientos acknowledges financial support by the Infraestruturas de Portugal Biodiversity Chair—CIBIO—Research Center in Biodiversity and Genetic Resources.
Copyright information
© The Author(s) 2017
Open Access This chapter is licensed under the terms of the Creative Commons Attribution 4.0 International License (http://creativecommons.org/licenses/by/4.0/), which permits use, sharing, adaptation, distribution and reproduction in any medium or format, as long as you give appropriate credit to the original author(s) and the source, provide a link to the Creative Commons license and indicate if changes were made.
The images or other third party material in this chapter are included in the chapter's Creative Commons license, unless indicated otherwise in a credit line to the material. If material is not included in the chapter's Creative Commons license and your intended use is not permitted by statutory regulation or exceeds the permitted use, you will need to obtain permission directly from the copyright holder.