Abstract
Dimethylsulfoniopropionate (DMSP) is a secondary sulfur compound that is present in high levels in several marine algal species and some higher plant species. DMSP has also been detected in low levels in some other plant species, though its overall occurrence within the plant kingdom remains unclear. The physiological function of DMSP in saline algae and plants is largely unsolved. It is presumed that the compound can function as a constitutive osmolyte and/or antioxidant. In the current study the occurrence of DMSP within the plant kingdom was analyzed. DMSP was present in nanomolar concentrations in all investigated plant species, indicating that it appears to occur widespread within the plant kingdom. Maize (Zea mays) appeared also to be a low-DMSP containing species. Shoot DMSP content in this crop increased upon exposure to salinity, also in the presence of atmospheric H2S and anoxia. This showed that the DMSP content in maize responded in a similar pattern to salinity exposure which has been observed in DMSP-accumulating plants.
Keywords
Salt Marsh

Plant Kingdom

Hoagland Nutrient Solution

High Plant Species

Fresh Plant Material
These keywords were added by machine and not by the authors. This process is experimental and the keywords may be updated as the learning algorithm improves.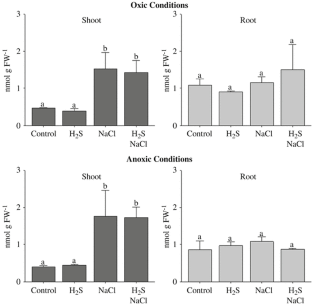 References
Ausma T, Parmar S, Hawkesford MJ, De Kok LJ (2017) Impact of atmospheric H2S, salinity and anoxia on sulfur metabolism in Zea mays. In: De Kok LJ, Haneklaus SH, Hawkesford MJ, Schnug E (eds) Sulfur metabolism in higher plants: fundamental, environmental and agricultural aspects. Springer, Cham, pp 93–101

Catola S, Kaidala Ganesha SD, Calamai L, Loreto F, Ranieri A, Centritto M (2016) Headspace-solid phase microextraction approach for dimethylsulfoniopropionate quantification in Solanum lycopersicum plants subjected to water stress. Front Plant Sci 7:1257

Dacey JWH, King GM, Wakeham SG (1987) Factors controlling emission of dimethylsulphide from salt marshes. Nature 330:643–645

Mulholland MM, Otte ML (2001) The effects of nitrogen supply and salinity on [DMSP], [glycine betaine] and [proline] concentrations in leaves of Spartina anglica. Aquat Bot 71:63–70

Otte ML, Morris JT (1994) Dimethylsulphoniopropionate (DMSP) in Spartina alterniflora Loisel. Aquat Bot 48:239–259

Otte ML, Wilson G, Morris JT, Moran BM (2004) Dimethylsulphoniopropionate (DMSP) and related compounds in higher plants. J Exp Bot 55:1919–1925

Paquet L, Rathinasabapathi B, Saini H, Zamir L, Gage DA, Huang Z, Hanson AD (1994) Accumulation of the compatible solute 3-dimethylsulfoniopropionate in sugarcane and its relatives, but not in other gramineous crops. Aust J Plant Physiol 21:37–48

Paquet L, Lafontaine PJ, Saini HS, James F, Hanson AD (1995) Évidence en faveur de la présence du 3-diméthylsulfoniopropionate chez une large gamme d'Angiospermes. Can J Bot 73:1889–1896

Stefels J (2000) Physiological aspects of the production and conversion of DMSP in marine algae and higher plants. J Sea Res 43:183–197

Stefels J (2007) Sulfur in the marine environment. In: Hawkesford MJ, De Kok LJ (eds) Sulfur in plants, an ecological perspective. Springer, Dordrecht, pp 77–90

Stefels J, Carnat G, Dacey JWH, Goossens T, Elzenga JTM, Tison JL (2012) The analysis of dimethylsulfide and dimethylsulfoniopropionate in sea ice: dry-crushing and melting using stable-isotope additions. Mar Chem 128:34–43

Van Diggelen J, Rozema J, Dickson DMJ, Broekman R (1986) β-3-Dimethylsulphoniopropionate, proline and quaternary ammonium compounds in Spartina anglica in relation to sodium chloride, nitrogen and sulphur. New Phytol 103:573–586
Copyright information
© 2017 Springer International Publishing AG
About this paper
Cite this paper
Ausma, T., Kebert, M., Stefels, J., De Kok, L.J. (2017). DMSP: Occurrence in Plants and Response to Salinity in Zea mays . In: De Kok, L., Hawkesford, M., Haneklaus, S., Schnug, E. (eds) Sulfur Metabolism in Higher Plants - Fundamental, Environmental and Agricultural Aspects. Proceedings of the International Plant Sulfur Workshop. Springer, Cham. https://doi.org/10.1007/978-3-319-56526-2_8