Abstract

Purpose: The aim of this study was to describe the application of a new bioengineering graphical technique based on geometric custom modelling capable to detect and to discriminate small variations in the morphology of the corneal surface.

Methods: A virtual 3D solid custom model of the cornea was obtained employing Computer Aided Geometric Design tools, using raw data from a discrete and finite set of spatial points representative of both sides of the corneal surface provided by a corneal topographer. Geometric reconstruction was performed using B-Spline functions, defining and calculating the representative geometric variables of the corneal morphology of patients under clinical diagnosis of keratoconus.

Results: At least four variables could be used in order to classify corneal abnormalities related to keratoconus disease: anterior corneal surface area (ROC 0.853; p < 0.0001), posterior corneal surface area (ROC 0.813; p < 0.0001), anterior apex deviation (ROC 0.742; p < 0.0001) and posterior apex deviation (ROC 0.899; p < 0.0001).

Conclusions: Custom geometric modelling enables an accurate characterization of the human cornea based on untreated raw data from the corneal topographer and the calculation of morphological variables of the cornea, which permits the clinical diagnosis of keratoconus disease.
Keywords
Keratoconus

CAD

Scheimpflug

Surface reconstruction

Virtual model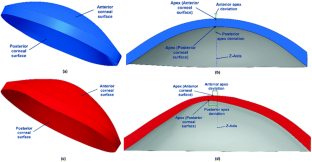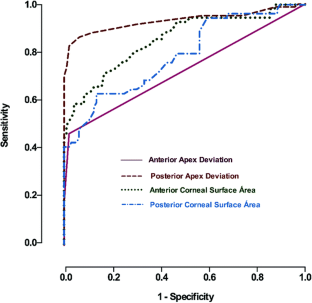 References
Pinero, D.P., Alio, J.L., Barraquer, R.I., Michael, R., Jimenez, R.: Corneal biomechanics, refraction, and corneal aberrometry in keratoconus: an integrated study. Invest. Ophthalmol. Vis. Sci. 51, 1948–1955 (2010)

de Jong, T., Sheehan, M.T., Dubbelman, M., Koopmans, S.A., Jansonius, N.M.: Shape of the anterior cornea: comparison of height data from 4 corneal topographers. J. Cataract Refr. Surg. 39, 1570–1580 (2013)

Klyce, S.D., Karon, M.D., Smolek, M.K.: Advantages and disadvantages of the Zernike expansion for representing wave aberration of the normal and aberrated eye. J. Refract. Surg. 20, S537–S541 (2004)

Ramos-Lopez, D., Martinez-Finkelshtein, A., Castro-Luna, G.M., Pinero, D., Alio, J.L.: Placido-based indices of corneal irregularity. Optom. Vis. Sci. 88, 1220–1231 (2011)

Trevino, J.P., Gómez-Correa, J.E., Iskander, D.R., Chávez-Cerda, S.: Zernike vs. Bessel circular functions in visual optics. Ophthal. Physl. Opt. 33, 394–402 (2013)

Lenarduzzi, L.: Compression of corneal maps of curvature. Appl. Math. Comput. 252, 77–87 (2015)

Ares, M., Royo, S.: Comparison of cubic B-spline and Zernike-fitting techniques in complex wavefront reconstruction. Appl. Opt. 45, 6954–6964 (2006)

Gong, D.W., Chen, J.H., Yuan, C., Ge, R.K., Zhou, M.H.: A new method for reconstruction of corneal topography with Placido disk system. Adv. Mat. Res. 974, 373–378 (2014)

Eklund, A., Dufort, P., Forsberg, D., LaConte, S.M.: Medical image processing on the GPU - past, present and future. Med. Image Anal. 17, 1073–1094 (2013)

Sun, W., Darling, A., Starly, B., Nam, J.: Computer-aided tissue engineering: overview, scope and challenges. Biotechnol. Appl. Biochem. 39, 29–47 (2004)

Farin, G.E., Hoschek, J., Kim, M.-S.: Handbook of Computer Aided Geometric Design. Elsevier, Amsterdam (2002)

Pottmann, H., Leopoldseder, S., Hofer, M., Steiner, T., Wang, W.: Industrial geometry: recent advances and applications in CAD. CAD Comput. Aided Des. 37, 751–766 (2005)

Cui, J., Tang, M., Liu, H.: Dynamic shape representation for product modeling in conceptual design. Jisuanji Fuzhu Sheji Yu Tuxingxue Xuebao/J. Comput.-Aided Des. Comput. Graph. 26, 1879–1885 (2014)

Lohfeld, S., Barron, V., McHugh, P.E.: Biomodels of bone: a review. Ann. Biomed. Eng. 33, 1295–1311 (2005)

Almeida, H.A., Bártolo, P.J.: Computational technologies in tissue engineering. WIT Trans. Biomed. and Health 17, 117–129 (2013)

Ovcharenko, E.A., Klyshnikov, K.U., Vlad, A.R., Sizova, I.N., Kokov, A.N., Nushtaev, D.V., Yuzhalin, A.E., Zhuravleva, I.U.: Computer-aided design of the human aortic root. Comput. Biol. Med. 54, 109–115 (2014)

Chiang, I.-C., Shyh-Yuan, L., Ming-Chang, W., Sun, C.W., Jiang, C.P.: Finite element modelling of implant designs and cortical bone thickness on stress distribution in maxillary type IV bone. Comput. Methods Biomech. Biomed. Eng. 17, 516–526 (2014)

Rocha, M., Pereira, J.P., De Castro, A.V.: 3D modeling mechanisms for educational resources in medical and health area. In: Proceedings of the 6th Iberian Conference on Information Systems and Technologies (CISTI 2011) (2011)

Schubert, C., van Langeveld, M.C., Donoso, L.A.: Innovations in 3D printing: a 3D overview from optics to organs. Br. J. Ophthalmol. 98, 159–161 (2014)

Montalban, R., Alio, J.L., Javaloy, J., Pinero, D.P.: Correlation of anterior and posterior corneal shape in keratoconus. Cornea 32, 916–921 (2013)

Montalban, R., Pinero, D.P., Javaloy, J., Alio, J.L.: Correlation of the corneal toricity between anterior and posterior corneal surfaces in the normal human eye. Cornea 32, 791–798 (2013)

Ariza-Gracia, M.A., Zurita, J.F., Pinero, D.P., Rodriguez-Matas, J.F., Calvo, B.: Coupled biomechanical response of the cornea assessed by non-contact tonometry. Simulation study. PLoS One 10, e0121486 (2015)

Cavas-Martinez, F., Fernandez-Pacheco, D.G., De la Cruz-Sanchez, E., Nieto Martinez, J., Fernandez Canavate, F.J., Vega-Estrada, A., Plaza-Puche, A.B., Alio, J.L.: Geometrical custom modeling of human cornea in vivo and its use for the diagnosis of corneal ectasia. PLoS ONE 9, e110249 (2014)

Anayol, M.A., Guler, E., Yagci, R., Sekeroglu, M.A., Ylmazoglu, M., Trhs, H., Kulak, A.E., Ylmazbas, P.: Comparison of central corneal thickness, thinnest corneal thickness, anterior chamber depth, and simulated keratometry using galilei, Pentacam, and Sirius devices. Cornea 33, 582–586 (2014)

Hernandez-Camarena, J.C., Chirinos-Saldana, P., Navas, A., Ramirez-Miranda, A., de la Mota, A., Jimenez-Corona, A., Graue-Hernindez, E.O.: Repeatability, reproducibility, and agreement between three different Scheimpflug systems in measuring corneal and anterior segment biometry. J. Refract. Surg. 30, 616–621 (2014)

Savini, G., Carbonelli, M., Sbreglia, A., Barboni, P., Deluigi, G., Hoffer, K.J.: Comparison of anterior segment measurements by 3 Scheimpflug tomographers and 1 Placido corneal topographer. J. Cataract Refract. Surg. 37, 1679–1685 (2011)

Shetty, R., Arora, V., Jayadev, C., Nuijts, R.M., Kumar, M., Puttaiah, N.K., Kummelil, M.K.: Repeatability and agreement of three Scheimpflug-based imaging systems for measuring anterior segment parameters in keratoconus. Invest. Ophthalmol. Vis. Sci. 55, 5263–5268 (2014)

Simonini, I., Pandolfi, A.: Customized finite element modelling of the human cornea. PLoS ONE 10, e0130426 (2015)

Ramos-Lopez, D., Martinez-Finkelshtein, A., Castro-Luna, G.M., Burguera-Gimenez, N., Vega-Estrada, A., Pinero, D., Alio, J.L.: Screening subclinical keratoconus with placido-based corneal indices. Optom. Vis. Sci. 90, 335–343 (2013)
Copyright information

© 2017 Springer International Publishing AG
About this paper
Cite this paper
Cavas-Martínez, F., Fernández-Pacheco, D.G., Parras, D., Cañavate, F.J.F., Bataille, L., Alio, J.L. (2017). Geometric Modelling of the Human Cornea: A New Approach for the Study of Corneal Ectatic Disease. A Pilot Investigation. In: Rojas, I., Ortuño, F. (eds) Bioinformatics and Biomedical Engineering. IWBBIO 2017. Lecture Notes in Computer Science(), vol 10208. Springer, Cham. https://doi.org/10.1007/978-3-319-56148-6_23
DOI: https://doi.org/10.1007/978-3-319-56148-6_23

Published:

Publisher Name: Springer, Cham

Print ISBN: 978-3-319-56147-9

Online ISBN: 978-3-319-56148-6

eBook Packages: Computer ScienceComputer Science (R0)