Abstract
This chapter outlines the general impacts and direct consequences climate change is likely to have on urban areas in Europe and how nature-based solutions (NBS) could increase our adaptive capacity and reduce the negative effects of a changing climate. The focus is on urban temperatures while we will also include effects on hydrological, ecological and social factors. We also discuss challenges for planning and design of successful implementation of NBS for climate change adaptation within urban areas.
Keywords
Urban design 
Ecosystem services 
Urban temperatures 
Strategic planning 
Vegetation maintenance 
NBS implementation 
Modelling techniques 
Collaborative processes 
2.1

Introduction

With the current process of climate change, Europe is expected to face major challenges in order to adapt to and mitigate the consequences of severe weather conditions (Kreibich et al. 2014). Year 2016 has seen new temperature records for each month, with July 2016 being the hottest month since temperature started to be recorded according to NASA measurements (NOAA 2016). An increase in temperature can cause discomfort, economical loss, migration and increased mortality rates on a global level (Haines et al. 2006). In addition, there are predicted increases in extreme weather events (e.g. heat and cold waves, floods, droughts, wildfires and windstorms) with several parts of Europe predicted to be exposed to multiple climate hazards (Forzieri et al. 2016).

Next to a changing climate both in Europe and globally, there is an ongoing urbanisation process. In year 2007, half of the world's population lived in urban areas, and it is predicted that by 2050, 66% of the world's population will live in urban areas (UN 2014). The urban climate often differs from the surrounding rural countryside as it is generally more polluted, warmer, rainier and less windy (Givoni 1991). This suggests that the effect of climate change with the predicted increase in temperature and more extreme weather events will be experienced to a greater extent in urban areas compared to the surrounding landscape. The changing climate might also exaggerate the negative effects of urbanisation already experienced, such as increased urban temperatures and flooding (Semadeni-Davies et al. 2008).

Still, increasing urban densities are seen as a way forward towards sustainable urban development. Across Europe, there is presently a trend for densification as a planning approach for sustainable development to foster efficient use of resources, efficient transport systems and a vibrant urban life (e.g. Haaland and van den Bosch 2015). Development often takes place on areas that are often viewed as underutilised land (such as green space) or through redevelopment on previous industrial estates (van der Waals 2000). However, this approach has also been challenged for its threat to urban green spaces (Haaland and van den Bosch 2015) since together with urban brown fields they potentially have an important role for offering climate change adaptation solutions. The creation, re-establishment, improvement and upkeep of existing vegetation systems and the development of an integrated urban green infrastructure network could provide a valuable asset, in which to incorporate establishment of new nature-based solutions (NBS) to deal with local effects on climate change. The dual inner urban development could here be seen as a constructive way forward (BfN 2008). The approach combines a densification of existing built-up areas with a mixture of conservation actions, thereby boosting the presence, quality and usability of green spaces and enhancing other green infrastructure such as street trees, green walls and roofs (BfN 2008).

Within this chapter, we review (1) the general impacts and consequences of climate change for urban areas in Europe, (2) climate change adaptation possibilities using nature-based solutions (NBS) and (3) some challenges for planning and design for successful implementation of NBS within urban areas. The review focusses on urban temperatures and includes hydrological, ecological and social factors. The review is aimed at setting a baseline for future possible research on planning alternatives for climate change adaptation and providing general guidelines and support for the professional planning community working with climate change adaptation.
2.2

General Impact and Consequences of Climate Change for Urban Areas in Europe

Climate change will have far-reaching impacts and consequences for urban Europe. The impact will range from direct impact of increasing temperatures and changed precipitation dynamics to indirect effects resulting from perturbations and climate change-linked events elsewhere.
2.2.1

Effect on Urban Temperatures

Changing urban temperatures are driven both by large-scale climatic changes and ongoing urbanisation (Fujibe 2009). There is agreement that the current changing climate has to be kept well below an average global increase of 2 °C (EC 2007; UNFCCC 2015) to avoid major future climate-driven catastrophes (Lenton et al. 2008). The urban temperature is dependent on global development but is in general highly influenced by, e.g. the urban heat island (UHI) effect which is seen as a major problem of urbanisation (e.g. Gago et al. 2013; Taha 1997). There are three parameters of urbanisation that have direct bearing on UHI according to Taha (1997), namely, (1) increasing amount of dark surfaces such as asphalt and roofing material with low albedo and high admittance, (2) decreasing vegetation surfaces and open permeable surfaces such as gravel or soil that contribute to shading and evapotranspiration and (3) release of heat generated through human activity (such as cars, aircondition, etc.). These factors are not equally distributed across the city, and hence, certain areas will experience the UHI to a higher degree. The effect will, for example, be higher for areas with a high degree of built-up land and little green space than for leafy suburbs and hence will affect the population differently within an urban area.

The urban climate itself is suggested to increase the heat stress experienced by people during periods of high temperature, particularly during the night, when the UHI is largest (Pascal et al. 2005). Studies suggest that there is an adaptation factor in relation to heat and that early season heat waves or heat waves in regions where hot weather is infrequent have more negative consequences (Anderson and Bell 2011). This suggests that for parts of Europe that previously have not experienced periods with dangerously high temperature people are less adapted to deal with the increase in temperature.
2.2.2

Effect on Urban Hydrology

With a changing climate, the frequency of flood peaks is predicted to increase. Estimations point towards an average doubling of severe flood peaks with a return period of 100 year within Europe by 2045 (Alfieri et al. 2015). In addition, this is matched by a rise in sea level that, together with a predicted increase in windstorm frequency, will lead to an increase in coastal flooding (Nicholls 2004). As most of the urban areas within Europe are situated either on floodplains or along the coast, these two types of flooding will have a major impact across European cities. Climate driven increasing sea levels in certain areas of Europe will also translate into more frequent basement flooding (Arnbjerg-Nielsen et al. 2013).

The impact of a changing climate will differ across the continent whereby Northern Europe is expected to experience more annual mean precipitation as compared to Southern and Central European countries that are projected to experience a reduction in rainfall (Stagl et al. 2014; Olsson et al. 2009). Several models have pointed in a direction of decreasing total summer precipitation and increasing intensity of storms interspersed with drought. Increasing high-precipitation events will mean that the current urban drainage system will exceed its capacity more frequently, causing economic loss, increased discomfort and even loss of lives (Semadeni-Davies et al. 2008). Increasing urban temperatures will also have a strong influence on evapotranspiration that is largely limited by precipitation. Thus, there might be increased evapotranspiration in areas with more precipitation but also increased durations of drought in areas with reduced precipitation. In northern regions there is also an expected seasonal change in precipitation with more winter precipitation falling as rain and higher spring temperatures, leading to increased winter runoff and a reduction in late season snowmelt (Madsen et al. 2014).
2.2.3

Indirect Effects on Urban Habitats and Biodiversity

Climate change will influence several factors of importance to habitat quality and development of urban biodiversity. The projected change in temperatures, rainfall, extreme events and enhanced CO2 concentrations will influence a range of factors related to single species (e.g. physiology), population dynamics, species distribution patterns, species interactions and ecosystem services, as a result of spatial or temporal reorganisation (Bellard et al. 2012). Increasing urban temperatures and changed precipitation dynamics will influence species community development through limiting water availability during the growing season as well as changing the nutrient dynamics. Especially northern or alpine regions will be severely impacted due to enhanced temperature changes, e.g. as more common species will be able to colonise niches that were otherwise restricted to specialised species (Dirnböck et al. 2011).

Urban areas already have in many cases a higher plant richness compared to their natural counterparts (Faeth et al. 2011) due to influx of alien plant material, more nutrient-rich systems, a larger habitat heterogeneity and more continuous land use or directed management (Kowarik 2011). With a change in the urban climate, there is likely to be a change in invasiveness of alien species (Crossman et al. 2011) as well as an increase in the spread of disease and pests (Wilby and Perry 2006).
2.3

Climate Change Adaptation Possibilities Using Green Infrastructure and Nature-Based Solutions

Adaptation to actual or expected climate change effects involves a range of measures or actions that can be taken to reduce the vulnerability of society and to improve the resilience capacity against expected changing climate. Possible adaptation measures to handle climate change can take many forms and be effective at a range of spatial and temporal scales, proactively planned or as a results of socio political drivers such as new planning regulations, market demand or even social pressure (Metz et al. 2007).
2.4

Planning and Design Aspects of Green Infrastructure and Nature-Based Solutions for Adapting to Climate Change

The introduction and enhancement of UGI often provide a local effect for the microclimate both by providing a 'cool island' effect (Oliveira et al. 2011) and contributing to an overall global climate effect through the binding of CO2 (Nowak and Crane 2002).

From a planning perspective, it is interesting to pose the question on where and which NBS to implement when prioritising resources. In the previous section, we have shown that qualities such as vegetation type as well as amount and level of soil sealing have important bearing on the effect of climate regulations and adaptation measurement. When planning and implementing NBS, these are important considerations to take into account together with existing local conditions. Several studies have further shown that urban morphology plays an important role for explaining climatic effects (Oliviera et al. 2011; Jamei et al. 2016).

When it comes to the allocation of where to invest in NBS for climate change adaptation, it is important to look at the urban area on a strategic level, taking into account the character of the urban morphology as well as information on population details. The following questions are important in order to ensure the most cost-effective, highest gain and to take into account environmental justice (see also A. Haase, this volume) with regard to mitigating the negative effects of climate change: (1) where does the UHI have the largest impact? (2) where do vulnerable population groups live (e.g. old people as well as high density of population)? (3) where is a current lack of green and blue infrastructure? Here, strategic documents such as green infrastructure plans could provide a valuable tool for working with NBS on a strategic level. Norton et al. (2015) present a novel approach through using a hierarchial process for how to prioritise and strategically select NBS (in this case green open spaces, shade trees, green roofs and vertical greening systems) to mitigate high temperature, taking into account the relationship between urban morphology, UGI and temperature mitigation.

There is an abundance of different modelling techniques available, differing in complexity and accuracy that could aid a strategic planning and design of NBS for climate change adaptation (Deak-Sjöman and Sang

2015

). However, to ensure environmental justice, there are also strong calls for involving the local population in different processes of co-planning, co-design and co-management. Pauleit et al. (this volume) identify this as a key component of the NBS concept as it also has the potential to ensure the viability of the different solutions and to provide processes to site adaptation. Through the inclusion of scenario and impact modelling techniques in a collaborative process, it is possible to implement NBS that are both climate effective and ensuring environmental justice (see Fig.

2.1

).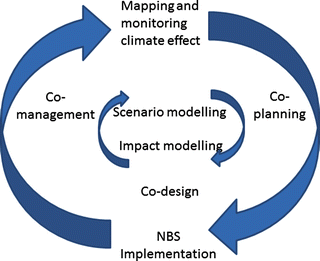 However, while the modelling techniques are available, the skills needed might not be present within local authorities, as shown in a recent survey of Swedish municipalities (Sang and Ode Sang 2015). This hinders the use of modelling techniques for analysing potential climate effects in more iterative and strategic processes through exploring alternative solutions as well as accumulative climate effects by introducing different green space interventions across the urban area.
2.5

Conclusion

Nature-based solutions have a key role to play in achieving a future compact city that is liveable and sustainable. Vegetation in different forms can contribute to various degrees to climate adaptation, depending on NBS type and quality as well as climatic and socio-ecological contexts. Through integrating modelling techniques with collaborative processes, we could ensure a strategic planning of green space interventions that are climate effective and ensure environmental justice.
Copyright information
© The Author(s) 2017
Open Access This chapter is licensed under the terms of the Creative Commons Attribution 4.0 International License (http://creativecommons.org/licenses/by/4.0/), which permits use, sharing, adaptation, distribution and reproduction in any medium or format, as long as you give appropriate credit to the original author(s) and the source, provide a link to the Creative Commons license and indicate if changes were made.
The images or other third party material in this chapter are included in the chapter's Creative Commons license, unless indicated otherwise in a credit line to the material. If material is not included in the chapter's Creative Commons license and your intended use is not permitted by statutory regulation or exceeds the permitted use, you will need to obtain permission directly from the copyright holder.