Abstract

This chapter presents an examination of the role of the Panglima Laot (translation: sea commander) customary institution in the recovery of fisheries communities in Aceh following the 2004 Indian Ocean tsunami, as well as the roles and relationships of other actors from the perspective of the Panglima Laot local leaders and institution. The roles of the Rehabilitation and Reconstruction Agency (BRR) of Aceh-Nias, the local government and international and local non-governmental organizations (NGO) are also analyzed in order to understand the broader recovery process, the interactions between these different stakeholders, and the types of loss and damage systems relevant to coastal fishing communities affected by the tsunami.

Based on a review of the academic literature, an analysis of documents published by humanitarian and government organizations engaged in Aceh's recovery and key informant interviews with representatives of Panglima Laot, local government agencies and international and local humanitarian organizations, our findings show that the Panglima Laot leaders and institution were instrumental in the recovery of Aceh's coastal fishing communities. Importance lies in the trust people have in the institution and its community leaders; their role as mediators between communities, government and NGOs, and their leadership in implementing, monitoring and evaluating livelihood recovery programmes that address community needs. External agencies recognized these capacities and some provided financial and technical support to strengthen the institution further.

In conclusion, we argue that the case of the Panglima Laot, positioned within the context of wide-scale disaster recovery interventions, offers lessons for actors engaged in localized post-disaster operations that aim to build resilience. Lessons in particular are around the importance of leadership, community engagement and people-centered recovery approaches.
Keywords
Indian Ocean Tsunami 2004

Panglima Laot

Disaster recovery

Build back better

Loss and damage

Resilience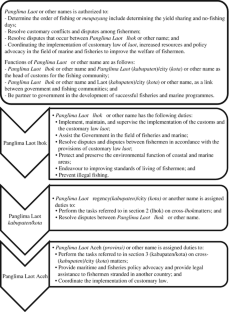 References
ADB (2005) Proposed grant assistance to the Republic of Indonesia for the sustainable livelihood development for coastal communities in the special province of Nanggroe Aceh Darussalam Project (Financed by the Japan Fund for Poverty Reduction). Asian Development Bank (ADB), Manila

Adli Abdullah M (2009) Panglima Laot: a unique institution. Panglima Laot, Banda Aceh

Adrianto L, Al Amin MA, Solihin A, Hartoto DI (2009) Local knowledge and fisheries management. International Collective in Support of Fishworkers (ICSF), Aceh

Birkmann J, Buckle P, Jaeger J, Pelling M, Setiadi N, Garschagen M, Fernando N, Kropp J (2010) Extreme events and disasters: a window of opportunity for change? Analysis of organizational, institutional and political changes, formal and informal responses after mega-disasters. Nat Hazards 55:637–655. doi:10.1007/s11069-008-9319-2

Boyd E, James R, Jones R (2016) Typologies of loss and damage and associated actions. Policy brief, Reading, UK

BRR (2005) Tsunami recovery status report. BRR, Jakarta

BRR, World Bank (2005) Rebuilding a better Aceh and Nias: stocktaking of the reconstruction effort: brief for the Coordination Forum Aceh and Nias (CFAN). BRR and World Bank, Jakarta

Chaliluddin C, Purbayanto A, Monintja DR, Imron M, Santoso J (2015) Role of local wisdom in utilization of resource of fish in the Aceh Jaya district, Indonesia. J Adv Soc Sci-Humanit 1:17–20

CONSRN (2005) Impacts of the tsunami on fisheries, aquaculture and coastal livelihoods in Indonesia. Consortium to Restore Shattered Livelihoods in Tsunami-Devastated Nations (CONSRN), Indonesia

Cosgrave J (2007) Tsunami evaluation coalition, synthesis report: expanded summary, joint evaluation of the international response to the Indian Ocean tsunami (Synthesis report: expanded summary). Tsunami Evaluation Coalition, London

Fan L (2013) Disaster as opportunity? Building back better in Aceh, Myanmar and Haiti. Humanitarian Policy Group Working Paper, Overseas Development Institute. London, UK

FAO (2007) An overview of the impact of the tsunami on selected coastal fisheries in Sri Lanka and Indonesia. Food and Agriculture Organization of the United Nations Regional Office for Asia and the Pacific (FAO), Bangkok

Garces L, Tewfik A, Pido M, Fatan N, Adhuri D, Andrew NL, Dey M (2006) Fisheries rehabilitation in post-tsunami Aceh: status and needs from participatory appraisals. NAGA World Fish Center 29:19–30

Government of Aceh (2008) Aceh recovery framework 2008–2011. Government of Aceh, Aceh

Ingram JC, Franco G, Rio CR, Khazai B (2006) Post-disaster recovery dilemmas: challenges in balancing short-term and long-term needs for vulnerability reduction. Environ Sci Pol 9(607):29

Janssen H (2005) Study on the Post-tsunami rehabilitation of fishing communities and fisheries-based livelihoods in Indonesia. International Collective in Support of Fishworkers (ICSF), Banda Aceh

Kumar KG (2010) Customary Institutions in Indonesia: Do they have a role in fisheries coastal area management? International Collective in Support of Fishworkers (ICSF), Lombok

Nurasa T, Naamin N, Basuki R (1993) The role of Panglima Laot "Sea Commander" system in coastal fisheries management in Aceh, Indonesia. Twenty-Second IPFC Fisheries Symposium, Darwin, Australia

Panglima Laot (2005) Strategic planning Panglima Laot Aceh 2005–2015 & the rules of Hukom Adat Laot. Panglima Laot, Aceh

Panglima Laot (2016) Lhok Panglima Laot se-Aceh. Panglima Laot, Banda Aceh. Available from: http://www.panglimalaotaceh.org/lhok-panglima-laot-se-aceh/ [Accessed 31 December 2016]

Schulze KE (2005) Between conflict and peace: tsunami aid and reconstruction in Aceh. London School of Economics (LSE), London

Shaw R (ed) (2015) Recovery from the Indian Ocean Tsunami. Series: Disaster Risk Reduction: Methods, Approaches and Practices. Springer Japan, Tokyo

Stobutzki IC, Hall SJ (2006) Rebuilding coastal fisheries livelihoods after the tsunami: key lessons from past experience. NAGA World Fish Center Newsletter 28(1):6–12

Surminski S, Lopez A (2015) Concept of loss and damage of climate change – a new challenge for climate decision-making? A climate science perspective. Clim Dev 7:267–277. doi:10.1080/17565529.2014.934770

Telford J, Cosgrave J (2006) Tsunami evaluation coalition – joint evaluation of the international response to the Indian Ocean tsunami (Synthesis Report). Tsunami Evaluation Coalition, London

Thorburn C, Rochelle B (2014) The Acehnese Gampong ten years on: a post-post tsunami assessment. Monash University, Victoria, Australia

UNDP Indonesia (2008) Guidelines on adat justice in Aceh: for adat justice that is fair and accountable. United Nations Development Programme (UNDP) Indonesia, Aceh

UNFCCC (2015) Adoption of the Paris Agreement. UNFCCC Conference of the Parties (COP), Paris, France

Utomo PB (2010) The role of traditional knowledge in fisheries management: a study of Panglima Laot (Sea Commander) in the Aceh Province of Indonesia. World Maritime University Dissertations, Malmö, Sweden

Wilson C, Linkie M (2012) The Panglima Laot of Aceh: a case study in large-scale community-based marine management after the 2004 Indian Ocean tsunami. Oryx 46(4):495–500. doi:10.1017/S0030605312000191

World Bank (2005a) Aceh and Nias one year after the tsunami: the recovery effort and way forward. World Bank, BRR, and International Partners, Jakarta

World Bank (2005b) Building a better Aceh and Nias. World Bank, Jakarta
Acknowledgements

This chapter presents a case study of a research project, Longer-term (5–10 years) recovery following major disasters in the Asia Pacific Region: Lessons for resilient development, led by the Stockholm Environment (SEI) with research partners in Thailand, Cambodia, Vietnam and Indonesia, and funded by the Asia-Pacific Network for Global Change Research (APN). For more information about this project, please go to http://www.sei-international.org/projects?prid=2117. The authors wish to express sincere thanks APN and SEI, to all interviewees who agreed to take part in this research, Bilal R Pahlevie for his facilitation and support in Aceh, and members of the research project team who provided valuable comments and intellectual guidance to earlier drafts of this chapter.
Copyright information

© 2017 Springer International Publishing AG
About this chapter
Cite this chapter
Boyland, M., Nugroho, A., Thomalla, F. (2017). The Role of the Panglima Laot Customary Institution in the 2004 Indian Ocean Tsunami Recovery in Aceh. In: Djalante, R., Garschagen, M., Thomalla, F., Shaw, R. (eds) Disaster Risk Reduction in Indonesia. Disaster Risk Reduction. Springer, Cham. https://doi.org/10.1007/978-3-319-54466-3_14
DOI: https://doi.org/10.1007/978-3-319-54466-3_14

Published:

Publisher Name: Springer, Cham

Print ISBN: 978-3-319-54465-6

Online ISBN: 978-3-319-54466-3