Abstract

Pregnancy complications such as preterm birth, miscarriage, maternal and/or neonatal morbidities, and mortality can be manifestations of underlying placental pathology. Hofbauer cells refer to a heterogeneous population of fetal macrophages that reside within the functional unit of the placenta known as the chorionic villus. Hofbauer cells can be detected within the connective tissue matrix of the placenta as early as 4 weeks post-conception and are present throughout pregnancy. These cells are implicated in a wide array of functions important for a successful pregnancy including placental morphogenesis, immune regulation, control of stromal water content, and the transfer of ions and serum proteins across the maternal–fetal barrier. Derangements in Hofbauer cell homeostasis are associated with placental pathologies involving infection, inflammation, and inadequate placental development. Despite a growing body of evidence that these cells are important, our knowledge about Hofbauer cell function in both normal and dysfunctional pregnancy is rudimentary. The goal of this chapter is to provide an overview of what is known about Hofbauer cell origins and their potential roles in normal and complicated pregnancy. We also review established and emerging methodologies available for the study of Hofbauer cells during in vitro and in vivo conditions.
Keywords
Chorionic Villus

Intervillous Space

Complicated Pregnancy

Placental Pathology

Placental Macrophage
These keywords were added by machine and not by the authors. This process is experimental and the keywords may be updated as the learning algorithm improves.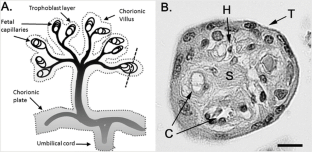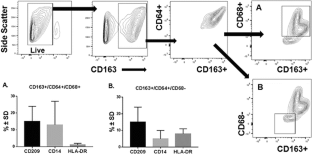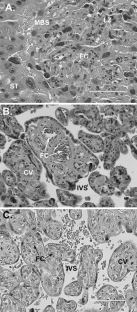 References
Abumaree MH, Al Jumah MA, Kalionis B, Jawdat D, Al Khaldi A, Abomaray FM, Fatani AS, Chamley LW, Knawy BA (2013) Human placental mesenchymal stem cells (pMSCs) play a role as immune suppressive cells by shifting macrophage differentiation from inflammatory M1 to anti-inflammatory M2 macrophages. Stem Cell Rev 9(5):620–641. doi:10.1007/s12015-013-9455-2

Ain R, Konno T, Canham LN, Soares MJ (2006) Phenotypic analysis of the rat placenta. Methods Mol Med 121:295–313

Altshuler G, Hyde SR (1996) Clinicopathologic implications of placental pathology. Clin Obstet Gynecol 39(3):549–570

Anteby EY, Natanson-Yaron S, Greenfield C, Goldman-Wohl D, Haimov-Kochman R, Holzer H, Yagel S (2005) Human placental Hofbauer cells express sprouty proteins: a possible modulating mechanism of villous branching. Placenta 26(6):476–483. doi:10.1016/j.placenta.2004.08.008

Benirschke K, Burton GJ, Baergen RN (2012) Pathology of the human placenta. Springer, Berlin, Heidelberg. doi:10.1007/978-3-642-23941-0

Benveniste H, Fowler JS, Rooney WD, Moller DH, Backus WW, Warner DA, Carter P, King P, Scharf B, Alexoff DA, Ma Y, Vaska P, Schlyer D, Volkow ND, Study PET, Study MRI (2003) Maternal-fetal in vivo imaging: a combined PET and MRI study. J Nucl Med 44(9):1522–1530

Bockle BC, Solder E, Kind S, Romani N, Sepp NT (2008) DC-sign+ CD163+ macrophages expressing hyaluronan receptor LYVE-1 are located within chorion villi of the placenta. Placenta 29(2):187–192. doi:10.1016/j.placenta.2007.11.003

Breburda EE, Dambaeva SV, Slukvin II, Golos TG (2006) Selective distribution and pregnancy-specific expression of DC-SIGN at the maternal-fetal interface in the rhesus macaque: DC-SIGN is a putative marker of the recognition of pregnancy. Placenta 27(1):11–21. doi:10.1016/j.placenta.2004.11.006

Brown MB, von Chamier M, Allam AB, Reyes L (2014) M1/M2 macrophage polarity in normal and complicated pregnancy. Front Immunol 5:606. doi:10.3389/fimmu.2014.00606

Bulmer JN, Johnson PM (1984) Macrophage populations in the human placenta and amniochorion. Clin Exp Immunol 57(2):393–403

Bulmer JN, Morrison L, Johnson PM, Meager A (1990) Immunohistochemical localization of interferons in human placental tissues in normal, ectopic, and molar pregnancy. Am J Reprod Immunol (New York, NY: 1989) 22(3–4):109–116

Bulmer JN, Morrison L, Smith JC (1988) Expression of class II MHC gene products by macrophages in human uteroplacental tissue. Immunology 63(4):707–714

Buse E, Haeger JD, Svensson-Arvelund J, Markert UR, Faas MM, Ernerudh J, Dixon D, Cline JM, Pfarrer C (2014) The placenta in toxicology. Part I: animal models in toxicology: placental morphology and tolerance molecules in the cynomolgus monkey (Macaca fascicularis). Toxicol Pathol 42(2):314–326. doi:10.1177/0192623313482208

Carter AM (2007) Animal models of human placentation—a review. Placenta 28(Suppl A):S41–S47. doi:10.1016/j.placenta.2006.11.002

Castellucci M, Celona A, Bartels H, Steininger B, Benedetto V, Kaufmann P (1987) Mitosis of the Hofbauer cell: possible implications for a fetal macrophage. Placenta 8(1):65–76

Castellucci M, Schweikhart G, Kaufmann P, Zaccheo D (1984) The stromal architecture of the immature intermediate villus of the human placenta. Functional and clinical implications. Gynecol Obstet Investig 18(2):95–99

Castellucci M, Zaccheo D, Pescetto G (1980) A three-dimensional study of the normal human placental villous core. I. The Hofbauer cells. Cell Tissue Res 210(2):235–247

Cervar M, Blaschitz A, Dohr G, Desoye G (1999) Paracrine regulation of distinct trophoblast functions in vitro by placental macrophages. Cell Tissue Res 295(2):297–305

Chattopadhyay PK, Hogerkorp CM, Roederer M (2008) A chromatic explosion: the development and future of multiparameter flow cytometry. Immunology 125(4):441–449

Chen CP, Tsai PS, Huang CJ (2012) Antiinflammation effect of human placental multipotent mesenchymal stromal cells is mediated by prostaglandin E2 via a myeloid differentiation primary response gene 88-dependent pathway. Anesthesiology 117(3):568–579. doi:10.1097/ALN.0b013e31826150a9

Clark DE, Smith SK, He Y, Day KA, Licence DR, Corps AN, Lammoglia R, Charnock-Jones DS (1998) A vascular endothelial growth factor antagonist is produced by the human placenta and released into the maternal circulation. Biol Reprod 59(6):1540–1548

Dambaeva SV, Breburda EE, Durning M, Garthwaite MA, Golos TG (2009) Characterization of decidual leukocyte populations in cynomolgus and vervet monkeys. J Reprod Immunol 80(1–2):57–69. doi:10.1016/j.jri.2008.12.006

Demir R, Erbengi T (1984) Some new findings about Hofbauer cells in the chorionic villi of the human placenta. Acta Anat (Basel) 119(1):18–26

Enders AC, King BF (1970) The cytology of Hofbauer cells. Anat Rec 167(2):231–236. doi:10.1002/ar.1091670211

Fox H (1967) The incidence and significance of Hofbauer cells in the mature human placenta. J Pathol Bacteriol 93(2):710–717. doi:10.1002/path.1700930239

Goldstein J, Braverman M, Salafia C, Buckley P (1988) The phenotype of human placental macrophages and its variation with gestational age. Am J Pathol 133(3):648–659

Golos TG (2004) Pregnancy initiation in the rhesus macaque: towards functional manipulation of the maternal-fetal interface. Reprod Biol Endocrinol 2:35. doi:10.1186/1477-7827-2-35

Grigsby PL (2016) Animal models to study placental development and function throughout normal and dysfunctional human pregnancy. Semin Reprod Med 34(1):11–16. doi:10.1055/s-0035-1570031

Gude NM, Roberts CT, Kalionis B, King RG (2004) Growth and function of the normal human placenta. Thromb Res 114(5–6):397–407. doi:10.1016/j.thromres.2004.06.038

Ilekis JV, Tsilou E, Fisher S, Abrahams VM, Soares MJ, Cross JC, Zamudio S, Illsley NP, Myatt L, Colvis C, Costantine MM, Haas DM, Sadovsky Y, Weiner C, Rytting E, Bidwell G (2016) Placental origins of adverse pregnancy outcomes: potential molecular targets: an Executive Workshop Summary of the Eunice Kennedy Shriver National Institute of Child Health and Human Development. Am J Obstet Gynecol 215(1, Supplement):S1–S46. doi:10.1016/j.ajog.2016.03.001

Ingman K, VJKW C, CJP J, Aplin JD (2010) Characterisation of Hofbauer cells in first and second trimester placenta: incidence, phenotype, survival in vitro and motility. Placenta 31(6):535–544. doi:10.1016/j.placenta.2010.03.003

Johnson EL, Chakraborty R (2012) Placental Hofbauer cells limit HIV-1 replication and potentially offset mother to child transmission (MTCT) by induction of immunoregulatory cytokines. Retrovirology 9:101. doi:10.1186/1742-4690-9-101

Jurado KA, Simoni MK, Tang Z, Uraki R, Hwang J, Householder S, Wu M, Lindenbach BD, Abrahams VM, Guller S, Fikrig E (2016) Zika virus productively infects primary human placenta-specific macrophages. JCI Insight 1(13). doi:10.1172/jci.insight.88461

Keator CS, Lindner JR, Belcik JT, Bishop CV, Slayden OD (2011) Contrast-enhanced ultrasound reveals real-time spatial changes in vascular perfusion during early implantation in the macaque uterus. Fertil Steril 95(4):1316–1321 e1311–1313. doi:10.1016/j.fertnstert.2011.01.040

Khan S, Katabuchi H, Araki M, Nishimura R, Okamura H (2000) Human villous macrophage-conditioned media enhance human trophoblast growth and differentiation in vitro. Biol Reprod 62(4):1075–1083

Kim JS, Romero R, Kim MR, Kim YM, Friel L, Espinoza J, Kim CJ (2008) Involvement of Hofbauer cells and maternal T cells in villitis of unknown aetiology. Histopathology 52(4):457–464. doi:10.1111/j.1365-2559.2008.02964.x

Kim MJ, Romero R, Kim CJ, Tarca AL, Chhauy S, LaJeunesse C, Lee DC, Draghici S, Gotsch F, Kusanovic JP, Hassan SS, Kim JS (2009) Villitis of unknown etiology is associated with a distinct pattern of chemokine up-regulation in the feto-maternal and placental compartments: implications for conjoint maternal allograft rejection and maternal anti-fetal graft-versus-host disease. J Immunol 182(6):3919–3927. doi:10.4049/jimmunol.0803834

Kim SY, Romero R, Tarca AL, Bhatti G, Kim CJ, Lee J, Elsey A, Than NG, Chaiworapongsa T, Hassan SS, Kang GH, Kim JS (2012) Methylome of fetal and maternal monocytes and macrophages at the feto-maternal interface. Am J Reprod Immunol (New York, NY: 1989) 68(1):8–27. doi:10.1111/j.1600-0897.2012.01108.x

King BF (1987) Ultrastructural differentiation of stromal and vascular components in early macaque placental villi. Am J Anat 178(1):30–44. doi:10.1002/aja.1001780105

Kingdom J, Huppertz B, Seaward G, Kaufmann P (2000) Development of the placental villous tree and its consequences for fetal growth. Eur J Obstet Gynecol Reprod Biol 92(1):35–43

Kumazaki K, Nakayama M, Yanagihara I, Suehara N, Wada Y (2004) Immunohistochemical distribution of Toll-like receptor 4 in term and preterm human placentas from normal and complicated pregnancy including chorioamnionitis. Hum Pathol 35(1):47–54

Li C-C, Loken MR, Kao R-H, Wang T-F, Tsai S-S, Hsu S-M, Yao C-Y, Li S-C, Huang K-P, Wu Y-F, Huang W-H, Chu S-C (2009) Multidimensional flow cytometry for detection of rare populations in hematological malignancies. Tzu Chi Med J 21(1):40–51. doi:10.1016/S1016-3190(09)60007-0

Mantovani A, Biswas SK, Galdiero MR, Sica A, Locati M (2013) Macrophage plasticity and polarization in tissue repair and remodelling. J Pathol 229(2):176–185. doi:10.1002/path.4133

Martinoli C, Castellucci M, Zaccheo D, Kaufmann P (1984) Scanning electron microscopy of stromal cells of human placental villi throughout pregnancy. Cell Tissue Res 235(3):647–655

Matsubara S, Takayama T, Iwasaki R, Komatsu N, Matsubara D, Takizawa T, Sato I (2001) Enzyme-cytochemically detectable glucose-6-phosphate dehydrogenase in human villous macrophages (Hofbauer cells). Placenta 22(10):882–885. doi:10.1053/plac.2001.0720

Matsubara S, Takayama T, Yamada T, Usui R, Izumi A, Watanabe T, Ohkuchi A, Shibahara H, Sato I, Suzuki M (2003a) Hofbauer cell activation and its increased glucose-6-phosphate dehydrogenase activity in second trimester-spontaneous abortion: an ultrastructural dual staining enzyme-cytochemical study. Am J Reprod Immunol (New York, NY: 1989) 49(4):202–209

Matsubara S, Takayama T, Yamada T, Usui R, Izumi A, Watanabe T, Ohkuchi A, Shibahara H, Sato I, Suzuki M (2003b) Hofbauer cell activation and its increased glucose-6-phosphate dehydrogenase activity in second trimester-spontaneous abortion: an ultrastructural dual staining enzyme-cytochemical study. Am J Reprod Immunol 49(4):202–209. doi:10.1034/j.1600-0897.2003.01180.x

Montero J, Gomez-Abellan V, Arizcun M, Mulero V, Sepulcre MP (2016) Prostaglandin E2 promotes M2 polarization of macrophages via a cAMP/CREB signaling pathway and deactivates granulocytes in teleost fish. Fish Shellfish Immunol 55:632–641. doi:10.1016/j.fsi.2016.06.044

Noronha L, Zanluca C, Azevedo ML, Luz KG, Santos CN (2016) Zika virus damages the human placental barrier and presents marked fetal neurotropism. Mem Inst Oswaldo Cruz 111(5):287–293. doi:10.1590/0074-02760160085

Quicke KM, Bowen JR, Johnson EL, McDonald CE, Ma H, O'Neal JT, Rajakumar A, Wrammert J, Rimawi BH, Pulendran B, Schinazi RF, Chakraborty R, Suthar MS (2016) Zika virus infects human placental macrophages. Cell Host Microbe 20(1):83–90. doi:10.1016/j.chom.2016.05.015

Roberts VH, Lo JO, Salati JA, Lewandowski KS, Lindner JR, Morgan TK, Frias AE (2016) Quantitative assessment of placental perfusion by contrast-enhanced ultrasound in macaques and human subjects. Am J Obstet Gynecol 214(3):369 e361–369 e368. doi:10.1016/j.ajog.2016.01.001

Satosar A, Ramirez NC, Bartholomew D, Davis J, Nuovo GJ (2004) Histologic correlates of viral and bacterial infection of the placenta associated with severe morbidity and mortality in the newborn. Hum Pathol 35(5):536–545

Schulz C, Gomez Perdiguero E, Chorro L, Szabo-Rogers H, Cagnard N, Kierdorf K, Prinz M, Wu B, Jacobsen SE, Pollard JW, Frampton J, Liu KJ, Geissmann F (2012) A lineage of myeloid cells independent of Myb and hematopoietic stem cells. Science 336(6077):86–90. doi:10.1126/science.1219179

Seval Y, Korgun ET, Demir R (2007) Hofbauer cells in early human placenta: possible implications in vasculogenesis and angiogenesis. Placenta 28(8–9):841–845. doi:10.1016/j.placenta.2007.01.010

Silva JF, Serakides R (2016) Intrauterine trophoblast migration: a comparative view of humans and rodents. Cell Adh Migr 10(1–2):88–110. doi:10.1080/19336918.2015.1120397

Sisino G, Bouckenooghe T, Aurientis S, Fontaine P, Storme L, Vambergue A (2013) Diabetes during pregnancy influences Hofbauer cells, a subtype of placental macrophages, to acquire a pro-inflammatory phenotype. Biochim Biophys Acta 1832(12):1959–1968. doi:10.1016/j.bbadis.2013.07.009

Slukvin II, Boyson JE, Watkins DI, Golos TG (1999) A nonhuman primate model for maternal-fetal immune tolerance. Transplant Proc 31(4):1844–1846

Slukvin II, Watkins DI, Golos TG (2001) Phenotypic and functional characterization of rhesus monkey decidual lymphocytes: rhesus decidual large granular lymphocytes express CD56 and have cytolytic activity. J Reprod Immunol 50(1):57–79

Soilleux EJ, Morris LS, Lee B, Pohlmann S, Trowsdale J, Doms RW, Coleman N (2001) Placental expression of DC-SIGN may mediate intrauterine vertical transmission of HIV. J Pathol 195(5):586–592. doi:10.1002/path.1026

Sutton L, Mason DY, Redman CW (1983) HLA-DR positive cells in the human placenta. Immunology 49(1):103–112

Sverremark Ekstrom E, Nilsson C, Holmlund U, van der Ploeg I, Sandstedt B, Lilja G, Scheynius A (2002) IgE is expressed on, but not produced by, fetal cells in the human placenta irrespective of maternal atopy. Clin Exp Immunol 127(2):274–282

Tabata T, Petitt M, Puerta-Guardo H, Michlmayr D, Wang C, Fang-Hoover J, Harris E, Pereira L (2016) Zika virus targets different primary human placental cells, suggesting two routes for vertical transmission. Cell Host Microbe 20(2):155–166. doi:10.1016/j.chom.2016.07.002

Takahashi K, Naito M, Katabuchi H, Higashi K (1991) Development, differentiation, and maturation of macrophages in the chorionic villi of mouse placenta with special reference to the origin of Hofbauer cells. J Leukoc Biol 50(1):57–68

Tang Z, Buhimschi IA, Buhimschi CS, Tadesse S, Norwitz E, Niven-Fairchild T, Huang ST, Guller S (2013) Decreased levels of folate receptor-beta and reduced numbers of fetal macrophages (Hofbauer cells) in placentas from pregnancies with severe pre-eclampsia. Am J Reprod Immunol (New York, NY: 1989) 70(2):104–115. doi:10.1111/aji.12112

Tang Z, Tadesse S, Norwitz E, Mor G, Abrahams VM, Guller S (2011) Isolation of hofbauer cells from human term placentas with high yield and purity. Am J Reprod Immunol (New York, NY: 1989) 66(4):336–348. doi:10.1111/j.1600-0897.2011.01006.x

Toti P, Arcuri F, Tang Z, Schatz F, Zambrano E, Mor G, Niven-Fairchild T, Abrahams VM, Krikun G, Lockwood CJ, Guller S (2011) Focal increases of fetal macrophages in placentas from pregnancies with histological chorioamnionitis: potential role of fibroblast monocyte chemotactic protein-1. Am J Reprod Immunol (New York, NY: 1989) 65(5):470–479. doi:10.1111/j.1600-0897.2010.00927.x

Uren S, Boyle W (1985) Isolation of macrophages from human placenta. J Immunol Methods 78(1):25–34

Vinnars MT, Rindsjo E, Ghazi S, Sundberg A, Papadogiannakis N (2010) The number of CD68(+) (Hofbauer) cells is decreased in placentas with chorioamnionitis and with advancing gestational age. Pediatr Dev Pathol 13(4):300–304. doi:10.2350/09-03-0632-OA.1

Wetzka B, Clark DE, Charnock-Jones DS, Zahradnik HP, Smith SK (1997) Isolation of macrophages (Hofbauer cells) from human term placenta and their prostaglandin E2 and thromboxane production. Hum Reprod 12(4):847–852

Wood GW (1980) Mononuclear phagocytes in the human placenta. Placenta 1(2):113–123

Wood G, Reynard J, Krishnan E, Racela L (1978) Immunobiology of the human placenta. II. Localization of macrophages, in vivo bound IgG and C3. Cell Immunol 35(1):205–216

Wynn RM (1967) Derivation and ultrastructure of the so-called Hofbauer cell. Am J Obstet Gynecol 97(2):235–248. doi:10.1016/0002-9378(67)90546-7

Young OM, Tang Z, Niven-Fairchild T, Tadesse S, Krikun G, Norwitz ER, Mor G, Abrahams VM, Guller S (2015) Toll-like receptor-mediated responses by placental Hofbauer cells (HBCs): a potential pro-inflammatory role for fetal M2 macrophages. Am J Reprod Immunol (New York, NY: 1989) 73(1):22–35. doi:10.1111/aji.12336
Acknowledgments

This work was supported by Wisconsin National Primate Research Center P510D011106-55 pilot award and University of Wisconsin—Madison, School of Veterinary Medicine faculty start-up funds. The funders had no role in study design, data collection, and analysis; decision to publish; or preparation of this chapter.
Copyright information

© 2017 Springer International Publishing AG
About this chapter
Cite this chapter
Reyes, L., Wolfe, B., Golos, T. (2017). Hofbauer Cells: Placental Macrophages of Fetal Origin. In: Kloc, M. (eds) Macrophages. Results and Problems in Cell Differentiation, vol 62. Springer, Cham. https://doi.org/10.1007/978-3-319-54090-0_3