Abstract

To estimate the collision probability of red kites and Montagu's harriers depending on the distance between wind turbines and nest, the results of telemetric monitoring of these two species were modelled following Band et al. (2007). The basic idea of the Band model is to determine three components: I—the frequency of flights through the rotor swept area of a wind turbine, II—the probability of a collision of the bird with the rotor in these flights and III—the avoidance behaviour of the bird in the immediate vicinity of the rotor. For the latter factor only few reliable data were available and absolute values of the collision risk were therefore subject to a high level of uncertainty. Within a species these values were still comparable. Collision probabilities were calculated for different distances between wind turbines and nest. Several sample turbines could be compared for Montagu's harriers (small E-40 wind turbines, 500 kW; medium E-66 wind turbines, 1800 kW; large V90 wind turbines, 3000 kW). The results relate to one turbine only per distance class. For the Montagu's harrier results showed an increased estimated collision risk within a distance of below 300 m between nest and wind turbine. The absolute collision risk in this close-up area around the nest was largest for small wind turbines and significantly higher than for the two larger wind turbines. For red kites the estimated collision risk was substantially higher than for Montagu's harriers. For red kite too, the collision risk was highest with wind turbines in the vicinity of the nest. Lower values were reached from a distance of 1250 m. The results show that a minimum distance kept between wind turbines and red kite nests will considerably reduce the collision risk. This is also true for the Montagu's harrier with a collision risk mainly occurring in the close-up area of the nest. For this species a standardised distance recommendation will not be practicable, as Montagu's harriers choose a new nesting site every year. Definition of breeding areas outside the main breeding areas existing in Germany will hardly be possible.
Keywords
Wind Turbine

Collision Probability

Distance Class

Flight Activity

Collision Risk
These keywords were added by machine and not by the authors. This process is experimental and the keywords may be updated as the learning algorithm improves.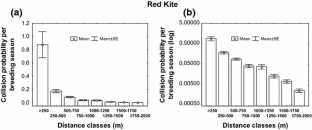 References
Band W, Madders M, Whitfield DP (2007) Developing field and analytical methods to assess avian collision risk at wind farms. In: de Lucas M, Janss G, Ferrer M (eds) Birds and Wind Power. Quercus, Madrid, p 259–275

Bauer H-G, Bezzel E, Fiedler W (2005) Das Kompendium der Vögel Mitteleuropas. Aula Verlag, Wiesbaden

Bevanger K, Berntsen F, Clausen S, Dahl EL, Flagstad Ø, Follestad A, Halley D, Hanssen FE, Hoel PL, Johnsen L, Kvaløy P, May R, Nygård T, Pedersen HC, Reitan O, Steinheim Y, Vang R (2009) Pre- and post-construction studies of conflicts between birds and wind turbines in coastal Norway (BirdWind). Progress Report 2009, NINA Report 505, Trondheim, 70 pp

Länder-Arbeitsgemeinschaft der Vogelschutzwarten, LAG-VSV (2007) Abstandsregelungen für Windenergieanlagen zu bedeutsamen Vogellebensräumen sowie Brutplätzen ausgewählter Vogelarten. Berichte zum Vogelschutz 44:151–153

Lekuona JM, Ursúa C (2007) Avian mortality in wind power plants of Navarra (Northern Spain). In: de Lucas M, Janss G, Ferrer M (eds) Birds and Wind Power. Quercus, Madrid, p 177–192

de Lucas M, Janss GFE, Whitfield DP, Ferrer M (2008) Collision fatality of raptors in wind farms does not depend on raptor abundance. J Appl Ecol 45:1695–1703

Mammen U, Stubbe M (2003) Jahresbericht zum Monitoring Greifvögel und Eulen Europas 15:1–101

Mammen U, Mammen K, Strasser C, Resetaritz A (2009) Rotmilan und Windkraft – eine Fallstudie in der Querfurter Platte. In: Stubbe M, Mammen U (eds) Populationsökologie Greifvogel- und Eulenarten 6, p 223–231

May R, Hoel PL, Langston R, Dahl EL, Bevanger K, Reitan O, Nygård T, Pedersen HC, Røskaft E Stokke BG (2010) Collision risk in white-tailed eagles. Modelling collision risk using vantage point observations in Smøla wind-power plant. NINA Report 639, Trondheim, pp 25

Mebs T, Schmidt D (2006) Die Greifvögel Europas, Nordafrikas und Vorderasiens. Biologie, Kennzeichen und Bestände. Kosmos, Stuttgart, pp 495

Nachtigall W, Stubbe M, Herrmann S (2010) Aktionsraum und Habitatnutzung des Rotmilans (Milvus milvus) während der Brutzeit – eine telemetrische Studie im Nordharzvorland. Vogel und Umwelt 18:25–61

R development core team (2010). http://www.r-project.org/

Smallwood KS, Thelander CG (2004) Developing methods to reduce bird mortality in the Altamont Pass Wind Resource Area. Final report to the California Energy Commission, Public Interest Energy Research Environmental Area, Contract 500-01-019, Sacramento

Smallwood KS, Thelander CG (2008) Bird Mortality in the Altamont Pass Wild Resource Area, California. J Wildlife Manage 72:215–223

Sterner D, Orloff S, Spiegel L (2007) Wind turbine collision research in the United States. In: de Lucas M, Janss G, Ferrer M (eds) Birds and Wind Power. Quercus, Madrid, p 81–100

Strickland D, Erickson W, Young D, Johnson G (2007) Selecting study designs to evaluate the effect of windpower on birds. In: de Lucas M, Janss G, Ferrer M (eds) Birds and Wind Power. Quercus, Madrid, p 117–136

Tucker VA (1996) A mathematical model of bird collisions with wind turbine rotors. J Sol Energ-T ASME 118:253–269

Urquhart B (2010) Use of avoidance rates in the SNH wind farm collision risk model. SNH Avoidance Rate Information & Guidance Note, Scottish natural heritage, pp 10

Whitfield DP, Band W (in preparation) Estimates of collision avoidance rates at operational wind farms in the USA

Whitfield DP, Madders M (2006) A review of the impacts of wind farms on hen harriers Circus cyaneus and an estimation of collision avoidance rates. Unpublished report, Natural Research, Banchory
Copyright information

© 2017 Springer International Publishing AG
About this chapter
Cite this chapter
Rasran, L., Grajetzky, B., Mammen, U. (2017). Calculation of the Probability of a Collision of Territorial Birds of Prey with Wind Turbines. In: Hötker, H., Krone, O., Nehls, G. (eds) Birds of Prey and Wind Farms. Springer, Cham. https://doi.org/10.1007/978-3-319-53402-2_14
DOI: https://doi.org/10.1007/978-3-319-53402-2_14

Published:

Publisher Name: Springer, Cham

Print ISBN: 978-3-319-53401-5

Online ISBN: 978-3-319-53402-2

eBook Packages: EnergyEnergy (R0)