Abstract
The interest of linking eye movement and reading has shown an exponential growth in the last decades. Additionally, the technology for tracking gaze position has advanced considerably and has become widely available for its use. Reading is a feedback process that requires the integration of different cognitive systems, and is an ideal field for exploring the relationships between eye movements and top-down processes. Several of the associated cognitive processes such as working memory and semantic memory are known to be relevant when reading sentences. For example, during reading high-predictable sentences the upcoming word predictability facilitates word processing in healthy readers. In the present chapter, we show the effect of contextual word predictability on the eye-movement behavior in patients with mild cognitive impairment due to dementia and to neuropsychiatric pathologies (i.e., Alzheimer's disease and schizophrenia respectively) in comparison with control groups of similar ages and education. The differences in the pattern are clearly presented. Our results show that it is possible to develop a new, objective, noninvasive, and economical technique to evaluate mild cognitive impairments that could help in the early and proper diagnosis of such pathologies.
Keywords
Cognition

Eye movements; Alzheimer: schizophrenia

Early diagnosis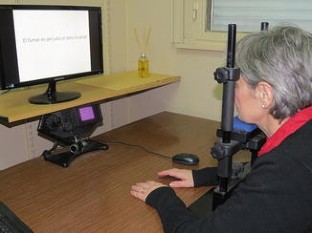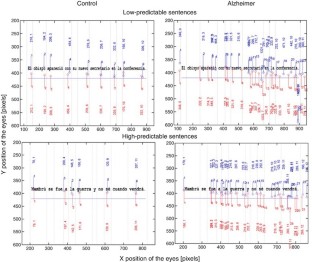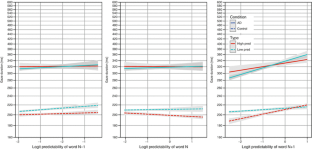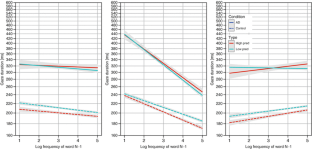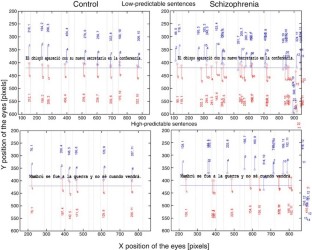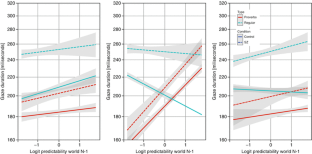 References
Buswell GT. The psychology of seeing. New York: Philosophical Library; 1935.

Yarbus AL. Eye movements and vision. New York: Plenum Press; 1967.

Rayner K. Eye movements in reading and information processing: 20 years of research. Psychol Bull. 1998;124(3):372–422.

Kliegl R, Nuthmann A, Engbert R. Tracking the mind during reading: the influence of past, present and future words on fixation durations. J Exp Psychol Gen. 2006;135:12–35.

Rayner K. Eye movements in reading: models and data. J Eye Mov Res. 2009;2(5):1–10.

Kliegl R. Toward a perceptual-span theory of distributed processing in reading: a reply to Rayner, Pollatsek, Drieghe, Slattery, and Reichle. J Exp Psychol. 2007;136:530–7.

Kennedy A, Pynte J. Parafoveal-on-foveal effects in normal reading. Vision Res. 2005;45(2):153–68.

Fernández G, Laubrock J, Mandolesi P, Colombo O, Agamennoni O. Registering eye movements during reading in Alzheimer's disease: difficulties in predicting upcoming words. J Clin Exp Neuropsychol. 2014;36:302–16.

Taylor W. Cloze procedure: a new tool for measuring readability. Journalism Q. 1953;30:415–33.

Fernández G, Shalom D, Kliegl R, Sigman M. Eye movements during reading proverbs and regular sentences: the incoming word predictability effect. Lang Cognit Process. 2013; doi:10.1080/01690065.2012.760745.

Sebastián-Gallés N, Martí M, Cuetos F, Carreiras M. LEXESP: Léxico informatizado del español. Barcelona: Ediciones de la Universidad de Barcelona; 1998.

Bates D, Maechler M. lme4: linear mixed-effect models using S4 classes R package version 0.995–2. Vienna: R Foundation for Statistical Computing; 2013.

Kennedy A, Pynte J, Murray W, Paul S. Frequency and predictability effects in the Dundee corpus. Q J Exp Psychol. 2013;66(3):601–18. doi:10.1080/17470218.2012.676054.

Fernández G, Manes F, Rotstein N, Colombo O, Mandolesi P, Politi L, Agamennoni O. Lack of contextual word predictability during reading in patients with mild Alzheimer disease. Neuropsychologia. 2014;62:143–51.

Frank RA, Galasko D, Hampel H, Hardy J, de Leon MJ, Mehta PD, Rogers J, Siemers E, Trojanowski JQ, National Institute on Aging Biological Markers Working Group. Biological markers for therapeutic trials in Alzheimer's disease. Proceedings of the biological markers working group; NIA initiative on neuroimaging in Alzheimer's disease. Neurobiol Aging. 2003;24(4):521–36.

Taler V, Phillips N. Language performance in Alzheimer's disease and mild cognitive impairment: a comparative review. J Clin Exp Neuropsychol. 2008;30(5):501–11.

McKhann G, Drachman D, Folstein M, Katzman R, Price D, Stadlan EM. Clinical diagnosis of Alzheimer's disease: report of the NINCDS–ADRDA work group under the auspices of department of health and human services task force on Alzheimer's disease. Neurology. 1984;34(7):939–44.

American Psychiatric Association. Diagnostic and statistical manual of mental disorders: DSM-IV. 4th ed. Washington, DC: American PsychiatricAssociation; 1994.

Folstein M, Folstein S, McHugh P. Mini-mental state'. A practical method for grading the cognitive state of patients for the clinician. J Psychiatr Res. 1975;12:189–98.

Mioshi E, Dawson K, Mitchell J, Arnold R, Hodges JR. The Addenbrooke's Cognitive Examination Revised (ACE-R): a brief cognitive test battery for dementia screening. Int J Geriatr Psychiatry. 2006;21(11):1078–85.

Hayes RL, O'Grady BM. Do people with schizophrenia comprehend what they read? Schizophr Bull. 2003;29:499–507. http://dx.doi.org/10.1093/oxfordjournals.schbul.a007022

Revheim N, et al. Reading impairment and visual processing deficits in schizophrenia. Schizophr Res. 2006;87:238–45. http://dx.doi.org/10.1016/j.schres.​2006.06.022

Arnott W, Sali L, Copland D. Impaired reading comprehension in schizophrenia: evidence for underlying phonological processing deficits. Psychiatry Res. 2011;187:6–10. http://dx.doi.org/10.1016/j.psychres.​2010.11.025.

Whitford V, et al. Reading impairments in schizophrenia relate to individual differences in phonological processing and oculomotor control: evidence from a gaze contingentmovingwindowparadigm. J.Exp.Psychol Gen. 2013;152(1):57–75.

Kuperman V, Dambacher M, Nuthmann A, Kliegl R. The effect of word position on eye movements in sentence and paragraph reading. Q J Exp Psychol. 2010;63(9):1838–57. doi:10.1080/17470211003602412.

Kuperberg GR. Language in schizophrenia (part2): what can psycho-linguistics bring to the study of schizophrenia and viceversa? Lang. Linguist.Compass. 2010;4:590–604. http://dx.doi.org/10.1111/​j.1749-818X.2010.00217.x.

Levy DL, et al. The genetic basis of thought disorder and language and communication disturbances in schizophrenia. J Neurolinguistics. 2010;23:176–92. http://dx.doi.org/10.1016/j.jneuroling.2009.08.003.

Li X, Branch CA, DeLisi LE. Language pathway abnormalities in schizophrenia: are view of fMRI and other imaging studies. Curr Opin Psychiatry. 2009;22:131–9. http://dx.doi.org/10.1097/YCO.0b013e328324bc43

Fernández G, Sapognikoff M, Guinjoan S, Orozco D, Agamennoni O. Word processing during reading sentences in patients with schizophrenia: evidences from the eyetracking technique. Compr Psychiatry. 2016;68:193–200.

First MB, Spitzer RL, Gibbon M, Williams JBW. Structured clinical interview for DSM–IV axis I disorders. NewYork: NewYork State Psychiatric Institute; 1996.

Overall JE, Gorham DR. The brief psychiatric rating scale. Psychol Rep. 1962;10:799–812.

Wechsler D. Manual for the Wechsler adult intelligence scale—revised. New York: Psychological Corporation; 1981.

Hollingshead AB. Four-factor index of social status. Unpublished manuscript: Yale University; 1975.

Alberta MS, DeKosky ST, Dickson D, Duboise B, Feldman H, Fox N, Gamst A, Holtzman DM, Jagust WJ, Petersen RC, Snyder PJ, Carrillo MC, Thies B, Phelps CH. The diagnosis of mild cognitive impairment due to Alzheimer's disease: recommendations from the National Institute on Aging–Alzheimer's Association workgroups on diagnostic guidelines for Alzheimer's disease. Alzheimers Dement. 2011;7(3):270–9. doi:10.1016/j.jalz.2011.03.008.
Acknowledgements
This work was supported by the Agencia Nacional de Promoción Científica y Tecnológica from Argentina under grant PICT 2013 0403, the Universidad Nacional del Sur under grant PGI 24/K048, and CIC.
Copyright information
© 2017 Springer International Publishing AG
About this chapter
Cite this chapter
Fernández, G., Buedo, P., Orozco, D., Agamennoni, O. (2017). Eye Movement Behavior Analyses for Studying Cognitive Performance and Conversion to Pathologies. In: Gargiulo, P., Mesones-Arroyo, H. (eds) Psychiatry and Neuroscience Update - Vol. II. Springer, Cham. https://doi.org/10.1007/978-3-319-53126-7_21
DOI: https://doi.org/10.1007/978-3-319-53126-7_21

Published:

Publisher Name: Springer, Cham

Print ISBN: 978-3-319-53125-0

Online ISBN: 978-3-319-53126-7

eBook Packages: MedicineMedicine (R0)