Abstract

The notion of "smart cities" has gained much popularity over the past few years, fueled by emerging needs and opportunities, and accompanied by considerable political and commercial hype. But in fact, throughout their long history cities have always strived to become "smarter", in order to mitigate existential challenges such as defending their citizens, providing them with water, disposing of waste, facilitating access, and more. They did so by making use of available (often new) technologies, such as new fortification methods, water supply, sewers, and transportation systems. The reciprocal relationship between cities and technology has, in turn, shaped urban form, function and use patterns. Cities, in the twenty-first century, are confronted by unprecedented social, economic and environmental challenges. In response, they are attempting to enlist Information and Communication Technologies (ICT) —the current "new" technology —as one of the leading strategies to mitigate urban problems, increase efficiency, reduce costs and enhance the quality of city life. It is the use of this particular technology which is viewed as making cities "smart." History teaches us that every such new technology, while advantageous in some ways, also has unforeseen side-and after-effects. Due to the highly ubiquitous and distributed nature of ICT, it affects individuals directly and in highly personalized ways in terms of spatial use patterns, consumption habits, and social interactions. The large number of variables and interactions affected by ICT makes it difficult to predict its explicit and implicit effects on the spatial and social use patterns of people in cities. What will be the effects, side- and after-effects of integrating ICT in cities, as it becomes ubiquitous and more accessible to both city governments and citizens? How will it transform people's interactions and behavioral patterns? How will it affect the form, function and —especially —the use of cities? In short —what will be ICT's impact on cities, and how can we assess it? Current tools used by city planners fail to account for these new types of interactions and transformative behavioral patterns. New tools, capable of forecasting dynamically and at high resolution the behavior of many individual people in a city, are needed. This paper aims to provide a framework to assess the impact of ICT on the form and function of cities, through its effect on people's spatial behavior patterns.
Keywords
Smart cities

Architectural design

Urban design

Human behavior simulation

Agent based simulation

Form

Function

Use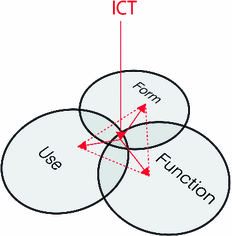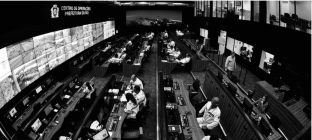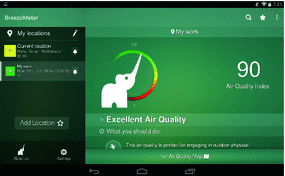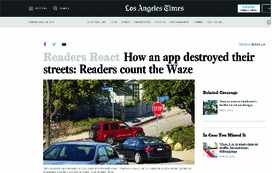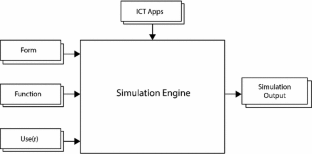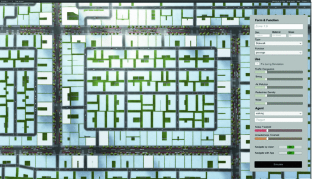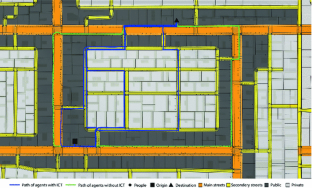 References
Alexander, C.: The Timeless Way of Building. Oxford University Press, New York (1979)

Bar-yam, Y.: Complexity Rising: From Human Beings to Human Civilization, A Complexity Profile 1. In: Encyclopedia of Life Support Systems, pp. 1–33, 01 December 1997

Barker, R.G.: Habitats, Environments, and Human Behavior. Jossey-Bass Incorporated Pub., San Francisco (1978)

Batten, D.F.: Network cities: creative urban agglomerations for the 21st century. Urban Stud. 32(2), 313–327 (1995)

Batty, M.: Big data, smart cities and city planning. Dialogues Hum. Geogr. 3(3), 274–279 (2013)

Batty, M.: Agent-based pedestrian modelling. In: Advanced Spatial Analysis, pp. 81–106 (2003)

Bonabeau, E.: Agent-based modeling: methods and techniques for simulating human systems. Proc. Nat. Acad. Sci. 99(suppl. 3), 7280–7287 (2002)

Bovy, E.S.: Route choice: wayfinding in transport networks. Ann. Assoc. Am. Geogr. 82(2), 320–342 (1990)

Canter, D.: The Psychology of Place (1977)

Castells, M.: The Rise of the Network Society, vol. I. Blackwell Publishing, Massachusetts (2010)

Chu, M.L., Pan, X., Law, K.H.: Incorporating social behaviours in egress simulation. J. Comput. Civ. Eng. 650, 544–551 (2011)

Cranz, G.: Ethnography for Designers. Routledge, London (2016)

Desouza, K.C., Bhagwatwar, A.: Citizen apps to solve complex urban problems. J. Urban Technol. 19(3), 1–30 (2012). 0732, May 2015

Dirks, S., Gurdgiev, C., Keeling, M. Smarter cities for smarter growth. IBM Global Business Services, 24 (2010)

Ekholm, A.: Activity objects in CAD-programs for building design - A prototype program implementation. In: de Vries, B., van Leeuwen, J., Achten, H. (eds.) Proceedings of the Computer Aided Architectural Design Futures 2001, pp. 61–74. Springer, Netherlands (2001)

Evans-cowley, J.: Planning in the real-time city: the future of mobile technology. J. Plan. Lit. 25(2), 136–149 (2015)

Goldstone, R.L., Janssen, M.A.: Computational models of collective behavior. Trends Cogn. Sci. 9(9), 424–430 (2005)

Goodchild, M.F.: Citizens as sensors: the world of volunteered geography. GeoJournal 69, 211–221 (2007)

Goodspeed, R.: Smart cities: moving beyond urban cybernetics to tackle wicked problems. Camb. J. Reg. Econ. Soc. 8(1), 79–92 (2015)

Gottmann, J.: Why the Skyscraper? Geogr. Rev. 56(2), 190–212 (1966)

Heath, S.K., Brailsford, S.C., Buss, A., Macal, C.M.: Cross-paradigm simulation modeling: challenges and successes. In: Proceedings of the 2011 Winter Simulation Conference, vol. 1 (2011)

Heidegger, M.: Being and time. In: Media, vol. 6 (1962)

Hill, M.R.: Spatial structure and decision-making of pedestrian route selection through an urban environment. University Microfilms International (1982)

Hillier, B.: The Social Logic of Space. Cambridge University Press, Cambridge (1984)

Huhns, M.N., Singh, M.P.: Cognitive agents. IEEE Internet Comput. 2(6), 87–89 (1998)

Kalay, Y.E.: Architectures New Media: Principles, Theories, and Methods of Computer-Aided Design. MIT, Cambridge (2004)

Kalay, Y.E.: The impact of information technology on design methods, products and practices. Des. Stud. 27(3), 357–380 (2006)

Lefebvre, H.: The Production of Space. Urban Studies 29 (1974)

Lynch, K. The Image of the City, pp. 1–103. The M.I.T Press, Cambridge (1960)

Maeng, D., Nedovi, Z., City, G., Garnier, T., Lloyd, F., City, B.: Urban form and planning in the information age: lessons from literature. Spatium 17–18, 1–12 (2008)

Maes, P.: Modeling adaptive autonomous agents. Artif. Life 1(1–2), 1–37 (1993)

Merleau-Ponty, M.: Phenomenology of perception Dispositvo de entrada. Cogn. Sci. 4 (1962)

Moss, M.: Technology and cities. Cityscape 3(3), 107–127 (1998). http://doi.org/10.2139/ssrn.156913

Noë, A.: Action in Perception (2004)

Penn, A.: Space syntax and spatial cognition. In: Proceedings of the 3rd International Space Syntax Symposium, Atlanta, pp. 11.1–11.17 (2001)

Portugali, J.: Self-organization, cities, cognitive maps and information systems. In: Spatial Information Theory A Theoretical Basis for GIS, pp. 329–346 (1997)

Rittel, H.W.J., Webber, M.M.: Dilemmas in a general theory of planning. Policy Sci. 4(2), 155–169 (1973)

Robert, S.: Introduction to the art and science of simulation. In: Proceedings of the 1998 Winter Simulation Conference, pp. 7–14 (1998)

Schaumann, D., Morad, M.G., Zinger, E., Pilosof, N.P. Sopher, H., Brodeschi, M., Date, K., Kalay, Y.E.: A computational framework to simulate human spatial behavior in built environments. In: SimAUD 2016 Symposium on Simulation for Architecture and Urban Design (2016)

Senevarante, P.N., Morall, J.F.: Analysis of factors affecting the choice of route of pedestrians. Transp. Plan. Technol. 10, 147–159 (1986)

Sheller, M.B., Urry, J.: The city and the car. Int. J. Urban Reg. Res. 24, 737–757 (2000)

Simeone, D., Kalay, Y. E., Achten, H., Pavlicek, J., Hulin, J., Matejovska, D.: An event-based model to simulate human behavior in built environments. In: Ecaade 2012, vol. 1, pp. 525–532 (2012)

Simon, H.A.: The Sciences of the Artificial. Computers and Mathematics with Applications, 3rd edn., vol. 33 (1997)

Tabak, V., de Vriesh, B., Dijkstra, J.: Simulation and validation of human movement in building spaces. Environ. Plan. B: Plan. Des. 37(4), 592–609 (2010)

Thornton, P.R.: Readers React: How an app destroyed their streets: Readers count the Waze? http://www.latimes.com/opinion/opinion-la/la-ol-waze-traffic-app-neighborhoods-readers-20150506-story.html. Accessed 4 Aug 2016

Townsend, A.: Smart Cities Big Data, Civic Hackers and the Quest for a New Utopia. Norton and Company, New York (2013)

Townsend, A.M.: Life in the real-time citiy: mobile telephones and Urban metabolism. J. Urban Technol. 7(2), 85–104 (2000)

Tuan, Y.-F.: The perspective of experience. Contemp. Sociol. 7 (1978)

Van Berkum, E.C., Van Der Mede, P.H.J.: The Impact of Traffic Information: Dynamics in Route and Departure Time Choice. Delft University of Technology, TU Delft (1993)

Whyte, W.H.: The social life of small urban spaces. Common Ground (1980)

Wiener, J.M., Bchner, S.J., Hölscher, C.: Taxonomy of human wayfinding tasks: a knowledge-based approach. Spat. Cogn. Comput. 9(2), 152–165 (2009)

Wooldridge, M., Jennings, N.R.: Intelligent agents: theory and practice. Knowl. Eng. Rev. 10(2), 115–152 (1995)
Acknowledgments

This research is supported by a European Research Council grant (FP-7 ADG 340753).
Copyright information

© 2017 Springer International Publishing AG
About this paper
Cite this paper
Gath-Morad, M., Schaumann, D., Zinger, E., Plaut, P.O., Kalay, Y.E. (2017). How Smart is the Smart City? Assessing the Impact of ICT on Cities. In: Namazi-Rad, MR., Padgham, L., Perez, P., Nagel, K., Bazzan, A. (eds) Agent Based Modelling of Urban Systems. ABMUS 2016. Lecture Notes in Computer Science(), vol 10051. Springer, Cham. https://doi.org/10.1007/978-3-319-51957-9_11
DOI: https://doi.org/10.1007/978-3-319-51957-9_11

Published:

Publisher Name: Springer, Cham

Print ISBN: 978-3-319-51956-2

Online ISBN: 978-3-319-51957-9

eBook Packages: Computer ScienceComputer Science (R0)