Abstract

In 2010, for the first time, a public bidding was held for the private concession of the entire bus transport system of the city of Rio de Janeiro. Until then, the operation of this transportation modality, the hegemonic one in the city, had been conducted through legally precarious permits. The contractual relations between the state and the traditional bus companies in the city, the bid-winners, could be identified as a rupture with the previous model. However, this analysis points to a complex picture of continuities, adaptations, and trends of changes included in a more general context of the deepening of market logics in the regulation of the public transportation sector.
Keywords
Urban transport

Regulatory transition

Neoliberalization

Bus

Rio de Janeiro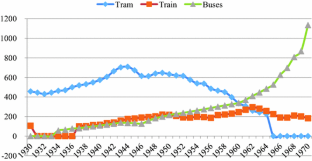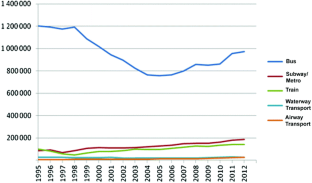 Notes
1.

Carioca, in Portuguese, is the city of Rio de Janeiro demonym.

2.

Vehicle for public transport of a limited number of passengers (usually carries between eight and 16 people); also adapted as a "food truck" and for selling quick meals and transportation of light goods.

3.

2011 Urban Transport Masterplan.

4.

2003 Urban Transport Masterplan.

5.

Rio de Janeiro City Hall Data Warehouse. Data on alternative means of transport were not contemplated, such as transportation by vans and kombis (a nickname given by Brazilians to the Volkswagen Transporter, which was later adopted by the company as the official model name in this market).

6.

Nationalist dictatorial regime, led by Getúlio Vargas between 1937 and 1945.

7.

Only four bus companies "survived" the period of the open competition with the lotações (minibuses).

8.

Forms of delegation of public service provided for in the Brazilian Administrative Law.
References
Abreu M (1987) A evolução urbana do Rio de Janeiro. IPLANRIO; Zahar, Rio de Janeiro

Aragão J et al (2004) Sacudindo a poeira e construindo o novo ciclo de desenvolvimento do transporte público por ónibus. In: Santos E, Aragão J (eds) Transporte em tempos de reforma, Estudos sobre o transporte urbano, pp 23−47. 2 ed. EDUFRN—Editora Universitária da UFRN, Natal, RN

Aragão J et al (2004) Transportes públicos metropolitanos no Brasil: uma pauta para sua reorganização. In: Santos E, Aragão J (eds) Transporte em tempos de reforma, Estudos sobre o transporte urbano, 2nd edn. EDUFRN—Editora Universitária da UFRN, Natal, RN, pp 157–191

Aragão J, Santos EM (2004) Regulamentação, competição e financiamento em transportes urbanos: elementos para o debate. In: Santos E, Aragão J (eds) Transporte em tempos de reforma, Estudos sobre o transporte urbano, pp 13–22). 2 ed. EDUFRN—Editora Universitária da UFRN, Natal, RN

Barat J (1975) Estrutura metropolitana e sistema de transportes: estudo do caso do Rio de Janeiro. Rio de Janeiro, Instituto de Planejamento Econômico e Social—IPEA/INPES

Gomide A, Orrico Filho RD (2004) Concessões de serviços de ônibus urbanos: a necessária introdução da competitividade e o papel das licitações. In: Santos E, Aragão J (eds) Transporte em tempos de reforma, Estudos sobre o transporte urbano, 2nd edn. EDUFRN - Editora Universitária da UFRN, Natal, RN, pp 127–156

Matela IP (2015) Transição regulatória no transporte por ônibus na cidade do Rio de Janeiro. 1. ed. Letra Capital, Rio de Janeiro

Kleiman M (2001) Rede viária e estruturação intra-urbana. A priorização dos investimentos em rede viária e seu papel na configuração das cidades: o Rio de Janeiro sobre rodas. In: IX Encontro nacional da ANPUR (2001) Rio de Janeiro. Anais do IX Encontro Nacional da ANPUR. ANPUR, RIO DE JANEIRO

Orrico R, Santos E (1999) Hegemonia privada: da capital do bonde ao ônibus no Rio de Janeiro. In: Brasileiro A, Henry E (ed) Viação ilimitada: Ônibus das Cidades Brasileiras, pp 401–428. Cultura Ed. Associados, São Paulo

Peck J, Theodore N, Brenner N (2012) Mal-estar no pós-neoliberalismo. Novos Estudos - CEBRAP, São Paulo 92:59–78

Pereira V (1987) Avaliação da política de transportes públicos no Rio de Janeiro: causas e conseqüências do modelo privado no transporte por ônibus. EBTU, Brasília

Rio de Janeiro (2010) Ato de justificação da outorga de concessão da prestação de serviço público de transporte coletivo de passageiros por ônibus. Diário Oficial do Município do Rio de Janeiro, ano XXIV, n 29, Rio de Janeiro, pp 62, 29, abril
Copyright information

© 2017 Springer International Publishing AG
About this chapter
Cite this chapter
Matela, I.P. (2017). Transport Management: The Renovation of the Road Pact. In: de Queiroz Ribeiro, L. (eds) Urban Transformations in Rio de Janeiro. The Latin American Studies Book Series. Springer, Cham. https://doi.org/10.1007/978-3-319-51899-2_16
DOI: https://doi.org/10.1007/978-3-319-51899-2_16

Published:

Publisher Name: Springer, Cham

Print ISBN: 978-3-319-51898-5

Online ISBN: 978-3-319-51899-2