Abstract
The risk to certain soaring bird species posed by poorly-sited wind turbines and power lines is now well established, and badly planned operations can prove both environmentally and financially costly. Consequently, wind energy developers, governments and other stakeholder groups urgently need access to accurate ornithological information to better inform the planning process. This is particularly true in parts of the Middle East and Northeast Africa where a rapidly expanding wind energy sector coincides with a globally significant soaring bird migration route—the Rift Valley/Red Sea Flyway. Unfortunately, relevant data for this region has often been difficult to obtain and interpret. To address this problem, BirdLife International, working with its network of regional partners, has launched the Soaring Bird Sensitivity Mapping Tool, an online tool providing detailed information on the distribution of soaring bird species along the flyway. By providing and interpreting this information, it is hoped that the tool will become an essential instrument in the environmentally sound expansion of wind energy in the region.
Keywords
Avian collision

Soaring birds

Raptors

Migration

Wind energy

Sensitivity mapping

Spatial planning

Rift valley/Red Sea flyway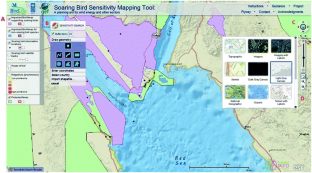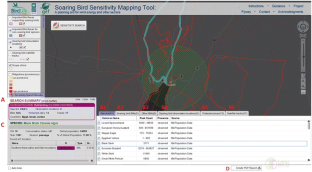 References
Barrios L, Rodríguez A (2004) Behavioural and environmental correlates of soaring-bird mortality at on-shore wind turbines. J Appl Ecol 41:72–81

BirdLife International (2004) Important Bird Areas in Asia: key sites for conservation. BirdLife International, Cambridge, UK (BirdLife Conservation Series No. 13)

Bordjan D, Janča T, Mihelič T (2012) Karta občutljivih območij za ptice za umeščanja vetrnih elektrarn v Sloveniji Verzija 2.0. DOPPS (BirdLife Slovenia), Ljubljana, Slovenia

Bright JA, Langston R, Bullman R, Evans R, Gardner S, Pearce-Higgins J (2008) Map of bird sensitivities to wind farms in Scotland: a tool to aid planning and conservation. Biol Conserv 141:2342–2356

Bright JA, Langston RHW, Anthony S (2009) Mapped and written guidance in relation to birds and onshore wind energy development in England. RSPB Research Report No 35. A report by the Royal Society for the Protection of Birds, funded by the RSPB and Natural England. Royal Society for the Protection of Birds, Sandy, UK

Carret M, Sánchez-Zapata JA, Benítez JR, Lobón M, Donázar JA (2009) Large scale risk-assessment of wind-farms on population viability of a globally endangered long-lived raptor. Biol Conserv 142:2954–2961

Dahl EL, Bevanger K, Nygård T, Røskaft E, Stokke BG (2012) Reduced breeding success in white-tailed eagles at Smola windfarm, western Norway, is caused by mortality and displacement. Biol Conserv 145:79–85

de Lucas M, Janss GFE, Whitfield DP, Miguel F (2008) Collision fatality of raptors in wind farms does not depend on raptor abundance. J Appl Ecol 45:1695–1703

Dimalexi A, Kastritis T, Manolopoulo A, Korbeti M, Fric J, Saravia Mullin V, Xirouchakis S, Bousbouras D (2010) Identification and mapping of sensitive bird areas to wind farm development in Greece. Hellenic Ornithological Society, Athens

European Commission (EC) (2010) Wind energy developments and Natura 2000: EU guidance on wind energy development in accordance with the EU nature legislation. European Commission

Fishpool LDC, Evans MI (eds) (2001) Important Bird Areas in Africa and associated islands: priority sites for conservation. BirdLife International, Cambridge, UK (BirdLife Conservation Series No. 11)

Gove B, Langston RHW, McCluskie A, Pullan JD, Scrase I (2013) Windfarms and birds: an updated analysis of the effects of windfarms on birds, and best practice guidance on integrated planning and impact assessment. Report prepared by Birdlife International on behalf of the Bern Convention. RSPB/ BirdLife in the UK, Sandy, UK

GWEC (2015) Global Wind Report 2014: annual market update. Global Wind Energy Council

Heath MF, Evans MI (eds) (2000) Important Bird Areas in Europe: priority sites for conservation, vol 2. BirdLife International, Cambridge, UK (BirdLife Conservation Series No. 8)

IRENA (2014) Pan-Arab renewable energy strategy 2030: roadmap of actions for implementation

Katzner TE, Brandes D, Miller T, Lanzone M, Maisonneuve C, Tremblay JA, Mulvihill R, Merovich GT (2012) Topography drives migratory flight altitude of golden eagles: implications for on-shore wind energy development. J Appl Ecol 49:1178–1186

Martin GR, Portugal SJ, Murn CP (2012) Visual fields, foraging and collision vulnerability in Gyps vultures. Ibis 154:626–631

Martínez-Abraín A, Tavecchia G, Regan HM, Jiménez J, Surroca M, Oro D (2012) Effects of wind farms and food scarcity on a large scavenging bird species following an epidemic of bovine spongiform encephalopathy. J Appl Ecol 49:109–117

McGuinness S, Muldoon C, Tierney N, Cummins S, Murray A, Egan S, Crowe O (2015) Bird sensitivity mapping for wind energy developments and associated infrastructure in the Republic of Ireland. BirdWatch Ireland, Kilcoole, Wicklow

Retief EF, Diamond M, Anderson MD, Smit HA, Jenkins A, Brooks M, Simmons R (2010) Avian wind farm sensitivity map for South Africa: criteria and procedures used. BirdLife South Africa

Smallwood KS, Thelander C (2008) Bird mortality in the Altamont Pass Wind Resource Area, California. J Wildl Manage 72:215–223

Zalles JI, Bildstein KL (eds) (2000) Raptor Watch: A global directory of raptor migration sites. BirdLife International and Kempton, PA, Hawk Mountain Sanctuary, Cambridge, UK (BirdLife Conservation Series No. 9)
Acknowledgements
The Soaring Bird Sensitivity Mapping Tool has been developed as part of the Migratory Soaring Birds Project, an initiative supported by The Global Environment Facility (GEF) and the United Nations Development Programme (UNDP).
The project is coordinated by the Regional Flyway Facility (RFF) with support from BirdLife's regional offices in Amman (Jordan) and Nairobi (Kenya) and oversight by the BirdLife Global Secretariat in Cambridge (UK). Fundamental to this project are BirdLife's national partners in the region: Association Djibouti Nature, Nature Conservation Egypt, The Egyptian Environmental Affairs Agency, Ethiopian Wildlife and Natural History Society, Royal Society for the Conservation of Nature, Republic of Lebanon Ministry of Environment, Society for the Protection of Nature in Lebanon, Palestine Wildlife Society, Saudi Wildlife Authority, The Sudanese Wildlife Society, Syrian Society for Conservation of Wildlife, Foundation for Endangered Wildlife (Yemen).
The tool was built by Habitat INFO (www.habitatinfo.com) using the ESRI ArcGIS Server platform (www.esri.com).
Copyright information
© 2017 Springer International Publishing AG
About this chapter
Cite this chapter
Allinson, T. (2017). Introducing a New Avian Sensitivity Mapping Tool to Support the Siting of Wind Farms and Power Lines in the Middle East and Northeast Africa. In: Köppel, J. (eds) Wind Energy and Wildlife Interactions. Springer, Cham. https://doi.org/10.1007/978-3-319-51272-3_12
DOI: https://doi.org/10.1007/978-3-319-51272-3_12

Published:

Publisher Name: Springer, Cham

Print ISBN: 978-3-319-51270-9

Online ISBN: 978-3-319-51272-3