Abstract
Upon completion of this chapter, you will be able to:
1.

Understand the concept of the social enterprise and its variants.

2.

Describe business-oriented public social networks, their characteristics and benefits.

3.

Describe the major social commerce activities that can be conducted within and by enterprises and the characteristics of such private social networks.

4.

Discuss the online employment market, including its participants and benefits.

5.

Review the social commerce activities and their relationship with e-entertainment and gaming.

6.

Describe social gaming and gamification.

7.

Define crowdsourcing and crowdfunding and describe their use in social commerce.

8.

Describe social collaboration and its benefits. Also comment on the future of social commerce.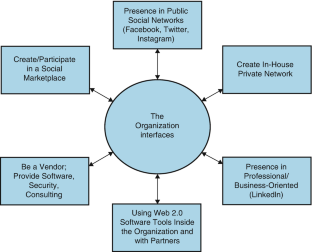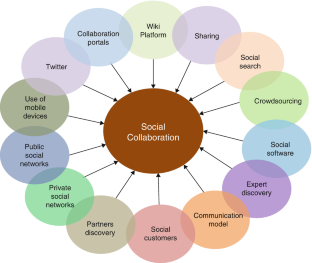 References
Ahmad, I. "How to Boost LinkedIn Engagement [Infographic]." Social Media Today, January 3, 2014.

AOL. "How to Use Social Media to Impress Recruiters." AOL Jobs, October 27, 2014.

Avanade. "Achieving Social Collaboration Success." A white paper from Accenture and Microsoft, 2013. avanade.com/~/media/documents/enterprise-social-collaboration-pov.pdf (accessed April 2016).

Bernstein, B. How to Write a KILLER LinkedIn Profile… and 18 Mistakes to Avoid. Madison, WI: The Essay Expert, 2015.

Boone, R. S. LinkedIn: Guide To Making Your LinkedIn Profile Awesome: 25 Powerful Hacks for Your LinkedIn Profile to Attract Recruiters and Employers (Career Search… Profile, LinkedIn Makeover, Career Search), Kindle edition. Seattle, WA: Amazon Digital Services, 2015.

Brabham, D. C. Crowdsourcing. Cambridge, MA: The MIT Press, 2013.

Bughin, J., and M. Chui. "Evolution of the Networked Enterprise: McKinsey Global Survey Results." McKinsey Quarterly, March 2013.

Buckley, C. "Understanding the Business Benefits of Social Collaboration." Beezy, Business Culture, September 2015.

Burgess, C., and M. Burgess. The Social Employee: How Great Companies Make Social Media Work. New York: McGraw-Hill, 2013.

Carr, D. F. Social Collaboration for Dummies. New York: For Dummies, 2013.

Chou, Y. "Octalysis: Complete Gamification Framework." October 2012. yukaichou.com/gamification-examples/octalysis-complete-gamification-framework (accessed April 2016).

Cole, D. Go From Zero to Hero on LinkedIn: Jump Start Your Prospecting Success in as Little as 7 Days, Kindle edition. Seattle, WA: Amazon Digital Services, 2015.

della Cava, M. "$9 Computer Killing it on Kickstarter." USA Today, May 11, 2015.

Donston-Miller, D. "Social Business Leader Cemex Keeps Ideas Flowing." Informationweek.com, November 5, 2012. informationweek.com/enterprise/social-business-leader-cemex-keeps-ideas-flowing/d/d-id/1107226 (accessed April 2016).

Duggan, K., and K. Shoup. Business Gamification for Dummies. Hoboken, NJ: For Dummies, 2013.

Dunay, P. "Social Media Organization: What are the Best Practices for Internal Collaboration?" Social Media Today, January 23, 2014. socialmediatoday.com/webinar/social-organization-what-are-best-practices-internal-collaboration (accessed April 2016).

Elad, J. LinkedIn for Dummies, 3rd edition. Hoboken, NJ: Wiley & Sons, 2014.

Florentine, S. "How Gamification Makes Customer Services Fun." Computer World, March 3, 2014.

Garcia, J. G., L. Martinez, and A. S. Vicente. "Shift Changes the Way CEMEX Works." A Winner Paper in the 2011 "Management Innovation eXchange Project." September 2, 2011. managementexchange.com/story/shift-changes-way-cemex-works (accessed April 2016).

Gebauer, S. "132 Social Media Case Studies—Successes and Failures." The Social MS, April 2015. blog.thesocialms.com/132-social-media-case-studies-successes-and-failures (accessed March 2016).

Gioglio, J. "Airbnb Releases First Short Film Crowdsourced from Vines." Convince and Convert, 2015. convinceandconvert.com/social-media-case-studies/airbnb-releases-first-short-film-crowdsourced-from-vines (accessed March 2016).

Gottlieb, M. "42 Leading Social Networking Sites for Business Professionals and Entrepreneurs You May Not Know." LinkedIn Pulse, April 25, 2015.

Greenberg, A. "Recruiting Solutions for 2014-Gamification" December 29, 2013. recruitingdivision.com/the-recruiting-solutions-for-2014-gamification (accessed March 2016).

Hein, R. "How to Use Gamification to Engage Employees." CIO.com, June 6, 2013. cio.com/article/2453330/careers-staffing/how-to-use-gamification-to-engage-employees.html (accessed April 2016).

Hinchcliffe, D. "Social Business Success: CEMEX ." February 1, 2012. zdnet.com/article/social-business-success-cemex (accessed April 2016).

Howe, J. Crowdsourcing: Why the Power of the Crowd Is Driving the Future of Business. New York: Crown Business, 2008.

Huff, T. "How Social Media Changed the Hiring Process." August 10, 2014. socialmediatoday.com/content/how-social-media-changed-hiring-process (accessed March 2016).

Hutchinson, A. "Why YouTube is Seeking to Win over Gamers with YouTube Gaming." Social Media Today, June 16, 2015.

IBM Software Group. "The Compelling Returns from IBM Connections in Support of Social Business: Five Stories." Thought Leadership White Paper, New York: IBM Corporation EPW 14010-USEN-00, 2011.

Jurgensen, J. "An Ode to Joyful Streaming." The Wall Street Journal, January 4–5, 2014.

Leimeister, J. M. "Crowdsourcing as a New Way of Organizing Work." A slide show, September 25, 2013. boeckler.de/pdf/v_2013_09_25_leimeister.pdf (accessed March 2016).

Levy, A. "5 Social-Media Trends to Watch in 2016." Fool.com, February 10, 2016.

Lithium. "Gamification: Delivering Winning Social Customer Experiences." Lithium Technologies Inc., White Paper, 2011.

Martin, R. L., et al. Getting Beyond Better: How Social Entrepreneurship Works. Boston: Harvard Business Review, 2015.

Morgan, J. The Collaborative Organization: A Strategic Guide to Solving Your Internal Business Challenges Using Emerging Social and Collaborative Tools. New York: McGraw-Hill, 2012.

Ridley-Duff, R., and M. Bull. Understanding Social Enterprise: Theory and Practice, 2nd edition. Thousand Oaks, CA: Sage Publications, 2015.

Root, A. "Potato Salad Tops $50k in Pledges." July 8, 2014. crowdsourcing.org/editorial/potato-salad-tops-50k-in-pledges/32674 (accessed March 2016).

Roth, J. Crowdfunding: How to Raise Money for your Startup and Other Projects! (Crowdfunding, Funding, Raise, Business, Money, Startup, Guide, Capital). Publisher: John Roth, 2016.

Russo, J. "Talking Story with Kawehi on Her Upcoming Hawaii Tour." July 1, 2014. mauitime.com/entertainment/talking-story-with-kawehi-on-her-upcoming-hawaii-tour (accessed March 2016).

Serino, L. "8 Kickstarter Campaigns that Nailed It (and How You Can, Too)." ECommercefuel, May 29, 2015. ecommercefuel.com/kickstarter-campaign-tips (accessed March 2016).

Stegmaier, J. A Crowdfunder's Strategy Guide: Build a Better Business by Building Community. Oakland, CA: Berrett-Koehler Pub., 2015.

Terpening, E. "How to Choose the Best Organizational Model for Social Business." Altimeter Group, September 2015.

Turban, E., et al. Social Commerce. New York: Springer, 2016.

Waldman, J. Job Searching with Social Media for Dummies, 2nd edition. Hoboken, NJ: John Wiley and Sons, 2013.

World Library. Social Enterprise Handbook. (e-book), World Public Library, 2015. worldlibrary.org/articles/Social_enterprise (accessed March 2016).

Zichermann, G., and J. Linder. The Gamification Revolution: How Leaders Leverage Game Mechanics to Crush the Competition. New York: McGraw-Hill, 2013.

Zoref, L. Mindsharing: The Art of Crowdsourcing Everything. Westminster, UK: Portfolio, 2015.
Electronic Supplementary Material
Rights and permissions
Open Access This chapter is licensed under the terms of the Creative Commons Attribution-NonCommercial 2.5 International License (http://creativecommons.org/licenses/by-nc/2.5/), which permits any noncommercial use, sharing, adaptation, distribution and reproduction in any medium or format, as long as you give appropriate credit to the original author(s) and the source, provide a link to the Creative Commons license and indicate if changes were made.
The images or other third party material in this chapter are included in the chapter's Creative Commons license, unless indicated otherwise in a credit line to the material. If material is not included in the chapter's Creative Commons license and your intended use is not permitted by statutory regulation or exceeds the permitted use, you will need to obtain permission directly from the copyright holder.
Copyright information
© 2017 Springer International Publishing AG
About this chapter
Cite this chapter
Turban, E., Whiteside, J., King, D., Outland, J. (2017). Social Enterprise and Other Social Commerce Topics. In: Introduction to Electronic Commerce and Social Commerce. Springer Texts in Business and Economics. Springer, Cham. https://doi.org/10.1007/978-3-319-50091-1_8