Abstract
Upon completion of this chapter, you will be able to:
1.

Discuss the value-added attributes, benefits, and fundamental drivers of m-commerce.

2.

Describe the mobile computing infrastructure that supports m-commerce (devices, software, and services).

3.

Discuss m-commerce applications in banking and financial services.

4.

Describe enterprise mobility applications.

5.

Describe consumer and personal applications of m-commerce, including entertainment.

6.

Define and describe ubiquitous computing and sensory networks.

7.

Describe the Internet of Things and its major smart applications.

8.

Describe wearables, Google Glass, smartwatches, and fitness trackers.

9.

Describe the major implementation issues from security and privacy to barriers of m-commerce.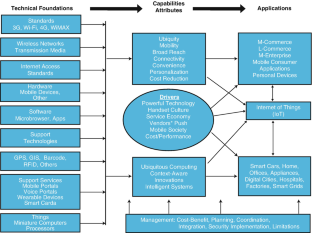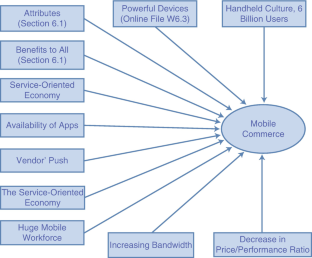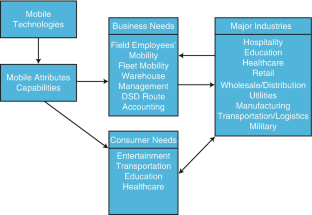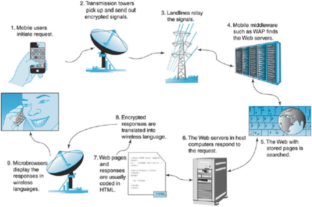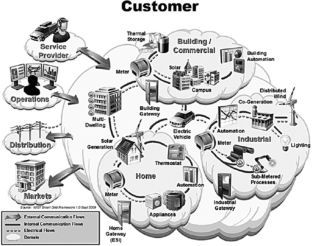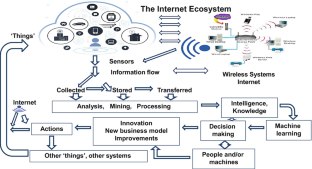 References
Arthur, R. "Are We Really Going to Shop from the Apple Watch? What Retail Apps are Trying to Achieve." Forbes.com, May 7, 2015.

Austin, L. "Ford Motor Co. (NSYE:F) Energetically Grow and Invest in Emerging Mobility Services-VeriFone Systems (NSYE:PAY)." Senecaglobe, (News Item) March 12, 2016.

Barris, M. "Hertz App Blends Travel Planner, GPS to Enhance Rental Experience." Mobile Marketer, August 13, 2014.

Basu, A and P. Didyala. "The Internet of a Billion Things." The Economy Times, August 31, 2014.

Bridges, R. Driverless Car Revolution: Buy Mobility, Not Metal. [Kindle edition] Seattle, WA: Amazon Digital Service, 2015.

Broussard, M. "AliveCor Announces Apple Watch 'Kardia Band' for Medical Grade EKG Analysis." March 16, 2016. macrumors.com/2016/03/16/alivecor-apple-watch-kardia-band (accessed March 2016).

Butcher, D. "Guide to Smart SMS Marketing." A Mobile Marketer Presentation. White paper (2011). neustar.biz/enterprise/docs/whitepapers/digital-marketing/how-retailers-can-use-sms-to-drive-sales.pdf (accessed April 2016).

Chamberlin, B. "Wearable Computing: A 2014 Horizon Watching trend Summary Report." IBM Expert Network, April 7, 2014. slideshare.net/HorizonWatching/s11-wearable-computing-2014-horizonwatching-trend-summary-report-01apr2014 (accessed March 2016).

Constantinou, A. and M. Sellebraten. "The Internet of Things is About to Reshape E-Commerce." Vision Mobile, December 9, 2015. visionmobile.com/blog/2015/the-internet-of-things-is-about-to-reshape-e-commerce (accessed March 2016).

CSS Author. "10 of the Great Examples of Mobile Friendly Ecommerce Sites." December 22, 2014. cssauthor.com/great-examples-mobile-friendly-ecommerce-sites (accessed March 2016).

Dale, B. "This Wearable Device Reads Your Brain Waves. Is There a Market for It?" February 10, 2014. fortune.com/2014/02/10/this-wearable-device-reads-your-brain-waves-is-there-a-marketfor-it/? (accessed April 2016).

Deichmann, J., M. Roggendorf, and D. Wee "Preparing IT Systems and Organizations for the Internet of Things." Insights & Publications, November 2015.

Editors. "Smart Cities Will Use 1.6B Connected Things in 2016." Enterprise Innovation, December 21, 2015.

Elliott, C. "What Will Your Next Rental Car Know about You? Everything." August 14, 2013. elliott.org/blog/what-will-your-next-rental-car-know-about-you-everything (accessed April 2016).

Fenwick, N. "IoT Devices Are Exploding on the Market." Information Management, January 19, 2016.

Fiegerman, S. "Report: U.S. Mobile Commerce to Hit $144 Billion This Year." May 12, 2014. mashable.com/2014/05/12/mobile-commerce-sales (accessed April 2016).

Fitton, C., et al. Enterprise Mobility for Dummies. Ontario, Canada: John Wiley, 2012. (A free download is available from SAP).

Fonemine. "Can Mobility Transform Your Business?" MobileForce, March 24, 2014. corp.fonemine.com/mobility-transform-business (accessed April 2016).

Frakes, D. "iPod Nano (Sixth Generation, Late 2010)." September 7, 2010. macworld.com/article/1153921/6G_iPod_nano.html (accessed April 2016).

Gannes, L. "The Best of Mary Meeker's 2013 Internet Trends Slides." May 29, 2013. allthingsd.com/20130529/the-best-of-mary-meekers-2013-internet-trends-slides (accessed April 2016).

Gingiss, D. "Focus on Customer Service: Hertz [PODCAST]." Social Media Today, October 21, 2015.

Greengard, S. "A Healthy Approach to the Internet of Things." Baseline, February 12, 2016.

Greenough, J. "10 Million Self-Driving Cars Will Be on the Road by 2020." Business Insider, July 29, 2015.

GSMA. "Mobile Industry: Major Contributor to the Global Economy." A Mobile Economy White paper, Enterprise Innovation, March 12, 2013. enterpriseinnovation.net/whitepaper/mobile-industry-major-contributor-global-economy (accessed April 2016).

Hamblen, M. "Innovators Can Air Quality Sensors on Bicycles, While Wireless Connections Help Pave the Way for Driverless Cars." Computer World, February 22, 2016.

Holler, J., et al. From Machine-to-Machine to the Internet of Things: Introduction to a New Age of Intelligence, Salt Lake City, UT: Academic Press, 2014.

Hu, F. Security and Privacy in Internet of Things (IoTs): Models, Algorithms, and Implementations. Boca Rota, FL: CRC Press, 2016.

Jamthe, S. The Internet of Things Business Primer. Sudha Jamthe Stanford, 2015.

Khillare, G., and S.A. Bobade. "Wearable Computing Devices and Its Application." 2016. slideshare.net/gautamkhillare90/wearable-computing-devices-its-appllcation (accessed March 2016).

Knight, K. "Mobile Roundup: Mobile Data to Skyrocket." BizReport, March 20, 2015.

Knowledge@Wharton and Ernst & Young. Mobile Banking: Financial Services Meet the Electronic Wallet [Kindle edition with Audio/Video]. Philadelphia, PA: Knowledge@Wharton, 2013.

Koufopoulos, J. "9 Examples of the Internet of Things That Aren't Nest." Percolate, January 23, 2015. blog.percolate.com/2015/01/9-examples-internet-things-arent-nest (accessed March 2016).

Krishnan, S. The Power of Mobile Banking: How to Profit from the Revolution in Retail Financial Services. Hoboken, NJ: Wiley, 2014.

Kuntz, C. and R. Becker. "Monetizing the Internet of Things: Creating a Connected Customer Experience." Zuora Inc., 2015. slideshare.net/Zuora/monetizing-the-internet-of-things-creating-a-connected-customer-experience (accessed April 2016).

Kvita, C. "Navigate the Internet of Things." January/February 2014. oracle.com/technetwork/issue-archive/2014/14-jan/o14interview-utzschneider-2074127.html (accessed April 2016).

Lamkin, P. "Best Smartwatch 2016: Apple, Pebble, Samsung, Sony, Tag and More." Wareable.com, March 21, 2016a. wareable.com/smartwatches/the-best-smartwatches-in-the-world (accessed March 2016).

Lamkin, P. "The Best Smartglasses 2016: Sony, Vuzix and More." Wareable.com, March 21, 2016b. www.wareable.com/headgear/the-best-smartglasses-google-glass-and-the-rest (accessed March 2016).

Libelium. "Smart Factory: Reducing Maintenance Costs and Ensuring Quality in the Manufacturing Process." Libelium World, March 2, 2015.

Liedtke, M. "Apple Hopes Carplay Will Drive Further Success." March 5, 2014. irishexaminer.com/ireland/apple-hopes-carplay-will-drive-further-success-260832.html (accessed April 2016).

Maddox, T. "The Dark Side of Wearables: How They're Secretly Jeopardizing Your Security and Privacy." Tech Republic, February 10, 2016.

Manjoo, F. "The Echo from Amazon Brims with Groundbreaking Promise." The New York Times, March 9, 2016.

Manyika, J., M. Chui, P. Bisson, J. Woetzel, R. Dobbs, J. Bughin, and D. Aharon. "Unlocking the Potential of the Internet of Things." Insights & Publications, June 2015.

Mayo, B. "Amazon Releases New 'Amazon Tap' and 'Echo Dot', More Competition for Apple's Siri Voice Assistant." 9to5Mac, March 3, 2016.

McCafferty, D. "How the Internet of Things is Changing Everything." Baseline, June 6, 2015.

McDowell, M. "CES 2016: The Best of Wearable Technology." WWD, January 11, 2016.

McKendrick, J. "6 Ways to Bring Mobile Apps into the Enterprise Fold." January 13, 2014. zdnet.com/6-ways-to-bring-mobileapps-into-the-enterprise-fold-7000025091 (accessed April 2016).

Mehra, G. "Internet of Things Helping Ecommerce." Practical Ecommerce, October 8, 2015.

Miller, M. The Internet of Things: How Smart TVs, Smart Cars, Smart Homes, and Smart Cities are Changing the World. 1st edition, Indianapolis: Que Publishing, 2015.

Millward, S. "Starting Today, Chinese Consumers Will Be Able to Buy Almost Anything Inside WeChat." March 5, 2014. techinasia.com/wechat-adds-payment-support-for-brands-and-retailers (accessed April 2016).

Moovweb. "7 Mobile Commerce Trends for 2016." January 4, 2016. moovweb.com/blog/mobile-commerce-trends-2016 (accessed March 2016).

Neckermann, L. The Mobility Revolution: Zero Emissions, Zero Accidents, Zero Ownership. San Francisco, CA: Matador Publishing, 2015.

Nicoletti, B., Mobile Banking: Evolution or Revolution? Houndmills, UK: Palgrave Pivot, 2014.

Nield, D. "How It Works: We Explain How Your Fitness Tracker Measures Daily Steps." Wearable.com, March 20, 2016.

Oliver, M. Mobile Device Management for Dummies (An e-Book). New York: Wiley & Sons, 2008. (Available in.pdf format at energycentral.com/download/products/Mobile_Device_Management_for_Dummies_05012008.pdf (accessed April 2016).

Patrizio, A. "Japan Produces Its Own Wearable PC." March 5, 2014. itworld.com/mobile-wireless/408274/japan-produces-its-own-wearable-pc (accessed April 2016).

Paulsen, S., (ed.) Mobile Financial Services: Consumer Use of Mobile Payments and Banking. Happauge, New York: Nova Science Pub., Inc., 2013.

Petroff, A. "Google Glass May Save Firms $1 Billion." November 11, 2013. money.cnn.com/2013/11/11/technology/google-glass-report/index.html?iid=s_mpm (accessed April 2016).

PR Newswire. "Hertz Debuts A Redesigned and Improved Mobile App." January 21, 2014. ir.hertz.com/2014-01-21-Hertz-DebutsA-Redesigned-And-Improved-Mobile-App (accessed April 2016).

Ricktun, P. "Internet-of-Things Becomes Internet-of-Everything." Information Management, February 5, 2016.

Reisinger, D. "BYOD: A Cost-Saving Must-Have for Your Enterprise." February 11, 2013. cioinsight.com/it-strategy/tech-trends/slideshows/byod-a-cost-saving-must-have-for-your-enterprise-02 (accessed April 2016).

Rubin, B. F. "Echo Effect: How Amazon's Alexa Will Give Voice to More Devices." CNet.com, March 11, 2016. cnet.com/au/news/echo-effect-how-amazons-alexa-will-give-voice-to-more-devices (accessed March 2016).

Salz, P. A., and J. Moranz. The Everything Guide to Mobile Apps: A Practical Guide to Affordable Mobile App Development for your Business. Avon, MA: Adams Media, 2013.

Sathyan, J., et al. A Comprehensive Guide to Enterprise Mobility. Boca Raton, FL: Taylor and Francis Group, 2013. (A CRC Press publication)

Saylor, M. The Mobile Wave: How Mobile Intelligence Will Change Everything. New York: (Da Capo Press, a Member of the Perseus Books Group)/Vanguard Press Edition, 2012.

Stables, J. "Best Fitness Trackers 2016: Jawbone, Misfit, Fitbit, Garmin and More." Wearable.com, March 7, 2016.

Strout, A. "13 Mobile Marketing Stats You Need To Know." Marketing Land, June 8, 2015.

Taft, D. K. "How IBM is Making Cities Smarter Worldwide." eWeek, June 13, 2014.

Townsend, A. M. Smart Cities: Big Data, Civic Hackers, and the Quest for a New Utopia. New York: W.W. Norton & Company, 2013.

Vijayan, J. "7 Hidden Dangers of Wearable Computers." February 25, 2014. itworld.com/slideshow/142017/7-hidden-dangers-wearable-computers-406874 (accessed April 2016).

Weiss, T. R. "Janam's New Mobile Handheld Business Computer Handles RFID UHF Tags." eWeek, July 7, 2015.

Wishpond Technologies Ltd. "New Trends of Mobile Users and Their Shopping Behaviour." A White paper, 2014. corp.wishpond.com/mobile-marketing-resources/new-trends-of-mobile-users-and-their-shopping-behaviour (accessed April 2016).
Electronic Supplementary Material
Glossary
Context-aware computing 

A technology that is capable in predicting people's needs and providing fulfillment options (sometimes even before a request by the end user is made).

Enterprise mobility

 The people and technology (e.g., devices and networks) that enable mobile computing applications within the enterprise.

Intelligent personal assistants

 An application that uses AI to understand spoken natural languages.

Interactive voice response (IVR)

 A voice support application system that enables users to interact by telephone (of any kind) with a computerized system to request and receive information.

Internet of Things (IoT)

 A situation where many objects (people, animals, items) with embedded microprocessors are connected mostly wirelessly to the Internet.

Mobile app

 A software application developed specifically for use on small, wireless computing devices, such as smartphones and tablets, rather than desktop or laptop computers.

Mobile banking (m-banking)

 A term used to describe the conducting of banking activities via a mobile device (mostly by texting, or via mobile website).

Mobile commerce (m-commerce; m-business)

 Conducting e-commerce by using mobile devices and wireless networks.

Mobile enterprise

 Mobile applications conducted by enterprises to improve the operations of the employees, facilities, and relevant supply chains, within the enterprise and with its business partners.

Mobile entertainment

 Any entertainment delivered on mobile devices over wireless networks or that interacts with mobile service providers.

Mobile portal

 A gateway to the Internet from mobile devices.

Mobile worker

 Any employee who is away from his or her primary work space at least 10 h a week (or 25% of the time).

Multimedia messaging service (MMS)

 The new type of wireless messaging, delivering rich media content, such as video, images, and audio to mobile devices. MMS is an extension of SMS (no extra charge with an SMS "bundle"). It allows for longer messages than with SMS.

Pervasive computing

 Computing capabilities that are embedded in the environment but typically are not mobile.

Radio frequency identification (RFID)

 A short-range radio frequency communication technology for wirelessly identifying and tracking tags attached to objects.

Short message service (SMS)

 A service that supports the transmittal of short text messages (up to 140–160 characters) between wireless devices.

Smartphone

 A mobile phone with Internet access and PC-like functionality.

Smart grid

 An electricity network managed by utilizing digital technology.

Smartwatch

 A computerized wrist watch with functionality that is enhanced beyond timekeeping. Today, smartwatches are wearable computers. Many run mobile apps, using a mobile operating system.

Ubiquitous computing (ubicom)

 Computing capabilities embedded into a relevant system, usually not visible, which may be mobile or stationary.

Voice portal

 A website with an audio interface that can be accessed through a telephone call.

Wireless mobile computing (mobile computing)

 A computing solution where computing is done using mobile devices at any place connected to a wireless network.
Rights and permissions
Open Access This chapter is licensed under the terms of the Creative Commons Attribution-NonCommercial 2.5 International License (http://creativecommons.org/licenses/by-nc/2.5/), which permits any noncommercial use, sharing, adaptation, distribution and reproduction in any medium or format, as long as you give appropriate credit to the original author(s) and the source, provide a link to the Creative Commons license and indicate if changes were made.
The images or other third party material in this chapter are included in the chapter's Creative Commons license, unless indicated otherwise in a credit line to the material. If material is not included in the chapter's Creative Commons license and your intended use is not permitted by statutory regulation or exceeds the permitted use, you will need to obtain permission directly from the copyright holder.
Copyright information
© 2017 Springer International Publishing AG
About this chapter
Cite this chapter
Turban, E., Whiteside, J., King, D., Outland, J. (2017). Mobile Commerce and the Internet of Things. In: Introduction to Electronic Commerce and Social Commerce. Springer Texts in Business and Economics. Springer, Cham. https://doi.org/10.1007/978-3-319-50091-1_6