Abstract
Upon completion of this chapter, you will be able to:
1.

Describe electronic retailing (e-tailing) and its characteristics.

2.

Classify the primary e-tailing business models.

3.

Describe how online travel and tourism services operate and how they influence the industry.

4.

Discuss the online employment market, including its participants and benefits.

5.

Describe online real estate services.

6.

Discuss online stock-trading services.

7.

Discuss cyberbanking and online personal finance.

8.

Describe on-demand delivery of groceries and similar perishable products and services related to them.

9.

Describe the delivery of digital products such as online entertainment.

10.

Discuss various online consumer aids, including price comparison sites.

11.

Describe the impact of e-tailing on retail competition.

12.

Describe disintermediation and other B2C strategic issues.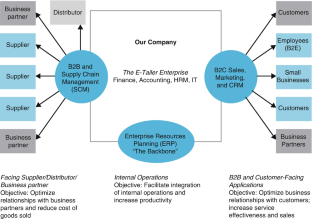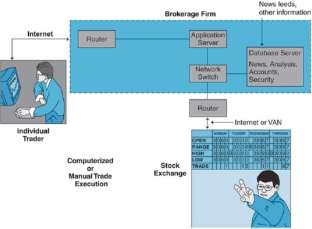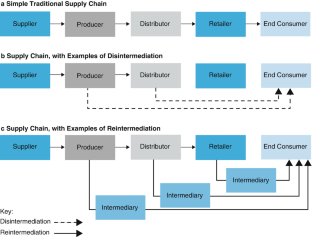 References
Berzon, A. "U.S. Judge Gives Poker a Break." August 23, 2012. online.wsj.com/news/articles/SB10000872396390444082904577607661262270108 (accessed April 2016).

Bortz, D. "Tweet Yourself to a New Job." February 6, 2014 money.cnn.com/2014/01/01/pf/twitter-job.moneymag (accessed April 2016).

Brohan, M. "Amazon Dominates Europe." March 21, 2012. internetretailer.com/2012/03/21/amazon-dominates-europe (accessed April 2016).

Butcher, M. "WAYN Said to Be Close to Sale. The Price? $200m. The Buyer? AOL." January 16, 2008. techcrunch.com/2008/01/16/wayn-said-to-be-close-to-sale-the-price-200m-the-buyer-aol (accessed April 2016).

Carey, R., D. Kang, and M. Zea. "The Trouble with Travel Distribution." February 2012. mckinsey.com/insights/travel_transportation/the_trouble_with_travel_distribution (accessed April 2016).

Chow, C. "The Website Etsy.Com a Virtual Craft Shop for Designers and Shoppers Alike." San Jose Mercury News, February 5, 2014. mercurynews.com/campbell/ci_25072351/website-etsy-com-virtual-craft-shop-designers-and (accessed April 2016).

Cohen, M. "Online Hiring Tools Are Changing Recruiting Techniques." May 15, 2013. nytimes.com/2013/05/16/business/smallbusiness/online-recruiting-efforts-gain-ground.html?_r=0 (accessed May 2016).

Del Castillo, C. "2016 Social Recruitment Trends Forecast." February 10, 2016. resources.workable.com/blog/2016-social-recruitment-trends-forecast (accessed May 2016).

Enright, A. "Baccarat Makes a Second Attempt at U.S. E-Commerce." Internet Retailer March 21, 2012. internetretailer.com/2012/03/21/baccarat-makes-second-attempt-us-e-commerce (accessed April 2016).

Feldmann, A. "Etsy Expands Reach and Sales for Its Seller Community." Pinterest for Business, 2014. business.pinterest.com/case-study-etsy (accessed April 2016).

Fox News. "Nevada, Delaware Sign Deal to Allow Interstate Online Gambling." February 25, 2014. foxnews.com/politics/2014/02/25/raising-stakes-nevada-and-delaware-sign-agreement-to-allow-interstate-online (accessed April 2016).

Gratton, S-J. and D. A. Gratton. Zero to 100,000: Social Media Tips and Tricks for Small Businesses. Upper Saddle River, NJ: Pearson Education and Que, 2012.

Hockenson, L. "Updated: Pandora Opens Submission Process to Independent Artists." February 7, 2014. gigaom.com/2014/02/07/Pandora-opens-submission-process-to-independent-artists (accessed April 2016).

Hsu, T. "Google Expands Same-Day Delivery Test to Southern California." January 23, 2014. latimes.com/business/money/la-fi-mo-google-delivery-los-angeles-20140123,0,190849.story#axzz2yN0AT1zE (accessed April 2016).

Ingham, J., J. Cadieux, and A. M. Berrada. (2015). "e-Shopping Acceptance." Journal of Information and Management, 52(1), 44–60.

Isidore, C. "Everything Must Go: There's a Flood of Store Closings." March 7, 2014. money.cnn.com/2014/03/07/news/companies/retail-store-closings (accessed April 2016).

Krupnik, Y., "Can Brick-and-Mortar Still Compete with Online Retailers?" August 13, 2013. retailtouchpoints.com/executive-viewpoints/2779-can-brick-and-mortar-still-compete-with-online-retailers (accessed April 2016).

Li, X., M. Troutt, A. A. Brandyberry, T. Wang. (2011). Decision Factors for the Adoption of Online Direct Sales Channels by SMEs. Journal of the Association for Information Systems, 12(1), 1–31.

Lieber, E., and C. Syverson. Online versus Offline Competition: The Oxford Handbook of the Digital Economy. New York: Oxford University Press, 2012. (Note: Paper prepared for the Oxford Handbook of the Digital Economy (January 2011); a free version is available online at faculty.chicagobooth.edu/chad.syverson/research/onlinevsoffline.pdf (accessed April 2016).

Magdirila, P. "After Creating Biggest Chain of Malls in Philippines, SM Plans to Conquer E-Commerce." February 27, 2014. techinasia.com/Philippines-sm-malls-preparing-huge-ecommerce-entry (accessed April 2016).

Masud, S. "The Social Media Recruitment Survival Guide." August 18, 2012. mashable.com/2012/08/18/social-media-recruitment-survival-guide (accessed April 2016).

McCafferty, D. "Social Networks Surge as Recruiting Tools." July 11, 2012. baselinemag.com/careers/slideshows/Social-Networks-Surge-as-Recruiting-Tools (accessed April 2016).

Miller, C. C., and S. Clifford. "E-Commerce Companies Bypass the Middlemen." March 31, 2013. nytimes.com/2013/04/01/business/e-commerce-companies-bypass-middlemen-to-build-premium-brand.html?_r=0 (accessed April 2016).

Moseti, W. M. "Struggling Retailers Report Change in Shopping Trends." February 2, 2014. sproutwired.com/struggling-retailers-report-change-in-shopping-trends/185173 (accessed April 2016).

Motorola Solutions. "What's Driving Tomorrow's Retail Experiences?" March 19, 2013. enterpriseinnovation.net/whitepaper/whats-driving-tomorrows-retail-experiences (accessed April 2016). White paper available for (free) download at motorolasolutions.com/web/Business/Products/_Documents/White_Paper/Static_Files/MT_White_Paper.pdf (accessed April 2016).

National Association of Realtors. "Highlights from the 2015 Profile of Home Buyers and Sellers." November 5, 2015. realtor.org/reports/highlights-from-the-2015-profile-of-home-buyers-and-sellers (accessed April 2016).

O'Connor, C. "Wal-Mart vs. Amazon: World's Biggest E-Commerce Battle Could Boil Down to Vegetables." April 23, 2013. forbes.com/sites/clareoconnor/2013/04/23/wal-mart-vs-amazon-worlds-biggest-e-commerce-battle-could-boil-down-to-vegetables (accessed April 2016).

Pempus, B. "Delaware Online Gaming Yields $1.8M In 2015." Jan 19, 2016. cardplayer.com/poker-news/19884-delaware-online-gaming-yields-1-8m-in-2015 (accessed April 2016).

PricewaterhouseCoopers. "Global Entertainment and Media Outlook: 2013–2017." 2013. pwc.com/us/en/industry/entertainment-media/publications/global-entertainment-media-outlook.jhtml (accessed April 2016).

Riley, C., Y. Yang, and P. Chiou. "China's Big Tech Moves onto Banks' Turf." February 27, 2014 money.cnn.com/2014/02/27/news/economy/china-alibaba-bank (accessed April 2016).

Rodriguez, S. "Uber to Deliver Some Christmas Trees on Demand Thursday." December 4, 2013. articles.latimes.com/2013/dec/04/business/la-fi-tn-uber-christmas-trees-home-depot-20131204 (accessed April 2016).

Rueter, T. "E-Retail Spending to Increase to 62% by 2016." February 27, 2012. internetretailer.com/2012/02/27/e-retail-spending-increase-45-2016 (accessed April 2016).

Sala, K. "Top 50 Product Review Blogs." June 25, 2012. blog.us.cision.com/2012/06/top-50-product-review-blogs (accessed April 2016).

Schoon, R. "RadioShack Announces It's Closing 1000's of Stores: Mistakes and E-Commerce Competition to Blame." March 5, 2014. latinpost.com/articles/8316/20140305/radioshack-announces-its-closing-1000s-of-stores-mistakes-and-e-commerce-competition-to-blame.htm (accessed April 2016).

Singh, S., and S. Diamond. Social Media Marketing for Dummies, 2nd edition. Hoboken, NJ: Wiley, 2012.

Statistica.com. "Size of Online Gaming Market from 2003 to 2018." 2016. statista.com/statistics/270728/market-volume-of-online-gaming-worldwide (accessed April 2016).

Stone, B. The Everything Store: Jeff Bezos and the Age of Amazon. New York: Little, Brown and Company, 2013.

Trefis, T. "Streaming Partners Program: Amazon's New Initiative to Drive Prime Memberships?" December 23, 2015. forbes.com/sites/greatspeculations/2015/12/23/streaming-partners-program-amazons-new-initiative-to-drive-prime-memberships/#5b652661303a (accessed May 2016).

Turban, E., J. Strauss, and L. Lai. Social Commerce. New York: Springer, 2016.

VOA News. "Retailers Find New Ways to Compete with Online Sales." Voice of America, November 21, 2013. voanews.com/content/retailers-find-new-way-to-compete-with-online-sales/1795214.html (accessed April 2016).

Waldman, J. Job Searching with Social Media For Dummies, 2nd ed., New York: For Dummies, 2013.

Wieczner, J., and K. Bellstrom. "The Mall Goes High-Tech." SmartMoney, November 2010.

Zernike, K. "New Jersey Now Allows Gambling via Internet." November 26, 2013. nytimes.com/2013/11/27/nyregion/new-jersey-opens-up-for-online-gambling.html?_r=1& (accessed April 2016).
Electronic Supplementary Material
Rights and permissions
Open Access This chapter is licensed under the terms of the Creative Commons Attribution-NonCommercial 2.5 International License (http://creativecommons.org/licenses/by-nc/2.5/), which permits any noncommercial use, sharing, adaptation, distribution and reproduction in any medium or format, as long as you give appropriate credit to the original author(s) and the source, provide a link to the Creative Commons license and indicate if changes were made.
The images or other third party material in this chapter are included in the chapter's Creative Commons license, unless indicated otherwise in a credit line to the material. If material is not included in the chapter's Creative Commons license and your intended use is not permitted by statutory regulation or exceeds the permitted use, you will need to obtain permission directly from the copyright holder.
Copyright information
© 2017 Springer International Publishing AG
About this chapter
Cite this chapter
Turban, E., Whiteside, J., King, D., Outland, J. (2017). Retailing in Electronic Commerce: Products and Services. In: Introduction to Electronic Commerce and Social Commerce. Springer Texts in Business and Economics. Springer, Cham. https://doi.org/10.1007/978-3-319-50091-1_3