Abstract
Upon completion of this chapter, you will be able to:
1.

Describe the major electronic commerce (EC) activities and processes and the mechanisms that support them.

2.

Define e-marketplaces and list their components.

3.

List the major types of e-marketplaces and describe their features.

4.

Describe electronic catalogs, search engines, and shopping carts.

5.

Describe the major types of auctions and list their characteristics.

6.

Discuss the benefits and limitations of e-auctions.

7.

Describe bartering and negotiating online.

8.

Describe virtual communities.

9.

Describe social networks as EC mechanisms.

10.

Describe the emerging technologies of augmented reality and crowdsourcing.

11.

Describe Web 3.0 and define Web 4.0 and Web 5.0.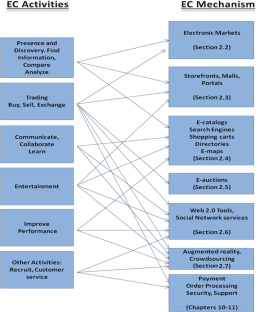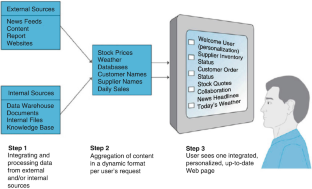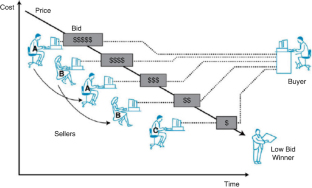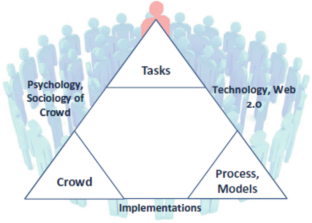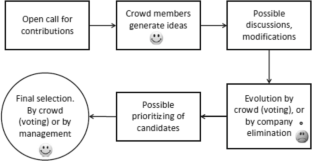 References
1stwebdesigner. "A Brief Introduction to Web 3.0." August 14, 2015. 1stwebdesigner.com/web-3-introduction (accessed March 2016).

Ahmed, M. "One in Seven People on Earth Use WhatsApp Each Month." Business ETC, February 2, 2016. bidnessetc.com/authors/mohid-ahmed (accessed March 2016).

Aukstakalnis, S. Practical Augmented Reality: A Guide to the Technologies, Applications and Human Factors for AR and VR (Usability). Boston, MA: Addison Wesley Professional, 2016.

Bent, K. "Mobility Revolution: 8 Shocking Stats from Cisco's 2014 Mobile Traffic Forecast." February 20, 2014. crn.com/slide-shows/mobility/300071779/mobility-revolution-8-shocking-stats-from-ciscos-2014-mobile-traffic-forecast.htm/pgno/0 (accessed March 2016).

Bloomberg. "Jewelry Heist." Special Report E-Biz, May 9, 2004. bloomberg.com/news/articles/2004-05-09/jewelry-heist (accessed March 2016).

Borland, J. "A Smarter Web: New Technologies Will Make Online Search More Intelligent—And May Even Lead to a 'Web 3.0'." MIT Technology Review, March–April 2007. technologyreview.com/featuredstory/407401/a-smarter-web (accessed March 2016).

Boyajian, L. "Virtual Reality vs. Augmented Reality." Augment.com, October 6, 2015. augment.com/blog/virtual-reality-vs-augmented-reality (accessed March 2016).

Brabham, D. C. Crowdsourcing, Cambridge, MA: The MIT Press, 2013.

Cario, J. E. Pinterest Marketing: An Hour a Day. Hoboken, NJ: Sybex, 2013.

Carr, K. Pinterest for Dummies. Hoboken, NJ: Wiley, 2012.

Clark, K. "Discover the Best-of-Craigslist." L'Atelier, March 10, 2008. atelier.net/en/trends/articles/discover-best-craigslist (accessed March 2016).

Corpuz, J. "Best Augmented Reality Apps." Tom's Guide, April 28, 2015. tomsguide.com/us/pictures-story/657-best-augmented-reality-apps.html (accessed March 2016).

CrimsonLogic. "Madagascar TradeNet." Case Study. 2014. crimsonlogic.com/Documents/pdf/resourceLibrary/brochures/tradeFacilitation/Madagascar_TradeNet_Case_Study.pdf (accessed March 2016).

Dembosky, A. "Pinterest Takes a Track with Advertising Launch." Financial Times, September 20, 2013.

Fitchard, K. "8 Crowdsourcing Apps (Besides OpenSignal) We Love." OpenSignal Blog, July 9, 2015. opensignal.com/blog/2015/07/09/8-crowdsourcing-apps-besides-opensignals-love (accessed March 2016).

Fjeldsted, K. "Madagascar Trade" in Celebrating Reform 2009: Doing Business Case Studies. Washington, D.C.: World Bank. doingbusiness.org/reports/case-studies/2009/trade-reform-in-madagascar (accessed March 2016).

Gartner. "Top 10 Strategic Technology Trends for 2015." gartner.com/smarterwithgartner/gartners-top-10-strategic-technology-trends-for-2015 (accessed March 2016).

Hemley, D. "26 Tips for Using Pinterest for Business." Social Media Examiner, February 27, 2012. csocialmediaexaminer.com/26-tips-for-using-pinterest-for-business (accessed March 2016).

Howe, J. Crowdsourcing: Why the Power of the Crowd is Driving the Future of Business. New York: Crown Business, 2008.

Jopson, B., and H. Kuchler. "Pinterest Hopes to Bridge the Retail Divide." Financial Times, November 27, 2013.

Kaye, K. "Walgreens Tests Google's Augmented Reality for Loyal." Adage.com, July 1, 2014. adage.com/article/datadriven-marketing/walgreens-tests-google-s-augmented-reality-loyalty-app/293961 (accessed March 2016).

Koren, J. "From Web 4.0 and Beyond." Integrating Educational Technology and Digital Learning January 20, 2013. slideshare.net/joh5700/educational- technology-and-digital-learning-16077621 (accessed March 2016).

Laurent, W. "Interface: Where We're Headed with Web 3.0." July 1, 2010. information-management.com/issues/20_4/where-were-headed-with-web-3.0-10018222-1.html (accessed March 2016) (free registration necessary to read).

Leland, K. Ultimate Guide to Pinterest for Business (Ultimate Series). Irvine, CA: Entrepreneur Press, 2013.

Liedtke, M. "Study: Craigslist Revenue to Climb 23 Pct to $100M." June 10, 2009. thestreet.com/story/10511645/1/study-craigslist-revenue-to-climb-23-pct-to-100m.html (accessed March 2016).

Loren, J., and E. Swiderski. Pinterest for Business: How to Pin Your Company to the Top of the Hottest Social Media Network (Que Biz-Tech).Indianapolis, IN: Que Publishing, 2012.

Malik, A. Augmented Reality for Dummies. Hoboken, NJ: For Dummies, June 2016.

McKalin, V. "Augmented Reality vs. Virtual Reality: What Are the Differences and Similarities?" Tech Times, 2015.

McKenzie, H. "Here's a Social Shopping Site that Could Undermine Pinterest." May 22, 2012. pando.com/2012/05/22/heres-a-social-shopping-site-that-could-undermine-pinterest (accessed March 2016).

Meola, A. "Inside Facebook's Marriage of Social Media and Virtual Reality." Business Insider, February 23, 2016.

Miles, J.G., and K. Lacey, Pinterest Power: Market Your Business, Sell Your Product, and Build Your Brand on the World's Hottest Social Network. New York: McGraw Hill, 2012.

O'Connell, J. "The Next Big Thing is Web 3.0: Catch It If You Can." IWBNet, 62 slides, 2015. (juoconnell@scu.edu.au).

Parisi, T. Learning Virtual Reality: Development Immersive Experiences and Applications for Desktop, Web and Mobile. Sebastopol, CA: O'Reilly Media, November 2016.

Patel, K. "Incremental Journey for World Wide Web: Introduced with Wen 1.0 to Recent Web 5.0- A Survey Paper." International Journal of Advanced Research in Computer Science and Software Engineering, 3(10), October 2013.

Petroff, A. "Want to Chat in 29 Languages?" CNN Money, January 2, 2014. money.cnn.com/2014/01/02/technology/translation-service-app (accessed March 2016).

Questex. "Board Portals: Decision-Making Has a New Ally." Diligent, 2015. diligent.com/new/board-portals:Decision-making-has-a-new-ally (accessed March 2016).

Rivlin, G. "When Buying a Diamond Starts with a Mouse." January 7, 2007. nytimes.com/2007/01/07/business/yourmoney/07nile.html?pagewanted=all&_r=0 (accessed March 2016).

Roberts, B. "Social Networking at the Office." HR Magazine, March 2008, Volume 53, No. 3.

Saarinen, T., M. Tinnilä, and A. Tseng, (Eds.). Managing Business in a Multi-Channel World: Success Factors for E-Business. Hershey, PA: Idea Group, Inc., 2006.

Sherman, A. The Complete Idiot's Guide to Crowdsourcing. New York: Alpha, 2011.

Shontell, A. "A Lawyer Who Is Also a Photographer just Deleted All Her Pinterest Boards Out of Fear." February 28, 2012. businessinsider.com/pinterest-copyright-issues-lawyer-2012-2 (accessed March 2016).

Singapore Customs. "An Overview of TradeNet." (Last reviewed April 29, 2014.)

Smith, C., "By the Numbers: 50 Amazing Pinterest Stats." Digital Marketing Ramblings (DMR), January 18, 2014. expandedramblings.com/index.php/pinterest-stats/#.UwV9JfldWSo (accessed March 2016).

Stafford, A. "The Future of the Web." October 2, 2006. pcworld.com/article/126855/article.html (accessed March 2016).

The Retail Bulletin. "M-Commerce Quadruples in Two Years." May 24, 2012. theretailbulletin.com/news/mcommerce_quadruples_in_two_years_24-05-12 (accessed March 2016).

Truong, A. "Today's Most Innovative Company: IKEA Uses Augmented Reality to Show How Furniture Fits in a Room." July 26, 2013. fastcompany.com/3014930/most-innovative-companies/todays-most-innovative-company-ikea-uses-augmented-reality-to-show (accessed March 2016).

Williams, M. "VR Just Got Serious and You Should Be Paying Attention." IT World, February 24, 2016.

Yang, J. "Pinterest: How Does Pinterest Generate Revenue?" February 23, 2012 [Updated]. quora.com/Pinterest/How-does-Pinterest-generate-revenue-What-is-the-companys-business-model (accessed March 2016).

Zeref, L. Mindsharing: The Art of Crowdsourcing Everything. Westminster, London: Portfolio, 2015.
Electronic Supplementary Material
Rights and permissions
Open Access This chapter is licensed under the terms of the Creative Commons Attribution-NonCommercial 2.5 International License (http://creativecommons.org/licenses/by-nc/2.5/), which permits any noncommercial use, sharing, adaptation, distribution and reproduction in any medium or format, as long as you give appropriate credit to the original author(s) and the source, provide a link to the Creative Commons license and indicate if changes were made.
The images or other third party material in this chapter are included in the chapter's Creative Commons license, unless indicated otherwise in a credit line to the material. If material is not included in the chapter's Creative Commons license and your intended use is not permitted by statutory regulation or exceeds the permitted use, you will need to obtain permission directly from the copyright holder.
Copyright information
© 2017 Springer International Publishing AG
About this chapter
Cite this chapter
Turban, E., Whiteside, J., King, D., Outland, J. (2017). E-Commerce: Mechanisms, Platforms, and Tools. In: Introduction to Electronic Commerce and Social Commerce. Springer Texts in Business and Economics. Springer, Cham. https://doi.org/10.1007/978-3-319-50091-1_2