Abstract

Antibiotic resistance is a threat to human health worldwide. The ever-increasing multidrug-resistant (MDR) strains of many bacterial pathogens are paralyzing our efforts to treat many deadly infections. An important measure to deal with the menace is to better understand the process and manage the reservoirs or risk areas. Over the recent past, the importance of gut bacteria in various aspects of human health and physiology has been highlighted. Also, studies are now being carried out to better understand its role in antimicrobial resistance and grave consequences of antibiotic exposure on gut microbiota. This chapter highlights the importance of gut microbiota in better understanding of antibiotic resistance and summarizes the burden imposed by antibiotic use in the healthcare sector. Due to close contact of pathogens with dense human microbiota during the disease progression, gene transfer events might occur frequently. In this context, our microbiome warrants special attention since it can possibly act as one of the most accessible reservoir of antibiotic resistance genes. It seems pertinent to evaluate antimicrobial therapies in the context of this microbial framework, as many life-threatening infections can arise due to antibiotic-associated alterations in the gut microbiota.
Keywords
Antibiotic Resistance

Antimicrobial Resistance

Antibiotic Resistance Gene

Neisseria Gonorrhoeae

Vaginal Microbiota
These keywords were added by machine and not by the authors. This process is experimental and the keywords may be updated as the learning algorithm improves.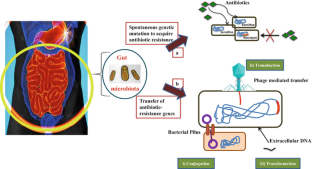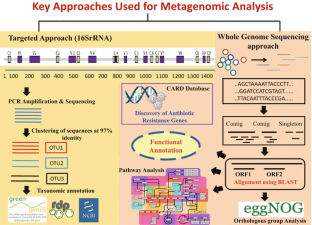 References
Adamsson I, Nord CE, Lundquist P, Sjöstedt S, Edlund C (1999) Comparative effects of omeprazole, amoxicillin plus metronidazole versus omeprazole, clarithromycin plus metronidazole on the oral, gastric and intestinal microflora in Helicobacter pylori-infected patients. J Antimicrob Chemother 44:629–640. doi:10.1093/jac/44.5.629

Alekshun MN, Levy SB (2006) Commensals upon us. Biochem Pharmacol 71:893–900. doi:10.1016/j.bcp.2005.12.040

Arora G, Sajid A, Singhal A, Joshi J, Virmani R, Gupta M, Verma N, Maji A, Misra R, Baronian G, Pandey AK, Molle V, Singh Y (2014) Identification of Ser/Thr kinase and forkhead associated domains in Mycobacterium ulcerans: characterization of novel association between protein kinase Q and MupFHA. PLoS Negl Trop Dis 8, e3315. doi:10.1371/journal.pntd.0003315

Bagel S, Hüllen V, Wiedemann B, Heisig P (1999) Impact of gyrA and parC mutations on quinolone resistance, doubling time, and supercoiling degree of Escherichia coli. Antimicrob Agents Chemother 43:868–875

Berendonk TU, Manaia CM, Merlin C, Fatta-Kassinos D, Cytryn E, Walsh F, Bürgmann H, Sørum H, Norström M, Pons MN, Kreuzinger N, Huovinen P, Stefani S, Schwartz T, Kisand V, Baquero F, Martinez JL (2015) Tackling antibiotic resistance: the environmental framework. Nat Rev Microbiol 13:310–317. doi:10.1038/nrmicro3439

Bhaduri A, Misra R, Maji A, Bhetaria PJ, Mishra S, Arora G, Singh LK, Dhasmana N, Dubey N, Virdi JS, Singh Y (2014) Mycobacterium tuberculosis cyclophilin A uses novel signal sequence for secretion and mimics eukaryotic cyclophilins for interaction with host protein repertoire. PLoS One 9, e88090. doi:10.1371/journal.pone.0088090

Brandl K, Plitas G, Mihu CN, Ubeda C, Jia T, Fleisher M, Schnabl B, DeMatteo RP, Pamer EG (2008) Vancomycin-resistant enterococci exploit antibiotic-induced innate immune deficits. Nature 455:804–807. doi:10.1038/nature07250

Centers for Disease Control and Prevention (CDC) (2013) Antibiotic resistance threats in the United States, 2013. http://www.cdc.gov/drugresistance/pdf/ar-threats-2013-508.pdf

Costello EK, Lauber CL, Hamady M, Fierer N, Gordon JI, Knight R (2009) Bacterial community variation in human body habitats across space and time. Science 326:1694–1697. doi:10.1126/science.1177486

Cotter PD, Stanton C, Ross RP, Hill C (2012) The impact of antibiotics on the gut microbiota as revealed by high throughput DNA sequencing. Discov Med 13:193–199

Davies J, Davies D (2010) Origins and evolution of antibiotic resistance. Microbiol Mol Biol Rev 74:417–433. doi:10.1128/MMBR.00016-10

D'Costa VM, King CE, Kalan L, Morar M, Sung WW, Schwarz C, Froese D, Zazula G, Calmels F, Debruyne R, Golding GB, Poinar HN, Wright GD (2011) Antibiotic resistance is ancient. Nature 477:457–461. doi:10.1038/nature10388

Dethlefsen L, Relman DA (2011) Incomplete recovery and individualized responses of the human distal gut microbiota to repeated antibiotic perturbation. Proc Natl Acad Sci U S A 108(Suppl 1):4554–4561. doi:10.1073/pnas.1000087107

Dicksved J, Flöistrup H, Bergström A, Rosenquist M, Pershagen G, Scheynius A, Roos S, Alm JS, Engstrand L, Braun-Fahrländer C, von Mutius E, Jansson JK (2007) Molecular fingerprinting of the fecal microbiota of children raised according to different lifestyles. Appl Environ Microbiol 73:2284–2289. doi:10.1128/AEM.02223-06

Doucet-Populaire F, Trieu-Cuot P, Dosbaa I, Andremont A, Courvalin P (1991) Inducible transfer of conjugative transposon Tn1545 from Enterococcus faecalis to Listeria monocytogenes in the digestive tracts of gnotobiotic mice. Antimicrob Agents Chemother 35:185–187

Eckburg PB, Bik EM, Bernstein CN, Purdom E, Dethlefsen L, Sargent M, Gill SR, Nelson KE, Relman DA (2005) Diversity of the human intestinal microbial flora. Science 308:1635–1638. doi:10.1126/science.1110591

Faith JJ, Guruge JL, Charbonneau M, Subramanian S, Seedorf H, Goodman AL, Clemente JC, Knight R, Heath AC, Leibel RL, Rosenbaum M, Gordon JI (2013) The long-term stability of the human gut microbiota. Science 341:1237439. doi:10.1126/science.1237439

Fleming A (1980) Classics in infectious diseases: on the antibacterial action of cultures of a penicillium, with special reference to their use in the isolation of B. influenzae by Alexander Fleming, Reprinted from the British Journal of Experimental Pathology 10:226–236, 1929. Rev Infect Dis 2:129–139

Flint HJ, Duncan SH, Scott KP, Louis P (2007) Interactions and competition within the microbial community of the human colon: links between diet and health. Environ Microbiol 9:1101–1111. doi:10.1111/j.1462-2920.2007.01281.x

Frost LS, Leplae R, Summers AO, Toussaint A (2005) Mobile genetic elements: the agents of open source evolution. Nat Rev Microbiol 3:722–732. doi:10.1038/nrmicro1235

Gill SR, Pop M, Deboy RT, Eckburg PB, Turnbaugh PJ, Samuel BS, Gordon JI, Relman DA, Fraser-Liggett CM, Nelson KE (2006) Metagenomic analysis of the human distal gut microbiome. Science 312:1355–1359. doi:10.1126/science.1124234

Hehemann JH, Correc G, Barbeyron T, Helbert W, Czjzek M, Michel G (2010) Transfer of carbohydrate-active enzymes from marine bacteria to Japanese gut microbiota. Nature 464:908–912. doi:10.1038/nature08937

Heuer H, Smalla K (2007) Manure and sulfadiazine synergistically increased bacterial antibiotic resistance in soil over at least two months. Environ Microbiol 9:657–666. doi:10.1111/j.1462-2920.2006.01185.x

Huurre A, Kalliomäki M, Rautava S, Rinne M, Salminen S, Isolauri E (2008) Mode of delivery – effects on gut microbiota and humoral immunity. Neonatology 93:236–240. doi:10.1159/111102

Jakobsson HE, Jernberg C, Andersson AF, Sjölund-Karlsson M, Jansson JK, Engstrand L (2010) Short-term antibiotic treatment has differing long-term impacts on the human throat and gut microbiome. PLoS One 5, e9836. doi:10.1371/journal.pone.0009836

Jernberg C, Löfmark S, Edlund C, Jansson JK (2007) Long-term ecological impacts of antibiotic administration on the human intestinal microbiota. ISME J 1:56–66. doi:10.1038/ismej.2007.3

Jernberg C, Löfmark S, Edlund C, Jansson JK (2010) Long-term impacts of antibiotic exposure on the human intestinal microbiota. Microbiology 156:3216–3223. doi:10.1099/mic.0.040618-0

Kalia VC (2013) Quorum sensing inhibitors: an overview. Biotechnol Adv 31:224–245. doi:10.1016/j.biotechadv.2012.10.004

Kalia VC (2014) Microbes, antimicrobials and resistance: the battle goes on. Indian J Microbiol 54:1–2. doi:10.1007/s12088-013-0443-7

Kalia VC, Purohit HJ (2011) Quenching the quorum sensing system: potential antibacterial drug targets. Crit Rev Microbiol 37:121–140. doi:10.3109/1040841X.2010.532479

Kalia VC, Rani A, Lal S, Cheema S, Raut CP (2007) Combing databases reveals potential antibiotic producers. Expert Opin Drug Discov 2:211–224. doi:10.1517/17460441.2.2.211

Kalia VC, Wood TK, Kumar P (2014) Evolution of resistance to quorum-sensing inhibitors. Microb Ecol 68:13–23. doi:10.1007/s00248-013-0316-y

Karami N, Martner A, Enne VI, Swerkersson S, Adlerberth I, Wold AE (2007) Transfer of an ampicillin resistance gene between two Escherichia coli strains in the bowel microbiota of an infant treated with antibiotics. J Antimicrob Chemother 60:1142–1145. doi:10.1093/jac/dkm327

Koul S, Prakash J, Mishra A, Kalia VC (2016) Potential emergence of multi-quorum sensing inhibitor resistant (MQSIR) bacteria. Indian J Microbiol 56:1–18. doi:10.1007/s12088-015-0558-0

Kozyrskyj AL, Ernst P, Becker AB (2007) Increased risk of childhood asthma from antibiotic use in early life. Chest 131:1753–1759. doi:10.1378/chest.06-3008

Kumar P, Patel SK, Lee JK, Kalia VC (2013) Extending the limits of Bacillus for novel biotechnological applications. Biotechnol Adv 31:1543–1561. doi:10.1016/j.biotechadv.2013.08.007

Ley RE, Peterson DA, Gordon JI (2006) Ecological and evolutionary forces shaping microbial diversity in the human intestine. Cell 124:837–848. doi:10.1016/j.cell.2006.02.017

Maji A, Misra R, Kumar AM, Kumar D, Bajaj D, Singhal A, Arora G, Bhaduri A, Sajid A, Bhatia S, Singh S, Singh H, Rao V, Dash D, Baby SE, Michael JS, Chaudhary A, Gokhale RS, Singh Y (2015) Expression profiling of lymph nodes in tuberculosis patients reveal inflammatory milieu at site of infection. Sci Rep 5:15214. doi:10.1038/srep15214

Mändar R, Mikelsaar M (1996) Transmission of mother's microflora to the newborn at birth. Biol Neonate 69:30–35. doi:10.1159/000244275

Modi SR, Collins JJ, Relman DA (2014) Antibiotics and the gut microbiota. J Clin Invest 124:4212–4218. doi:10.1172/JCI72333

Ng KM, Ferreyra JA, Higginbottom SK, Lynch JB, Kashyap PC, Gopinath S, Naidu N, Choudhury B, Weimer BC, Monack DM, Sonnenburg JL (2013) Microbiota-liberated host sugars facilitate post-antibiotic expansion of enteric pathogens. Nature 502:96–99. doi:10.1038/nature12503

Qin J, Li R, Raes J, Arumugam M, Burgdorf KS, Manichanh C, Nielsen T, Pons N, Levenez F, Yamada T, Mende DR, Li J, Xu J, Li S, Li D, Cao J, Wang B, Liang H, Zheng H, Xie Y, Tap J, Lepage P, Bertalan M, Batto JM, Hansen T, Le Paslier D, Linneberg A, Nielsen HB, Pelletier E, Renault P, Sicheritz-Ponten T, Turner K, Zhu H, Yu C, Li S, Jian M, Zhou Y, Li Y, Zhang X, Li S, Qin N, Yang H, Wang J, Brunak S, Doré J, Guarner F, Kristiansen K, Pedersen O, Parkhill J, Weissenbach J, Meta HITC, Bork P, Ehrlich SD, Wang J (2010) A human gut microbial gene catalogue established by metagenomic sequencing. Nature 464:59–65. doi:10.1038/nature08821

Rafii F, Sutherland JB, Cerniglia CE (2008) Effects of treatment with antimicrobial agents on the human colonic microflora. Ther Clin Risk Manag 4:1343–1358. doi:10.2147/TCRM.S4328

Round JL, Mazmanian SK (2009) The gut microbiota shapes intestinal immune responses during health and disease. Nat Rev Immunol 9:313–323. doi:10.1038/nri2515

Sachdeva P, Misra R, Tyagi AK, Singh Y (2010) The sigma factors of Mycobacterium tuberculosis: regulation of the regulators. FEBS J 277:605–626. doi:10.1111/j.1742-4658.2009.07479.x

Sajid A, Arora G, Singhal A, Kalia VC, Singh Y (2015) Protein phosphatases of pathogenic bacteria: role in physiology and virulence. Annu Rev Microbiol 69:527–547. doi:10.1146/annurev-micro-020415-111342

Sears CL (2005) A dynamic partnership: celebrating our gut flora. Anaerobe 11:247–251. doi:10.1016/j.anaerobe.2005.05.001

Seekatz AM, Aas J, Gessert CE, Rubin TA, Saman DM, Bakken JS, Young VB (2014) Recovery of the gut microbiome following fecal microbiota transplantation. mBio 5:e00893-14. doi:10.1128/mBio.00893-14

Sengupta S, Chattopadhyay MK, Grossart HP (2013) The multifaceted roles of antibiotics and antibiotic resistance in nature. Front Microbiol 4:47. doi:10.3389/fmicb.2013.00047

Sharma NC, Mandal PK, Dhillon R, Jain M (2007) Changing profile of Vibrio cholerae O1, O139 in Delhi & its periphery (2003–2005). Indian J Med Res 125:633–640

Smillie CS, Smith MB, Friedman J, Cordero OX, David LA, Alm EJ (2011) Ecology drives a global network of gene exchange connecting the human microbiome. Nature 480:241–244. doi:10.1038/nature10571

Sommer MO, Dantas G, Church GM (2009) Functional characterization of the antibiotic resistance reservoir in the human microflora. Science 325:1128–1131. doi:10.1126/science.1176950

Sullivan A, Edlund C, Nord CE (2001) Effect of antimicrobial agents on the ecological balance of human microflora. Lancet Infect Dis 1:101–114. doi:10.1016/S1473-3099(01)00066-4

Taneja N, Mewara A, Kumar A, Verma G, Sharma M (2012) Cephalosporin-resistant Shigella flexneri over 9 years (2001–09) in India. J Antimicrob Chemother 67:1347–1353. doi:10.1093/jac/dks061

Tian B, Fadhil NH, Powell JE, Kwong WK, Moran NA (2012) Long-term exposure to antibiotics has caused accumulation of resistance determinants in the gut microbiota of honeybees. mBio 3:e00377-12. doi:10.1128/mBio.00377-12

Van Boeckel TP, Gandra S, Ashok A, Caudron Q, Grenfell BT, Levin SA, Laxminarayan R (2014) Global antibiotic consumption 2000 to 2010: an analysis of national pharmaceutical sales data. Lancet Infect Dis 14:742–750. doi:10.1016/S1473-3099(14)70780-7

Vaz-Moreira I, Nunes OC, Manaia CM (2014) Bacterial diversity and antibiotic resistance in water habitats: searching the links with the human microbiome. FEMS Microbiol Rev 38:761–778. doi:10.1111/1574-6976.12062

Velayati AA, Masjedi MR, Farnia P, Tabarsi P, Ghanavi J, Ziazarifi AH, Hoffner SE (2009) Emergence of new forms of totally drug-resistant tuberculosis bacilli: super extensively drug-resistant tuberculosis or totally drug-resistant strains in Iran. Chest 136:420–425. doi:10.1378/chest.08-2427

Waksman SA, Flynn JE (1973) History of the word 'antibiotic'. J Hist Med Allied Sci 28:284–286. doi:10.1093/jhmas/XXVIII.3.284

Walsh TR, Weeks J, Livermore DM, Toleman MA (2011) Dissemination of NDM-1 positive bacteria in the New Delhi environment and its implications for human health: an environmental point prevalence study. Lancet Infect Dis 11:355–362. doi:10.1016/S1473-3099(11)70059-7

Watanabe J, Fujiwara R, Sasajima N, Ito S, Sonoyama K (2010) Administration of antibiotics during infancy promoted the development of atopic dermatitis-like skin lesions in NC/Nga mice. Biosci Biotechnol Biochem 74:358–363. doi:10.1271/bbb.90709

Wattal C, Goel N (2014) Tackling antibiotic resistance in India. Expert Rev Anti Infect Ther 12:1427–1440. doi:10.1586/14787210.2014.976612

Willing BP, Russell SL, Finlay BB (2011) Shifting the balance: antibiotic effects on host-microbiota mutualism. Nat Rev Microbiol 9:233–243. doi:10.1038/nrmicro2536

World Health Organization (2014) Antimicrobial resistance: global report on surveillance. WHO Press. http://apps.who.int/iris/bitstream/10665/112642/1/9789241564748_eng.pdf

Young VB, Schmidt TM (2004) Antibiotic-associated diarrhea accompanied by large-scale alterations in the composition of the fecal microbiota. J Clin Microbiol 42:1203–1206. doi:10.1128/JCM.42.3.1203-1206.2004
Acknowledgments

We thank Prof. Yogendra Singh, the Council of Scientific and Industrial Research-Institute of Genomics & Integrative Biology (CSIR-IGIB), and the University of Delhi for providing us the encouragement for the work and Dr. Vineet K. Sharma and IISER, Bhopal, for insights into the field of metagenomics. RM wishes to thank the principal of Miranda House for the facilities. Financial assistance by the Council of Scientific and Industrial Research (CSIR)-funded project BSC0123 is highly acknowledged.
Copyright information

© 2017 Springer International Publishing Switzerland
About this chapter
Cite this chapter
Misra, R., Virmani, R., Dhakan, D., Maji, A. (2017). Tackling the Antibiotic Resistance: The "Gut" Feeling. In: Arora, G., Sajid, A., Kalia, V. (eds) Drug Resistance in Bacteria, Fungi, Malaria, and Cancer. Springer, Cham. https://doi.org/10.1007/978-3-319-48683-3_14