Abstract

The gut possesses a diverse microbial community comprising bacteria, eukaryotes, archaea, and viruses, all of which make up the gut microbiome. The interactions between these various organisms are complex and difficult to model; however, they greatly influence our human health in a variety of ways. Commensals form the majority of this community and have a great impact on our immunity and resistance to disease. Consequently, the genetic pool or "metagenome" of the gut microbiome is a valuable resource into studies on human health. Metagenomic studies have revealed the presence of several genes contributing to drug resistance in the microbiome. These may have arisen either as a by-product of an essential survival pathway for the microbe or through spontaneous mutations. Another possible mode of entry is through pathogens carrying drug-resistant genes that may be introduced into the gut environment in a variety of ways, food being a significant point of entry. Consequently, all of the above factors contribute to an increasing number of drug-resistant genes in the gut microbiome. To add to this phenomenon, transmission of these genes through members of the microbiome may occur by horizontal gene transfer mechanisms adding to the diversity of organisms exhibiting resistance. Moreover, the administration of antibiotics for routine treatments has been found to further exacerbate this by deleting the beneficial commensal pool. Thus, it is of utmost importance to investigate and impede the emergence of resistance in the gut microbiome to benefit long-term human health.
Keywords
Resistance Gene

Antibiotic Resistance

Horizontal Gene Transfer

Clostridium Difficile Infection

Terminal Restriction Fragment Length Polymorphism
These keywords were added by machine and not by the authors. This process is experimental and the keywords may be updated as the learning algorithm improves.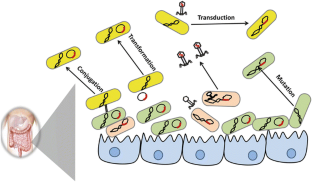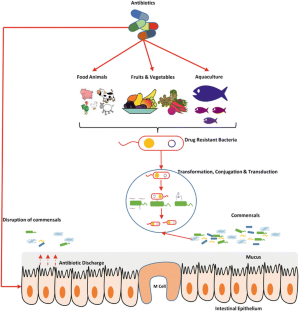 Copyright information

© 2017 Springer International Publishing Switzerland
About this chapter
Cite this chapter
Ryan, D., Jaiswal, S., Suar, M. (2017). Role of External and Environmental Factors in Drug Resistance Emergence: Gut Microbiota. In: Arora, G., Sajid, A., Kalia, V. (eds) Drug Resistance in Bacteria, Fungi, Malaria, and Cancer. Springer, Cham. https://doi.org/10.1007/978-3-319-48683-3_12