Abstract
This chapter offers a discussion of the findings and their theoretical and practical implications, conclusions, limitations of this project, and thoughts on how future research can advance the ideas raised in this volume. Here, I offer a liberation technology model, based off the four sites under study, that helps us better understand what factors influence alternative media's use of liberating technologies.
Keywords
Social Medium

Internet Access

Digital Divide

Information Communication Technology

Citizen Participation
These keywords were added by machine and not by the authors. This process is experimental and the keywords may be updated as the learning algorithm improves.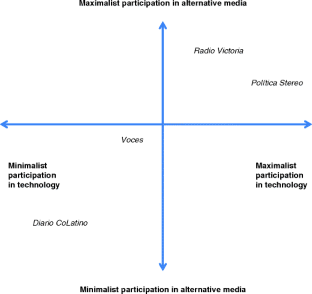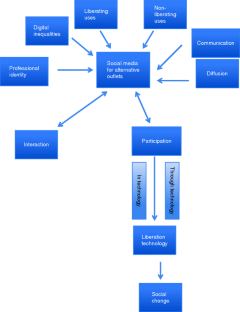 Notes
1.

The actual Spanish is informar, formar, and transformar, worth noting for their common root, formar.
Bibliography
Atton, Chris. 2009. "Alternative and Citizen Journalism." In The Handbook of Journalism Studies, edited by Karin Wahl-Jorgensen and Thomas Hanitzsch, 265–278. New York: Routledge.

Bailey, Olga G., Bart Cammaert, Bart Cammaerts, and Nico Carpentier. 2008. Understanding Alternative Media. New York: Open University Press.

Breuer, Anita, and Yanina Welp. 2014. "Digital Trends in Latin American Politics (1990–2012)." In Digital Technologies for Democratic Governance in Latin America, edited by Anita Breuer and Yanina Welp, 1–16. London: Routledge.

Carpentier, Nico. 2011. Media and Participation: A Site of Ideological-Democratic Struggle. Chicago: Intellect Books.

Costanza-Chock, Sasha. 2014. Out of the Shadows, into the Streets: Transmedia Organizing and the Immigrant Rights Movement. Cambridge, MA: The MIT Press.

Curran, James. 2003. "Global Journalism: A Case Study of the Internet." In Contesting Media Power: Alternative Media in a Networked World, edited by Nick Couldry and James Curran, 227–241. Lanham, MD: Rowman & Littlefield.

Dahlgren, Peter. 2006. "Doing Citizenship: The Cultural Origins of Civic Agency in the Public Sphere." European Journal of Cultural Studies 9(3): 267–286.

Diamond, Larry. 2010. "Liberation Technologies." Journal of Democracy 21(3): 69–83.

Enzensberger, Hans Magnus. 1976. Raids and Reconstructions: Essays on Politics, Crime and Culture. London: Pluto Press.

Freedom House. 2016. Freedom in the World. http://www.freedomhouse.org/report/freedom-world/freedom-world-2016

Freire, Paulo. 1970. Pedagogy of the Oppressed. New York: Continuum International Publishing Group.

Gladwell, Malcolm. 2010. "Small Change: Why the Revolution Will Not Be Tweeted." The New Yorker, October. http://goo.gl/dtGi1

Harcup, Tony. 2011. "Alternative Journalism as Active Citizenship." Journalism 12(1): 15–31.

Internet World Stats. 2012. http://www.internetworldstats.com/stats12.htm#central

Kahn, Richard, and Douglas Kellner. 2004. "New Media and Internet Activism: From the 'Battle of Seattle' to Blogging." New Media & Society 6(1): 87–95.

Latinobarómetro. 2011. "Latinobarómetro análisis de datos." http://www.latinobarometro.org/latOnline.jsp

Lindlof, Thomas R., and Bryan C. Taylor. 2011. Qualitative Communication Research Methods (3rd ed.). Thousand Oaks, CA: Sage.

Marmura, Stephen. 2008. "A Net Advantage? The Internet, Grassroots Activism and American Middle-Eastern Policy." New Media and Society 10(2): 247–271.

Martín-Barbero, Jesús. 1993. Communication, Culture and Hegemony: From the Media to Mediations. London: Sage Publications.

Mattoni, Alice, and Emiliano Treré. 2014. "Media Practices, Mediation Processes, and Mediatization in the Study of Social Movements." Communication Theory 24(3): 252–271.

McAnany, Emile. G. 1986. "Seminal Ideas in Latin American Critical Communication Research: An Agenda for the North." In Communication and Latin American Society: Trends in Critical Research, 1960–1985, edited by Rita Atwood and Emile G. McAnany, 28–47. Madison, WI: University of Wisconsin Press.

Morozov, Evgeny. 2011. The Net Delusion: The Dark Side of Internet Freedom. New York: PublicAffairs.

Rodríguez, Clemencia. 2001. Fissures in the Mediascape. Cresskill, NJ: Hampton Press.

Treré, Emiliano, and Alice Mattoni. 2016. "Media Ecologies and Protest Movements: Main Perspectives and Key Lessons." Information, Communication & Society 19(3): 290–306.

UNESCO. 1980. Many Voices, One World (Report by the International Commission for the study of Communication Problems). Paris.

Dagron, Alfonso Gumucio. 2001. Making Waves: Stories of Participatory Communication for Social Change. New York: The Rockefeller Foundation.
About this chapter
Cite this chapter
Harlow, S. (2017). Conclusions: Toward an Understanding of Participation in and through Technology. In: Liberation Technology in El Salvador. Palgrave Macmillan, Cham. https://doi.org/10.1007/978-3-319-48039-8_8
DOI: https://doi.org/10.1007/978-3-319-48039-8_8

Published:

Publisher Name: Palgrave Macmillan, Cham

Print ISBN: 978-3-319-48038-1

Online ISBN: 978-3-319-48039-8