Abstract

In daily lives, humans successfully transit their motions rather than performing separate movements. It has been widely acknowledged that there are four and five modules (called muscle synergy) in human sit-to-stand and walking motions, but it was still unclear how humans activate their redundant muscles to transit their movement from sitting to walking. Therefore this study hypothesize that human sit-to-stand can be explained from muscle synergies of sit-to-stand and walking motions, and we perform the experiment to verify it. Firstly, four and five muscle synergies were obtained from sit-to-stand and walking motion, and it has been tested whether these nine synergies are applicable to sit-to-walk motion. Results showed that sit-to-walk motion were successfully explained from nine synergies. Moreover, it was shown that humans adaptively changed the activation time of each synergies to delay body extension time and to generate necessary initial momentum for the walking motion.
Keywords
Sit-to-walk

Muscle synergy

Motion analysis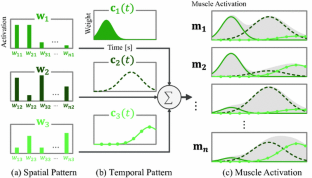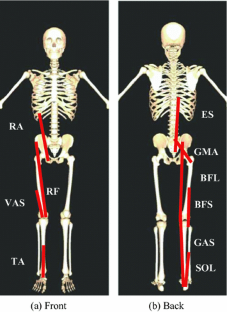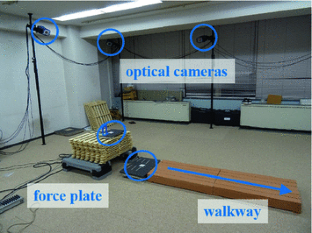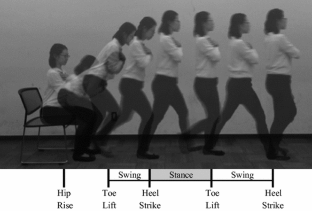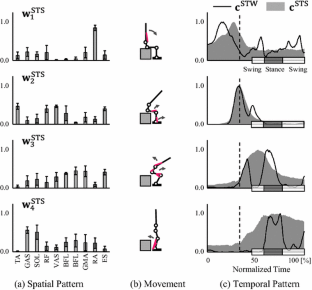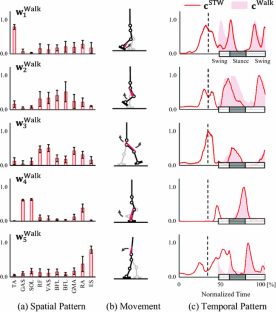 References
Bernstein, N.: The Co-ordination and Regulation of Movement. Pergamon, Oxford (1967)

An, Q., Ishikawa, Y., Aoi, S., Funato, T., Oka, H., Yamakawa, H., Yamashita, A., Asama, H.: Analysis of muscle synergy contribution on human standing-up motion using human neuro-musculoskeletal model. In: Proceedings of the 2015 IEEE International Conference on Robotics and Automation (ICRA2015), pp. 5885–5890 (2015)

Ivanenko, Y.P., Poppele, R.E., Lacquaniti, F.: Five basic muscle activation patterns account for muscle activity during human locomotion. J. Physiol. 556, 267–282 (2004)

Cheung, V.C.K., Turolla, A., Agostini, M., Silvoni, S., Bennis, C., Kasi, P., Paganoni, S., Bonato, P., Bizzi, E.: Muscle synergy patterns as physiological markers of motor cortical damage. Proc. Natl. Acad. Sci. USA 109, 14652–14656 (2012)

Podsiadlo, D., Richardson, S.: The Timed Up & Go: a test of basic functional mobility for frail elderly persons. J. Am. Geriatrics Soc. 39, 142–148 (1991)

Buckley, T., Pitsikoulis, C., Barthelemy, E., Hass, C.J.: Age impairs sit-to-walk motor performance. J. Biomech. 42, 2318–2322 (2009)

Kerr, A., Durward, B., Kerr, K.M.: Defining phases for the sit-to-walk movement. Clin. Biomech. 19, 385–390 (2004)

Kerr, A., Rafferty, D., Kerr, K.M., Durward, B.: Timing phases of the sit-to-walk movement: validity of a clinical test. Gait Posture 26, 11–16 (2007)

Dehail, P., Bestaven, E., Muller, F., Mallet, A., Robert, B., Bourdel-Marchasson, I., Petit, J.: Kinematic and electromyographic analysis of rising from a chair during a sit-to-walk task in elderly subjects: role of strength. Clin. Biomech. 22, 1096–1103 (2007)

Magnan, A., McFaden, B.J., St-Vincent, G.: Modification of the sit-to-stand task with the addition of gait initiation. Gait Posture 4, 232–241 (1996)

Lee, D.D., Seun, H.S.: Learning the parts of objects by non-negative matrix factorization. Nature 401, 788–791 (1999)

Clark, D.J., Ting, L.H., Zajac, F.E., Neptune, R.R., Kautz, S.A.: Merging of healthy motor modules predicts reduced locomotor performance and muscle coordination complexity post stroke. J. Nerophysiol. 103, 844–857 (2010)
Acknowledgements

This work was supported by JSPS KAKENHI Grant Number 15K20956, 26120005, CASIO Science Promotion Foundation and JST RISTEX Service Science, Solutions and Foundation Integrated Research Program.
Copyright information

© 2017 Springer International Publishing AG
About this paper
Cite this paper
An, Q., Yamakawa, H., Yamashita, A., Asama, H. (2017). Temporal Structure of Muscle Synergy of Human Stepping Leg During Sit-to-Walk Motion. In: Chen, W., Hosoda, K., Menegatti, E., Shimizu, M., Wang, H. (eds) Intelligent Autonomous Systems 14. IAS 2016. Advances in Intelligent Systems and Computing, vol 531. Springer, Cham. https://doi.org/10.1007/978-3-319-48036-7_8
DOI: https://doi.org/10.1007/978-3-319-48036-7_8

Published:

Publisher Name: Springer, Cham

Print ISBN: 978-3-319-48035-0

Online ISBN: 978-3-319-48036-7

eBook Packages: EngineeringEngineering (R0)