Abstract

Nowadays, there is a growing interest in deeply understanding biological mechanisms not only at the molecular level (biological components) but also the effects of an ongoing biological process in the organism as a whole (biological functionality), as established by the concept of systems biology. Within this context, metabolomics is one of the most powerful bioanalytical strategies that allow obtaining a picture of the metabolites of an organism in the course of a biological process, being considered as a phenotyping tool. Briefly, metabolomics approach consists in identifying and determining the set of metabolites (or specific metabolites) in biological samples (tissues, cells, fluids, or organisms) under normal conditions in comparison with altered states promoted by disease, drug treatment, dietary intervention, or environmental modulation. The aim of this chapter is to review the fundamentals and definitions used in the metabolomics field, as well as to emphasize its importance in systems biology and clinical studies.
Keywords
Metabolomics

Systems Biology

Targeted Metabolomics

Untargeted Metabolomics

Lipidomics

Clinical Metabolomics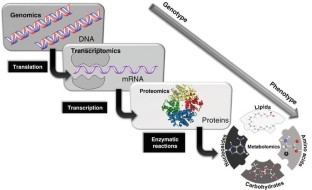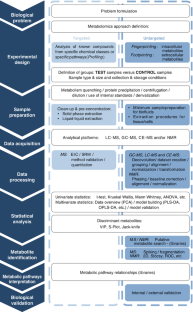 Abbreviations
CE:

Capillary electrophoresis

DA:

Discriminant analysis

DI:

Direct infusion

GC:

Gas chromatography

HPLC:

High-performance liquid chromatography

IPLC:

Ion-pairing liquid chromatography

LC:

Liquid chromatography

MALDI:

Matrix-assisted laser desorption ionization

MS:

Mass spectrometry

MSI:

Mass spectrometry imaging

NMR:

Nuclear magnetic resonance

PCA:

Principal component analysis

PLS:

Partial least squares

OPLS:

Orthogonal projections to latent structures

QC:

Quality control

SRM:

Selected reaction monitoring

UPLC:

Ultra-performance liquid chromatography
References
Westerhoff HV, Alberghina L. Systems biology: did we know it all along? In: Alberghina L, Westerhoff HV, editors. Systems biology – definitions and perspectives. Berlin: Springer; 2005. p. 3–9.

Oliver SG, Winson MK, Kell DB, Baganz F. Systematic functional analysis of the yeast genome. Trends Biotechnol. 1998;16:373–8.

Fiehn O. Combining genomics, metabolome analysis, and biochemical modelling to understand metabolic networks. Comp Funct Genomics. 2001;2:155–68.

Nicholson J, Lindon JC, Holmes E. 'Metabonomics': understanding the metabolic responses of living systems to pathophysiological stimuli via multivariate statistical analysis of biological NMR spectroscopic data. Xenobiotica. 1999;11:1181–9.

Dunn WB, Ellis DI. Metabolomics: current analytical platforms and methodologies. Trends Anal Chem. 2005;24:285–94.

Lenz EM, Wilson ID. Analytical strategies in metabonomics. J Proteome Res. 2007;6:443–58.

Nicholson JK, Lindon JC. Systems biology: metabonomics. Nature. 2008;455:1054–6.

Kaddurah-Daouk R, Krishnan KRR. Metabolomics: a global biochemical approach to the study of central nervous system diseases. Neuropsychopharmachol. 2009;34:173–86.

Nicholson JK, Connelly J, Lindon JC, Holmes E. Metabonomics: a platform for studying drug toxicity and gene function. Nat Rev Drug Discov. 2002;1:153–61.

Horning EC, Horning MG. Human metabolic profiles obtained by GC and GC/MS. J Chromatogr Sci. 1971;9:129–40.

Kell DB, Brown M, Davey HM, Dunn WB, Spasic I, Oliver SG. Metabolic footprinting and systems biology: the medium is the message. Nat Rev Microbiol. 2005;3:557–65.

Link H, Fuhrer T, Gerosa L, Zamboni N, Sauer U. Real-time metabolome profiling of the metabolic switch between starvation and growth. Nat Methods. 2015;12:1091–7.

Williams RJ, Kirby H. Paper chromatography using capillary ascent. Science. 1948;107:481–3.

Gates SC, Sweeley CC. Quantitative metabolic profiling based on gas chromatography. Clin Chem. 1978;24:1663–73.

van der Greef J, Smilde AK. Symbiosis of chemometrics and metabolomics: past, present, and future. J Chemometrics. 2005;19:376–86.

Spener F, Lagarde M, Géloën A, Record M. What is lipidomics? Eur J Lipid Sci Technol. 2003;105:481–2.

Han X, Gross RW. Global analyses of cellular lipidomes directly from crude extracts of biological samples by ESI mass spectrometry: a bridge to lipidomics. J Lipid Res. 2003;44:1071–9.

Sethi S, Hayashi MA, Sussulini A, Tasic L, Brietzke E. Analytical approaches for lipidomics and its potential applications in neuropsychiatric disorders. World J Biol Psychiatry. 2016;26:1–15.

Villas-Bôas S, Mas S, Akesson M, Smedsgaard J, Nielsen J. Mass spectrometry in metabolome analysis. Mass Spectrom Rev. 2005;24:613–46.

Lindon JC, Nicholson JK, Holmes E. The handbook of metabonomics and metabolomics. Amsterdam: Elsevier; 2007. ISBN 978-0-444-52841-4.

Fiehn O. Metabolomics – the link between genotypes and phenotypes. Plant Mol Biol. 2002;48:155–71.

Navas-Iglesias N, Carrasco-Pancorbo A, Cuadros-Rodríguez L. From lipid analysis towards lipidomics, a new challenge for the analytical chemistry of the 21st century. Part I: modern lipid analysis. Trends Anal Chem. 2009;28:393–403.

Beckonert O, Keun HC, Ebbels TMD, Bundy J, Holmes E, Lindon JC, Nicholson JK. Metabolic profiling, metabolomic and metabonomic procedures for NMR spectroscopy of urine, plasma, serum and tissue extracts. Nat Protoc. 2007;2:2692–703.

Yin P, Lehmann R, Xu G. Effects of pre-analytical processes on blood samples used in metabolomics studies. Anal Bioanal Chem. 2015;407:4879–92.

Álvarez-Sánchez B, Priego-Capote F, Luque de Castro MD. Metabolomics analysis II. Preparation of biological samples prior to detection. Trends Anal Chem. 2010;29:120–7.

Garcia A, Barbas C. Gas chromatography–mass spectrometry (GC-MS)-based metabolomics. In: Metz TO, editor. Metabolic profiling, methods in molecular biology 708. New York: Springer; 2011. p. 191–204.

Kuehnbaum NL, Britz-McKibbin P. New advances in separation science for metabolomics: resolving chemical diversity in a post-genomic era. Chem Rev. 2013;113:2437–68.

Villas-Bôas SG, Bruheim P. The potential of metabolomics tools bioremediation studies. OMICS. 2007;11:305–13.

Bowen BP, Northen TR. Dealing with the unknown: metabolomics and metabolite atlases. J Am Soc Mass Spectrom. 2010;21:1471–6.

Ludwig C, Viant MR. Two-dimensional J-resolved NMR spectroscopy: review of a key methodology in the metabolomics toolbox. Phytochem Anal. 2010;21:22–32.

Viant MR, Sommer U. Mass spectrometry based environmental metabolomics: a primer and review. Metabolomics. 2013;9:S144–58.

Wishart DS. Quantitative metabolomics using NMR. Trends Anal Chem. 2008;27:228–37.

Psychogios N, Hau DD, Peng J, Guo AC, Mandal R, Bouatra S, Sinelnikov I, Krishnamurthy R, Eisner R, Gautam B, Young N, Xia J, Knox C, Dong E, Huang P, Hollander Z, Pedersen TL, Smith SR, Bamforth F, Greiner R, McManus B, Newman JW, Goodfriend T, Wishart DS. The human serum metabolome. PLoS One. 2011;6:e16957.

Fiehn O. Extending the breadth of metabolite profiling by gas chromatography coupled to mass spectrometry. Trends Anal Chem. 2008;27:261–9.

Jonsson P, Gullberg J, Nordstrom A, Kusano M, Kowalczyk M, Sjostrom M, Moritz T. A strategy for identifying differences in large series of metabolomic samples analyzed by GC/MS. Anal Chem. 2004;76:1738–45.

Koek MM, Jellema RH, van der Greef J, Tas CA, Hankemeier T. Quantitative metabolomics based on gas chromatography mass spectrometry: status and perspectives. Metabolomics. 2011;7:307–28.

Hill CB, Roessner U. Metabolic profiling of plants by GC–MS. In: Weckwerth W, Kahl G, editors. The handbook of plant metabolomics. Weinheim: Wiley-VHC Verlag GmbH & Co. KGaA; 2013. doi:10.1002/9783527669882.ch1.

Theodoridis GA, Gika HG, Want EJ, Wilson ID. Liquid chromatography–mass spectrometry based global metabolite profiling: a review. Anal Chim Acta. 2012;711:7–16.

Forcisi S, Moritz F, Kanawati B, Tziotis D, Lehmann R, Schmitt-Kopplin P. Liquid chromatography–mass spectrometry in metabolomics research: mass analyzers in ultra high pressure liquid chromatography coupling. J Chromatogr A. 2013;1292:51–65.

Zhou B, Xiao JF, Tuli L, Ressom HW. LC-MS-based metabolomics. Mol Biosyst. 2012;8:470–81.

Cubbon S, Antonio C, Wilson J, Thomas-Oates J. Metabolomic applications of HILIC–LC–MS. Mass Spectrom Rev. 2010;29:671–84.

Kloos D-P, Lingeman H, Niessen WMA, Deelder AM, Giera M, Mayboroda OA. Evaluation of different column chemistries for fast urinary metabolic profiling. J Chromatogr B. 2013;927:90–6.

Soga T, Ohashi Y, Ueno Y, Naraoka H, Tomita M, Nishioka T. Quantitative metabolome analysis using capillary electrophoresis mass spectrometry. J Proteome Res. 2003;2:488–94.

Barbas C, Moraes EP, Viallaseñor A. Capillary electrophoresis as a metabolomics tool for non-targeted fingerprinting of biological samples. J Pharm Biomed. 2011;55:823–31.

Ramautar R, Somsen GW, Jong GJ. CE-MS for metabolomics: developments and applications in the period 2012–2014. Electrophoresis. 2015;36:212–24.

Han J, Danell RM, Patel JR, Gumerov DR, Scarlett CO, Speir JP, Parker CE, Rusyn I, Zeisel S, Borchers CH. Towards high-throughput metabolomics using ultrahigh-field Fourier transform ion cyclotron resonance mass spectrometry. Metabolomics. 2008;4:128–40.

Mirnezami R, Spagou K, Vorkas PA, Lewis MR, Kinross J, Want E, Shion H, Goldin RD, Darzi A, Takats Z, Holmes E, Cloarec O, Nicholson JK. Chemical mapping of the colorectal cancer microenvironment via MALDI imaging mass spectrometry (MALDI-MSI) reveals novel cancer-associated field effects. Mol Oncol. 2014;8:39–49.

Hyötyläinen T, Orešič M. Bioanalytical techniques in nontargeted clinical lipidomics. Bioanalysis. 2016;8:351–64.

Dunn WB, Wilson ID, Nicholls AW, Broadhurst D. The importance of experimental design and QC samples in large-scale and MS-driven untargeted metabolomic studies of humans. Bioanalysis. 2012;4:2249–64.

Ludwig C, Günther UL. MetaboLab –advanced NMR data processing and analysis for metabolomics. BMC Bioinformatics. 2011;12:366–71.

Mercier P, Lewis MJ, Chang D, Baker D, Wishart DS. Towards automatic metabolomic profiling of high-resolution one-dimensional proton NMR spectra. J Biomol NMR. 2011;49:307–23.

Sugimoto M, Kawakami M, Robert M, Soga T, Tomita M. Bioinformatics tools for mass spectroscopy-based metabolomic data processing and analysis. Curr Bioinform. 2012;7:96–108.

Smith CA, Want EJ, O'Maille G, Abagyan R, Siuzdak G. XCMS: processing mass spectrometry data for metabolite profiling using nonlinear peak alignment, matching, and identification. Anal Chem. 2006;78:779–87.

Katajamaa M, Miettinen J, Oresic M. MZmine: toolbox for processing and visualization of mass spectrometry based molecular profile data. Bioinformatics. 2006;22:634–6.

Lommen A. MetAlign: interface-driven, versatile metabolomics tool for hyphenated full-scan mass spectrometry data preprocessing. Anal Chem. 2009;81:3079–86.

Automated mass spectral deconvolution and identification system. http://www.amdis.net. Accessed July 2016.

Misra BB, van der Hooft JJJ. Updates in metabolomics tools and resources: 2014-2015. Electrophoresis. 2016;37:86–110.

Koal T, Deigner H-P. Challenges in mass spectrometry based targeted metabolomics. Curr Mol Med. 2010;10:216–26.

Lu W, Bennett BD, Rabinowitz JD. Analytical strategies for LC–MS-based targeted metabolomics. J Chromatogr B. 2008;871:236–42.

Weljie AM, Newton J, Mercier P, Carlson E, Slupsky CM. Targeted profiling: quantitative analysis of 1H NMR metabolomics data. Anal Chem. 2006;78:4430–42.

Guo B, Chen B, Liu A, Zhu W, Yao S. Liquid chromatography-mass spectrometric multiple reaction monitoring-based strategies for expanding targeted profiling towards quantitative metabolomics. Curr Drug Metab. 2012;13:1226–43.

Biocrates life sciences. http://www.biocrates.com. Accessed July 2016.

Madsen R, Lundstedt T, Trygg J. Chemometrics in metabolomics - A review in human disease diagnosis. Anal Chim Acta. 2010;659:23–33.

Westerhuis JA, Hoefsloot HCJ, Smit S, Vis DJ, Smilde AK, van Velzen EJJ, van Duijnhoven JPM, van Dorsten FA. Assessment of PLS-DA cross validation. Metabolomics. 2008;4:81–9.

Griffiths WJ, Koal T, Wang Y, Kohl M, Enot DP, Deigner H-P. Targeted metabolomics for biomarker discovery. Angew Chem Int Ed. 2010;49:5426–45.

Wishart DS, Tzur D, Knox C, Eisner R, Guo AC, Young N, Cheng D, Jewell K, Arndt D, Sawhney S, Fung C, Nikolai L, Lewis M, Coutouly MA, Forsythe I, Tang P, Shrivastava S, Jeroncic K, Stothard P, Amegbey G, Block D, Hau DD, Wagner J, Miniaci J, Clements M, Gebremedhin M, Guo N, Zhang Y, Duggan GE, Macinnis GD, Weljie AM, Dowlatabadi R, Bamforth F, Clive D, Greiner R, Li L, Marrie T, Sykes BD, Vogel HJ, Querengesser L. HMDB: the human metabolome database. Nucleic Acids Res. 2007;35:D521–6.

Kanehisa M, Goto S, Hattori M, Aoki-Kinoshita KF, Itoh M, Kawashima S, Katayama T, Araki M, Hirakawa M. From genomics to chemical genomics: new developments in KEGG. Nucleic Acids Res. 2006;34:D354–7.

Wang Y, Xiao J, Suzek TO, Zhang J, Wang J, Bryant SH. PubChem: a public information system for analyzing bioactivities of small molecules. Nucleic Acids Res. 2009;37:W623–33.

Tautenhahn R, Cho K, Uritboonthai W, Zhu ZJ, Patti GJ, Siuzdak G. An accelerated workflow for untargeted metabolomics using the METLIN database. Nat Biotechnol. 2012;30:826–8.

Horai H, Arita M, Kanaya S, Nihei Y, Ikeda T, Suwa K, Ojima Y, Tanaka K, Tanaka S, Aoshima K, Oda Y, Kakazu Y, Kusano M, Tohge T, Matsuda F, Sawada Y, Hirai MY, Nakanishi H, Ikeda K, Akimoto N, Maoka T, Takahashi H, Ara T, Sakurai N, Suzuki H, Shibata D, Neumann S, Lida T, Tanaka K, Funatsu K, Matsuura F, Soga T, Taguchi R, Saito K, Nishioka T. MassBank: a public repository for sharing mass spectral data for life sciences. J Mass Spectrom. 2010;45:703–14.

Fahy E, Sud M, Cotter D, Subramaniam S. LIPID MAPS online tools for lipid research. Nucleic Acids Res. 2007;35:W606–12.

Degtyarenko K, de Matos P, Ennis M, Hastings J, Zbinden M, McNaught A, Alcántara R, Darsow M, Guedj M, Ashburne M. ChEBI: a database and ontology for chemical entities of biological interest. Nucleic Acids Res. 2008;36:D344–50.

Brown M, Dunn WB, Dobson P, Patel Y, Winder CL, Francis-McIntyre S, Begley P, Carroll K, Broadhurst D, Tseng A, Swainston N, Spasic I, Goodacre R, Kell DB. Mass spectrometry tools and metabolite-specific databases for molecular identification in metabolomics. Analyst. 2009;134:1322–32.

Ulrich EL, Akutsu H, Doreleijers JF, Harano Y, Ioannidis YE, Lin J, Livny M, Mading S, Maziuk D, Miller Z, Nakatani E, Schulte CF, Tolmie DE, Wenger RK, Yao H, Markley JL. Biomagresbank. Nucleic Acids Res. 2008;36:D402–8.

MacKinnon N, Somashekar BS, Tripathi P, Ge W, Rajendiran TM, Chinnaiyan AM, Ramamoorthy A. MetaboID: agraphical user interface package for assignment of 1H NMR spectra of bodyfluids and tissues. J Magn Reson. 2013;226:93–9.

Suhre K, Schmitt-Kopplin P. MassTRIX: mass translator into pathways. Nucleic Acids Res. 2008;36:W481–4.

Caspi R, Altman T, Dreher K, Fulcher CA, Subhraveti P, Keseler IM, Kothari A, Krummenacker M, Latendresse M, Mueller LA, Ong Q, Paley S, Pujar A, Shearer AG, Travers M, Weerasinghe D, Zhang P, Karp PD. The MetaCyc database of metabolic pathways and enzymes and the BioCyc collection of pathway/genome databases. Nucleic Acids Res. 2012;40:D742–53.

Frolkis A, Knox C, Lim E, Jewison T, Law V, Hau DD, Liu P, Gautam B, Ly S, Guo AC, Xia J, Liang Y, Shrivastava S, Wishart DS. SMPDB: The Small Molecule Pathway Database. Nucleic Acids Res. 2010;38:D-480–7.

Haug K, Salek RM, Conesa P, Hastings J, Matos P, Rijnbeek M, Mahendraker T, Williams M, Neumann S, Rocca-Serra P, Maguire E, González-Beltrán A, Sansone S-A, Griffin JL, Steinbeck C. MetaboLights—an open-access general-purpose repository for metabolomics studies and associated meta-data. Nucleic Acids Res. 2013;41:D781–6.

Haw R, Stein L. Using the reactome database. Curr Protoc Bioinformatics. 2012;38:8.7.1–23.

Karp PD, Caspi R. A survey of metabolic databases emphasizing the MetaCyc family. Arch Toxicol. 2011;85:1015–33.

Liesenfeld DB, Habermann N, Owen RW, Scalbert A, Ulrich CM. Review of mass spectrometry–based metabolomics in cancer research. Cancer Epidemiol Biomarkers Prev. 2013;22:2182–201.

Garcia-Perez I, Angulo S, Utzinger J, Holmes E, Legido-Quigley C, Barbas C. Chemometric and biological validation of a capillary electrophoresis metabolomic experiment of Schistosoma mansoni infection in mice. Electrophoresis. 2010;31:2338–48.

Ganti S, Taylor SL, Kim K, Hoppel CL, Guo L, Yang J, Evans C, Weiss RH. Urinary acylcarnitines are altered in human kidney cancer. Int J Cancer. 2012;130:2791–800.

Mastrangelo A, Armitage EG, García A, Barbas C. Metabolomics as a tool for drug discovery and personalised medicine. A review. Curr Top Med Chem. 2014;14:2627–36.

Wishart DS. Emerging applications of metabolomics in drug discovery and precision medicine. Nat Rev Drug Discov. 2016. doi:10.1038/nrd.2016.32.

Clish CB. Metabolomics: an emerging but powerful tool for precision medicine. Cold Spring Harb Mol Case Stud. 2015;1:a000588.

Spratlin JL, Sekova NJ, Eckhardt SG. Clinical applications of metabolomics in oncology; a review. Clin Cancer Res. 2009;15:431–40.

Mamas M, Dunn WB, Neyses L, Goodacre R. The role of metabolites and metabolomics in clinically applicable biomarkers of disease. Arch Toxicol. 2011;85:5–17.

Friedrich N. Metabolomics in diabetes research. J Endocrinol. 2012;215:29–42.

Becker S, Kortz L, Helmschrodt C, Thiery J, Ceglarek U. LC-MS-based metabolomics in the clinical laboratory. J Chromatogr B. 2012;883:68–75.

Zao Y-Y. Metabolomics in chronic kidney disease. Clin Chim Acta. 2013;422:59–69.

Ramautar R, Berger R, van der Greef J, Hankmeier T. Human metabolomics: strategies to understand biology. Chem Biol. 2013;17:841–6.

Bobrovnikova-Marjon E, Hurov JB. Targeting metabolic changes in cancer: novel therapeutic approaches. Annu Rev Med. 2014;65:157–70.

Kumar B, Prakash A, Ruhela RK, Medhi B. Potential of metabolomics in preclinical and clinical drug development. Pharmol Rep. 2014;66:956–63.

Dessì A, Marincola FC, Masili A, Gazzolo D, Fanos V. Clinical metabolomics and nutrition: the new frontier in neonatology and pediatrics. Biomed Res Int. 2014;2014:981219.

Trushina E, Mielke MM. Recent advances in the application of metabolomics to Alzheimer's disease. Biochem Biophys Acta. 2014;1842:1232–9.
Copyright information

© 2017 Springer International Publishing AG
About this chapter
Cite this chapter
Klassen, A. et al. (2017). Metabolomics: Definitions and Significance in Systems Biology. In: Sussulini, A. (eds) Metabolomics: From Fundamentals to Clinical Applications. Advances in Experimental Medicine and Biology(), vol 965. Springer, Cham. https://doi.org/10.1007/978-3-319-47656-8_1