Abstract

In this paper, we present an automatic system for the morphosyntactic annotation and lexicographical evaluation of historical Portuguese corpora. Using rule-based orthographical normalization, we were able to apply a standard parser (PALAVRAS) to historical data (Colonia corpus) and to achieve accurate annotation for both POS and syntax. By aligning original and standardized word forms, our method allows to create tailor-made standardization dictionaries for historical Portuguese with optional period or author frequencies.
Keywords
Historical corpus

Corpus annotation

Dictionary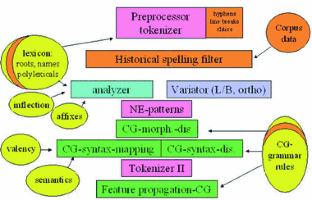 Notes
1.

2.

3.

TreeTagger does not distinguish between common and proper nouns, but for the 'unknown' count, names were removed by inspection.

4.

At the time of writing it was not clear if this text had been subject to philological editing in its current form, which might explain its fairly modern orthography.

5.

Parts of fused tokens were counted individually in the statistics, the token count is therefore higher than it would be counting the original text tokens as-is.

6.

Note that the figures constitute a lower bound. In order to achieve a precision close to 100 %, only chunks with at least 4 (clear Latin 3) non-name words were treated, so individual loan words or mini-quotes are not included.
References
Bick, E.: PALAVRAS, a constraint grammar-based parsing system for Portuguese. In: Working with Portuguese Corpora, pp. 279–302 (2014)

Bick, E., Módolo, M.: Letters and editorials: a grammatically annotated corpus of 19th century Brazilian Portuguese. In: Proceedings of the 2nd Freiburg Workshop on Romance Corpus Linguistics, pp. 271–280 (2005)

Britto, H., Finger, M., Galves, C.: Computational and linguistic aspects of the Tycho Brahe parsed corpus of historical Portuguese. In: Romance Corpus Linguistics: Corpora and Spoken Language, pp. 137–146 (2002)

Davies, M.: Creating and using the corpus do Português and the frequency dictionary of Portuguese. In: Working with Portuguese Corpora, pp. 89–110 (2014)

Galves, C., Faria, P.: Tycho Brahe Parsed Corpus of Historical Portuguese (2010). http://www.tycho.iel.unicamp.br/tycho/corpus/en/index.html

Hendrickx, I., Marquilhas, R.: From old texts to modern spellings: an experiment in automatic normalisation. JLCL 26(2), 65–76 (2011)

Hirohashi, A.: Aprendizado de Regras de Substituição para Normatização de Textos Históricos (2005)

Junior, A.C., Aluísio, S.M.: Building a corpus-based historical Portuguese dictionary: challenges and opportunities. TAL 50(2), 73–102 (2009)

Murakawa, C.D.A.A.: A Construção de um Dicionário Histórico: o Caso do Dicionário Histórico do Português do Brasil-séculos XVI, XVII e XVIII. Estudos de Lingüística Galega 6, 199–216 (2014)

Nevins, A., Rodrigues, C., Tang, K.: The rise and fall of the L-shaped morphome: diachronic and experimental studies. Probus 27(1), 101–155 (2015)

Niculae, V., Zampieri, M., Dinu, L.P., Ciobanu, A.M.: Temporal text ranking and automatic dating of texts. In: Proceedings of EACL, pp. 17–21 (2014)

Rocio, V., Alves, M.A., Lopes, J.G., Xavier, M.F., Vicente, G.: Automated creation of a medieval Portuguese partial treebank. In: Abeillé, A. (ed.) Treebanks, pp. 211–227. Springer, Heidelberg (2003)

Santos, D., Mota, C.: A Admiração à Luz dos Corpos. Oslo Stud. Lang. 7(1), 57–77 (2015)

Schmid, H.: Probabilistic part-of-speech tagging using decision trees. In: Proceedings of International Conference on New Methods in Language Processing, pp. 44–49 (1994)

Silvestre, J.P., Villalva, A.: A morphological historical root dictionary for Portuguese, pp. 967–971 (2014)

Zampieri, M., Becker, M.: Colonia: corpus of historical Portuguese. ZSM Studien, Special Volume on Non-standard Data Sources in Corpus-Based Research, pp. 77–84 (2013)

Zampieri, M., Malmasi, S., Dras, M.: Modeling language change in historical corpora: the case of Portuguese. In: Proceedings of LREC, pp. 4098–4104 (2016)
Copyright information

© 2016 Springer International Publishing Switzerland
About this paper
Cite this paper
Bick, E., Zampieri, M. (2016). Grammatical Annotation of Historical Portuguese: Generating a Corpus-Based Diachronic Dictionary. In: Sojka, P., Horák, A., Kopeček, I., Pala, K. (eds) Text, Speech, and Dialogue. TSD 2016. Lecture Notes in Computer Science(), vol 9924. Springer, Cham. https://doi.org/10.1007/978-3-319-45510-5_1
DOI: https://doi.org/10.1007/978-3-319-45510-5_1

Published:

Publisher Name: Springer, Cham

Print ISBN: 978-3-319-45509-9

Online ISBN: 978-3-319-45510-5

eBook Packages: Computer ScienceComputer Science (R0)