Keywords
Human Leukocyte Antigen

Peripheral Arterial Disease

Peripheral Artery Disease

Venous Insufficiency

Tinea Pedis
These keywords were added by machine and not by the authors. This process is experimental and the keywords may be updated as the learning algorithm improves.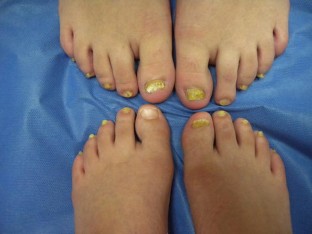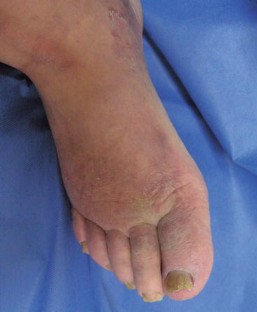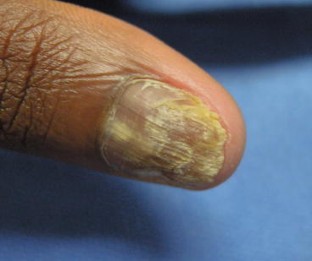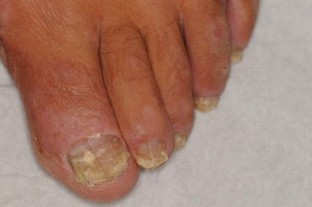 References
Summerbell RC, Kane J, Krajden S. Onychomycosis, tinea pedis and tinea manuum caused by non-dermatophytic filamentous fungi. Mycoses. 1989;32(12):609–19.

Caputo R, De Boulle K, Del Rosso J, Nowicki R. Prevalence of superficial fungal infections among sports-active individuals: results from the Achilles survey, a review of the literature. J Eur Acad Dermatol Venereol (JEADV). 2001;15(4):312–6.

Elewski BE, Charif MA. Prevalence of onychomycosis in patients attending a dermatology clinic in northeastern Ohio for other conditions. Arch Dermatol. 1997;133(9):1172–3.

Heikkila H, Stubb S. The prevalence of onychomycosis in Finland. Br J Dermatol. 1995;133(5):699–703.

Sais G, Jucgla A, Peyri J. Prevalence of dermatophyte onychomycosis in Spain: a cross-sectional study. Br J Dermatol. 1995;132(5):758–61.

Ghannoum MA, Hajjeh RA, Scher R, et al. A large-scale North American study of fungal isolates from nails: the frequency of onychomycosis, fungal distribution, and antifungal susceptibility patterns. J Am Acad Dermatol. 2000;43(4):641–8.

Pierard G. Onychomycosis and other superficial fungal infections of the foot in the elderly: a pan-European survey. Dermatology. 2001;202(3):220–4.

Elewski BE, Tosti A. Risk factors and comorbidities for onychomycosis: implications for treatment with topical therapy. J Clin Aesthet Dermatol. 2015;8(11):38–42.

Belyayeva E, Gregoriou S, Chalikias J, et al. The impact of nail disorders on quality of life. Eur J Dermatol (EJD). 2013;23(3):366–71.

Schein JR, Gause D, Stier DM, Lubeck DP, Bates MM, Fisk R. Onychomycosis. Baseline results of an observational study. J Am Podiatr Med Assoc. 1997;87(11):512–9.

Milobratovic D, Jankovic S, Vukicevic J, Marinkovic J, Jankovic J, Railic Z. Quality of life in patients with toenail onychomycosis. Mycoses. 2013;56(5):543–51.

Papini M, Piraccini BM, Difonzo E, Brunoro A. Epidemiology of onychomycosis in Italy: prevalence data and risk factor identification. Mycoses. 2015;58(11):659–64.

Sigurgeirsson B, Steingrimsson O. Risk factors associated with onychomycosis. J Eur Acad Dermatol Venereol (JEADV). 2004;18(1):48–51.

Polat M, Ilhan MN. Dermatological complaints of the elderly attending a dermatology outpatient clinic in Turkey: a prospective study over a one-year period. Acta Dermatovenerol Croat (ADC). 2015;23(4):277–81.

Deo MS, Kerse N, Vandal AC, Jarrett P. Dermatological disease in the older age group: a cross-sectional study in aged care facilities. BMJ Open. 2015;5(12):e009941.

Gupta AK, Sibbald RG, Lynde CW, et al. Onychomycosis in children: prevalence and treatment strategies. J Am Acad Dermatol. 1997;36(3 Pt 1):395–402.

Gupta C, Das S, Ramachandran VG, et al. Possible role of trichophytin antigen in inducing impaired immunological clearance of fungus in onychomycosis. Mycopathologia. 2016;181(3–4):247–51.

Tosti A, Hay R, Arenas-Guzman R. Patients at risk of onychomycosis–risk factor identification and active prevention. J Eur Acad Dermatol Venereol (JEADV). 2005;19(Suppl 1):13–6.

Zaias N, Tosti A, Rebell G, et al. Autosomal dominant pattern of distal subungual onychomycosis caused by Trichophyton rubrum. J Am Acad Dermatol. 1996;34(2 Pt 1):302–4.

English MP. Trichophyton rubrum infection in families. Br Med J. 1957;1(5021):744–6.

Many H, Derbes VJ, Friedman L. Trichophyton rubrum: exposure and infection within household groups. Arch Dermatol. 1960;82:226–9.

Zaitz C, Campbell I, Moraes JR, et al. HLA-associated susceptibility to chronic onychomycosis in Brazilian Ashkenazic Jews. Int J Dermatol. 1996;35(9):681–2.

Asz-Sigall D, Lopez-Garcia L, Vega-Memije ME, et al. HLA-DR6 association confers increased resistance to T. rubrum onychomycosis in Mexican Mestizos. Int J Dermatol. 2010;49(12):1406–9.

Svejgaard E, Jakobsen B, Svejgaard A. HLA studies in chronic dermatophytosis caused by Trichophyton rubrum. Acta Derm Venereol. 1983;63(3):254–5.

Zuccarello D, Salpietro DC, Gangemi S, et al. Familial chronic nail candidiasis with ICAM-1 deficiency: a new form of chronic mucocutaneous candidiasis. J Med Genet. 2002;39(9):671–5.

Ferwerda B, Ferwerda G, Plantinga TS, et al. Human dectin-1 deficiency and mucocutaneous fungal infections. N Engl J Med. 2009;361(18):1760–7.

Gupta AK, Konnikov N, MacDonald P, et al. Prevalence and epidemiology of toenail onychomycosis in diabetic subjects: a multicentre survey. Br J Dermatol. 1998;139(4):665–71.

Dogra S, Kumar B, Bhansali A, Chakrabarty A. Epidemiology of onychomycosis in patients with diabetes mellitus in India. Int J Dermatol. 2002;41(10):647–51.

Elbendary A, El Tawdy A, Zaki N, Alfishawy M, Rateb A. Subclinical onychomycosis in patients with type II diabetes. Dermatol Reports. 2015;7(3):6099.

Papini M, Cicoletti M, Fabrizi V, Landucci P. Skin and nail mycoses in patients with diabetic foot. G Ital Dermatol Venereol (Organo ufficiale, Societa italiana di dermatologia e sifilografia). 2013;148(6):603–8.

Wijesuriya TM, Kottahachchi J, Gunasekara TD, et al. Aspergillus species: an emerging pathogen in onychomycosis among diabetics. Indian J Endocrinol Metab. 2015;19(6):811–6.

Vlahovic TC, Joseph WS. Efinaconazole topical, 10 % for the treatment of toenail onychomycosis in patients with diabetes. J Drugs Dermatol (JDD). 2014;13(10):1186–90.

Gupta AK, Taborda P, Taborda V, et al. Epidemiology and prevalence of onychomycosis in HIV-positive individuals. Int J Dermatol. 2000;39(10):746–53.

Cribier B, Mena ML, Rey D, et al. Nail changes in patients infected with human immunodeficiency virus. A prospective controlled study. Arch Dermatol. 1998;134(10):1216–20.

Gianni C, Cerri A, Capsoni F, Ongari AM, Rossini P, Crosti C. Recurrent proximal white subungual onychomycosis associated with a defect of the polymorphonuclear chemotaxis. Eur J Dermatol (EJD). 1999;9(5):390–2.

Walling HW. Subclinical onychomycosis is associated with tinea pedis. Br J Dermatol. 2009;161(4):746–9.

Staberg B, Gammeltoft M, Onsberg P. Onychomycosis in patients with psoriasis. Acta Derm Venereol. 1983;63(5):436–8.

Gupta AK, Lynde CW, Jain HC, et al. A higher prevalence of onychomycosis in psoriatics compared with non-psoriatics: a multicentre study. Br J Dermatol. 1997;136(5):786–9.

Larsen GK, Haedersdal M, Svejgaard EL. The prevalence of onychomycosis in patients with psoriasis and other skin diseases. Acta Derm Venereol. 2003;83(3):206–9.

Gupta AK, Gupta MA, Summerbell RC, et al. The epidemiology of onychomycosis: possible role of smoking and peripheral arterial disease. J Eur Acad Dermatol Venereol (JEADV). 2000;14(6):466–9.

Ozkan F, Ozturk P, Ozyurt K, et al. Frequency of peripheral arterial disease and venous insufficiency in toenail onychomycosis. J Dermatol. 2013;40(2):107–10.

Saez de Ocariz MM, Arenas R, Ranero-Juarez GA, Farrera-Esponda F, Monroy-Ramos E. Frequency of toenail onychomycosis in patients with cutaneous manifestations of chronic venous insufficiency. Int J Dermatol. 2001;40(1):18–25.

Fukunaga A, Washio K, Ogura K, et al. Onychomycosis as a warning sign for peripheral arterial disease. Acta Derm Venereol. 2013;93(6):747–8.

Eisele SA. Conditions of the toenails. Orthop Clin North Am. 1994;25(1):183–8.

Gudnadottir G, Hilmarsdottir I, Sigurgeirsson B. Onychomycosis in Icelandic swimmers. Acta Derm Venereol. 1999;79(5):376–7.

Nurhan Doner SY. Tugba Rezan Emekci Evaluation of Obesity-Associated Dermatoses in Obese and Overweight Individuals. Turkderm. 2011;45(3):146–51.

Bandh SA, Kamili AN, Ganai BA, Lone BA. Opportunistic fungi in lake water and fungal infections in associated human population in Dal Lake, Kashmir. Microb Pathog. 2016;93:105–10.

Tosti A, Piraccini BM, Lorenzi S. Onychomycosis caused by nondermatophytic molds: clinical features and response to treatment of 59 cases. J Am Acad Dermatol. 2000;42(2 Pt 1):217–24.
Copyright information
© 2017 Springer International Publishing Switzerland
About this chapter
Cite this chapter
Jacobsen, A.A., Tosti, A. (2017). Predisposing Factors for Onychomycosis. In: Tosti, A., Vlahovic, T., Arenas, R. (eds) Onychomycosis. Springer, Cham. https://doi.org/10.1007/978-3-319-44853-4_2
DOI: https://doi.org/10.1007/978-3-319-44853-4_2

Published:

Publisher Name: Springer, Cham

Print ISBN: 978-3-319-44852-7

Online ISBN: 978-3-319-44853-4

eBook Packages: MedicineMedicine (R0)