Abstract

This paper discusses the problem of composite production. Composites often supplant traditional materials such as steel, iron, wood, etc. The most important advantages of composites are their high strength and flexibility, low weight, long lifespan and minimum maintenance. The technology used in this article is based on a winding of a carbon (or a glass) filament rovings on a polyurethane core which is a frame shape in 3D space with a circular cross section. The polyurethane frame is fastened to the robot-end-effector of the robot arm and during the winding process goes through a fiber-processing head on the basis of the suitably determined robot-end-effector trajectory. The fiber-processing head is fixed in robot working space and is composed of three guide lines with coils of carbon rovings. Quality production of described type of composite depends primarily on the correct winding of fibers on a polyurethane frame. It is especially needed to ensure the correct angles of the fibers winding on a polyurethane frame and the homogeneity of individual winding layers. The polyurethane frame is specified in the local Euclidean coordinate system E3, the origin of this system is in the robot-end-effector. We use the matrix calculus to enumerate the trajectory of the robot-end-effector to determine the desired passage of the frame through the fiber-processing head. A practical example of the passage of a polyurethane frame through fiber-processing head is dealt with in the article. Of course, the determining calculation of the robot trajectory can be used in other applications of industrial robot use.
Keywords
Robot trajectory planning and control

Composite manufacturing

Robotic fiber placement

Euler angles of rotations

Software implementation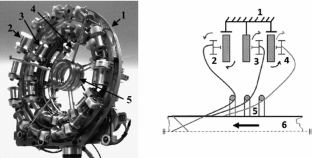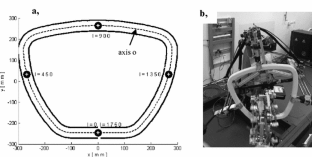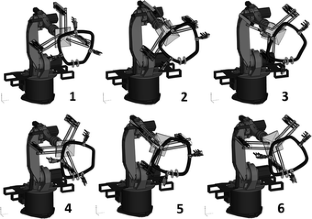 References
Gay, D., Hoa, S.V.: Composite Materials—Design and Applications, p. 550. CRC press, Taylor & Francis Group London (2007). ISBN 978-1-4200-4519-2

Agarwal, B.D., Broutman, L.J., Chandrashekhara, K.: Analysis and Performance of Fiber Composites, 3rd edn., p. 576 (2006). ISBN 978-0-471-26891-8

Groppe, D.: Robots improve the quality and cost effectiveness of composite structures. Ind. Robot: Int. J. 27(2), 96–102 (2000)

Hana, P., Inneman, A., Daniel, V., Sieger, L., Petrů, M.: Mechanical properties of carbon fiber composites for applications in space. In: Proceedings of SPIE 9442, Optics and Measurement Conference 2014, 7 Jan 2015. doi:10.1117/12.2175925

Shirinzadech, B., Cassidy, G., Oetomo, D., Alici, G., Ang, M.H.: Trajectory generation for open-contoured structures in robotic fibre placement. Robot. Comput.-Integr. Manuf. 23, 380–394 (2007)

Martinec, T., Mlýnek, J., Petrů, M.: Calculation of the robot trajectory for the optimum directional orientation of fibre placement in the manufacture of composite profile frames. Robot.Comput.-Integr. Manuf. 35, 42–54 (2015). doi:10.1016/j.rcim.2015.02.004
Acknowledgments

The research work reported here was made possible by project LO1201 financed with co-funding from the Ministry of Education, Youth and Sports as part of targeted support from the "National Sustainability Program I" programme, and "GESHER/MOST LJ14005—New applications in production technology and the use of composite frames fiber reinforced composites".
Copyright information

© 2017 Springer International Publishing Switzerland
About this paper
Cite this paper
Martinec, T., Mlýnek, J., Petrů, M. (2017). Composite Production and Industrial Robot Trajectory Calculation. In: Beran, J., Bílek, M., Žabka, P. (eds) Advances in Mechanism Design II. Mechanisms and Machine Science, vol 44. Springer, Cham. https://doi.org/10.1007/978-3-319-44087-3_35
DOI: https://doi.org/10.1007/978-3-319-44087-3_35

Published:

Publisher Name: Springer, Cham

Print ISBN: 978-3-319-44086-6

Online ISBN: 978-3-319-44087-3

eBook Packages: EngineeringEngineering (R0)