Abstract

As model transformations become more complex and more central to software development, reuse mechanisms become more important to enable effective and efficient development of high-quality transformations. A number of transformation-reuse mechanisms have been proposed, but so far there have been no effective attempts at evaluating the quality of reuse that can be achieved by these approaches. In this paper, we build on our earlier work on transformation intents and propose a systematic approach for analyzing the soundness and completeness of a given transformation reuse mechanism with respect to the preservation of transformation intent. We apply this approach to analyze transformation-reuse mechanisms currently proposed in the literature and show that these mechanisms are not sound or complete. We show why providing sound transformation reuse mechanisms is a hard problem, but provide some evidence that by limiting ourselves to specific families of transformations and modeling languages the problem can be simplified. As a result of our exploration, we propose a new research agenda into the development of sound (and possibly complete) transformation reuse mechanisms.
Keywords
State Machine

Modeling Language

Model Transformation

Parameterized Transformation

Target Type
These keywords were added by machine and not by the authors. This process is experimental and the keywords may be updated as the learning algorithm improves.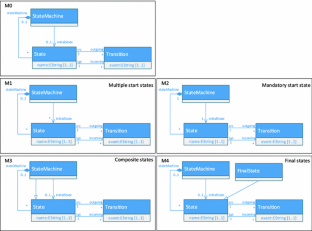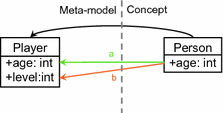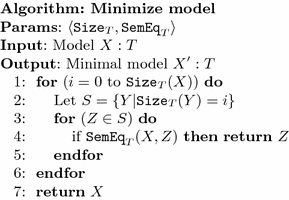 Notes
1.

We leave details of this refinement procedure for future work.
References
Steel, J., Jézéquel, J.M.: On model typing. SoSyM 6(4), 401–413 (2007)

Guy, C., Combemale, B., Derrien, S., Steel, J.R.H., Jézéquel, J.-M.: On model subtyping. In: Vallecillo, A., Tolvanen, J.-P., Kindler, E., Störrle, H., Kolovos, D. (eds.) ECMFA 2012. LNCS, vol. 7349, pp. 400–415. Springer, Heidelberg (2012)

de Lara, J., Guerra, E.: From types to type requirements: genericity for model-driven engineering. SoSyM 12(3), 453–474 (2013)

Rose, L., Guerra, E., de Lara, J., Etien, A., Kolovos, D., Paige, R.: Genericity for model management operations. SoSyM 12, 201–219 (2011)

Pham, Q.T., Beugnard, A.: Automatic adaptation of transformations based on type graph with multiplicity. In: Proceedings of SEAA 2012, pp. 170–174 (2012)

Pham, Q.T.: Model Transformation Reuse: A Graph-based Model Typing Approach. PhD thesis, Université de Rennes (2012)

Zschaler, S.: Towards constraint-based model types: a generalised formal foundation for model genericity. In: Proceedings of VAO 2014 (2014)

Salay, R., Zschaler, S., Chechik, M.: Transformation reuse: what is the intent? In: Proceedings of AMT@MODELS 2015, pp. 7–15 (2015)

Kühne, T.: On model compatibility with referees and contexts. Softw. Syst. Model. 12(3), 475–488 (2013)

Lúcio, L., Amrani, M., Dingel, J., Lambers, L., Salay, R., Selim, G.M., Syriani, E., Wimmer, M.: Model transformation intents and their properties. SoSym 1–38 (2014)

Paull, M.C., Unger, S.H.: Minimizing the number of states in incompletely specified sequential switching functions. IRE Trans. Electron. Comput. EC-8(3), 356–367 (1959)

de Lara, J., Guerra, E.: Towards the flexible reuse of model transformations: a formal approach based on graph transformation. J. Logical Algebraic Methods Program. 83(5–6), 427–458 (2014)

Kusel, A., Schönböck, J., Wimmer, M., Kappel, G., Retschitzegger, W., Schwinger, W.: Reuse in model-to-model transformation languages: are we there yet? SoSyM 14(2), 537–572 (2015)

Kusel, A., Schönböck, J., Wimmer, M., Retschitzegger, W., Schwinger, W., Kappel, G.: Reality check for model transformation reuse: the ATL transformation zoo case study. In: Proceedings of AMT@MODELS 2013 (2013)

Vanhooff, B., Ayed, D., Van Baelen, S., Joosen, W., Berbers, Y.: UniTI: a unified transformation infrastructure. In: Engels, G., Opdyke, B., Schmidt, D.C., Weil, F. (eds.) MODELS 2007. LNCS, vol. 4735, pp. 31–45. Springer, Heidelberg (2007)

Wagelaar, D., van der Straeten, R., Deridder, D.: Module superimposition: a composition technique for rule-based model transformation languages. SoSyM 9, 285–309 (2010)

Zschaler, S., Terrell, J., Poernomo, I.: Towards modular reasoning for model transformations. In: Workshop on Composition and Evolution of Model Transformations, King's College London, Department of Informatics (2011)

Musser, D.R., Stepanov, A.A.: Generic programming. In: Gianni, P. (ed.) ISSAC 1988. LNCS, vol. 358, pp. 13–25. Springer, Heidelberg (1988)
Copyright information

© 2016 Springer International Publishing Switzerland
About this paper
Cite this paper
Salay, R., Zschaler, S., Chechik, M. (2016). Correct Reuse of Transformations is Hard to Guarantee. In: Van Gorp, P., Engels, G. (eds) Theory and Practice of Model Transformations. ICMT 2016. Lecture Notes in Computer Science(), vol 9765. Springer, Cham. https://doi.org/10.1007/978-3-319-42064-6_8
DOI: https://doi.org/10.1007/978-3-319-42064-6_8

Published:

Publisher Name: Springer, Cham

Print ISBN: 978-3-319-42063-9

Online ISBN: 978-3-319-42064-6

eBook Packages: Computer ScienceComputer Science (R0)