Abstract

The shape and size of the human body is affected by the posture adopted in order to perform various activities. The human body is constantly changing and adapting to the movements executed in everyday life. As such, knowledge about the body changes that occur with the adoption of different postures is essential. Besides the obvious adverse health effects caused by spending long periods of time in certain postures, the adopted posture may influence people's interaction even with the simplest items such as clothing. For all these reasons, being able to determine the anthropometric changes related to different work postures is very important to occupational ergonomics. The main objective of this paper is to identify and quantify the body changes that occur with each of the postures adopted.
Keywords
Anthropometry

Working postures

Human body

Variations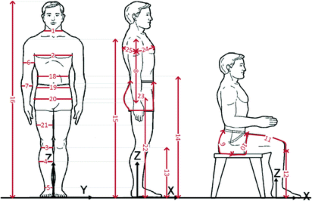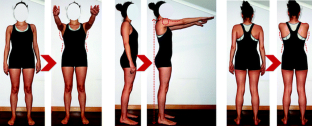 References
Parkinson, M.B., Reed, M.P.: Creating virtual user populations by analysis of anthropometric data. Int. Journal of Ind. Ergon. 40(1), 106–111 (2010). http://doi.org/10.1016/j.ergon.2009.07.003

Gupta, D., Gupta, D., Zakaria, N.: Anthropometry and the design and production of apparel: an overview. In: Anthropometry, Apparel Sizing and Design, pp. 34–66. Woodhead Publishing Ltd., United Kingdom (2014)

Carvalho, M., Duarte, F., Heinrich, D., Woltz, S.: WeAdapt: Inclusive Clothing Design Proposal for Product Development. In Include (2009)

Kirk, W., Ibrahim, S.M.: Fundamental relationship of fabric extensibility to anthropometric requirements and garment performance. Text. Res. J. 36(1), 37–47 (1966). http://doi.org/10.1177/004051756603600105

Lotens, W.A.: Optimal design principles for clothing systems. Handbook on Clothing, Research Study Group on Biomedical Research Aspects of Military Protective Clothing, pp. 1701–1715. NATO, Brussels (1989)

Hatch, K.L.: Textile Science. West Publishing Co, Minneapolis (1993)

Aldrich, W., Smith, B., Dong, F.: Obtaining repeatability of natural extended upper body positions: its use in comparisons of the functional comfort of garments. J. Fashion Mark. Manage. Int. J. 2(4), 329–351 (1998). http://doi.org/10.1108/eb022538

Lee, J., Ashdown, S.P.: Upper body surface change analysis using 3-D body scanner. J. Korean Soc. Clothing Text. 29(12), 1595–1607 (2005)

Choi, S., Ashdown, S.P.: Application of lower body girth change analysis using 3D body scanning to pants patterns. J. Korean Soc. Clothing Text. 34(6), 955–968 (2010). http://doi.org/10.5850/JKSCT.2010.34.6.955

Choi, S., Ashdown, S.P.: 3D body scan analysis of dimensional change in lower body measurements for active body positions. Text. Res. J. 81(1), 81–93 (2011). http://doi.org/10.1177/0040517510377822

Cichocka, A., Bruniaux, P., Frydrych, I.: 3D garment modelling-creation of a virtual mannequin of the human body. Fibres Text. Eastern Eur. (2014)

GUDI: Método de corte: Vestuário feminino. In Manual de Formação. Escola de Moda GUDI, Porto (2007)

Bragança, S., Carvalho, M., Arezes, P., Ashdown, S., Fontes, L.: Identification of preponderant factors for work-wear design. In: Proceedings of the 90th Textile Institute World Conference, Poznan, Poland, 25–28 April 2016
Acknowledgments

This work is financed by FEDER funds through the Competitive Factors Operational Program (COMPETE) POCI-01-0145-FEDER-007043 and POCI-01-0145-FEDER-007136 and by national funds through FCT—Portuguese Foundation for Science and Technology, under the projects UID/CEC/00319/2013 and UID/CTM/000264.
Copyright information

© 2016 Springer International Publishing Switzerland
About this paper
Cite this paper
Bragança, S., Arezes, P., Carvalho, M., Ashdown, S. (2016). Effects of Different Body Postures on Anthropometric Measures. In: Rebelo, F., Soares, M. (eds) Advances in Ergonomics in Design. Advances in Intelligent Systems and Computing, vol 485. Springer, Cham. https://doi.org/10.1007/978-3-319-41983-1_28
DOI: https://doi.org/10.1007/978-3-319-41983-1_28

Published:

Publisher Name: Springer, Cham

Print ISBN: 978-3-319-41982-4

Online ISBN: 978-3-319-41983-1

eBook Packages: EngineeringEngineering (R0)