Abstract

Work-related upper limb disorders (WRULD) is noted in instances of excessive video gaming. This research aims to identify the plausibility of video gaming as a confounding factor in WRULD epidemiology. A questionnaire was deployed to 327 participants to measure gaming behaviour and pain on a dichotomous scale. 2 × 2 Pearson Chi-square cross tabulation was utilised for statistical analysis of all pain-related variables. Analyses indicated that gaming impacts on office-work pain in most circumstances, and must thus be considered a confounder. 66.36 % of office-working participants play video games, and this number is expected to increase. 63.3 % office-workers indicated ergonomically designed workplaces; 19.8 % of video gamers indicated ergonomically designed gaming areas. Finally, 68.2 % of video gaming office-workers indicated that they play video games for more than 3 h per day, without rest breaks or pauses. Preliminary findings indicate that further research is warranted for purposes of identifying the relationships in more detail.
Keywords
Work related upper limb disorder

Video game

OHS

Epidemiology

Ergonomics

Stress-Strain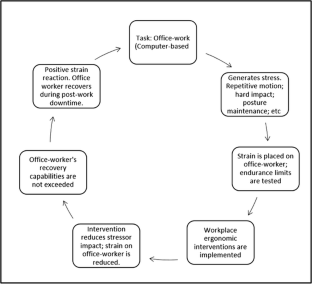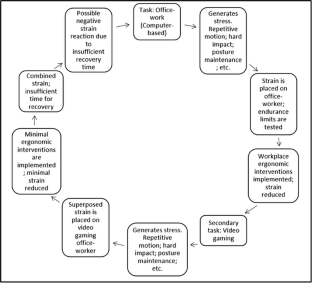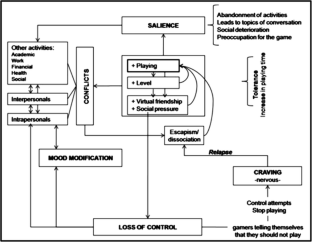 References
Dewey, C.: Advertising turns to $20 billion video game industry. Grand Rapids Bus. J. 31(33), 1 (2013). http://search.proquest.com/docview/1433788034?accountid=13380

Tribbey, C.: NPD: Video game spending hit $15.39 billion. Home Media Mag. 36(7), 4 (2014). http://search.proquest.com/docview/1504540999?accountid=13380

Mentzoni, R., Brunborg, G., Molde, H., et al.: Problematic video game use: estimated prevalence and associations with mental and physical health. Cyberpsychol. Behav. Soc. Networking 14(10), 591–596 (2011). doi:10.1089/cyber.2010.0260

Sublette, V., Mullan, B.: Consequences of play: a systematic review of the effects of online gaming. Int. J. Ment. Health Addict. 10(1), 3–23 (2010). doi:10.1007/s11469-010-9304-3

Berolo, S., Wells, R., Amick, B.: Musculoskeletal symptoms among mobile hand-held device users and their relationship to device use: a preliminary study in a Canadian university population. Appl. Ergon. 42(2), 371–378 (2011). doi:10.1016/j.apergo.2010.08.010

Sharan, D., Mohandoss, M., Ranganathan, R., Jose, J.: Musculoskeletal disorders of the upper extremities due to extensive usage of hand held devices. Ann. Occup. Environ. Med. 26(1), 22 (2014). doi:10.1186/s40557-014-0022-3

Marklin, R., Simoneau, G., Monroe, J.: Wrist and forearm posture from typing on split and vertically inclined computer keyboards. Hum. Factors 41(4), 559–569 (1999). doi:10.1518/001872099779656770

Liang, H., Hwang, Y., Chang, F.: Temporal change in bimanual interkeypress intervals and self-reported symptoms during continuous typing. J. Occup. Rehabil. 18(4), 319–25 (2008). doi:10.1007/s10926-008-9150-3

Safework Australia: Work-related musculoskeletal disease in Australia. http://www.safeworkaustralia.gov.au/sites/SWA/about/Publications/Documents/119/WorkRelatedMusculoskeltalDisorders_2006Australia_2006_ArchivePDF.pdf (2006). Accessed 18 Sept 2015

Levy, B., Wegman, D., Baron, S., Sokas, R.: Occupational And Environmental Health, 6th edn, pp. 335–365. Oxford University Press, New York, NY (2011)

Australia Bureau of Statistics: 6202.0—Labour Force, Australia, Aug 2015. http://www.abs.gov.au/AUSSTATS/abs@.nsf/mf/6202.0?opendocument#from-banner=LN (2015). Accessed 5 May 2015

Australian Services Union Western Australian Branch: ASU Speaks Up for Office Workers. http://www.asuwa.org/general-news/4535-asu-speaks-up-for-office-workers (2010). Accessed 7 May 2015

Key Survey: QUT Online Survey Software—About Key Survey. https://survey.qut.edu.au/site/about/ (2015). Accessed 16 Oct 2015

Bernabeu-Wittel, J., Domínguez-Cruz, J., Zulueta, T., Quintana, J., Conejo-Mir, J.: Hemorrhagic parallel-ridge pattern on dermoscopy in "Playstation fingertip". J. Am. Acad. Dermatol. 65(1), 238–239 (2011). doi:10.1016/j.jaad.2009.12.043

Carayon, P., Haims, M., Hoonakker, P., Swanson, N.: Teamwork and musculoskeletal health in the context of work organization interventions in office and computer work. Theor. Issues Ergon. Sci. 7(1), 39–69 (2006). doi:10.1080/14639220512331335151

Zapata, A., Pantoja Moraes, A., Leone, C., Doria-Filho, U., Almeida Silva, C.: Pain and musculoskeletal pain syndromes related to computer and video game use in adolescents. Eur. J. Pediatr. 165(6), 408–414 (2006). doi:10.1007/s00431-005-0018-7

Hakala, P., Saarni, L., Punamäki, R., Wallenius, M., Nygård, C., Rimpelä, A.: Musculoskeletal symptoms and computer use among finnish adolescents—pain intensity and inconvenience to everyday life: a cross-sectional study. BMC Musculoskelet. Disord. 13(1), 41 (2012). doi:10.1186/1471-2474-13-41

Bridger, RS.: Human-system dis-integration: Management of stress, strain and fatigue in the workplace. Ergon. SA. 21(2), 2–29 (2009). http://search.proquest.com/docview/213829472?accountid=13380

Rohmert, W.: Ergonomics: concept of work, stress and strain. Appl. Psychol. 35(2), 159–180 (1986). doi:10.1111/j.1464-0597.1986.tb00911.x

Cutlip, R.G., Chiou, S.S.: Skeletal muscle physiology and its application to occupational ergonomics. In: Bhattacharya, A., McGlothlin, J.D. (eds.) Occupational Ergonomics Theory and Applications, pp. 55–86. CRC Press, Boca Raton, FL (2012)

Rempel, D.M., Amirtharajah, M., Descatha, A.: Shoulder, elbow, & hand injuries. In: Ladou, J., Harrison, R. (eds.) Current Diagnosis & Treatment: Occupational & Environmental Medicine, 5th edn, pp. 71–88. McGraw-Hill Education, New York, NY (2014)

Zackariasson, P., Wilson, T.: Marketing of video games. In: Zackariasson, P., Wilson, T. (eds.) Video game industry: formation, present state, and future, pp. 57–75. Taylor & Francis, New York, NY (2012)

Brookey, R.A.: Convergence. In: Wolf, M., Perron, B. (eds.) The Routledge Companion to Video Game Studies, pp. 285–292. Taylor & Francis, New York, NY (2014)

Ferdig, R.E.: Education. In: Wolf, M., Perron, B. (eds.) The Routledge Companion to Video Game Studies, pp. 317–323. Taylor & Francis, New York, NY (2014)

Mäyrä, F.: Culture. In: Wolf, M., Perron, B. (eds.) The Routledge Companion to Video Game Studies, pp. 294–300. Taylor & Francis, New York, NY (2014)

Egenfeldt-Nielsen, S., Smith, J., Tosca, S., Egenfeldt-Nielsen, S.: Understanding video games, 2nd edn, pp. 53–115. Taylor & Francis, New York, NY (2013)

Beranuy, M., Carbonell, X., Griffiths, M.: A qualitative analysis of online gaming addicts in treatment. Int. J. Ment. Health Addict. 11(2), 149–161 (2012). doi:10.1007/s11469-012-9405-2

Gordis, L.: Epidemiology, 5th edn, pp. 243–261. Saunders, Philadelphia, PA (2014)

Pannucci, C., Wilkins, E.: Identifying and avoiding bias in research. Plast. Reconstr. Surg. 126(2), 619–625 (2010). doi:10.1097/prs.0b013e3181de24bc
Acknowledgments

First and foremost, thank you to all participants involved with this research project and without whom the project would be invalid. The advice, leadership, and efforts of Dr. Gunther Paul, the principal supervisor of this research must also be acknowledged. Finally, parents and friends for the support they provided.
Copyright information

© 2017 Springer International Publishing Switzerland
About this paper
Cite this paper
Yap, SS., Paul, G. (2017). Video Gaming and Its Implications on the Epidemiology of Office Work Related Upper Limb Disorders. In: Goossens, R. (eds) Advances in Social & Occupational Ergonomics. Advances in Intelligent Systems and Computing, vol 487. Springer, Cham. https://doi.org/10.1007/978-3-319-41688-5_18
DOI: https://doi.org/10.1007/978-3-319-41688-5_18

Published:

Publisher Name: Springer, Cham

Print ISBN: 978-3-319-41687-8

Online ISBN: 978-3-319-41688-5

eBook Packages: EngineeringEngineering (R0)