Abstract

The Voxel Imaging PET (VIP) Pathfinder project presents a new approach for the design of nuclear medicine imaging diagnostic devices by using highly segmented pixel CdTe sensors. State-of-the-art PET devices are made from scintillator crystals which have an energy resolution of about 10 %. Because of their limited energy resolution, the scatter fraction is relatively large. Their limited spatial resolution will introduce a parallax error and deficiency in the depth of interaction (DOI) determination (> 5 mm FWHM) and therefore a wrong line of response (LOR). In this study, we present a design for a breast dedicated PET based on CdTe detectors which have an energy resolution of about 1 % and can be easily segmented into small voxels for optimal spatial resolution to provide a solution for these setbacks. This simulation study will assess the advantages of this design for breast imaging purposes.
Keywords
Unit Module

Scatter Fraction

Positron Emission Mammograph

Parallax Error

Coincidence Window
These keywords were added by machine and not by the authors. This process is experimental and the keywords may be updated as the learning algorithm improves.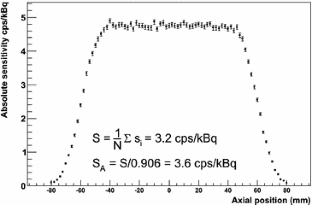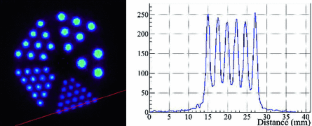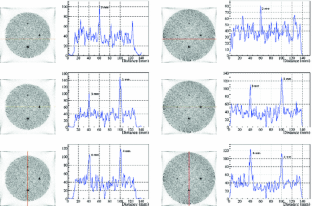 Notes
1.

Note that this only affects the triggering pixel. All other pixels in the detector are still ready to measure new events.

2.

Note that the NEMA NU 4-2008 standard to measure the SF is different from the previously described standard to measure sensitivity.
References
Hruska, C.B., O'Connor, M.K.: Nuclear imaging of the breast: translating achievements in instrumentation into clinical use. Med Phys. 40(5), 050901 (2013)

Luo, W., et al.: Performance evaluation of a PEM scanner using the NEMA NU 4–2008 small animal PET standards. IEEE Trans. Nucl. Sci. 57, 94–103 (2010)

MacDonald, L., et al.: Clinical imaging characteristics of the positron emission mammography camera: PEM Flex Solo II. J. Nucl. Med. 50, 1666–1675 (2009)

Lerche, C.W., et al.: Dependency of energy-, position- and depth of interaction resolution on scintillation crystal coating and geometry. IEEE Trans. Nucl. Sci. 55, 1344–1351 (2008)

Mikhaylova, E., et al.: Simulation of the expected performance of a seamless scanner for brain PET based on highly pixelated CdTe Detectors. IEEE Trans. Med. Imaging 33, 332–339 (2014)

Ariño, G., et al.: Characterization of CdTe detector for use in PET. In: IEEE Conference Record on NSS & MIC, pp. 4598–4603 (2011)

De Lorenzo, G., et al.: Pixelated CdTe detectors to overcome intrinsic limitations of crystal based positron emission mammographs. J. Instrum. 8, C01030 (2013)

Calderón, Y.: Design, Development, and Modeling of a Compton Camera Tomographer Based on Room Temperature Solid State Pixel Detector. Ph.D. Thesis, Universitat Autònoma de Barcelona (UAB) (2014)

Arce, P., et al.: Gamos: a framework to do Geant4 simulations in different physics fields with an user-friendly interface. Nucl. Instr. Meth. Phys. Res. A 735, 304–313 (2014)

Ariño, G., et al.: Energy and coincidence time resolution measurements of CdTe detectors for PET. J. Instrum. 8, C02015 (2013)

Kolstein, M., et al.: Evaluation of list-mode ordered subset expectation maximization image reconstruction for pixelated solid-state compton gamma camera with large number of channels. J. Instrum. 9, C04034 (2014)

NEMA standards publication NU 4–2008: Performance measurements for small animal positron emission tomographs. National Electrical Manufacturers Association, Rosslyn, VA (2008)

Furuta, M., et al.: Basic evaluation of a C-shaped breast PET scanner. In: IEEE NSS & MIC Conference Record, pp. 2548–2552. IEEE (2009)

Ferreira, C.S., et al.: Scatter and attenuation corrections for a PEM detector using list-mode OSEM. In: IEEE Conference Record on NSS & MIC, pp. 1–4 (2013)
Acknowledgements

This work has received funding from the European Research Council under the European Union's Seventh Framework Programme (ERC Grant Agreement 250207, "VIP"). We also acknowledge the support from the Spanish MINECO under the Severo Ochoa excellence program (grant SO-2012-0234).
Copyright information

© 2016 Springer International Publishing Switzerland
About this paper
Cite this paper
Kolstein, M., Chmeissani, M. (2016). Simulation of Positron Emission Mammography Imaging with Pixelated CdTe. . In: Tingberg, A., Lång, K., Timberg, P. (eds) Breast Imaging. IWDM 2016. Lecture Notes in Computer Science(), vol 9699. Springer, Cham. https://doi.org/10.1007/978-3-319-41546-8_16
DOI: https://doi.org/10.1007/978-3-319-41546-8_16

Published:

Publisher Name: Springer, Cham

Print ISBN: 978-3-319-41545-1

Online ISBN: 978-3-319-41546-8

eBook Packages: Computer ScienceComputer Science (R0)