Managing Landscapes for Environmental Sustainability
Abstract
Landscape is a heterogeneous area consisting of a cluster of interactive ecosystems including the soil-scape, water, flora and fauna, micro- and meso-climate, and terrain or physiography. These components interact among one another, and are strongly influenced by anthropogenic activities. Misuse of landscape and mismanagement of its components can adversely impact biogeochemical cycles of water, carbon and other elements leading to degradation of natural resources and the environment. Thus, a high priority of restoring degraded landscapes includes enhancing soil and ecosystem carbon stock, conserving water and increasing the green water, reducing runoff, maintaining soil chemical fertility (nutrients), improving soil structure, enhancing soil biodiversity, and maintaining a favorable salt balance. Strategies of sustainable intensification must be adopted to restore the landscape. Sequestration of carbon in soil and vegetation within the landscape is important to adaptation and mitigation of climate change.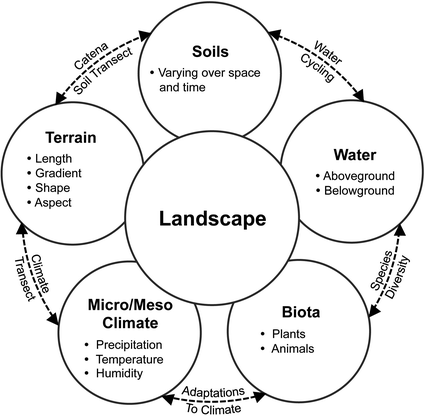 Keywords
Ecosystem Service 
Green Roof 
Urban Ecosystem 
Gray Water 
Improve Soil Structure 
These keywords were added by machine and not by the authors. This process is experimental and the keywords may be updated as the learning algorithm improves.
Copyright information
© Springer International Publishing AG 2016