Abstract
In the twenty-first century, we are challenged with a transformation in human collective intelligence. The key features of this transformation involve the "digital" replacing the "analogue"; design thinking and post-secularism supplanting tradition, and human perception and agency emerging as the main drivers of planetary change. The Digital Anthropocene is defined by the twenty-first century confluence of the digital revolution, global warming and social, economic, and political conflict. The digital environmental humanities can be seen as an academic response to these challenges. This chapter contends digital and geographical information science (GIScience) approaches to "Humanities Big Data" in conjunction with multidisciplinary studies on oceans and cities will be crucial in coming to terms with global climate change. This chapter defines and describes digital environmental humanities practices by featuring two case studies in this emerging field. First, the digital/GIS work-in-progress component of an Environmental History of the North Atlantic 1400–1700 project will be discussed, followed by the Imagineering of SmartCity Lifeworlds as urban-cybernetic dimensions of the "Digital Anthropocene." Lastly, the chapter argues that literacy in the digital environmental humanities will be necessary to tackle the global humanitarian and environmental challenges of the twenty-first century.
Keywords
Environmental humanities

Digital anthropocene

Geographical information systems

Digital humanities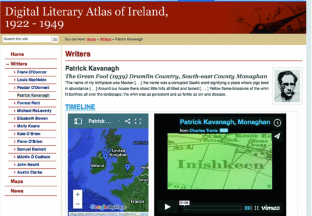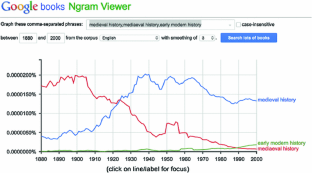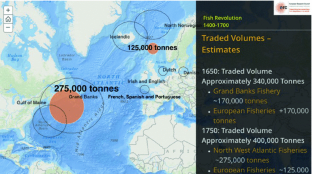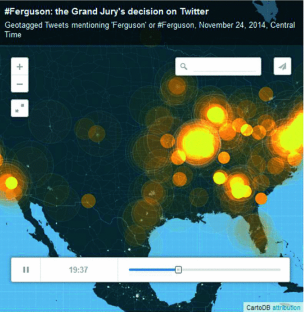 Notes
1.

The Digital Literary Atlas of Ireland, 1922–1949 provides literary, historical, and cartographic perspectives on Ireland from 1922 to 1949 drawn from the works of fourteen Irish writers. This project is based in the Trinity Long Room Hub at the University of Dublin and provides interactive mapping and timeline features for academics and the public at large interested in the intersection of Irish literary culture, history, and geography. http://www.tcd.ie/trinitylongroomhub/digital-atlas/.

2.

The Digging into Data Challenge aims to address how "big data" changes the research landscape for the humanities and social sciences. http://diggingintodata.org/.

3.

The Trans-Atlantic Slave Trade Database has information on almost 36,000 slaving voyages that forcibly embarked over 10 million Africans for transport to the Americas between the sixteenth and nineteenth centuries. http://www.slavevoyages.org/.

4.

The Sound Toll Registers are the accounts of the toll which the king of Denmark levied on the shipping through the Sound, the strait between Sweden and Denmark. They have been conserved (with gaps in the first decades) for the period from 1497 to 1857, when the toll was abolished. From 1574 on, the series is almost complete. http://www.soundtoll.nl/index.php/en/over-het-project/sonttol-registers.

5.

Mapping the Republic of Letters: These networks were the lifelines of learning, from the age of Erasmus to the age of Franklin. They facilitated the dissemination and the criticism of ideas, the spread of political news, as well as the circulation of people and objects. http://republicofletters.stanford.edu/.

6.

Down Survey of Ireland 1656–1658: The Down Survey of Ireland is the first ever detailed land survey on a national scale anywhere in the world. The survey sought to measure all the land to be forfeited by the Catholic Irish in order to facilitate its redistribution to Merchant Adventurers and English soldiers. Copies of these maps have survived in dozens of libraries and archives throughout Ireland and Britain, as well as in the National Library of France. This Project has brought together for the first time in over 300 years all the surviving maps, digitized them and made them available as a public online resource. http://downsurvey.tcd.ie/.

7.

Environmental Services Research Institute (Esri) Story Maps allow users to combine authoritative maps with narrative text, images, and multimedia content. The user can harness the power of maps and geography to create spatiotemporal visual narratives. https://storymaps.arcgis.com/en/.

8.

9.

The Trading Consequences project is a multi-institutional, international collaboration between environmental historians in Canada and computer scientists in the UK that uses text-mining software to explore thousands of pages of historical documents related to international commodity trading in the British Empire, involving Canada in particular, during the nineteenth century, and its impact on the economy and environment. http://tradingconsequences.blogs.edina.ac.uk/.

10.

Hakluyt Society: Founded in 1846, the society seeks to advance knowledge and education by the publication of scholarly editions of primary records of voyages, travels and other geographical material. http://www.hakluyt.com/.

11.

Maddison Project: Initiated in March 2010 by a group of close colleagues of Angus Maddison, with the aim to support an effective way of cooperation between scholars to continue Maddison's work on measuring economic performance for different regions, time periods, and subtopics. http://www.ggdc.net/maddison/maddison-project/home.htm.

12.

13.

14.

"RadStats" is the acronym for the Radical Statistics Group. Also known as "Radical Statistics" the group is composed of a collective of statisticians based in Britain was founded in 1975 as a radical science movement associated with the establishment of the British Society for Social Responsibility in Science (BSSRS). The RadStats mission statement states: "We believe that statistics can be used to support radical campaigns for progressive social change. Statistics should inform, not drive policies. Social problems should not be disguised by technical language." RadStats working groups have focused on population studies, education, health, nuclear arms, 'race', and social indicators. Only the population studies working group initiated in 2010 is active. It is investigating debates relating to population and the environment which pose an "optimum population." http://www.radstats.org.uk.

15.

16.

17.

18.

19.

Digital Environmental Humanities: Research, Analytic Tools, Features, McGill University, Montreal, Canada. http://dig-eh.org.

20.
References
Bollier D (2010) The promise and peril of big data. http://www.aspeninstitute.org/sites/default/files/content/docs/pubs/The_Promise_and_Peril_of_Big_Data.pdf. Accessed 15 Apr 2016

Bollier D (2012) The new eco-digital commons. http://bollier.org/blog/new-eco-digital-commons. Accessed 15 Apr 2016

Boyd D, Crawford K (2012) Critical questions for big data. Inf Commun Soc 15(5):662–679

Buttimer A (1976) Grasping the dynamism of lifeworld. Ann Assoc Am Geog 66(2):277–292

Castree N (2014) The anthropocene and geography I: the back story. Geogr Compass 8(7):436–449

Cresswell T, Dixon D, Bol P, Entrikin N (2015) Imagining and practicing the geohumanities: past, present, future. GeoHumanities: Space Place Humanit 1(1):1–19

Croitoru A, Crooks A, Radzikowski J, Stefanidis A, Vatsavai R, Wayant N (2014) Geoinformatics and social media: a new big data challenge. In: Karimi H (ed) Big data techniques and technologies in geoinformatics. CRC Press, Boca Raton, pp 207–232

Crutzen P, Stoermer E (2000) The anthropocene. Global Change Newsl 41:17–18

Doueihi M (2011) Pour un humanisme numérique. Seuil, Paris

Doueihi M (2013) About digital humanism. Ideas http://www.inaglobal.fr/en/ideas/article/about-digital-humanism. Accessed 15 Apr 2016

Elwood S, Goodchild M, Sui D (2013) Prospects for VGI research and the emerging fourth paradigm. In: Sui D, Elwood S, Goodchild M (eds) Crowdsourcing geographic knowledge. Springer, Amsterdam, pp 361–375

Graham M, Zook M (2013) Augmented realities and uneven geographies: exploring the geo-linguistic contours of the web. Environ Plan A 45:77–99

Greenfield S (2014) Mind change: how digital technologies are leaving their mark on our brains. Penguin, London

Holm P (2015) Climate change, big data, and the medieval and early modern. In: Hutton R (ed) Medieval or early modern the value of a traditional historical division. Cambridge Scholars Publishing, Cambridge, pp 70–85

Holm P, Scott D, Jarrick A (2014) Humanities world report 2015. Palgrave MacMillan, Basingstoke

Hotz RL (2015) As world crowds in, cities become digital laboratories. Wall Street J. http://www.wsj.com/articles/as-world-crowds-in-cities-become-digital-laboratories-1449850244

Johnson C (2003) Claude Lévi-Strauss: the formative years. Cambridge University Press, Cambridge

Jørgensen FA (2014) The armchair travelers guide to digital environmental humanities. Environ Humanit 4:95–112

Kitchin R (2014) Big Data, new epistemologies and paradigm shifts. Big Data Soc 1:1–12

Lenz G (2015) Prepare now for the IoT revolution. http://data-informed.com/prepare-now-for-the-iot-revolution/. Accessed 15 Apr 2016

Lerner J (2014) Urban acupuncture. Island Press, Washington DC

Liechty J, Foster R (2011) Financial hurricanes. Significance

Mitchel W (2003) Me++: the cyborg self and the networked city. MIT Press, Cambridge (Ma.)

Nielsen M (2011) Reinventing discovery. Princeton University Press, Princeton

Posthumus S, Sinclair S, Poplawski V (2016) Digital and environmental humanities: strong networks, innovative tools, interactive objects. Resil: J Environ Humanit

Prescott A (2012) Making the digital human. http://digitalriffs.blogspot.co.uk/2012/07/making-digital-human-anxieties.html. Accessed 15 Apr 2016

Roche S (2015) Geographic information science II: less space, more places in smart cities. Progress in Human Geography, pp 1–10. http://phg.sagepub.com/content/early/2015/05/19/0309132515586296.full.pdf+html. Accessed 1 June 2015

Travis C (2016) Bloomsday's big data: GIS, social media and literature. In: Cooper D, Donaldson C (eds) Literary mapping in the digital age. Ashgate, London

Tsou M, Yang J, Lusher D, Han S, Spitzberg B, Gawron J, Gupta D (2013) Mapping social activities and concepts with social media (Twitter) and web search engines (Yahoo and Bing): a case study in 2012 US presidential election. Cartography Geog Inf Sci 40(4):337–348
Acknowledgments
The authors acknowledge funding from the Andrew W. Mellon Foundation (2013–2015) and European Research Council Advanced Investigator Award (2016–2020).
Copyright information
© 2016 Springer International Publishing Switzerland
About this chapter
Cite this chapter
Travis, C., Holm, P. (2016). The Digital Environmental Humanities—What Is It and Why Do We Need It? the NorFish Project and SmartCity Lifeworlds. In: Travis, C., von Lünen, A. (eds) The Digital Arts and Humanities. Springer Geography. Springer, Cham. https://doi.org/10.1007/978-3-319-40953-5_11
DOI: https://doi.org/10.1007/978-3-319-40953-5_11

Published:

Publisher Name: Springer, Cham

Print ISBN: 978-3-319-40951-1

Online ISBN: 978-3-319-40953-5