Abstract
Bribery, kickbacks, collusion and favoritism in public procurements are well-known challenges in almost all countries. In healthcare, these informal practices—often labeled as "corruption"—may have consequences ranging from financial losses to higher morbidity and mortality rates. Most informal practices in public procurement indeed fit the definition of corruption, for instance bribery and kickbacks. However, others, such as collusion and favoritism, are less tangible and sometimes it is arguable whether they can be called corruption. This chapter follows a normative vision and presents a review of evidence on corruption in public procurements of medical devices and pharmaceuticals. The focus is on the forms of corruption in public procurements, consequences and possible solutions.
Keywords
European Commission

Healthcare Sector

Public Procurement

Personal Gain

Corruptive Practice
These keywords were added by machine and not by the authors. This process is experimental and the keywords may be updated as the learning algorithm improves.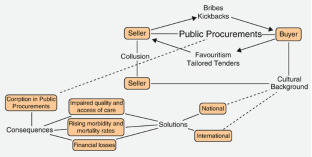 References
Brinkerhoff, D. W. (2004). Accountability and health systems: Toward conceptual clarity and policy relevance. Health Policy and Planning, 19, 371–379.

ECORYS. (2010). Assessment of international assistance in the Serbian health sector. Rotterdam: European Commission.

EHFCN. (2006). Measuring corruption in healthcare. Brussels: European Healthcare Fraud and Corruption Network.

European Commission. (2013). Study on corruption in the healthcare sector. Luxembourg: Publications Office of the European Union.

European Commission. (2014). EU anti-corruption report. Brussels: European Commission.

Gardiner, J. (2002). Defining corruption. Political corruption: Concepts and contexts, 3, 25–40.

Girling, J. (1997). Corruption, capitalism and democracy. London: Routledge.

Gotzsche, P. (2013). Deadly medicines and organized crime. Buckinghamshire: Radcliff Publishing Ltd..

Grødeland, Å. B., & Aasland, A. (2007). Informality and Informal Practices in East Central and South East Europe (Working Papers Series, 3). CERC (Contemporary Europe Research Centre, University of Melbourne).

Groot, W., & Maassen van den Brink, H. (2014). Oorzaken van fraude in de zorgsector. Justitiele Verkenningen, 40(3/14), 88–98.

ICAC. (2005). Strenghtening the corruption resistance of the NSW public health sector. Sydney: Independent Commission Against Corruption.

Jones, D. S. (2007). Public procurement in Southeast Asia: Challenge and reform. Journal of public procurement, 7(1), 3–33.

Keller, M. (2009). Medicine, the cashier. Die Zeit, 39.

Mackey, T. K., & Liang, B. A. (2012). Combating healthcare corruption and fraud with improved global health governance. BMC International Health and Human Rights, 12(1), 1.

OECD. (2007). Bribery in public procurement. Methods, actors and counter-measures. Paris: OECD Publishing.

OECD-UNODOC-World Bank. (2013). Anti-corruption ethics and compliance handbook for business. Paris: OECD, UNODOC and World Bank.

Polese, A. (2008). If i receive it, it is a gift; if i demand it, then it is a bribe' on the local meaning of economic transactions in post-Soviet Ukraine. Anthropology in Action, 15(3), 47–60.

Spelsberg, A., Martiny, A., & Schoenhoefer, P. S. (2009). Is disclosure of potential conflicts of interest in medicine and public health sufficient to increase transparency and decrease corruption? Journal of Epidemiology and Community Health, 63, 602–605.

Stepurko, T., Pavlova, M., Gryga, I., & Groot, W. (2010). Empirical studies on informal patient payments for health care services: A systematic and critical review of research methods and instruments. BMC Health Services Research, 10, 273.

Transparency International. (2006). Global corruption report 2006. London: Pluto Press.

Transparency International. (2010). The anti-corruption catalyst: Realising the MDG's by 2015. Berlin: Transparency International.

Transparency International. (2013). Annual report 2012. Berlin: Transparency International.

U4. (2006). Anti-corruption in the health sector: Preventing drug diversion through supply chain management. CMI/U4.

U4. (2008). Corruption in the health sector. U4 Anti-Corruption Resource Centre.

U4. (2011). Addressing corruption in the health sector. Securing equitable access to health care for everyone. CMI/U4.

UNDP. (2011). Fighting corruption in the health sector. New York: United Nations Development Programme.

Vian, T. (2002). Sectoral perspective on corruption. Corruption and the health sector.

Vian, T. (2008). Review of corruption in the health sector: Theory, methods and interventions. Health Policy and Planning, 23, 83–94.

World Bank. (2007). The many faces of corruption. Washington, DC: World Bank.
About this chapter
Cite this chapter
Schipperges, J., Pavlova, M., Stepurko, T., Vincke, P., Groot, W. (2017). Evidence on Corruption in Public Procurements in Healthcare and the Implications for Policy. In: Polese, A., Williams, C., Horodnic, I., Bejakovic, P. (eds) The Informal Economy in Global Perspective. International Political Economy Series. Palgrave Macmillan, Cham. https://doi.org/10.1007/978-3-319-40931-3_16
DOI: https://doi.org/10.1007/978-3-319-40931-3_16

Published:

Publisher Name: Palgrave Macmillan, Cham

Print ISBN: 978-3-319-40930-6

Online ISBN: 978-3-319-40931-3