Abstract

Virtual Experience Portals are mobile stereoscopic ultra high definition LCD displays with human interface sensors, which can be combined into a reconfigurable development platform for shared immersive virtual and augmented reality experiences. We are targeting applications in, for example, industrial automation, serious games, scientific visualization and building architecture. The aim is to provide a framework for natural and effortless interfaces for shared small group experiences of interactive 3D content, combining selected existing elements of computer aided virtual environments and virtual reality. In this short paper we report on efforts to date in developing the platform, integration with an existing visualization framework, SAGE2, some short application case studies, one in an industry-sponsored research context in industrial automation, and some ideas for future work.
Keywords
Augmented Reality

Virtual Experience

Industrial Automation

Primary Display

Head Tracking
These keywords were added by machine and not by the authors. This process is experimental and the keywords may be updated as the learning algorithm improves.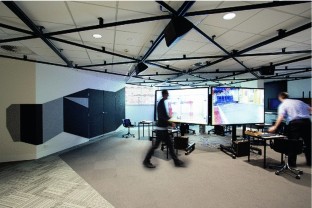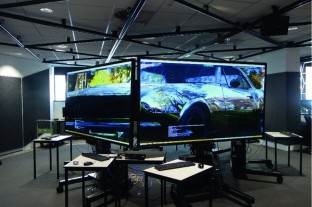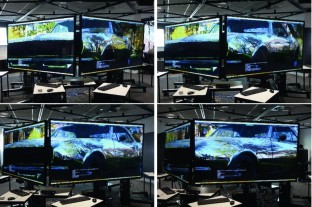 References
Blech, J.O., Peake, I., Schmidt, H., Kande, M., Rahman, A., Ramaswamy, S., Sudarsan S.D., Narayanan, V.: Efficient incident handling in industrial automation through collaborative engineering. In: Emerging Technologies and Factory Automation (ETFA). IEEE (2015)

Blech, J.O., Schmidt, H.: BeSpaceD: Towards a Tool Framework and Methodology for the Specification and Verification of Spatial Behavior of Distributed Software Component Systems, (2014). http://arxiv.org/abs/1404.3537.arXiv.org

Blech, J.O., Spichkova, M., Peake, I., Schmidt, H.: Cyber-Virtual Systems: Simulation, Validation & Visualization. In: Evaluation of Novel Approaches to Software Engineering. SciTePress ISBN 978-989-758-030-7 (2014)

Paul, B.: Virtual Containment Vessel now known as VROOM. http://paulbourke.net/exhibition/vroom/. Accessed 21 Mar 2016

Cruz-Neira, C., Sandin, D., Defanti, T., Kenyon, R., Hart, J.: The CAVE: audio visual experience automatic virtual environment. Commun. ACM 35(6), 64–72 (1992)

DeFanti, T.A., et al.: The future of the CAVE. Cent. Eur. J. Eng. 1(1), 16–37 (2011)

Febretti, Alessandro, et al.: CAVE2: a hybrid reality environment for immersive simulation and information analysis. In: IS&T/SPIE Electronic Imaging. International Society for Optics and Photonics (2013)

Greuter, S., Roberts, D.J.: Controlling viewpoint from markerless head tracking in an immersive ball game using a commodity depth-based camera. J. Simul. 9(1), 54–63 (2015)

Henry, P., Krainin, M., Herbst, E., Ren, X., Fox, D.: RGB-D mapping: using Kinect-style depth cameras for dense 3D modeling of indoor environments. Int. J. Robot. Res. 31(5), 647–663 (2012)

Kenderdine, S., Hart, T.: This is not a peep show. the virtual room at melbourne museum (VROOM). In: ICHIM (2003)

Khoshelham, K., Elberink, S.: Accuracy and resolution of kinect depth data for indoor mapping applications. Sensors 12(2), 1437–1454 (2012)

Kooima, R.: Generalized perspective projection. LSU Computer Science and Engineering Division (2009). http://csc.lsu.edu/kooima/articles/genperspective/June

Marrinan, T., et al.: SAGE2: a new approach for data intensive collaboration using scalable resolution shared displays. In: 2014 International Conference on Collaborative Computing: Networking, Applications and Worksharing (CollaborateCom). IEEE (2014)

Machida, E., Cao, M., Murao, T., Hashi, H.: Human motion tracking of mobile robot with Kinect 3D sensor. In: Proceedings of SICE. IEEE (2012)

Popolin Neto, M., Remo Ferreira Brega, J.: A survey of solutions for game engines in the development of immersive applications for multi-projection systems as base for a generic solution design. In: 2015 XVII Symposium on Virtual and Augmented Reality (SVR). IEEE (2015)

Oikonomidis, I., Kyriazis, N., Argyros, A.: Efficient model-based 3D tracking of hand articulations using kinect. BMVC 1(2), 3 (2011)

Peake, I., Blech, J.O., Fernando, L., Schmidt, H., Sreenivasamurthy, R., Sudarsan S.D.: Visualization facilities for distributed and remote industrial automation: VxLab. In: ETFA. IEEE (2015)

Sandin, D.J., et al.: The varrier\(^{TM}\) autostereoscopic virtual reality display. ACM Trans. Graph. (TOG) 24(3), 894–903 (2005)

Peake, I.D., Vuyyuru, A., Blech, J.O., Vergnaud, N., Fernando, L.: Cloud-based analysis and control for robots in industrial automation. In: Automated Testing of Cyber-Physical Systems in the Cloud. IEEE (2015)

VROOM at RMIT GEElab. http://www.geelab.rmit.edu.au/content/vroom. Accessed 21 Mar 2016
Copyright information

© 2016 Springer International Publishing Switzerland
About this paper
Cite this paper
Peake, I.D., Blech, J.O., Watkins, E., Greuter, S., Schmidt, H.W. (2016). The Virtual Experiences Portals — A Reconfigurable Platform for Immersive Visualization. In: De Paolis, L., Mongelli, A. (eds) Augmented Reality, Virtual Reality, and Computer Graphics. AVR 2016. Lecture Notes in Computer Science(), vol 9768. Springer, Cham. https://doi.org/10.1007/978-3-319-40621-3_14
DOI: https://doi.org/10.1007/978-3-319-40621-3_14

Published:

Publisher Name: Springer, Cham

Print ISBN: 978-3-319-40620-6

Online ISBN: 978-3-319-40621-3

eBook Packages: Computer ScienceComputer Science (R0)