Abstract

Lichen sclerosus is a chronic inflammatory skin disease and mainly occurs in the anogenital area. Occasionally patients also have extragenital skin abnormalities. It primarily occurs in postmenopausal women. Itching is the main symptom. However, a burning sensation, dyspareunia, and dysuria are frequently reported symptoms. Postinflammatory scarring may cause fusion of the labia minora, narrowing the vaginal introitus and burying the clitoris. The treatment can consist of medical treatment (cortisone creams), psychological counseling, sexological counseling, pelvic floor physical therapy, and, in exceptional circumstances, surgery may help.
Keywords
Lichen sclerosus

Women

Sexuality

Itching

Pain

Burning sensation

Squamous cell carcinoma (SCC)

Provoked vestibulodynia (PVD)

Lichen planus (LP)

Lichen simplex chronicus (LSC)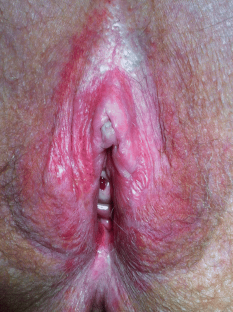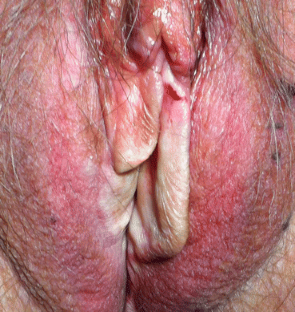 References
Jones RW, Scurry J, Neill S, MacLean AB. Guidelines for the follow-up of women with vulvar lichen sclerosus in specialist clinics. Am J Obstet Gynecol. 2014;198(5):496e1–3.

Smith YR, Haefner HK. Vulvar lichen sclerosus: pathophysiology and treatment. Am J Clin Dermatol. 2004;5(2):105–25.

Wood PL, Bevan T. Lesson of the week: child sexual abuse enquiries and unrecognised vulval lichen sclerosus et atrophicus. Br Med J. 1999;319(7214):899–900.

Goldstein AT, Marinoff SC, Christopher K, Srodon M. Prevalence of vulvar lichen sclerosus in a general gynecology practice. J Reprod Med. 2005;50(7):477–80.

Eberz B, Berghold A, Regauer S. High prevalence of concomitant anogenital lichen sclerosus and extragenital psoriasis in adult women. Obstet Gynecol. 2008;111(5):1143–7.

Powell JJ, Wojnarowska F. Lichen sclerosus. Lancet. 1999;353(9166):1777–83.

British Association for Sexual Health and HIV (BASHH). UK National Guideline on the Management of Vulval Conditions. 2014. http://www.bashh.org/documents/2014_vulval_guidelines%20Final.pdf.

Bradford J, Fischer G. Long-term management of vulval lichen sclerosus in adult women. Aust N Z J Obstet Gynaecol. 2010;50(2):148–52.

Chi CC, Kirtschig G, Baldo M, Brackenbury F, Lewis F, Wojnarowska F. Topical interventions for genital lichen sclerosus. Cochrane Database Syst Rev. 2011;(12).

Fistarol SK, Itin PH. Diagnosis and treatment of lichen sclerosus an update. Am J Clin Dermatol. 2013;14(1):27–47.

Nederlandse Vereniging voor Dermatologie en Venereologie (NVDV). Richtlijn Anogenitale lichen sclerosus. 2012. http://www.mdl.nl/uploads/240/1450/Richtlijn_Lichen_Sclerosus_def_27042012.pdf.

Neill SM, Lewis FM, Tatnall FM, Cox NH. British Association of Dermatologists' guidelines for the management of lichen sclerosus 2010. Br J Dermatol. 2010;163(4):672–82.

Perez-Lopez FR, Ceausu I, Depypere H, Tamer E, Lambrinoudak I, Rees M, Schenck-Gustafsson K, Tremollieres F, van der Schouw YT, Simoncini T. EMAS clinical guide: vulvar lichen sclerosus in peri and postmenopausal women. Maturitas. 2013;74(3):279–82.

Sherman V, McPherson T, Baldo M, Salim A, Gao XH, Wojnarowska F. The high rate of familial lichen sclerosus suggests a genetic contribution: an observational cohort study. J Eur Acad Dermatol. 2010;24(9):1031–4.

Funaro D. Lichen sclerosus: a review and practical approach. Dermatol Ther. 2004;17(1):28–37.

Van De Nieuwenhof HP, van der Avoort IAM, De Hullu JA. Review of squamous premalignant vulvar lesions. Crit Rev Oncol Hemat. 2008;68(2):131–56.

Dalziel KL. Effect of lichen-sclerosus on sexual function and parturition. J Reprod Med. 1995;40(5):351–4.

Goldstein A, Creasey A, Pfau R, Phillips D, Burrows L. Sexual dysfunction in women with lichen sclerosus. J Sex Med. 2010;7:137.

Van De Nieuwenhof HP, Meeuwis KAP, Nieboer TE, Vergeer MC, Massuger LF, De Hullu JA. The effect of vulvar lichen sclerosus on quality of life and sexual functioning. J Psychosom Obstet Gynecol. 2010;31(4):279–84.

Thorstensen KA, Birenbaum DL. Recognition and management of vulvar dermatologic conditions: lichen sclerosus, lichen planus, and lichen simplex chronicus. J Midwifery Women Health. 2012;57(3):260–75.

Cooper SM, Gao XH, Powell JJ, Wojnarowska F. Does treatment of vulvar lichen sclerosus influence its prognosis? Arch Dermatol. 2004;140(6):702–6.

Renaud-Vilmer C, Cavelier-Balloy B, Porcher R, Dubertret L. Vulvar lichen sclerosus: effect of long-term topical application of a potent steroid on the course of the disease. Arch Dermatol. 2004;140(6):709–12.
Copyright information

© 2017 Springer International Publishing Switzerland
About this chapter
Cite this chapter
ter Kuile, M.M., Gaarenstroom, K.N. (2017). A Woman with Changing Vulvar Anatomy: Sexuality in Women with Lichen Sclerosus. In: Paarlberg, K., van de Wiel, H. (eds) Bio-Psycho-Social Obstetrics and Gynecology. Springer, Cham. https://doi.org/10.1007/978-3-319-40404-2_19
DOI: https://doi.org/10.1007/978-3-319-40404-2_19

Published:

Publisher Name: Springer, Cham

Print ISBN: 978-3-319-40402-8

Online ISBN: 978-3-319-40404-2

eBook Packages: MedicineMedicine (R0)