Abstract

The Darcy flow problem in fractured porous media is considered. The fractures are treated as lower dimensional objects coupled with the surrounding continuum. Error estimates for the weak solution to such continuum-fracture model in comparison to the weak solution of the full model are derived. Validity of the estimates is inspected on one simple and one quasi-realistic case numerically.
Keywords
Darcy flow

Fractured media

Reduced model

Error estimate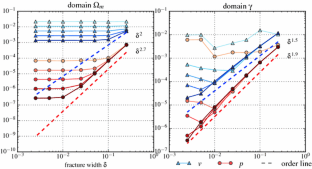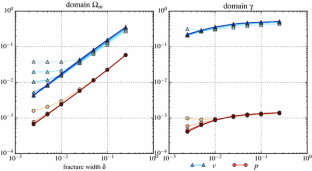 References
Angot, P., Boyer, F., Hubert, F.: Asymptotic and numerical modelling of flows in fractured porous media. ESAIM Math. Model. Numer. Anal. 43(02), 239–275 (2009)

Březina, J., Stebel, J., Exner, P., Flanderka, D.: Flow123d 2011–2015. http://flow123d.github.com

Frih, N., Martin, V., Roberts, J.E., Saâda, A.: Modeling fractures as interfaces with nonmatching grids. Comput. Geosci. 16(4), 1043–1060 (2012)

Fumagalli, A., Scotti, A.: A reduced model for flow and transport in fractured porous media with non-matching grids. In: Cangiani, A., Davidchack, R.L., Georgoulis, E., Gorban, A.N., Levesley, J., Tretyakov, M.V. (eds.) Numerical Mathematics and Advanced Applications 2011, pp. 499–507. Springer, Heidelberg (2013)

Ganis, B., Girault, V., Mear, M., Singh, G., Wheeler, M.: Modeling fractures in a poro-elastic medium. Oil Gas Sci. Technol.-Rev. dIFP Energies nouvelles 69(4), 515–528 (2014)

Lesinigo, M., D'Angelo, C., Quarteroni, A.: A multiscale Darcy-Brinkman model for fluid flow in fractured porous media. Numer. Math. 117(4), 717–752 (2011)

Martin, V., Jaffré, J., Roberts, J.E.: Modeling fractures and barriers as interfaces for flow in porous media. SIAM J. Sci. Comput. 26(5), 1667 (2005)
Acknowledgement

This work was supported by the Ministry of Education, Youth and Sports under the project LO1201 in the framework of the targeted support of the "National Programme for Sustainability I" and the OPR & DI project Centre for Nanomaterials, Advanced Technologies and Innovation CZ.1.05/2.1.00/01.0005. Computational resources were provided by the MetaCentrum under the program LM2010005 and the CERIT-SC under the program Centre CERIT Scientific Cloud, part of the Operational Program Research and Development for Innovations, Reg. no. CZ.1.05/3.2.00/08.0144.
Copyright information

© 2016 Springer International Publishing Switzerland
About this paper
Cite this paper
Březina, J., Stebel, J. (2016). Analysis of Model Error for a Continuum-Fracture Model of Porous Media Flow. In: Kozubek, T., Blaheta, R., Šístek, J., Rozložník, M., Čermák, M. (eds) High Performance Computing in Science and Engineering. HPCSE 2015. Lecture Notes in Computer Science(), vol 9611. Springer, Cham. https://doi.org/10.1007/978-3-319-40361-8_11
DOI: https://doi.org/10.1007/978-3-319-40361-8_11

Published:

Publisher Name: Springer, Cham

Print ISBN: 978-3-319-40360-1

Online ISBN: 978-3-319-40361-8

eBook Packages: Computer ScienceComputer Science (R0)