Abstract
As it is believed that volunteerism can help national development by promoting economic development and improving social integration, the state is likely to encourage the voluntary sector, even in countries where democracy is less established. As exploratory research, this chapter applies qualitative methods and combined sampling techniques of stratified purposive sampling, snowball sampling, and purposive sampling strategy to select 30 interviewees from six voluntary service agencies in a city between 2006 and 2014. The findings include: at the international level, the state promotes volunteerism to enhance cultural understanding and exchange. At the domestic level, the state mainly has the following three roles in promoting volunteerism: (1) establishing national monitoring system as a policy maker in volunteering; (2) legitimatizing the grassroots voluntary service organizations as a policy executor; and (3) creating volunteer schemes and organizing top-down movements as a service organizer. The implications of the relationship between volunteerism and the state are also discussed.
Keywords
Volunteering

China

State–NGO relations

Moral resources

Political capital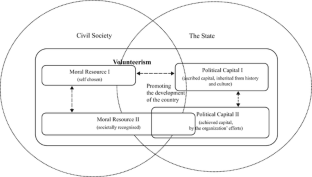 Notes
1.

Formal volunteering should be an organized action (Brilliant, ed., 1995, pp. 2469–2470). However, an altruistic behavior (such as offering a bus seat to an elderly person) can sometimes be considered an act of informal volunteering, which does not necessarily require any organization. For example, according to the working definition for the State of the World's Volunteerism Report, the term "volunteerism" refers to "social behaviour undertaken by people that is characterized by four main features. First, it is useful as 'service' or 'productive work,' not purely enjoyment for its own sake. Second, it is directed to other people outside the immediate family/household. If it takes place inside the family/household, the action is considered 'informal care,' 'family care,' or 'household care,' not volunteering. Third, volunteerism must be non-compulsory, thus not coerced or forced externally by law, contract, or other powerful social influences. Fourth, while the act of volunteering, the expression of volunteerism, may receive some expense-reimbursement or other financial payments, it is not done primarily for monetary gain, and the payments in monetary terms are usually less than the economic value of the volunteer work done." Therefore, this chapter will take a much broader view of volunteerism to include not only formal service to others but also self-help, mutual aid, cooperation, social activism, political advocacy, civic engagement, political campaigning, religious and faith-based service, business or professional association activity, and other forms of activity that fall within the parameters outlined above.

2.

3.

According to organizational theory, an institutional system produces an organization. Serfs were dependent on the landlords, and the landlords were responsible for taking care of the serfs.

4.

The CYL was established in 1922 and is second only to the Chinese Communist Party (CCP) in terms of political power. According to its constitution, the CYL should absolutely support and unquestioningly obey the Party as "an assistant and reserve army of the CCP" (General Principles of Chinese Communist Youth League Constitution, 2008). As a youth organization under the auspices of the CCP, the CYL aims to train China's youth to become faithful citizens who are willing to work toward the Party's goals (Funnell, 1970).

5.

The Chinese voluntary soldiers (zhiyuanbing) in the Korean War (1950–1953) were excluded from our definition of both the volunteers and volunteerism since the soldiers were influenced by social or political power during the war.

6.

7.

8.

9.

10.

State Council of the People's Republic of China, Shehui tuanti dengji guanli tiaoli (Regulations on the Registration and Administration of Social Organizations, 1998), see http://www.jxepb.gov.cn/zcfg/fgtl/shtt.htm

11.

12.

Their first service traced back to April of 1997. Catalyzed by three fatal railway-crossing accidents, several journalists wanted to help people more directly rather than just report the news. Those journalists volunteered to guard the crossing until the government closed the railway crossing. Other voluntary services, such as "help the poor" and "care parents," have been provided by this group since then.

13.

The Spiritual Civilization Office is a governmental institution that aims to improve the socialist spirit of civilization and beliefs of socialism and Marxism.

14.

15.

In 2007, the city's population was 6,048,500 (City J's Government Information Catalogue, 2008).

16.

17.

Sun Wukong, also known as the Monkey King, is the main character in the Chinese classical novel Journey to the West (Wu, 2003), written by Wu Cheng'en (c. 1500–c. 1582). "Bimawen" was one of the lowest titles in Heaven, and his duty was to care for the Heavenly Horses. Sun Wukong was given this position by the Jade Emperor after his first intrusion into Heaven (Wu, 2003).

18.

This study uses code numbers rather than names of sampling organizations and informants to guarantee anonymity. In this chapter, in addition to Officer-2, the secretary of the Department of Volunteers of the Committee of CYL of Province S is coded as "Official-0," and the secretary of the Department of Volunteers of the Committee of CYL of City J is coded as "Official-1." The staff member at the Committee of CYL of Province S that is responsible for the graduate volunteers' record is coded as "Official-3." The government officials are coded by chronological order, starting with the first interview date.
References
Adorno, T. (2000). Problems of moral philosophy (T. Schroder, Ed. & R. Livingstone, Trans.). Stanford, CA: Stanford University Press.

Anheier, H. K., & Salamon, L. M. (2006). The nonprofit sector in comparative perspective. In A. Powell & R. Steinberg (Eds.), The nonprofit sector: A research handbook (2nd ed.). New Haven: Yale University Press.

Aspen Institute. (2002). Government: The nonprofit sector and government; clarifying the relationship. Washington, DC: Nonprofit Sector Strategy Group.

Blau, P. M., & Duncan, O. D. (1967). The American occupational structure. New York: Wiley.

Branigan, T. (2009). China officials shut legal aid centre. The Guardian. Retrieved July 18, 2009, from http://www.guardian.co.uk/world/2009/jul/18/china-shuts-legal-aid-centre

Brilliant, E. L. (1997). Voluntarism. In Encyclopedia of social work (19th ed., Vol. 3, pp. 2469–2482). New York: National Association of Social Work.

Brudney, J. L., & Kellough, J. E. (2000). Volunteers in state government: Involvement, management, and benefits. Nonprofit and Voluntary Sector Quarterly, 29(1), 111–130.

Butcher, J. (2003). A humanistic perspective on the volunteer-recipient relationship. In P. Dekker & L. Halman (Eds.), The values of volunteering: Cross-cultural perspectives (pp. 111–125). New York: Springer.

Carroll, J. M. (2006). Colonial Hong Kong as a cultural-historical place. Modern Asian Studies, 40(2), 517–543.

Cooper, C. M. (2006). "This is our way in": The civil society of environmental NGOs in South-West China. Government and Opposition, 41(1), 109–136.

De Schweinitz, K. (1961). England's road to social security: From the Statute of Laborers in 1349 to the Beveridge report of 1942. New York: Barnes.

de Tocqueville, A. (2000). Democracy in America (H. C. Mansfield & D. Winthrop, Trans.). London: University of Chicago Press.

Dunn, P. C. (1995) Volunteer management. In Encyclopedia of Social Work (19th ed., pp. 2483–2490). New York: National Association of Social Work.

Evans, A. (2010). Oxfam puzzled by China accusation of 'ulterior motives'. BBC News.

Fang, Y. (2002). Carry forward the spirit of altruism and the voluntary development of services (In Chinese, "Lita jingshen de hongyang zhiyuanfuwu de fazhan"). Contemporary Youth Research (In Chinese, Dangdai Qingnian Yanjiu), 4, 24–25.

Fisher, J. (1998). Nongovernments: NGOs and the political development of the third world. West Hartford, CT: Kumarian Press.

Funnell, V. (1970). The Chinese communist youth movement, 1949–1966. The China Quarterly, 42(April–June), 105–130.

Gaskin, K., & Smith, J. D. (1997). A new civic Europe? (3rd ed.). London: Volunteer Centre.

Gold, T. B. (1991). Youth and the state. The China Quarterly, 127(September), 594–612.

Grǿnbjerg, K. A., & Salamon, L. M. (2002). Devolution, marketization, and the changing shape of government-nonprofit relations. The state of nonprofit America. Washington, D.C.: Brookings Institution Press.

Kabarhuza, H. (1990). Development NGOs in Zaire: Experiences and challenges. Voices from Africa, 2, 29–37.

Kant, I. (1998). Critique of pure reason (J. M. D. Meiklejohn, Trans.). Raleigh, NC: Alex Catalogue.

Kuti, É. (2004). Civic service in Eastern Europe and Central Asia: From mandatory public work toward civic service. Nonprofit and Voluntary Sector Quarterly. Supplement 33(4), 79S–97S.

Ma, Q. (2006). Non-Governmental Organizations in Contemporary China: Paving the way to civil society? London: Routledge.

Milligan, C., & Fyfe, N. (2005). Preserving space for volunteers: Exploring the links between voluntary welfare organisations, volunteering and citizenship. Urban Studies, 42(3), 417–433.

Ou, Q. P. (2009). Volunteering system firstly tested the water at Beijing Asian Games ("Beijing yayunhui zhiyuanzhe zhidu shouci shishui"). Retrieved September 14, 2009, from http://epaper.jinghua.cn/html/2009-09/14/content_462403.htm

Pan, Y. (2005, December). Community volunteers has reached to 16 million; volunteering rate in the urban population was only 3%. People's Daily. 6(10).

People's Daily Online. (2010). Is China still a developing country? January 28, 2010. Retrieved December 31, 2010, from http://english.people.com.cn/90001/90776/90883/6881996.html

Qi, H. (2004). The freedom of association and the system of non-corporate associations (in Chinese). Global Law Review, 3, 295–303.

Salamon, L. M. (1994). The rise of the nonprofit sector. Foreign Affairs, 73(4), 109–122.

Salamon, L. M., & Sokolowski, S. W. (2003). Institutional roots of volunteering: Toward a macro-structural theory of individual voluntary action. In P. Dekker & Halman (Eds.), The values of volunteering: Cross-cultural perspectives (pp. 71–90). New York: Kluwer Academic.

Tian, K. (2004). Organizational operation under non-coordinate constraint: A framework of research on the relationship between the charity organizations and the government in China (in Chinese). Sociological Research, 4, 64–75.

United Nation Volunteers, (2010). Annual report 2009. Retrieved November 6, 2010, from http://www.unv.org/news-resources/resources/annual-report-2009.html

Walter, P. W., & Dimaggio, P. J. (1983). The iron cage revisited: Institutional isomorphism and collective rationality in organizational fields. American Sociological Review, 48(April), 147–160.

Weber, M. (1968). In G. Roth & C. Wittich (Eds.), Economy and society; an outline of interpretive sociology (E. Fischoff et al., Trans.). New York: Bedminster Press.

White, G., Howell, J., & Shang, X. Y. (1996). Search of civil society: Market reform and social change in contemporary China. Oxford: Clarendon.

Wu, C. (2003). Journey to the West (W. J. F. Jenner, Trans.). Beijing: Foreign Languages Press.

Xu, Y. (2012). Chinese Communist Youth League, political capital, and the legitimizing of volunteering in China. International Journal of Adolescence and Youth, 17(2–3), 95–112.

Xu, Y. (2013a). Non-governmental organizations in China: Development and challenges. In G. Wang & Y. Zheng (Eds.), China: Development and governance (pp. 311–317). Singapore: World Scientific.

Xu, Y. (2013b). Moral resources, political capital and the development of social work in China: A case study of city J in Shandong province. British Journal of Social Work, 43(8), 1589–1610.

Xu, Y. (2014). Volunteer participation and the development of civil society in China: A case study of Jinan. Nonprofit Policy Forum, 5(1), 139–168.

Xu, Y., & Ngai, N. P. (2011). Moral resources and political capital: Theorizing the relationship between voluntary service organizations and the development of civil society in China. Nonprofit and Voluntary Sector Quarterly, 40(2), 247–269.
Copyright information
© 2017 Springer International Publishing Switzerland
About this chapter
Cite this chapter
Xu, Y. (2017). Volunteerism and the State: Understanding the Development of Volunteering in China. In: Butcher, J., Einolf, C. (eds) Perspectives on Volunteering. Nonprofit and Civil Society Studies. Springer, Cham. https://doi.org/10.1007/978-3-319-39899-0_11
DOI: https://doi.org/10.1007/978-3-319-39899-0_11

Published:

Publisher Name: Springer, Cham

Print ISBN: 978-3-319-39897-6

Online ISBN: 978-3-319-39899-0

eBook Packages: Social SciencesSocial Sciences (R0)