Abstract
Exporting is a vital source of growth for Central and Eastern European emerging economies. Market liberalization at home and the rapidly changing global business environment have forced small and medium emerging-market firms to radically change their growth strategies by focusing on internationalization. As a consequence, the number of first-time exporters originating from European emerging markets has increased. The success of first-time internationalization however is not guaranteed for all emerging-market firms; failure rates in this process remained high and this calls for further examination of the internationalization strategies and patterns of internationalization. We study changes in internationalization patterns, by examining the strategies of new exporters from a small European emerging market. We explore how successful new exporters differ from unsuccessful ones by focusing on firms' foreign market export destinations and exported product varieties. The analysis of firm-level data for Slovenian first-time exporters over the period 1994 -2010 revealed that successful international growth is related to an increased diversification in internationalization. By intensifying both geographical and product diversification first-time emerging-market exporters increased the probability of survival in export markets. Considering the predicaments of the Uppsala model of gradual (less risky) internationalization, we found that successful first-time exporters are more risk prone as they tend to follow more diversified internationalization strategies. Step-wise approach to internationalization by following a more focused exporting strategy diminishes emerging-market firms' survival chances.
Keywords
Foreign Market

Export Market

Export Intensity

Extensive Margin

International Growth
These keywords were added by machine and not by the authors. This process is experimental and the keywords may be updated as the learning algorithm improves.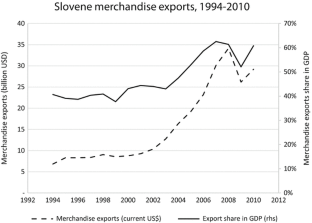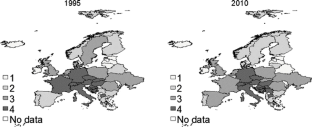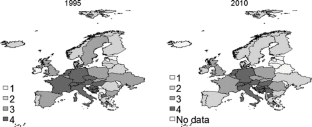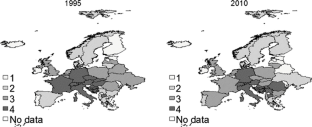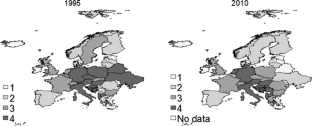 Notes
1.

The average value of Slovenian exports of goods and services as a percentage of GDP from 1990 to 2015 was over 60 % with a minumum of 47 % in 1999 and a maximum of 90.76 % in 1990.

2.

Cadot et al. (2010) show that less than 20 % of newly formed trade relationships survive more than a year and examine the specific characteristics needed for survival.

3.

There is a break in the series from Slovenia's accession to the EU in 2004 due to a changed system of recording trade flows. After 1 May 2004, only flows of firms with trade exceeding €100,000 on an annual level were recorded, while before that all trade flows were recorded by CARS. The smaller firms with lower values of total yearly exports are not able to make the cut, although they might still be exporting. This curtails the sample on one side. There is a limited solution to the problem, namely that the AJPES database, in which all firms are included, still records the trade status of a particular firm, namely, if a firm exports at all or does not (regardless of the value). Using the AJPES database to differentiate between firms concerning their export status avoids the break in the series, but it only applies to comparisons of firms' characteristics, which are drawn from the AJPES database. The problem still remains when using information from the CARS database, and caution is needed when interpreting those results.

4.

Slovenia is categorized in the figures as not having any data since it does not have an export value (i.e. it does not export to itself). Moreover, Montenegro and Kosovo on their own also do not have any data, but are aggregated with exports to Serbia.

The same calculation and graphical illustration was used for all indicators studied below, however the space limitations per chapter do not allow us including all the Figures.
References
Albornoz, F., Calvo-Pardo, H., Corcos, G., & Ornelas, E. (2010). Sequential exporting, CEP Discussion Papers dp0974, Centre for Economic Performance, LSE.

Baldwin, R. (2012). Global supply chains: Why they emerged, why they matter, and where they are going CTEI Working Papers CTEI-2012-13. The Graduate Institute, Centre for Trade and Economic Integration, Geneva.

Bernard, A. B., & Jensen, J. B. (2004). Why some firms export? Review of Economics and Statistics, 86(2), 561–569.

Bernard, A. B., Eaton, J., Jensen, J. B., & Kortum, S. (2003). Plants and productivity in international trade. American Economic Review, 93, 1268–1290.

Bernard, A.B., Jensen, J.B., Redding, S.J., & Schott, P.K. (2010). Intra-firm trade and product contractibility (long version). NBER WP 15881.

Bonaccorsi, A. (1992). On the relationship between firm size and international export intensity. Journal of International Business Studies, 23(4), 605–635.

Brouthers, L. E., Nakos, G., Hadjimarcou, J., & Brouthers, K. D. (2009). Key factors for successful export performance for small firms. Journal of International Marketing, 17(3), 21–238.

Burger, A., & Kunčič, A. (2013). An inquiry into new exporters: The case of Slovenia, Analize CMO/CIR analysis, 13. Ljubljana: Faculty of Social Sciences.

Burger, A., Jaklič, A., & Rojec, M. (2008). Exporting and company performance in Slovenia: Self-selection and/or learning by exporting? Ekonomický časopis, ISSN 0013-3035, roč. 56, č. 2: 131–153.

Cadot, O., Iacovone, L., Rauch, F., & Pierola, D. (2010). Success and failure of African exporters, FREIT Working Paper.

Chaney, T. (2011). The network structure of international trade (NBER working paper 16753).

Damijan, J. P., Kostevc, Č., & Polanec, S. (2011). Export strategies of new exporters: Why is export expansion along the extensive margins so sluggish? LICOS Discussion Papers 27711, LICOS – Centre for Institutions and Economic Performance, K.U. Leuven.

Dikova, D., Jaklič, A., Burger, A., & Kunčič, A. (2016). What is beneficial for first-time SME-exporters from a transition economy: A diversified or a focused export-strategy? Journal of World Business, 51(2), 185–199.

Eaton, J., Kortum, S., & Kramarz, F. (2004). Dissecting trade: Firms, industries, and export destinations. The American Economic Review, 94(2), 150–154.

Eaton, J., Eslava, M., Kugler, M., & Tybout, J. (2008). Export dynamics in Colombia: Transaction-level evidence. In E. Helpman, D. Marin, & T. Verdier (Eds.), The organization of firms in a global economy (pp. 231–272). Cambridge, MA: Harvard University Press.

Eaton, J., Kortum, S., & Kramarz, F. (2010). An anatomy of international trade: Evidence from French firms. Mimeo: University of Chicago.

Erramilli, M. K., & Rao, C. P. (1990). Choice of foreign market entry mode by service firms: Role of market knowledge. Management International Review, 30(2), 135–150.

Görg, H., Kneller, R., & Muraközy, B. (2008). What makes a successful export? (Kiel working papers 1399). Kiel Institute for the World Economy.

Hitt, M. A., Hoskisson, R. E., & Kim, H. (1997). International diversification: effects on innovation and firm performance in product diversified firms. Academy of Management Journal, 49(6), 1137–1157.

Johanson, J., & Vahlne, J.-E. (1977). The internationalization process of the firm: A model of knowledge development and increasing foreign market commitments. Journal of International Business Studies, 8(1), 23–32.

Johanson, J., & Vahlne, J.-E. (2009). The Uppsala internationalization process model revisited: From liability of foreignness to liability of outsidership. Journal of International Business Studies, 40, 1411–1431.

Majkgård, A., & Sharma, D. D. (1998). Client-following and market-seeking in the internationalization of service firms. Journal of Business-to-Business Marketing, 4(3), 1–41.

Manova, K., & Zhang, Z. (2009). China's exporters and importers: Firms, products and trade partners (NBER working papers 15249). National Bureau of Economic Research, Inc.

OECD. (2013). Global Value Chains (GVCs): Slovenia. http://www.oecd.org/sti/ind/GVCs%20-%20SLOVENIA.pdf

Pangarkar, N. (2008). Internationalization and performance of small and medium-sized enterprises. Journal of World Business, 43(4), 475–485.

Piercy, N. F. (1981). Export strategy: Concentration on key markets vs market spreading. Journal of International Marketing, 1(1), 56–67.

Sapienza, H. J., Autio, E., George, G., & Zahra, S. A. (2006). A capabilities perspective on the effects of early internationalization on firm survival and growth. Academy of Management Review, 31(4), 914–933.

Statistical Yearbook of Slovenia. (2012). http://www.stat.si/letopis/2009/23_09/23-06-09.htm

Zahra, S. A., Ireland, R. D., & Hitt, M. A. (2000). International expansion by new venture firms: International diversity, modes of market entry, technological learning and performance. Academy of Management Journal, 43(5), 925–950.
Appendix
Appendix

Copyright information
© 2017 The Editor(s) (if applicable) and the Author(s)
About this chapter
Cite this chapter
Jaklič, A., Burger, A., Kunčič, A., Dikova, D. (2017). Growth and Value Creation Through Diversified Exporting. In: Marinova, S., Larimo, J., Nummela, N. (eds) Value Creation in International Business. Palgrave Macmillan, Cham. https://doi.org/10.1007/978-3-319-39369-8_4