Abstract

The end of World War II marked a turning point in the history of human consciousness. An era of untold tragedy and human suffering associated with well-being planted the seeds for an awakening not only amongst scholars and policy makers but amongst the general public as well. The awakening was recognition of the need for more scientifically rigorous data pertaining to well-being in the past, the present and, as possible, for the near-term future. For the first time, a more sophisticated range of scientifically rigorous metrics and measures for use in capturing quality of life and well-being began to emerge in response to this need for more effective and efficient public and private policy planning. This chapter outlines the core "metrics" and the "points of departure" for the regional chapters in Part III. This chapter also presents the basic concepts and types of data from which quality-of-life researchers formulate and empirically capture the history of well-being.

Indicators of well-being tend to be linked in a system of inputs and outputs. Outputs traditionally are viewed as data that show outcomes—subjective as well as objective outcomes that represent both need satisfaction and level of experienced personal happiness. Inputs reflect institutional or governmental efforts (i.e., "social investments") that are required to make particular outcomes possible, e.g., providing more robust systems of health care; developing more effective, cost-efficient approaches to national defense; building communications and transportation infrastructure; developing law enforcement and justice systems that protect the legal rights of citizens while prosecuting offenders with careful attention to the protection of their rights as well; and affording efficient public and private sector spending allocated to bringing greater coherence to these investments. Other scholars have concerned themselves with the development of "equity indicators," i.e., social indicators that assess the changing needs of the social status of what are referred to by the United Nations as "historically disadvantaged population groups," e.g., women, children, and youth; the elderly; poor persons; indigenous peoples; members of racial, ethnic, and sexual minority groups; and persons with irreversible disabilities. This chapter also looks at the forces that have shaped and continue to shape our societies through technology and technological innovations.

This method outlines indicator types with the express purpose of providing context to the flow of the volume. As a key point of departure, each regional analysis utilizes the subcomponent indicators of the Human Development Index (HDI). This chapter provides the foundations upon which HDI data and additional types of information are used to paint a picture of the evolution of well-being in its broadest sense. A concerted effort is made to provide a balance between granular, rigorous analyses and the bigger-picture conclusions that emanate from an appreciative approach committed to understanding the bigger picture and the upward wave that carries forward and elevates many of the data points that tell the positive story of human experience on our planet.
Keywords
Quality of life

Well-being

Life satisfaction

Happiness

Subjective indicators

Objective indicators

Output indicators

Input indicators

Equity indicators

Human development index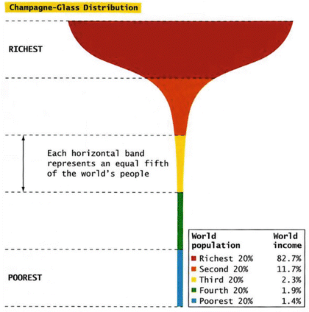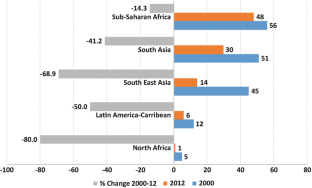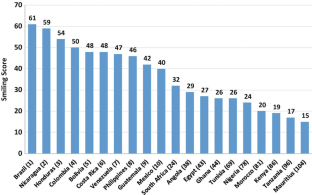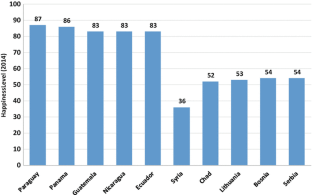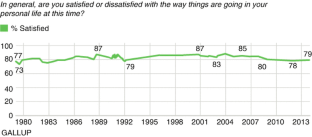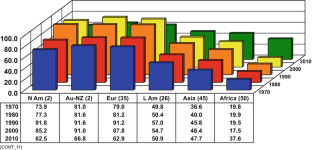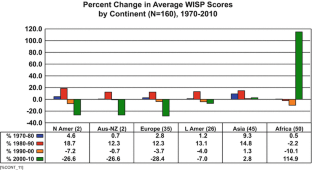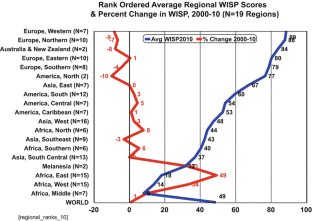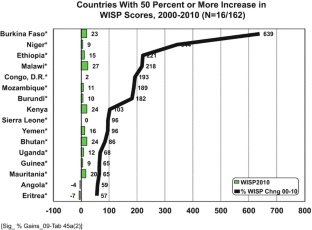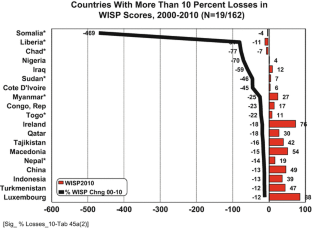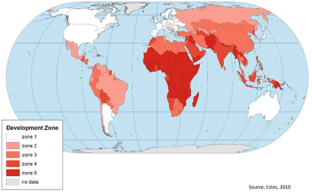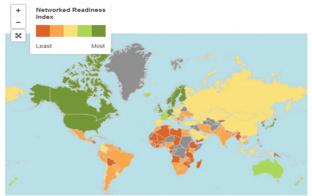 Notes
1.

The international and interdisciplinary nature of this field of social science theory and research is captured by Alex Michalos in his 12-volume Encyclopedia of Quality of Life and Well-Being Research (<CitationRef CitationID="CR29" >2014</Citation Ref>).

2.

The eight Millennium Development Goals are to (1) eliminate extreme poverty and hunger; (2) achieve universal primary education; (3) promote gender equality and empower women; (4) reduce child mortality; (5) improve maternal health; (6) combat HIV/AIDS, malaria, and other infectious diseases; (7) ensure environmental sustainability; and (8) develop a global partnership for development. Each goal has a set of operational goals and subgoals, a predetermined strategy, and, where possible, an assigned budget or mechanism for generating support toward its financing. Progress reports on the MDC and its eight goals are issued annually at the national, regional, and global levels (UNDP <CitationRef CitationID="CR44" >2014</Citation Ref>). These progress reports have proven to be of great value in helping to keep the campaign on track and, as necessary, in generating new resources needed to ensure each goal's optimal attainment.

3.

See Appendix B for a partial listing of national and regional on-going public opinion surveys that are cited extensively in quality of life and well-being research.

4.

This indicator system contains several sets of tertiary indicators such as the economic subindex (gross domestic product [GDP] per capita; percentage real growth in GDP, average annual rate of inflation, external public debt as percentage of gross national product); the education subindex (public expenditure on education); the defense effort subindex (military expenditures as percentage of gross national product); the welfare subindex (first national law—old age, invalidity, death; age first national law—sickness and maternity; age first national law—work injury; age first national law—unemployment; age first national law—family allowances); and the health subindex (population with access to safe water).

5.

The similarly named Social Progress Index is another interesting way of looking at the success of countries; it studies 132 nations, evaluating 54 social and environmental indicators in each (http://www.socialprogressimperative.org/data/spi). The index is premised on the notion that GDP per capita is insufficient to explain the complex picture that comprises a portrait of human happiness, if one existed. It is not unreasonable to posit that looking at countries only in terms of their wealth results in a missed opportunity to comprehend that which fulfills and inspires the human spirit. For this reason, this index (like some others) offers a framework for measuring multiple dimensions of social progress, benchmarking success, with a series of rich visual views that include geo-maps as well as rankings. The Index consists of three dimensions: basic human needs, foundations of well-being, and opportunity. Each dimension is made up of four equally weighted individual components scored on an objective scale from 0 to 100. This scale is determined by identifying the best and worst global performance on each indicator by any country in the last 10 years and using these results to set the maximum (100) and minimum (0) bounds. As of 2014, this information does not appear to be available on an historical basis or viewable over time.

6.

According to the United Nations, there are approximately 400 million Indigenous people [first peoples] worldwide, making up more than 5000 distinct tribes. Together [Indigenous peoples] are one of the largest minority groups in the world, spanning more than 90 countries. While Indigenous Peoples total only about 6 % of the world's population, [they] represent 90 % of the cultural diversity. Indigenous Peoples hold 20 % of the Earth's land mass. That land harbors 80 % of the world's remaining biodiversity (First Peoples Worldwide <CitationRef CitationID="CR17" >n.d.</Citation Ref>).

7.

Examples include:

Globally focused sources like Brookings Global Economy and Development (http://www.brookings.edu/about/programs/global), which themselves draw from multiple survey exercises.

Studies like the VMware New Way Of Life (<CitationRef CitationID="CR48" >2013</Citation Ref>); a review of information technology sector trends and challenges by the BCS Chartered Institute for IT (2013) as well as standard polls and survey sources, including Gallup and the International Technology and Engineering Educators Association (<CitationRef CitationID="CR24" >2001</Citation Ref>, 2004), that routinely assess levels of satisfaction with technology in the United States.

8.

Examples include:

Access lines and access paths in total/per 100 inhabitants

Mobile subscriptions in total/per 100 inhabitants

Internet subscriptions

Broadband subscriptions per 100 inhabitants

Households with access to a home computer

Households with access to the Internet.

9.

Examples include:

Number of ICT-related occupations in the total economy

Share of ICT-related occupations in the total economy

Telecommunication services revenue in total

Mobile telecommunication services revenue

Telecommunication infrastructure investment in total

Share of ICT value added in specific business sectors

ICT business research and development expenditures by selected ICT industries

Share of ICT employment in business sector employment

ICT-related patents as a percentage of national total

Contributions of ICT investment to GDP growth.
References
Alleyne, M. D. (1995). International power and international communication (pp. 1–38). New York: St. Martin's Press.

Andrews, F. M., & Withey, S. B. (1976). Social indicators of well-being: Americans' perceptions of life quality. New York: Plenum Press.

Argyle, M. (1996). Subjective well-being. In A. Offer (Ed.), In pursuit of the quality of life (pp. 18–45). New York: Oxford University Press.

Bilbao-Osorio, B., Dutta, S., & Lanvin, B. (Eds.) (2014). The global information technology report 2014, rewards and risks of big data (p. 9). World Economic Forum/INSEAD/Johnson Business School. http://www.weforum.org/issues/global-information-technology

Brown, A. (2014). Gallup's top 10 U.S. well-being discoveries of 2014. http://www.gallup.com/poll/180383/gallup-top-discoveries-2014.aspx?utm_source=CATEGORY_WELLBEING&utm_medium=topic&utm_campaign=tiles

Campbell, A., Converse, P. E., & Rodgers, W. L. (1975). The quality of American life: Perceptions, evaluations, and satisfactions. New York: Russell Sage.

Cummins, R. A., Li, N., Wooden, M., & Stokes, M. (2014). A demonstration of set-points for subjective wellbeing. Journal of Happiness Studies, 15(1), 183–206.

Dahl, R. (1996). Democratic theory and democratic experience. In S. Benhabib (Ed.), Democracy and difference: Contesting the boundaries of the political (pp. 336–339). Princeton: Princeton University Press.

Deutsch, K. W. (1963). The nerves of government: Models of political communication and control (p. 316). New York: Free Press of Glencoe.

Diener, E. (1984). Subjective well-being. Psychological Bulletin, 95, 542–575.

Drewnowski, J., & Scott, W. (1966). The level of living index. Geneva: UN Research Institute for Social Development.

Easterlin, R. A. (2001). Income and happiness: Towards a unified theory. Economic Journal, 111, 465–484.

Estes, R. J. (1998). Trends in world social development, 1970–1995. Development challenges for a new century. Journal of Developing Societies, 14, 11–39.

Estes, R. J. (2010). The world social situation: Development challenges at the outset of a new century. Social Indicators Research, 98, 363–402.

Estes, R. J. (2012). Development challenges and opportunities confronting economies in transition. In K. C. Land, A. C. Michalos, & M. J. Sirgy (Eds.), Handbook of social indicators and quality of life research (pp. 433–457). Dordrecht: Springer.

Estes, R. J. (2015). Development trends among the world's socially least developed countries (SLDCs): Reasons for cautious optimism. In B. Spooner (Ed.), Globalization in progress: Understanding and working with world urbanization (pp. 23–70). Philadelphia: University of Pennsylvania Press.

First Peoples Worldwide. (n.d.). Who are indigenous peoples. Retrieved from http://www.firstpeoples.org/who-are-indigenous-peoples

Fountain, J. E. (2002). Toward a theory of federal bureaucracy for the twenty first century. In E. C. Kamarck & J. S. Nye (Eds.), Governance.com: Democracy in the information age. Visions of governance in the 21st century (p. 137). Washington, DC: Brookings Institution Press.

Gallup Organization. (2014a). Interview questions. Retrieved from http://www.glassdoor.com/Interview/Gallup-Interview-Questions-E7246.htm

Gallup Organization. (2014b). Personal satisfaction with life, 1980–2013. Retrieved from http://www.gallup.com/poll/1672/satisfaction-personal-life.aspx

Gates, S. (2013). World happiness report 2013 ranks happiest countries around the globe. The World Post (a partnership of The Huffington Post and Berggruen Institute). http://www.huffingtonpost.com/2013/09/09/world-happiness-report-happiest-countries_n_3894041.html. Accessed 24 Jan 2016.

Hagerty, M., Vogel, J., & Møeller, V. (Eds.). (2002). Assessing quality of life and living conditions: The state of the art. [Special issue]. Social Indicators Research, 58, 1–440.

Huffington Post. (2012, December 20). Positive countries: What nation smiles the most, rests the best and enjoys life to the fullest? Retrieved from http://www.huffingtonpost.com/2012/12/20/positive-countries-well-being-rest-enjoy-life-smile_n_2332050.html

International Technology and Engineering Educators Association Survey (ITEEA). (2001, 2004). http://www.iteaconnect.org/TAA/Publications/TAA_Gallup.html

Lloyd, K. M., & Auld, C. J. (2002). The role of leisure in determining quality of life: Issues of content and measurement. Social Indicators Research, 57(1), 43–71.

Maslow, A. H. (1954). Motivation and personality. New York: Harper.

McLuhan, M. (1964). Understanding media: The extensions of man (1st ed., p. 67). New York: McGraw-Hill.

Michalos, A. C. (2005). Arts and the quality of life: An exploratory study. Social Indicators Research, 71, 11–59.

Michalos, A. C. (Ed.). (2014). Encyclopedia of quality of life and well-being research. Dordrecht: Springer.

Michalos, A. C., & Kahlke, P. M. (2008). Impact of arts-related activities on the perceived quality of life. Social Indicators Research, 89, 193–258.

Michalos, A. C., & Zumbo, B. D. (2003). Leisure activities, health and the quality of life. In A. C. Michalos (Ed.), Essays on the quality of life (pp. 217–238). Dordrecht: Kluwer Academic Publishers.

Morris, D. M. (1979). Measuring the condition of the world's poor: The physical quality of life index. New York: Pergamon.

Nuclear Threat Initiative. (2014). Architects of a safer world: 2013/14 Annual Report. Retrieved March 6, 2015, from http://www.nti.org/media/pdfs/NTI_2013-2014_Annual_Report.pdf?_=1412719948

Orlikowski, W. J. (1992). The duality of technology: Rethinking the concept of technology in organizations. Organization Science, 3(3), 398–427.

Rosenau, J. N., & Singh, J. P. (2002). Information technologies and global politics: The changing scope of power and governance (p. 312). Albany: State University of New York Press.

Sirgy, M. J. (2011). Theoretical perspectives guiding QOL indicator projects. Social Indicators Research, 103, 1–22.

Sirgy, M. J. (2012). The psychology of quality of life: Hedonic well-being, life satisfaction, and eudaimonia (2nd ed.). Dordrechet: Springer.

Stockholm International Peace Research Institute. (2014). SIPRI yearbook 2014. Armaments, disarmament and international security. Retrieved from http://www.sipri.org/yearbook/2014

Surowiecki, J. (2005). Technology and happiness. MIT technology review. Retrieved from http://www.technologyreview.com/review/403558/technology-and-happiness/

United Nations. (2005). United Nations millennium project. Retrieved from http://www.unmillenniumproject.org/

United Nations. (2014). The millennium development goals report, 2014. Retrieved from http://www.un.org/millenniumgoals/2014%20MDG%20report/MDG%202014%20English%20web.pdf

United Nations Development Programme. (1992). Human development report 1992: Global dimensions of human development. New York: Oxford University Press.

United Nations Development Programme. (2005). Human development report 2005: International cooperation at a crossroads. New York: Oxford University Press.

United Nations Development Programme. (2014). Human development report 2014: Sustaining human progress—reducing vulnerabilities and building resilience. New York: UNDP.

Veenhoven, R. (1988). The utility of happiness? Social Indicators Research, 20, 334–354.

Veenhoven, R. (1991). Is happiness relative? Social Indicators Research, 24, 1–34.

Veenhoven, R. (2014). The world database of happiness. Rotterdam: Erasmus University Rotterdam. Retrieved from http://worlddatabaseofhappiness.eur.nl/.

VMware New Way of Life Study. (2013). http://info.vmware.com/content/APAC_AP_NewWayOfLife

World Values Survey. (2014). Data and documentation. Retrieved from http://www.worldvaluessurvey.org/WVSContents.jsp
Copyright information

© 2017 Springer International Publishing Switzerland
About this chapter
Cite this chapter
Sirgy, M.J., Estes, R.J., Selian, A.N. (2017). How We Measure Well-Being: The Data Behind the History of Well-Being. In: Estes, R., Sirgy, M. (eds) The Pursuit of Human Well-Being. International Handbooks of Quality-of-Life. Springer, Cham. https://doi.org/10.1007/978-3-319-39101-4_6
DOI: https://doi.org/10.1007/978-3-319-39101-4_6

Published:

Publisher Name: Springer, Cham

Print ISBN: 978-3-319-39100-7

Online ISBN: 978-3-319-39101-4

eBook Packages: Social SciencesSocial Sciences (R0)