Abstract

We discuss the implications of rebound effects for various policies intended at curbing greenhouse gas (GHG) emissions in road freight transport. The aim is to provide an understanding of how climate policies must be designed to achieve major reductions in GHG emissions. A number of studies have been conducted on the rebound effect related to energy efficiency improvements of passenger cars; however, the findings cannot easily be translated into results for the heavy-duty vehicles used in the freight sector. From an energy economic perspective, applying econometric and general equilibrium modelling, research on rebound effects on road freight transportation has found that efficiency improvements can reduce fuel costs, increasing the cost-effective transport range of freight and the capacity for generating surplus that might be transformed into other energy consuming activities that can partly offset initial savings. This chapter discusses whether a broadening of rebound effects to also include measures of substitution (i.e. change to less polluting means of transport) and reduction (i.e. policies that aim to decrease the volume of freight transport) will lead to an increased understanding of how to achieve a major reduction in GHG emissions from freight transport.
Keywords
Freight transport

Rebound effects

DPSIR framework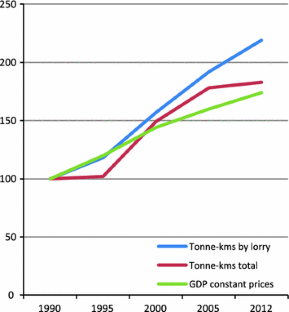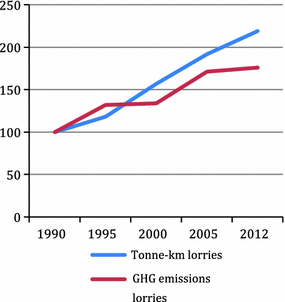 Notes
1.

A weakness in their model is that there is a close connection between fuel costs and price of oil. These two variables could not been seen as independent of each other.
References
A.E. af Wåhlberg, Long-term effects of training in economical driving: fuel consumption, accidents, driver acceleration behavior and technical feedback. Int. J. Ind. Ergon. 37, 333–343 (2007)

M. Åhman, A closer look at road freight transport and economic Growth in Sweden: are there any signs of decoupling. Naturvardsverket, report 5370 (2004)

N. Akyelken, D. Bonilla, P. Beullens, N. Ibáñez-Rivas, Synthesis of results and policy recommendations. Deliverable 6 of LogMan—Funded by the European 7th RTD Program (2012)

F.N. Andersson, T. Elger, Freight transportation activity, business cycles and trend growth (2007)

S. Anson, K. Turner, Rebound and disinvestment effects in refined oil consumption and supply resulting from an increase in energy efficiency in the Scottish commercial transport sector. Energy Policy 37, 3608–3620 (2009)

D. Banister, The trilogy of distance, speed and time. J. Transp. Geogr. 19, 950–959 (2011)

B. De Borger, I. Mulalic, The determinants of fuel use in the trucking industry—volume, fleet characteristics and the rebound effect. Transp. Policy 24, 284–295 (2012)

E. Demir, T. Bektaş, G. Laporte, A review of recent research on green road freight transportation. Eur. J. Oper. Res. 237, 775–793 (2014)

EEA, Environmental indicators: typology and overview. Technical report No 25/1999 (European Environment Agency, Copenhagen, 1999), (http://www.eea.europa.eu/publications/TEC25)

European Commission, White paper, roadmap to a single European transport area, towards a competitive and resource efficient transport system. COM (2011)

European Union, Directive 2009/28/EC of the European parliament and of the Council of 23 April 2009 on the promotion of the use of energy from renewable sources and amending and subsequently repealing Directives 2001/77/EC and 2003/30/EC, Brussel (2009)

M. Giampietro, K. Mayumi, The Jevons paradox: the evolution of complex adaptive systems and the challenge for scientific analysis. Jevons Paradox Myth Resour. Effic. Improv. 79–140 (2008)

M. Givoni, Alternative pathways to low carbon mobility, in Moving Towards Low Carbon Mobility, ed. by M. Giovoni, D. Banister (2013), p. 209

S. Helmreich, H. Keller, FREIGHTVISION-Sustainable European Freight Transport 2050: Forecast, Vision and Policy Recommendation (Springer, Heidelberg, 2011)

J. Hille, Outline of WP 1 and 3—and some Norwegian data (2014)

K.G. Høyer, Sustainable Mobility: The Concept and Its Implications (Institute of Environment, Technology and Society, Roskilde University Centre, Roskilde, 1999)

K.G. Høyer, Research for a post‐carbon and low‐energy society Personal correspondence, 22 March 2011

Klimakur 2020, Sektoranalyse transport Tiltak og virkemidler for redusert utslipp av klimagasser fra transport (2010)

R. Levett, Rebound and rational public policy-making, in Energy Efficiency and Sustainable Consumption, ed by H. Herring, S. Sorrell (Palgrave Macmillan, St. Martin's Press, New York, 2009)

H. Liimatainen, P. Stenholm, P. Tapio, A. McKinnon, Energy efficiency practices among road freight hauliers. Energy Policy 50, 833–842 (2012)

J. Liu, Supply chains, in Moving Towards Low Carbon Mobility, ed. by M. Givoni, D. Banister (Edward Elgar Publishing, Cheltenham, Northampton, 2013)

R. Madlener, B. Alcott, Energy rebound and economic growth: a review of the main issues and research needs. Energy 34, 370–376 (2009)

F.J. Matos, F.J. Silva, The rebound effect on road freight transport: empirical evidence from Portugal. Energy Policy 39, 2833–2841 (2011)

A.C. McKinnon, Decoupling of road freight transport and economic growth trends in the UK: an exploratory analysis. Transp. Rev. 27, 37–64 (2007)

N.-O. Nylund, K. Erkkilä, Heavy-Duty Truck Emissions and Fuel Consumption Simulating Real-World Driving in Laboratory Conditions (VTT Technical Research Centre of Finland, 2005)

P. Næss, Urban structures and travel behaviour. Experiences from empirical research in Norway and Denmark. Urban Struct. Travel Behav. 3(2), 155–178 (2003)

A. Peters, M. Sonnberger, E. Dütschke, J. Deuschle, Theoretical perspective on rebound effects from a social science point of view. Working paper to prepare empirical psychological and sociological studies in the REBOUND project, Working paper sustainability and innovation (Fraunhofer Institute for Systems and Innovation Research (ISI), 2012)

M.I. Piecyk, Analysis of long-term freight transport, logistics and related CO2 trends on a business-as-usual basis (Heriot-Watt University, 2010)

ReportLinker, Summary of fleet management in Europe, 8th edn. Accessed at 28 Jan 2014. Available at: http://www.reportlinker.com/p0567693-summary/Fleet-management-in-Europe-Edition.html. Last Accessed at 28 Jan 2014 [Internet]

S. Rommerskirchen, Decoupling of economic and transport growth: background, findings and prospects, in Proceedings of 16th ECMT International Symposium on Theory and Practice in Transport Economics Budapest (2005)

F. Ruzzenenti, R. Basosi, The rebound effect: an evolutionary perspective. Ecol. Econ. 67, 526–537 (2008)

T. Santarius, Green growth unravelled. How rebound effects baffle sustainability targets when the economy keeps growing (Wuppertal Institute/Heinrich Böll Foundation, Wuppertal, 2012)

M.H. Smith, K. Hargroves, C. Desha, Cents and sustainability: securing our common future by decoupling economic growth from environmental pressures. Earthscan (2010)

S. Sorrell, M. Lehtonen, L. Stapleton, J. Pujol, T. Champion, Decoupling of road freight energy use from economic growth in the United Kingdom. Energy Policy 41, 84–97 (2012a)

S. Sorrell, M. Lehtonen, L. Stapleton, J. Pujol, C. Toby, Decoupling of road freight energy use from economic growth in the United Kingdom. Energy Policy 41, 84–97 (2012b)

P. Tapio, Towards a theory of decoupling: degrees of decoupling in the EU and the case of road traffic in Finland between 1970 and 2001. Transp. Policy 12, 137–151 (2005)

Trafikverket, Mot koldioxidsnåla godstransporter-tillväxtdynamiskt perspektiv på logistik och godstransporter fram till 2050 (2013)

H.J. Walnum, C. Aall, S. Løkke, Can rebound effects explain why sustainable mobility has not been achieved? Sustainability 6, 9510–9537 (2014)

H.J. Walnum, J. Hille, C. Aall, Driver response model Norwegian road freight transport 1993–2013. Western Norway Research Institute report nr. 5 (2015) 

H.J. Walnum, M. Simonsen, Does driving behavior matter? An analysis of fuel consumption data from heavy-duty trucks. Transp. Res. Part D: Transp. Environ. 36, 107–120 (2015)

P.B. Wangsness, T. Bjørnskau, I.B. Hovi, A. Madslien, R. Hagman, Evaluering av prøveordning med modulvogntog (Institute of transport economics Norwegian centre for transport research, Oslo, 2014)

B.P. Weidema, Rebound effects of sustainable production, in Bridging the Gap: Responding to Environmental Change–From Words to Deeds (2008)

J.J. Winebrake, E.H. Green, B. Comer, J.J. Corbett, S. Froman, Estimating the direct rebound effect for on-road freight transportation. Energy Policy 48, 252–259 (2012)
Acknowledgments

This chapter builds on the report "Driver and response model for Norwegian road freight transport in the period 1993–2013" which the authors wrote together with John Hille (1954–2015). John passed away in September 2015 at the age of 61. He was especially competent in processing large amounts of statistical material and combining different statistical sources in novel ways—which he did to a great extent in the report and his work has been essential for writing this chapter.
Copyright information

© 2016 Springer International Publishing Switzerland
About this chapter
Cite this chapter
Walnum, H.J., Aall, C. (2016). Transportation: Challenges to Curbing Greenhouse Gas Emissions from Road Freight Traffic. In: Santarius, T., Walnum, H., Aall, C. (eds) Rethinking Climate and Energy Policies. Springer, Cham. https://doi.org/10.1007/978-3-319-38807-6_14
DOI: https://doi.org/10.1007/978-3-319-38807-6_14

Published:

Publisher Name: Springer, Cham

Print ISBN: 978-3-319-38805-2

Online ISBN: 978-3-319-38807-6